We've had the mildest winter so far here in Georgia. As I type this, it's 67 degrees outside. That's one of the things I've always loved about living here, winters are usually a mix of cold temps with surprise weeks thrown in when you would swear spring had arrived. Georgia weather always keeps you guessing.
Despite this beautiful sunny day, I know the cold temps are coming back. The last few years I've put together my winter survival list and posted it here on the blog. Each time I've asked for your faves and I've learned so much from you! The Uggs I've worn for the last two winters are a purchase I made after reading your comments on previous Winter Survival posts, so thank you for that! I've never found anything that keeps my feet as warm as my Uggs.
Someone recently mentioned in a comment that they were looking forward to this year's Winter Survival faves. (Thanks, Pam!) I wasn't sure I'd have anything new to share but once I started thinking about it, I do have quite a few new winter faves I've discovered this year. By the way, I'm not affiliated in any way with any of the companies/products I'm sharing in this post. Just sharing what I love!
I would love to hear your winter faves, too so hope you'll leave a comment sharing those along with any new ones you just discovered this season. I'll be sure and link to the previous year's posts at the end in case you would like to see them. The comments on those posts are filled with wonderful ideas and suggestions for surviving winter in style and comfort!
1. Heritage Flannel Sheets From L.L.Bean:
Flannel sheets have been on my winter survival list year after year. They deserve mentioning again though because this past winter I found the best flannel sheets. After reading the reviews online, I decided to try L.L. Bean's Heritage flannel sheets. They are as wonderful as folks are saying in the 153, 5-star reviews at the L.L. Bean site. They are super heavy/thick and after several washings, they still look as nice as the day they arrived. No pilling or anything. LOVE THEM! The solid colors are available here: Heritage Flannel Sheets and the plaid ones are availabe here: Plaid Heritage Flannel Sheets
They come in all the colors above including this plaid that I first purchased in early fall before I redid all my bedding a few months ago.
Now that I've redone all my bedding in plaid, I need to buy these sheets in a solid color. Unfortunately it looks like they are on backorder and aren't available until Feb for white and April for the natural/cream color. The plaid ones are sold out until April, too.
Several readers have told me they use flannel sheets year around. I love that idea and have been thinking of doing that too because flannel sheets are soooo soft and cozy. These truly are the best flannel sheets I've ever slept on. If you order them, just make sure you order their HERITAGE line. I ordered one of their other flannel sheet sets this past fall and returned them because they weren't any better than the department store brands. It's the "Heritage" line that's so awesome!
2. My Winter Bedding Makeover
My winter survival list would not be complete without mentioning my winter bedding makeover. I've been sleeping toasty warm this winter and the plaid has been such a nice way to warm up the room. If you've been reading BNOTP the last few months, you've already read about it so I won't go into the details in this post. If you're not familiar, you can read more about it in this previous post: Dressing The Bed In Tartan, Ralph Lauren Inspired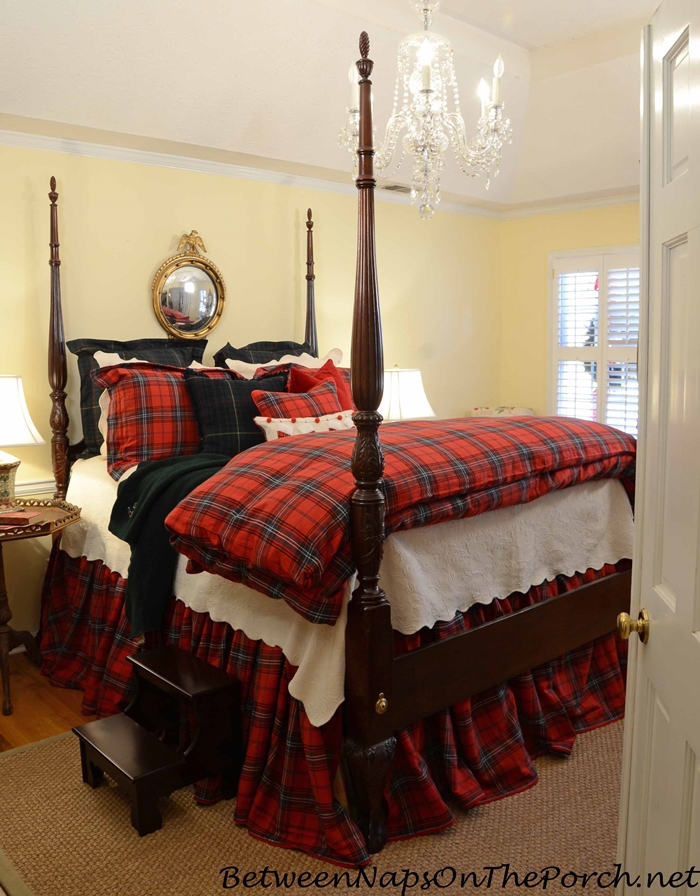 I also purchased a new mattress/box springs and I've been meaning to update you to let you know how I like it. So far, I really love it. It sleeps great! You can read more about the mattress set I went with in this previous post: Create A Winter Retreat With Tartan Bedding
3. Talbots Slimming Heritage Corduroy Pants
I love corduroy pants for winter! Earlier in the fall I purchased two pairs of Talbots "Slimming Heritage Straight-Leg Cords" and I have just about lived in them this winter. They also come in a boot-cut style.
They are on sale right now for half price, $34 each, so I just purchased three more pairs. I love how these pants look and feel. They are a narrow wale so they don't add poundage to your frame like a wide-wale will do sometimes. Talbots describes them as, "fine 18-wale corduroy." They are so soft! I have them in a dark green, navy, gold and black but they come in a slew of other colors, too. I'm 5'4″ and Talbot's Petite line fits me perfectly so I love that I don't have to hem them. These pants are available in Misses and Woman sizes, too.
They do have a lot more colors available online than you'll probably find in your local Talbots. You'll find their corduroys here: Talbots.
4. No Boundaries Long Sleeve Tees
A month or so ago when I was shopping in Wal-Mart, I saw their "No Boundaries" long-sleeve t-shirts. They were on sale for $6 each. They are 95% cotton and 5% spandex, so they are very light-weight. I purchased a couple thinking they would be good for wearing underneath sweaters and shirts as an extra layer this winter. I liked them so much, I went back and purchased 6 more about a week later.
It almost doesn't matter what size you purchase because they all fit pretty snuggly, which is exactly why I love them. They gently hug your body, basically like long-underwear does. You can wear them underneath a sweater or shirt and they don't add any bulk but they definitely add warmth. They are so cozy, I usually sleep in whichever one I happen to have worn under my clothing that day, they are that comfortable.
The other feature I really love is there are no itchy tags at the neck. If you looked in my closet, you would find about half my shirts have the tags cut out because I can't stand a scratchy tag on my neck. So if you're looking for an affordable, soft, close-fitting second layer to wear underneath your shirts and/or sweaters this winter, I love these! I didn't realize it until I looked them up online, but I think these are in Junior sizes so look in that area if you shop for these in the store.
5. Old Gringo Boots
After purchasing my first pair of Uggs last winter and discovering how much I love wearing boots during the winter, I decided to add another boot to my wardrobe for winter. I have a couple of pairs of "dressy" boots that look great with skirts but I wanted another pair of casual boots, something that would look great with my cords or jeans.
I decided to look on eBay, hoping to find a good deal. In the process I came across some really cute boots by Macie Bean…ever heard of them? I didn't buy any Macie Bean boots but when I googled to learn more about them, I discovered another boot by Old Gringo.
Old Gringo has lots of whimsical, colorful boots, as well as more conservative styles. They are all hand-crafted in Leon, Mexico and in the reviews online, folks were raving about how comfortable they are to wear.
Apparently, I'm not alone in loving their designs. They have a huge fan base which includes Country Singer, Miranda Lambert seen here with all her bridesmaids at her wedding, all wearing Old Gringo boots.
Camila Alves McConaughey (Matthew McConaughey's wife) wears them…
…as does Taylor Swift.
You would think they would be ridiculous expensive with all these stars wearing them, right? Surprisingly they aren't that bad. You can find tons of them brand new with tags/box on eBay for very reasonable prices. Retail is usually anywhere from $250-$600, depending on the style. I found a lot of styles on sale at RiverTrail Mechantile, some as low as $167. They can also be found on Amazon and Zappos.
Unfortunately, the pair I wanted wasn't on sale online anywhere online and retail was $725. No way I was paying that. I remembered having seen what I thought were probably Old Gringo boots in a local boutique store a few years back and drooling over them back then. I called the store to see if they carried them and they did. Plus, they were having a 50% off sale!
I was thrilled to find they had one of the pairs I liked online called Letty and even had it in my size. The Letty is described as being purple, olive-green and chocolate online but as you can see, it doesn't look purple. It's a really pretty pink. The embroidery and cutwork/overlay on Old Gringo boots makes each one a little piece of art. There are a gazillion styles/designs, heel heights, etc… The Letty has a heart design on the side; I have this thing for hearts.
This boot is normally pretty expensive due to all the detail and overlay but at half price, I paid around $350. I've been told they last a life-time, folks just get a new heel put on when the old one wears out. I pulled up my pants leg for this picture so you could better see them, but normally just the shoe part will show under my pants unless I cross my legs or wear them with my pants tucked inside. I'll probably just wear them underneath my pants, that's what I've been doing so far. But I love knowing the heart is there hiding underneath.
Here's a close up showing the cut-work or overlay. I'm definitely an Old Gringo fan now. They are so comfortable and so warm for winter, I don't want to take them off! As mentioned, they come in tons of styles, designs and colors, including more conservative styles. You know how I love whimsy so I had to go for something fun!
Any Old Gringo boot fans out there? Apparently, folks love them so much, they collect a number of pairs. As comfortable as they are, I can see why. You can see all their styles at their website here: Old Gringo The pictures never do the boots justice. The best pictures I've found are on the River Trail Mercantile site because most of them are taken outdoors.
So, that's just a few of my fave ways of surviving winter this year. If we can't change the temperature, we might as well have some fun and enjoy it!
Okay, now let's hear it! What are you loving for winter? Nights in front of a blazing fire with a 4-legged furry face nearby? Found a fabulous hot chocolate or coffee you're loving? The warmest socks around? A great lotion or lip balm? A great soup or chili recipe? A fabulous boot?
How are you staying warm? What are you loving this winter?
Below are my previous Winter Survival Lists. Be sure and check out the comments on those posts because they are absolutely filled with great ideas and products to get you through those cold days of winter)
January 2012
Please share your favorites for surviving winter each year…can't wait to hear!
*If a post is sponsored or a product was provided at no charge, it will be stated in post. Some links may be affiliate links and as an Amazon Associate, I may earn from qualifying purchases. *