Welcome to the 293rd Tablescape Thursday!
Hope you're in the mood for a beach party because lately all I want to do is create beach-themed table settings. Ummm, wonder what that means? Perhaps someone is craving a trip to the beach! 🙂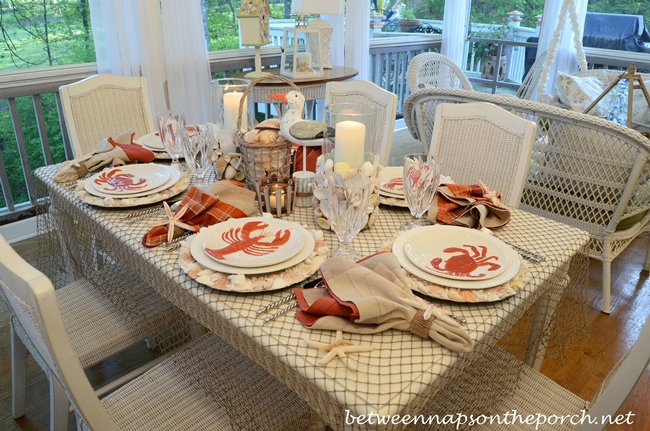 Remember the fishnet I purchased on THIS shopping trip when I couldn't breathe and had to get out of the house?
It worked just right as a tablecloth for this tablescape. I didn't take time to do this, but wouldn't this fishnet tablecloth look great with a few starfish tied around the edge that's hanging down? It came with one starfish tied to it, just barely visible there on the corner in the photo below.
I'm also using the shell-covered candle holders purchased during that same shopping trip.
I love the colors in this cute little seagull so much, especially his bright, orange bill. He may actually be modeled after a Laughing Gull. Anyone out there know their shorebirds? Update: Thanks Cee for identifying Mr. Seagull as more likely being a California Gull with lots of artistic license taken in his design. 🙂
I let his bill be my guide for this week's table. I've used these lobster and crab salad plates before so you may remember them from previous tablescapes.
Isn't Mr. Seagull a handsome fella? He was a find this year in Marshalls. I love collecting shorebirds when I can find them for reasonable prices. They can be expensive in some shops but this little guy was just $12.99.
I did something a little out of the ordinary with this table setting. I used plaid, orange/coral napkins for three of the place settings. These napkins have been used several times for fall table settings but never for a spring or summer tablescape.
I used solid-color, coral napkins at the other three place settings, alternating around the table with the plaid and the solid. Using plaid at all six place settings seemed a little too busy but I loved how the table looked alternating them with the solid coral napkins.
Orange/coral plaid napkins may not be something you would expect to see in a beach-themed tablescape, but I think that makes it even better. It's fun to try new things and if you're like me, you usually know right away if it works. If you like how something looks, go with it, even if it is a little off the beaten path. The beautiful stemware is by Noritake.
It was getting late in the day by the time I took these photos so the late afternoon sun was coming in and lighting up some parts of the table while creating shadows in other areas. I love that!
Oh, I almost forgot, remember the starfish napkin rings I made a while back in this tutorial post: Make Starfish Napkin Rings. They came in handy for this tablescape. Note: In the tutorial they are a different color. I later painted them white and added coral accents for another tablescape.
I pulled out my DIY Pottery Barn-inspired shell chargers for this setting. I love using them for beach-themed tables whenever I can.
You'll find the tutorial to make your own Pottery Barn inspired shell chargers here: Shell Chargers, A Pottery Barn Knock-off
Flatware is by Gourmet Settings and the pattern is called, Silver Tear. It's available here: Gourmet Settings Silver Tear I love using it with beachy table settings because the design reminds me of nautical ropes.
An overhead view…
As evening wore on, I snapped a few pics with the candles aglow.
Happy Springtime!
Do you have plans for a beach trip any time soon?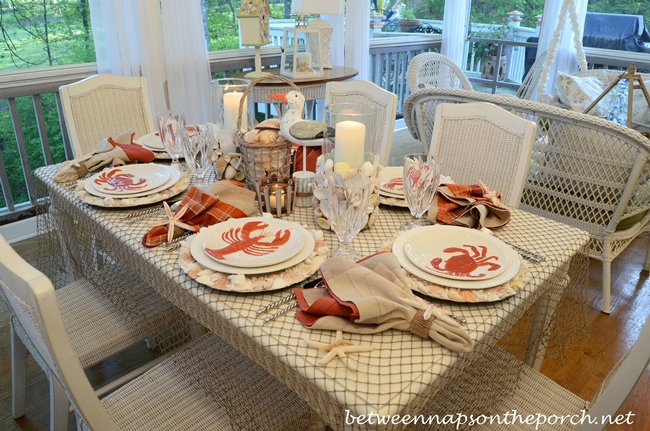 Looking forward to the beautiful tablescapes linked for this week's Tablescape Thursday!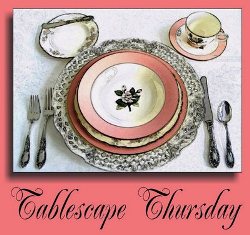 If you are participating in Tablescape Thursday, please be sure to add your permalink below, and not your general blog address. To get your permalink, click on your post name, then copy and paste the address showing in the address bar, into the "url" box when you link up.
You'll need to include a link in your post back to the party in order to link up and participate. That's so visitors to your blog will be able to find the party and the other Tablescape Thursday participants. Requiring a link back also prevents businesses from linking up to sell their products. (Yep, that really happens, unfortunately.)
If you would like to use the Tablescape Thursday logo button in your post, just copy and paste it to your computer and upload it to your post as you would any photo.
Please, don't add your post name/blog name ALL IN CAPS…it tends to create big spaces between the rows of links.
Click on the Blue Frog below to see the links to all the participants in last week's Tablescape Thursday:


*If a post is sponsored or a product was provided at no charge, it will be stated in post. Some links may be affiliate links and as an Amazon Associate, I may earn from qualifying purchases. *