Welcome to the 348th Tablescape Thursday!
It's sunny and gorgeous out today, how about a beach trip?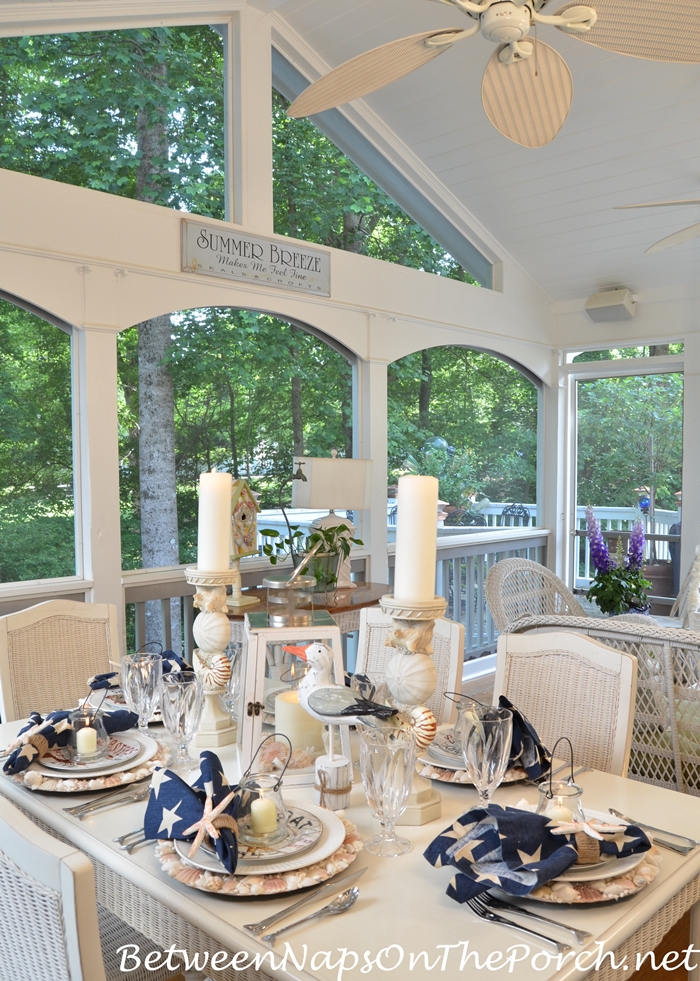 This week's tablescape was inspired by flatware I purchased this past January. Do I hear "Jaws" music? Ummm…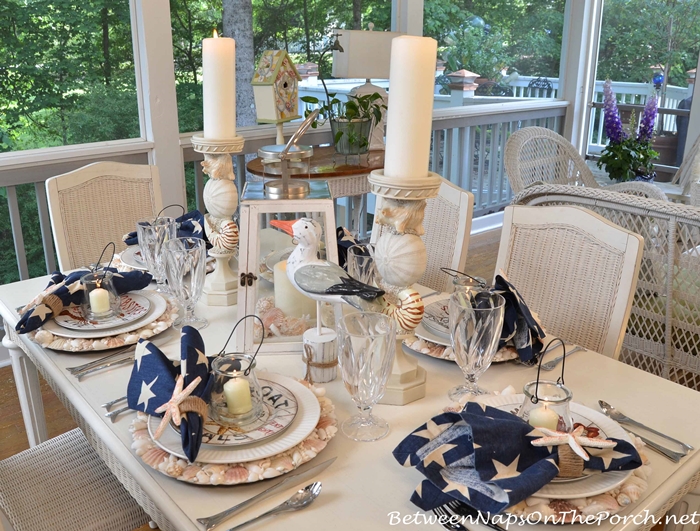 Small lanterns at each place setting echo the larger candlelit lantern in the centerpiece. I wish I had thought to add a little white sand in the bottom of each of the small lanterns, along with a small seashell. Oh well, next time!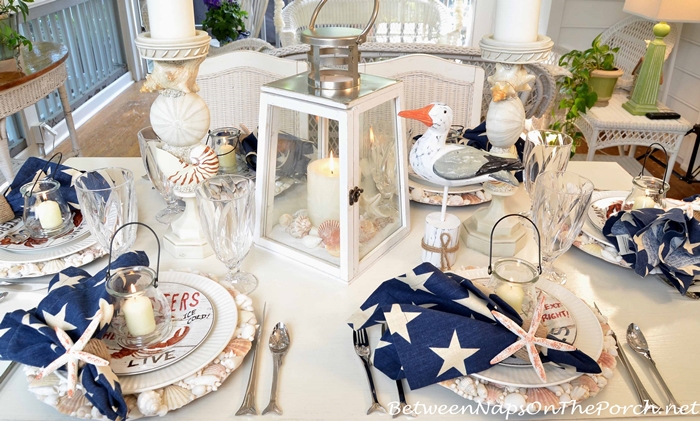 You may remember the napkin rings from this Starfish Napkin Ring Tutorial. They are super easy to make!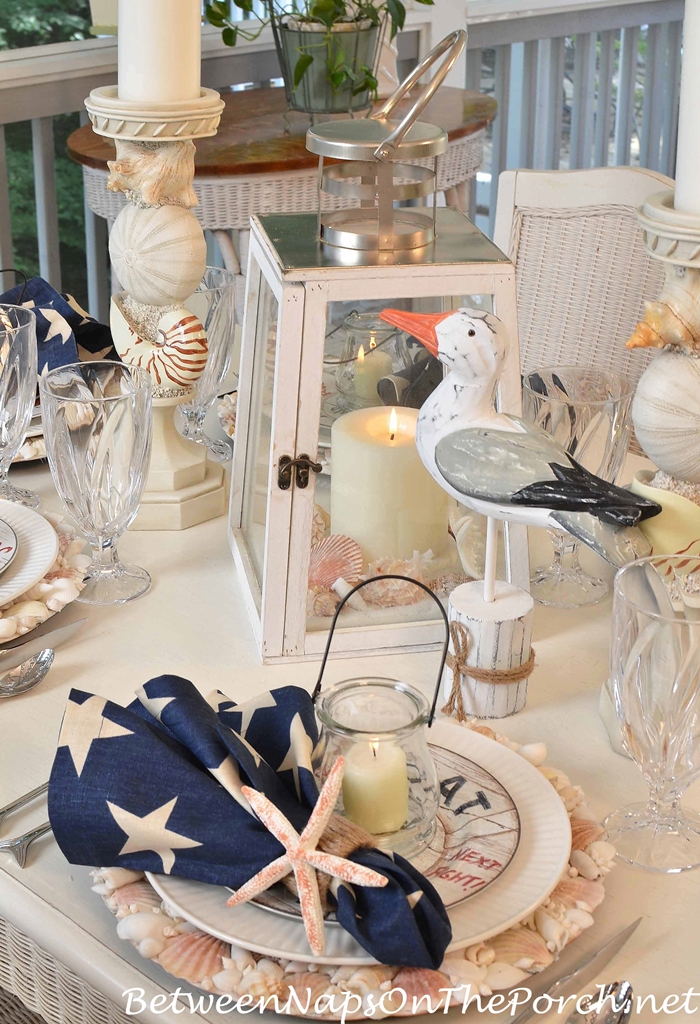 It's been a while since I last used these shell candle holders in a table setting. They were a find in HomeGoods six years ago. I passed them up initially but turned around in the store and headed back to get them. I was lucky they were still there. Twice before when shopping in HG, I've looked at something, decided to wait, then changed my mind and went back to find it gone. Has that ever happened to you while shopping?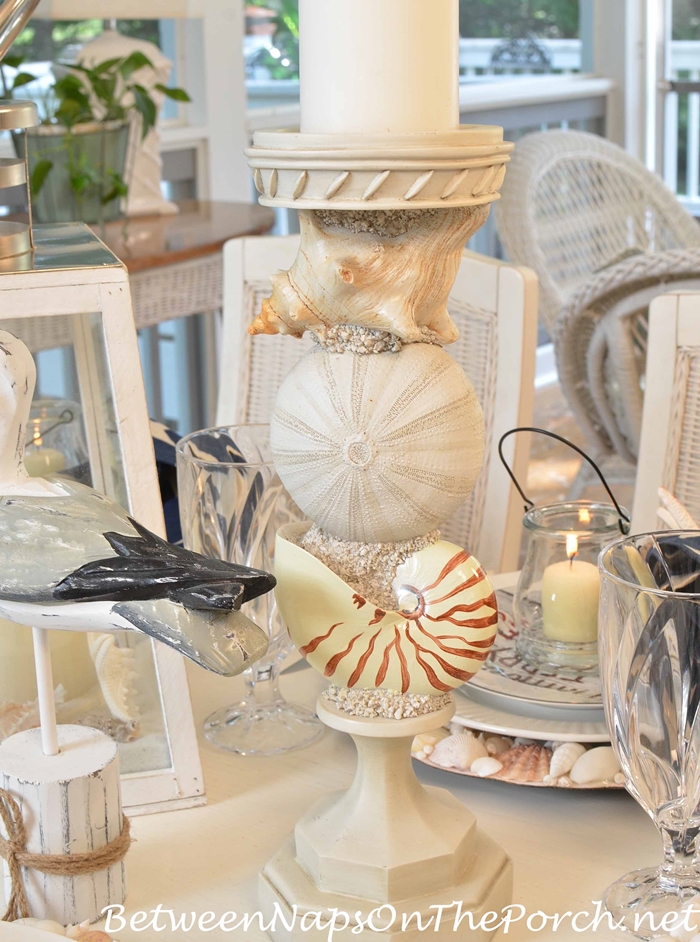 I started out with plans to use another dishware for this table but I'm crazy about these David Carter Brown "Driftwood" plates. I've used them once before for Tablescape Thursday but at that time, I only had one set…which is four plates. This past winter I checked on eBay to see if I could find anymore and I spotted one more set. So, today I was able to set a table for six.
Lighthouse Ferry, 2 Miles
The "Driftwood" pattern is so cute! Love David Carter Brown's whimsy! I wonder if he's still designing dishware patterns, I hope he is! I was kind of late in discovering him. Many of the patterns I've purchased over the last few years were already retired by the time I discovered them.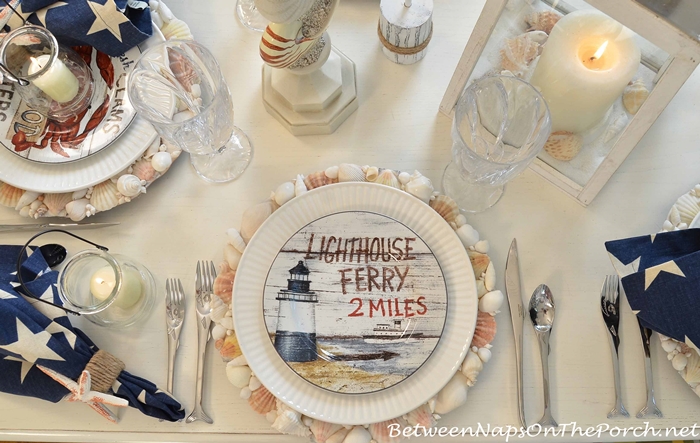 Lobsters Fresh Off The Boat, Live and Ice Cold
Boat Rentals, Daily, Hourly, 1/2 Hour, Next Right!
I pulled out my DIY (Pottery Barn Knockoff) shell chargers for today's table.
You'll find the tutorial to make your own shell charger plates here: DIY Shell Chargers Tutorial
Fresh Clams, Crabs, Seafood
Did you notice the flatware? This is the first time I've used it in a table setting for Tablescape Thursday. I've been searching for a couple of years for affordable fish-design flatware. Most of the patterns I found in the past were ridiculous expensive. Last year I found a set on Amazon that wasn't exactly what I wanted but was pretty close. I ordered it and when it arrived, it was such poor quality, I immediately returned it.
This past January I started looking again and was so excited when I came across this shark flatware. It feels well made, is super cute and best of all, it's reasonably priced!
It cracks me up every time I look at it! (It's available here: Fish Flatware and here on sale: Fish Flatware
Wouldn't it be perfect for a beach house, lake house or a house boat? It would also be great for dining poolside during the summer.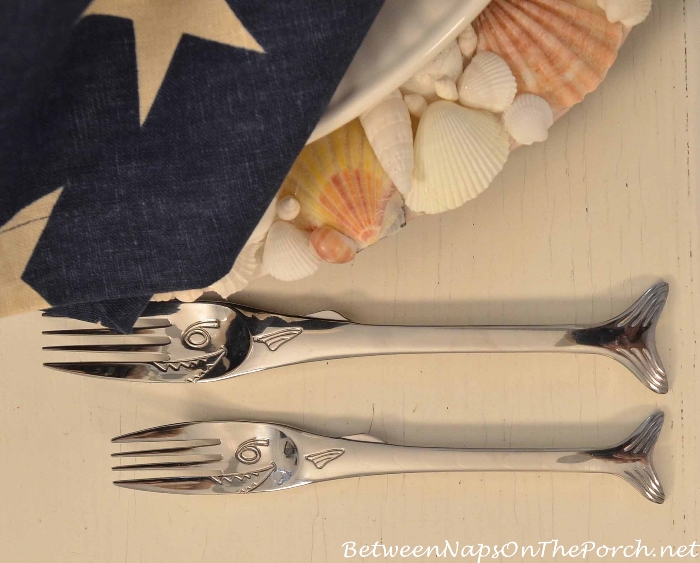 For some odd reason, it makes me think of this…I can't imagine why! 😉
I love the fish tail handles! I turned the knife on it's side in this picture so you can see the fin across the top. When you set the table, you turn the knife up on cutting edge and it looks like a fish or shark swimming through the water with the fin sticking up on top. 🙂 I love how it's designed–so fun!
It's hard to see it in this photograph, but the knife has the face of a fish/shark etched into the blade.
This set also comes with a tablespoon/soup spoon. I wish more flatware sets included that. I just looked to see if it's still available and it is. You'll find it here: FishStix 20 Piece Flatware Set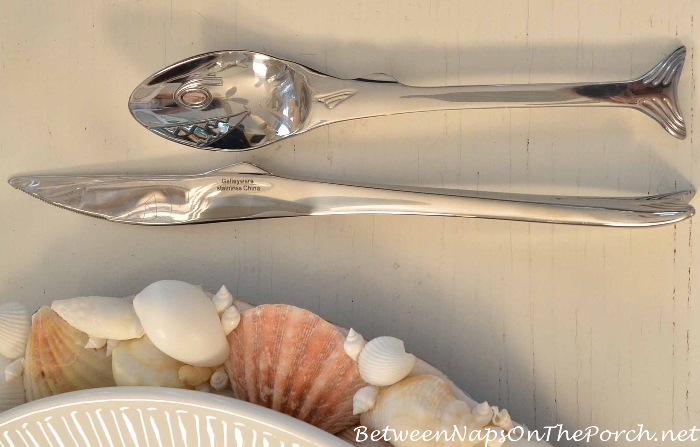 As I was taking pictures, the sun kept ducking behind the clouds. It was perfect timing to catch a few pics of the table by candlelight.
I found these cute lanterns a couple of years ago in a Family Dollar store. They were only 50 cents each so I purchased six in this clear color and six in a pretty blue. I'm just using the clear ones in today's table; I'll have to think of another table setting for the blue ones sometime. I think dinner guests would love having their own little candlelit lantern to enjoy while dining.
The large lantern in the centerpiece was a find in Marshalls (I think) a couple of years back.
Eventually, the sun came back out to play again.
Normally I use these star-covered napkins for patriotic holiday tablescapes, but they work well in a nautical-themed table setting, too.
Do you love creating beach-themed table settings? Even if we're landlocked, it doesn't mean we can't indulge our beach longings, right? If you enjoy beach themed tablescapes, you'll find 20+ more here: Beach Themed Table Settings. You'll find 3 nautical/beach-themed napkin fold tutorials at that link, too.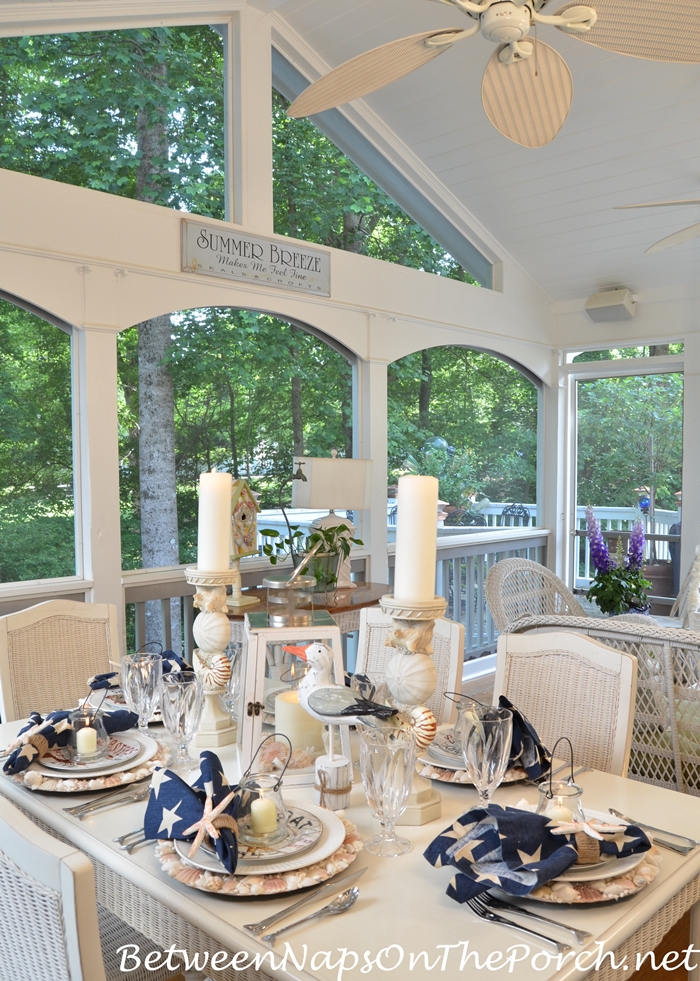 Looking forward to the wonderful tables posted for this Tablescape Thursday!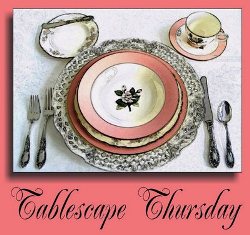 If you are participating in Tablescape Thursday, please be sure to add your permalink below, and not your general blog address.
To get your permalink, click on your post name, then copy and paste the address showing in the address bar, into the "url" box when you link up. You'll need to include a link in your post back to the party to link up and participate.
That's so visitors to your blog will be able to find the party and the other Tablescape Thursday participants. Requiring a link back also prevents businesses from linking up to sell their products. (Yep, that really happens, unfortunately.)
Please, don't add your post name/blog name ALL IN CAPS…it tends to create big spaces between the rows of links.
Please do not link up table settings that were just recently shared in the last few weeks for Tablescape Thursday.
*If a post is sponsored or a product was provided at no charge, it will be stated in post. Some links may be affiliate links and as an Amazon Associate, I may earn from qualifying purchases. *