A while back I posted about an apartment in Paris that had not been lived in for 70 years, all of its contents left completely undisturbed. It was literally a time capsule dating back to just before the second World War.
Another time capsule has come to light, this one dating back to either 1956 or 1962, depending on which source you read. Apparently, after the home was built, the owner never moved in. I couldn't find the reason why, hope it was nothing tragic. The Chicago home stood empty until around four years ago when it was purchased by Nathan Chandler, a talented furniture maker.
Nathan appreciated the workmanship that had gone into the kitchen, but he had his own plans in mind for that room. Of course, not wanting to just rip out this pristine, museum quality kitchen, he took photos and posted them in hopes of finding a buyer for the kitchen. From what I read, he got several offers and the kitchen did go to a good home. I wonder who purchased it? When I first saw the pictures, I thought that GE would have been crazy not to purchase the kitchen. Who knows, maybe they did.
As you can see, the color pink was "the stuff" back then! The kitchen had pink countertops, pink appliances and a pink porcelain sink.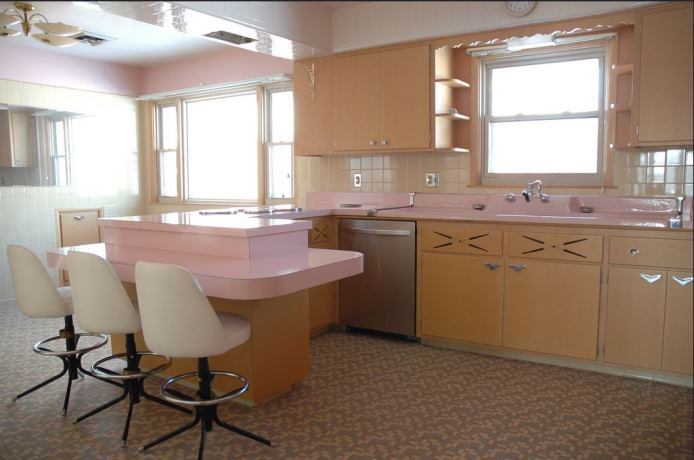 I wonder if that's a paper towel dispenser in the corner, not sure they even had paper towels available on rolls back in 1956. Maybe it's a dispenser for wax paper or aluminum foil. Check out the pink counters and the pink clock. Obviously, whoever this home was built for, loved the color pink. The pink is really pretty with the yellow tile.
I remember kitchens with cute shelves like this. Hey, open shelving isn't so new after all! 😉
Fancy knobs!
Guess what's hiding behind those three doors?
The refrigerator! I think that's the freezer on the right.
You would need to be pretty tall to reach the top shelf. Isn't this amazing?! I'm all for hidden appliances but I had no idea they were doing hidden appliances back in the 50's!
All the appliances still had their documentation, the little booklet that normally came with your fancy new appliance.
A pink oven…almost feels like it should be a play oven, doesn't it?
It also still had its booklet. Notice the book calls it an "Automatic Electric Range." Love that!
All the appliances in the kitchen were by General Electric.
This push button operation for each of the burners/coils was state-of-the-art back when this was installed.
Kind of reminds me of a jukebox. I think I remember seeing buttons like this inside old cars, too…maybe to operate the radio. Push button equaled luxury back then, I suppose. There was no such thing as a touch screen.
And this my friends, is the dishwasher!
I did a bit of research and found that the first dishwashers for "domestic" use were invented in the 1920's, per Wikipedia, but they were not in widespread use until the 1950's and that was in the most expensive homes. They didn't become commonplace for all homes until the 1970's. So, this kitchen was a super high-end kitchen back in the day!
The little starter kit is still inside. It kind of gives me the chills seeing this. Does it do that to you, too?
Thanks so much to Rita from Panoply for telling me about this wonderful time capsule! You'll find additional pictures of this amazing kitchen at Nathan Chandler's Flickr site here: Nathan Chandler Furniture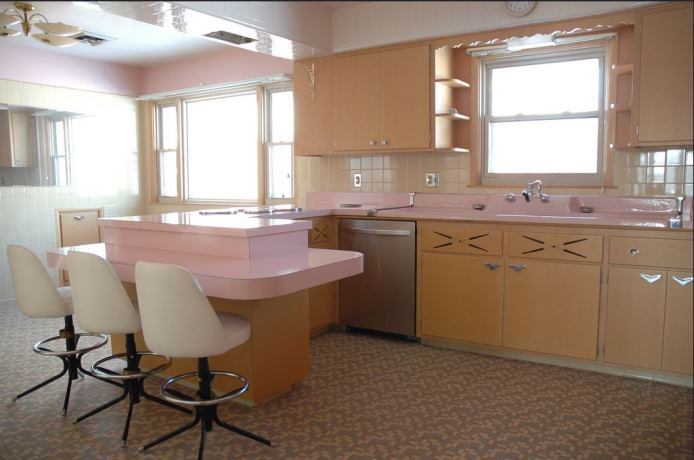 Tour another goose-bump-worthy time capsule in this previous post: Paris Apartment: Another World Frozen In Time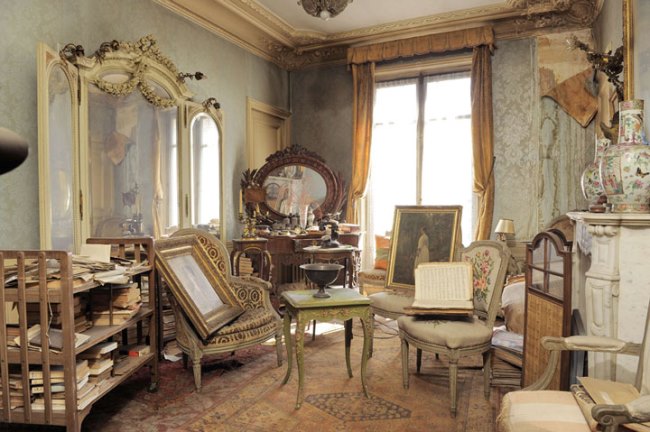 *If a post is sponsored or a product was provided at no charge, it will be stated in post. Some links may be affiliate links. *