Welcome to the 278th Tablescape Thursday!
On New Year's day this year, I had a little dinner party here in my home. Originally it appeared as if 8 would be attending but that number happily grew to 10. Since my dining room table will only seat 8, and that's always a bit of a tight fit, I decided to set two tables, 6 in the dining room and 4 in the breakfast room.
Last week I shared a few pics of the table in the breakfast room. If you missed that table setting, you'll find it here: New Year's Day Tablescape
For this week's Tablescape Thursday, I'm sharing the other table, the one in the dining room.
When I realized I'd be setting two tables, I took a little inventory of what I had on hand to use as centerpieces for the two tables. I was super tempted to put a clock on each table, similar to this New Year's tablescape below, in honor of the start of a new year. Since the countdown was really already over (this being New Year's day) I nixed that idea.
Instead, I ended up going for a winter theme, using a lot of cool, silver tones on both tables. I wanted the tables to feel similar so I separated the silver, glitter deer I used in this previous Christmas table setting shown below…
…placing one deer on each table, along with a silver tree. Since the dining room table is bigger and a different shape than the breakfast table, I added a couple of tall, silver lanterns, as well. So, the two tables had similar but different centerpieces, tying the overall theme together pretty well. (Ignore the little votive holders. I brought them in case I wanted to use them, but ended up not using them and just forgot to remove them before I took the photo.)
I placed a sparkly silver and black New Year's hats in each chair. Forgot to take a picture but you can just barely see one peeking out from the chair on the right.
As I had in the breakfast room, I added some greenery and a few berries from my nandina bush for a little extra color and softness.
For the breakfast table, I placed the party horns standing up on the bread plates.
The horns looked cute standing up in the breakfast room, maybe because that table is round. They didn't look right standing up on the long rectangle-shaped table here in the dining room so, I tucked each horn under the napkin ring, instead. The mouthpiece of each horn came encased in heavy plastic with a huge tag sticking out–not so pretty. I cut all those off before placing them on the table.
Silver, deer napkin rings worked well with the silver-deer centerpiece.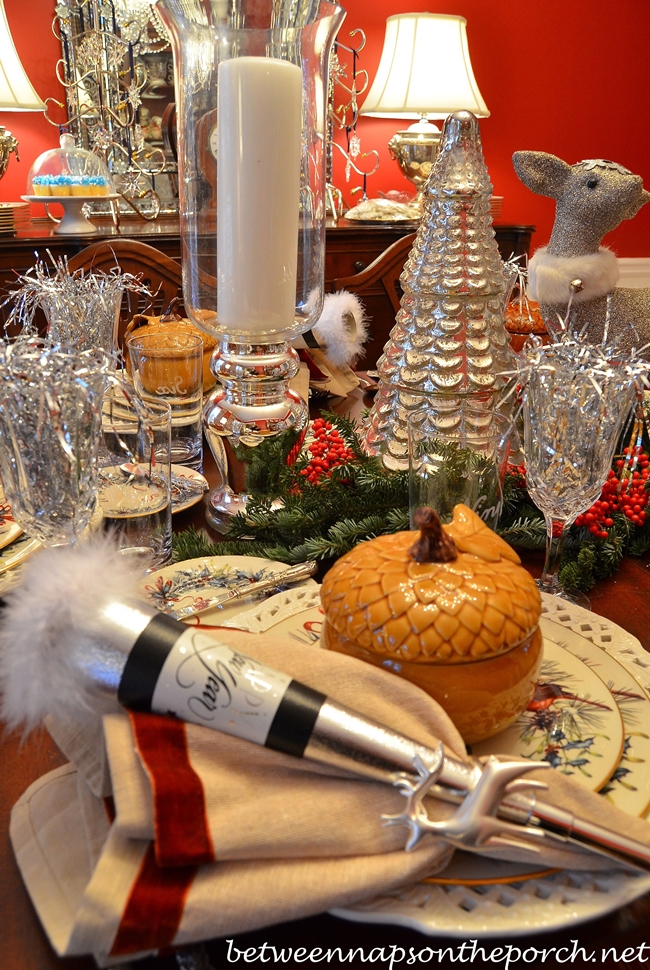 I decided to use my "number" glasses for both table settings, my single nod to the passage of time ushering in a new year. If you saw my New Year's tablescape last year, you may remember they were a find at the Ballard Designs Outlet, only $1 each. I lucked out and was able to find numbers 1-12 last year.
The soup tureens held butternut squash soup with a roasted pumpkin seed garnish. You'll find a printable recipe for this soup here: Roasted Butternut Squash Soup
I used Lenox Winter Greetings dishware for both the dining room and breakfast room tables. I also used the same chargers, soup tureens, napkin rings and flatware for both tables. The napkins on each table were different though, since I only have 8 of the velvet-edged, linen napkins. Winter Greetings is available here: Lenox Winter Greetings
I filled the wine glasses with tinsel…couldn't resist. That worked out fine later in the evening because almost everyone who was drinking wine, already had a wine glass in hand when we sat down to dinner. I removed the "tinseled" wine glasses from the table at that time.
I took these pictures hurriedly, just a few minutes before the party was due to start. I had not lit the candles yet, but I did light them before everyone arrived.
Happy New Year! I hope 2014 has been good to you so far! Looking forward to another fun year!
Looking forward to the beautiful tables linked for this week's Tablescape Thursday!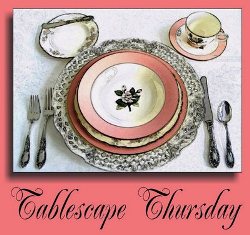 If you are participating in Tablescape Thursday, please be sure to add your permalink below, and not your general blog address. To get your permalink, click on your post name, then copy and paste the address showing in the address bar, into the "url" box when you link up.
You'll need to include a link in your post back to the party in order to link up and participate. That's so visitors to your blog will be able to find the party and the other Tablescape Thursday participants.
If you would like to use the Tablescape Thursday logo button in your post, just copy and paste it to your computer and upload it to your post as you would any photo.
Please, don't add your post name/blog name ALL IN CAPS…it tends to create big spaces between the rows of links.
Click on the Blue Frog below to see the links to all the participants in last week's Tablescape Thursday:


*If a post is sponsored or a product was provided at no charge, it will be stated in post. Some links may be affiliate links and as an Amazon Associate, I may earn from qualifying purchases. *