Welcome to the 208th Metamorphosis Monday!
How was your weekend? We've been having unusually warm weather…70 degrees out on the porch yesterday and today. Crazy! This is January, right? Yesterday was my birthday and I'm not sure when I remember a birthday this warm. Loving it while it last, though.
I have a small Before/After for this Met Monday, one I thought I'd share in case it's helpful or sparks an idea for someone else with a similar predicament. When I began putting my office together, I wanted a TV in here. I rarely watch TV; some days it never gets turned on at all. But there are times when I would enjoy having it playing as I'm sorting the "way-too-many" pictures I've taken of a tablescape.
Initially, I had a TV sitting on the desk. It was off to my left and slightly behind me. See it there on the left beside the lamp? It was there a few months and I never really liked how it looked in that spot. It took up desk space and was difficult to watch since it was so far off to the left and slightly behind me as I sat working, facing the monitors.
Eventually I decided to just put it away, placing it on top of the Expedit in the office closet where I soon forgot about it.
A handy file sorter eventually came to live in that spot. It's awesome and I use it daily…much better for that spot than a TV.
You may remember when I blogged about the file organizer in this post: Office Updates & Shell Charger Progress
I've missed having a TV in the office from time-to-time. One day it hit me and I knew just where the TV could go. As a temporary "try-it-and-see" I borrowed the pedestal visible in this picture on the sideboard in the dining room.
I placed it behind the monitors with a long, flat box on top, then placed the TV atop the box.
I'm going to look for a shelf or inexpensive pedestal to take the place of the one I'm temporarily using. I may eventually buy one of those "swing-arm" thingies made to mount TVs to walls. I kind of hate to put holes in the wall though and I like the way this looks. It's such an improvement over having the TV off to my side and back behind me. Now I can work while occasionally glancing up to see if the Earl of Grantham is really going to lose his Edwardian country house. 😉 Are you a Downton Abbey fan?
The other good thing about having the TV in this location is I can also see it from my reading chair across the room.
I've added quite a few design/decorating books to the office shelves over the last few months. I'll put together a little post sharing some of my faves real soon. So that's it for my Before/After this week. What have you been working on? Can't wait to hear!
*If you are new here to BNOTP, you'll find a post showing this room renovation from child's bedroom to home office here: Designing and Creating a Home Office: The Journey
Pssst: Thanks for all your encouraging comments on the last post about my new adventure in eating healthier and getting more exercise. I'm looking forward to sharing some updates on how that's going in the future. Be glad when the "machine" I ordered gets here.
Looking forward to all the fabulous Before and Afters for this Met Monday!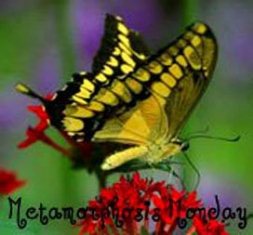 If you are participating in Metamorphosis Monday you will need to link up the "permalink" to your MM post and not your general blog address. To get your permalink, click on your post name, then just copy and paste the address that shows up in the address bar at the top of your blog, into the "url" box for InLinkz.
In order to link up, you'll need to include a link in your MM post back to the party so the other participants will have an opportunity to receive visits from YOUR wonderful blog readers.
Please observe these few rules:
Only link up Before and After posts that are home, gardening, crafting, painting, sewing, cooking, DIY related.
Do not link up if you're doing so to promote a website or product.
Do not link up a post that was just linked last week since a lot of readers will have already seen that post.
Do not type in ALL CAPS. It spreads the links waaaay out.
Let's try something fun today! Please visit the person who linked before you and after you…that way everyone will get some visits.


*If a post is sponsored or a product was provided at no charge, it will be stated in post. Some links may be affiliate links and as an Amazon Associate, I may earn from qualifying purchases. *