Welcome to the 257th Metamorphosis Monday!
My Before and Aftert today is a minor change here in the office. It's a small update but one that has made life a little easier. I love those kinds of tweaks, sometimes they can have the biggest impact. (Psst: If you're new to reading BNOTP, you can see the Before and After for the office in this previous post: Creating a Home Office)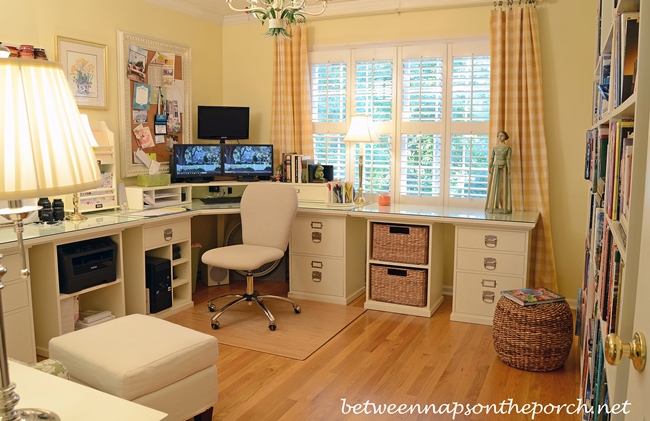 See that area underneath my monitors, the area where the white arrow is pointing?
That's command central, a busy hub for plugging in and charging the things I use on a daily basis. It's where I charge the battery for my camera, my cell phone, my wireless keyboard, wireless mouse and my iPad. Originally there were just two outlets there, but I added this charging thingamabob found in Best Buy a year or so ago and it gave me multiple outlets, plus two USB charging slots.
I love having all the charging cables available in this area since it's super convenient for charging the keyboard and the mouse that are just a few inches away, as well as my cell phone and iPad. I also enjoy being able to use those things at my desk while they are still being charged. The only thing that drives me a little crazy about this system is sorting through the maze of cords to figure out which one I need when something needs charging.
I decided recently to label the cords. At first I tried labeling them with some little round stickers I already had. Those lasted about 2 minutes and beginning peeling off. That led to a Google search for "cord labels" which led me to The Container Store where I found these Cable IDs. I ordered them online since the nearest location is about 30-45 minutes away through heavy traffic. Shipping was free and they arrived in just a few days.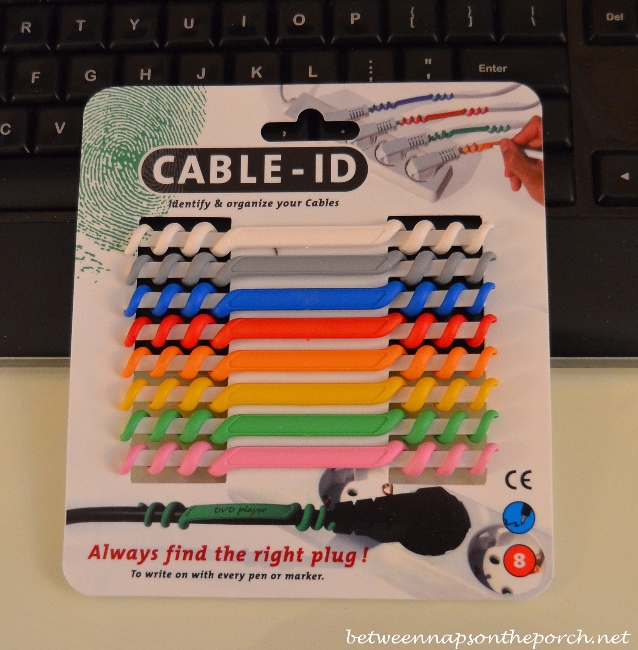 I definitely like these. I like how they fit snuggly around the cords instead of sticking out and getting caught on stuff as you use them. After having them on the cords for just a few days, the different colors have made it easy to quickly identify which cable is which, without even taking time to read the labels.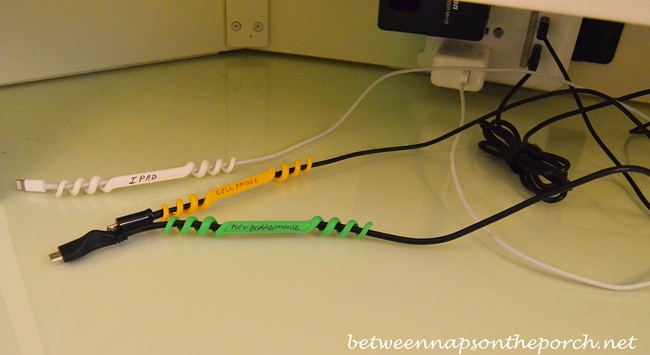 I initially tried labeling them with a pencil in case I wanted to reuse one for another purpose later. I couldn't get a pencil to write on them but a pen or marker works fine. I still have several "Cable IDs" left over to use on the rat's nest of cords lurking behind my desk that go to the printer and various other things plugged in back there.
I also like this idea I found at Mashable. I wonder what holds the cable thingy down on the desk…maybe it sticks to the surface.
Do you have a special way to keep up with all your charging cords? Have you seen the bread tie method where you use the little flat plastic thingies that sometimes come on the end of bread wrappers? That's definitely an economical way to go, as long as they don't pop off or get caught on other things when in use.
Looking forward to the Before and Afters linked for this Met Monday!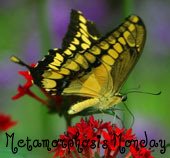 If you are participating in Metamorphosis Monday, you will need to link up the "permalink" to your MM post and not your general blog address. To get your permalink, click on your post name, then just copy and paste the address that shows up in the address bar at the top of your blog, into the "url" box for InLinkz.
In order to link up, you'll need to include a link in your MM post back to the party so the other participants will have an opportunity to receive visits from your wonderful blog readers.
Please observe these few rules:
Only link up Before and After posts that are home, gardening, crafting, painting, sewing, cooking, DIY related.
Do not link up if you're doing so to promote a website or product.
Do not link up a post that was just linked last week since a lot of readers will have already seen that post.
Do not type in ALL CAPS. It spreads the links waaaay out.

*If a post is sponsored or a product was provided at no charge, it will be stated in post. Some links may be affiliate links and as an Amazon Associate, I may earn from qualifying purchases. *