This morning my son, grandsons and I attended a local car show. I love vintage and antique cars so I awoke early, super excited to go. We didn't see a lot of vintage cars at the show, but I still enjoyed it tremendously. Some of the cars we saw are those you normally only see in car enthusiasts magazines. My son recognized and named many of them all as we walked around, including the McLaren that goes for $200,000 to 1,000,000+ depending on the model.
Do you enjoy car shows? My son was surprised that I wanted to go and even more surprised how much I enjoyed it. How can you not enjoy the art of a beautiful automobile? I also love vintage/antique boats with their gorgeous woodwork. The cars we saw today melded performance with beauty, definitely got the heart racing just looking at them.
Questions About The Umbrella in Thursday's Post
Before I share some of the photos I took at this morning's car show, I've had several questions and emails asking about the umbrella seen in Thursday's Tablescape Thursday post. I wasn't sure if this exact same umbrella was still available since I purchased it a couple of years ago.
After seeing how beautiful it was with my son and dil's outdoor table, I looked online again today to see if was still available. I was surprised to find it is, plus it's on sale with free shipping! I paid full-price the first time I purchased it, so was delighted to see that it's on sale now.
I purchased one for myself again today because I'm still in need of an umbrella and I absolutely love the color/design of this one. I know it still won't match the chair cushions on my current outdoor dining set, but I'm hoping I'll eventually locate cushions that do match. If you were one of the folks who asked about this umbrella, you'll find it on sale here: Umbrella.
It's available in several colors and patterns, including a pretty yellow pattern and a red design. See all the various styles here: Umbrellas.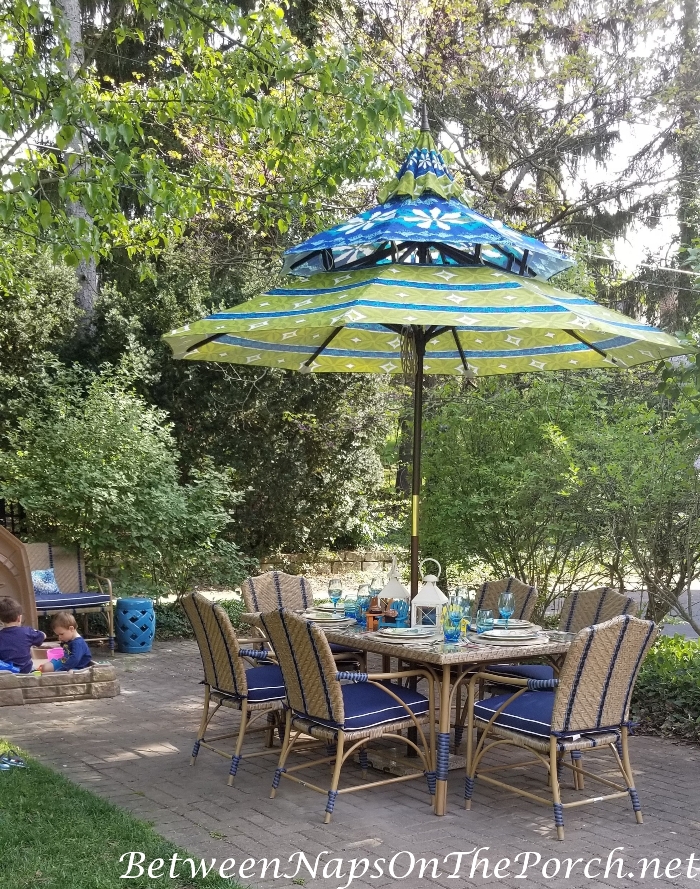 Below are some of the cars we saw today. If my son recognized the car, I've listed the name below. See how many you recognize! Hope you enjoy a little stroll through a part of the car show.
This was my favorite…a Bentley.
The interior was beautiful! Seriously beautiful!
Lamborghini
Acura NSX
Acura NSX
Update: Remembered this morning that my son said this car had a Honda logo on it…neither of us could figure that out!
Acura NSX
Shelby Cobra
Mustang
Corvette
Corvette Stingray
Camaro
Dodge Challenger Hellcat…notice the Hellcat hanging out the driver's window. 🙂
We weren't sure about this one…I think the sign said Healey Cobra Performance.
Also, weren't sure about this one, maybe a Shelby Cobra…not sure.
This one's a Plymouth Prowler…thanks Cynthia for identifying this one!
Corvette with a monster truck beside it. Grandsons got a big kick out of the monster truck.
Better view of the Corvette…
Nissan Figaro, like the one from the Movie, Cars 2 🙂
Mercedes Convertible
Acura NSX
Not sure about this one…
Yellow car on left is a 1970 Lotus Europa…thanks, Cynthia!
Corvette
A McLaren from McLaren Automotive! $200,000+ car!
I'd be terrified to drive it anywhere!
Not sure…
Mercedes AMG
Slingshot
Back view of the Slingshot…
Thanks to Cynthia and Lloyd for sharing this great photo of their 1962 Studebaker! Cynthia said, "Through the years, he (Lloyd) has built from the ground up and restored several show cars and we both love car shows and often incorporate them into trips in the U.S."
How fun it would be to travel across the United States seeing our beautiful country in a wonderful vintage car produced right here in the U.S.! Love that!
Hope you enjoyed this post, first time we've visited a Car Show before!
Happy Mother's Day weekend to you!
*If a post is sponsored or a product was provided at no charge, it will be stated in post. Some links may be affiliate links and as an Amazon Associate, I may earn from qualifying purchases. *