Welcome to the 386th Metamorphosis Monday!
When I ordered this potting bench, I had plans to give it a few coats of marine varnish. (Potting Bench can be found here: Potting Bench.) But somewhere along the way I changed my mind and decided to have a little fun with it. I wanted to paint it, but what color? I searched online for painted potting benches and found a lot of cute ones, but still didn't see a color I really liked.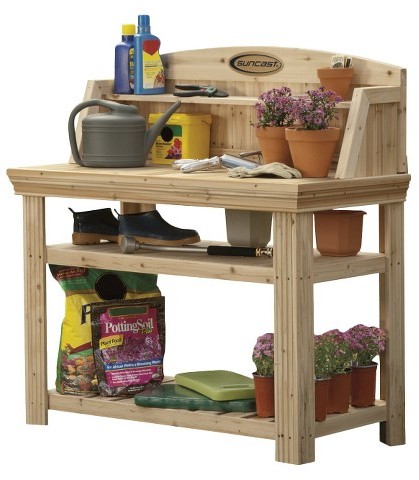 Then I came across this picture on the Sherwin-Williams website. Oh, how I love these colors on what I'm guessing is a Victorian cottage. I especially loved the periwinkle blue/purple color of the shingles. I thought I'd visit a Sherwin-Williams store and ask them if they knew the name of the paint color.

The day I visited they were having a big sale, 40% off all their paint, so they were super busy. Since all the sales associates were tied up, I scoped out the paint colors and decided Dahlia looked like a winner. This is the first time I've actually compared the paint chip to the photo and it's pretty close, isn't it?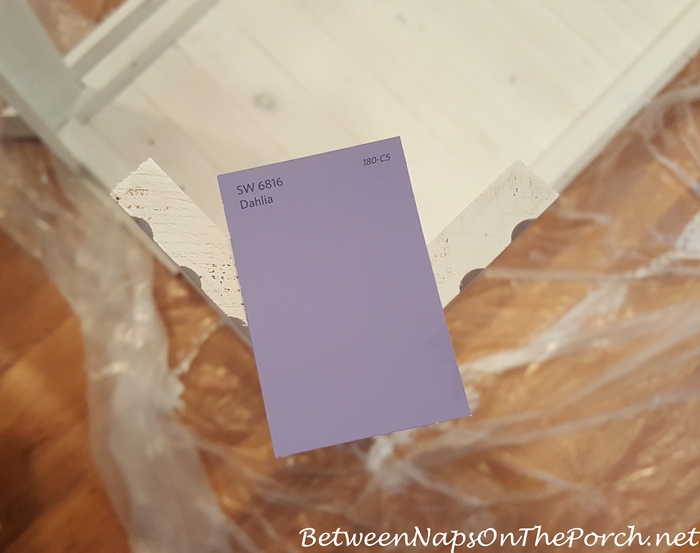 So what do you think of Miss Dahlia? Do you like her periwinkle dress? lol She looks a bit darker in some of these photos because she's inside the garage. I've decided to keep the bench inside the garage since I just can't bring myself to leave it outside in the elements. Plus, I have plenty of room for it here between the windows.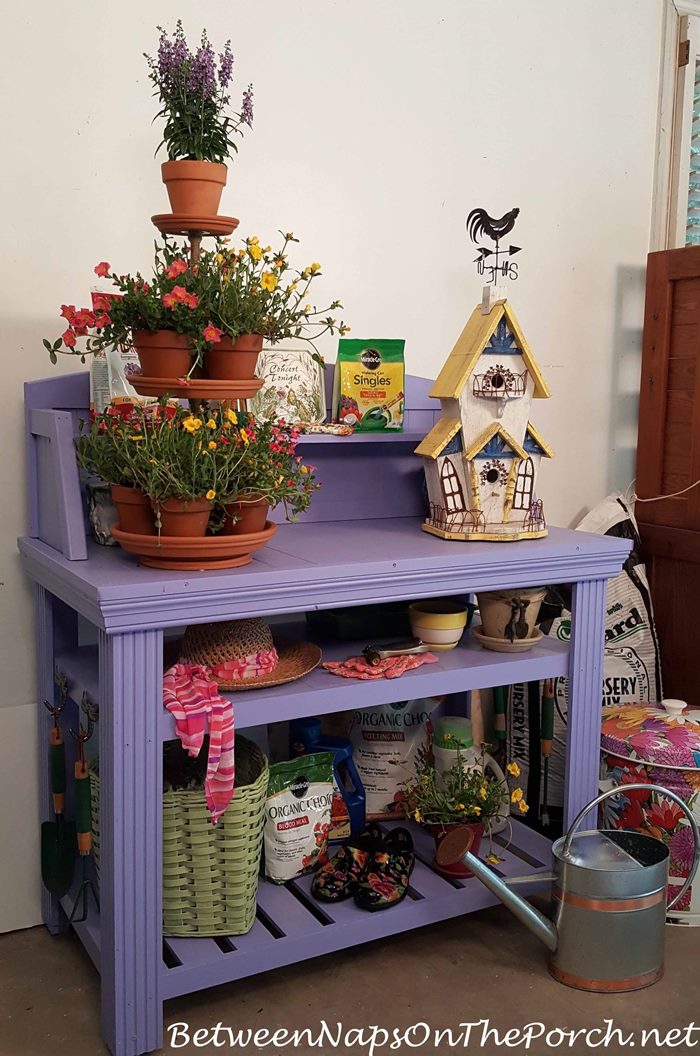 I couldn't resist placing the tiered planter I made recently here for the photos. The bird house is one I purchased many years ago at a crafts fair.
If you would like to make one of these tiered planters, you'll find the tutorial here: Make a Tiered Planter from Terra Cotta Saucers. I'm using a green, heart-shaped basket to store all my gardening gloves.
I removed the "Suncast" plate that was at the top of the bench. For now I have a garden tile covering the small screw holes that were left where I removed it. I'll have to find something cute to go back there.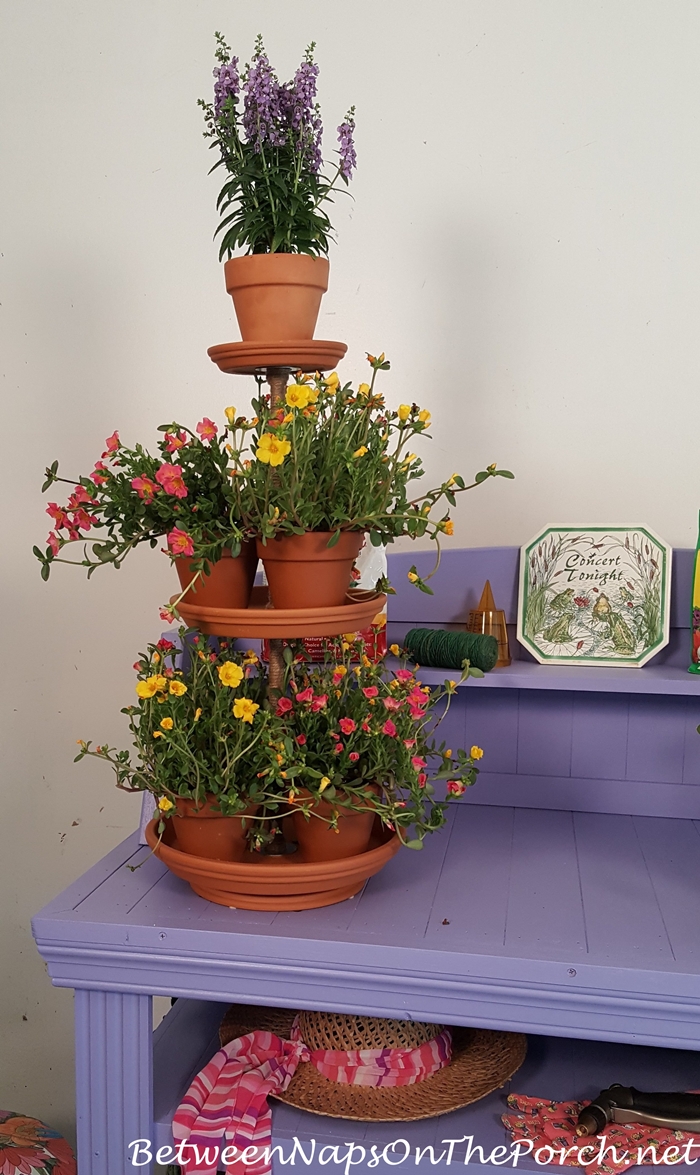 I purchased the green watering can recently, loved its shape: Watering Can
The large, floral, metal container on the floor was purchased around 15 years ago at Wild Birds Unlimited. I've been storing miscellaneous birding stuff in it.
Now it's filled it with some of that awesome potting soil I purchased recently when I potted up the Limelight Hydrangeas.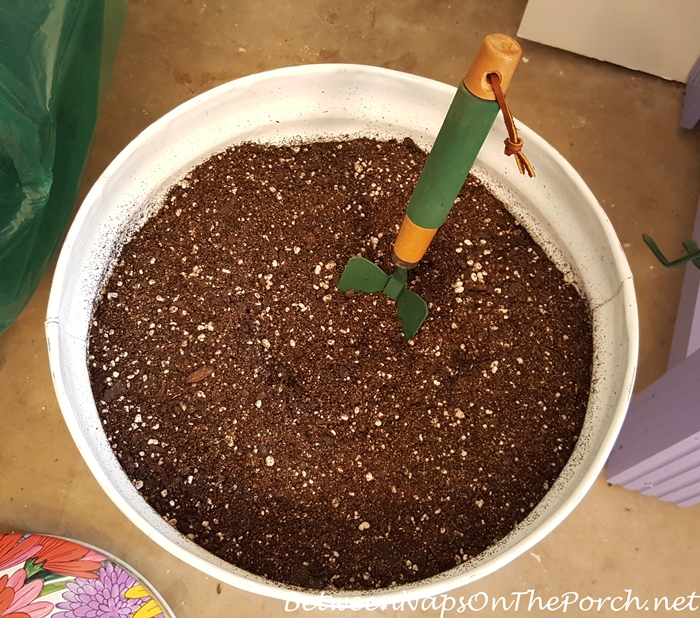 Did you notice the gardening tools hanging on the side of the potting bench?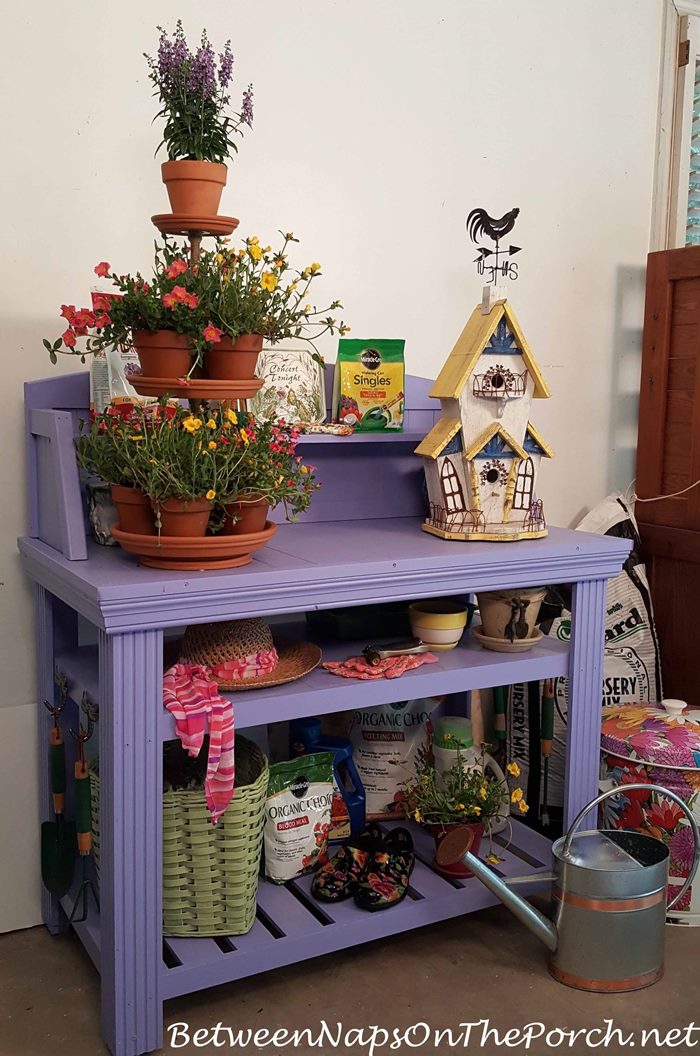 I found these dragonfly hooks a while back and love them here for holding gardening tools. I placed two on each side of the bench. You'll find them available here: Dragonfly Hooks
This photo below was taken early in the morning with the east sun coming into the garage, and it's probably the most accurate of how the Dahlia paint looks in person, at least in brighter light. I do love this color!
Do you see the shoes on the bottom shelf?
I had noticed a pair of gardening clogs in the photo of the potting bench when I purchased it online. When I was in Holland and Belgium toward the end of April, I learned that many of the gardeners there wear the traditional Dutch style wood shoes for gardening because they work so well for keeping your feet dry.
I've never had gardening shoes before, I've just always worn an old pair of tennis shoes. That never works very well because they don't always keep my feet dry and are impossible to keep clean. Why has it taken me this long to consider buying a pair of garden shoes?!
I searched and found these absolutely adorable, water-proof garden shoes. The price and reviews were so good, I ordered two pairs. I've worn them several times already and love them! They are so comfortable, I forget to take them off when I come inside.
The reason I ordered two pairs is in case one pair gets muddy and needs to be washed, I'll have a spare pair to wear in the meantime. The insole comes out so it can be washed, too. You'll find them available here: Pansy Garden Shoes and Blue Floral Garden Shoes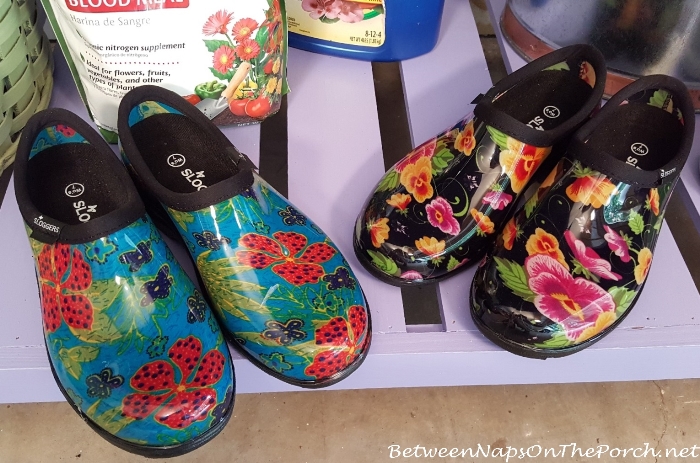 Check out these adorable chicken ones! Wouldn't they be great to wear out to the hen-house to collect eggs each morning. lol Now I just need a hen-house and some chickens! 😉 They are available here: Chicken Garden Shoes
The only thing I'd like to add now is a large trash can to go on the left side of the bench.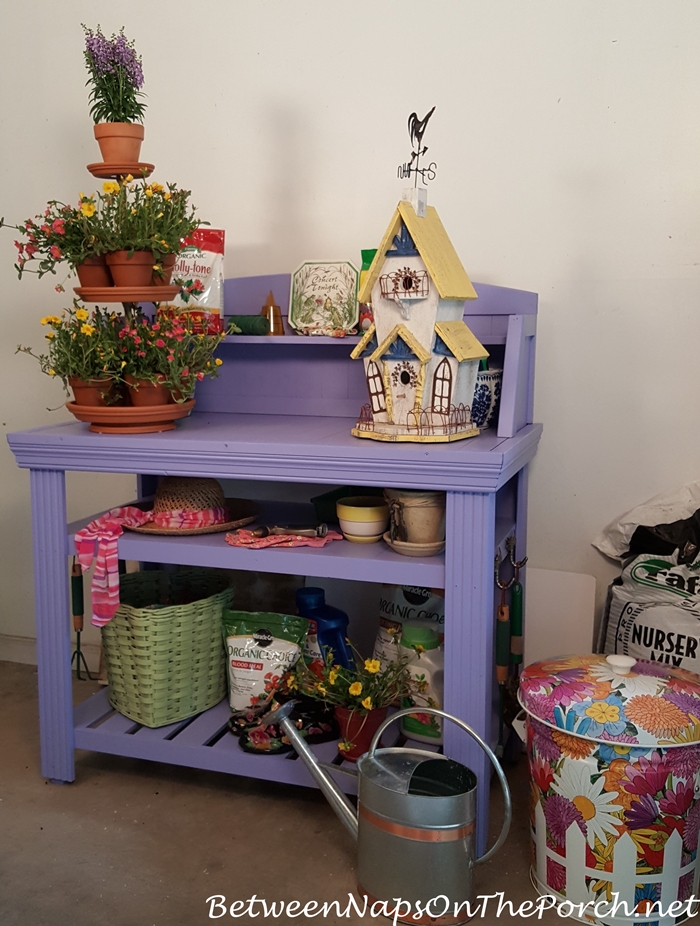 I love these cute striped cans seen below. I'm thinking about buying one of the cans and maybe spray painting it a fun color. We'll see. If you are feeling adventuresome and want to paint stripes, you'll find the cans in the photo available here: Metal Trash Can with Lid
Before I leave you, I want to plant one more little idea in your head, something I considered doing. Wouldn't it be cute to paint that first shelf that's just underneath the potting table surface, one of the other colors in this photo?

I was so tempted to paint something on the bench another color, but in the end I decided to just keep it simple for now. But, I do think it would be really cute!
I thought this bench had sold out, but it looks like it's back in stock. Here's where I purchased mine: Potting Bench
And here's another cute bench that's very similar in style: Potting Bench
Happy Gardening to you, dear Friends!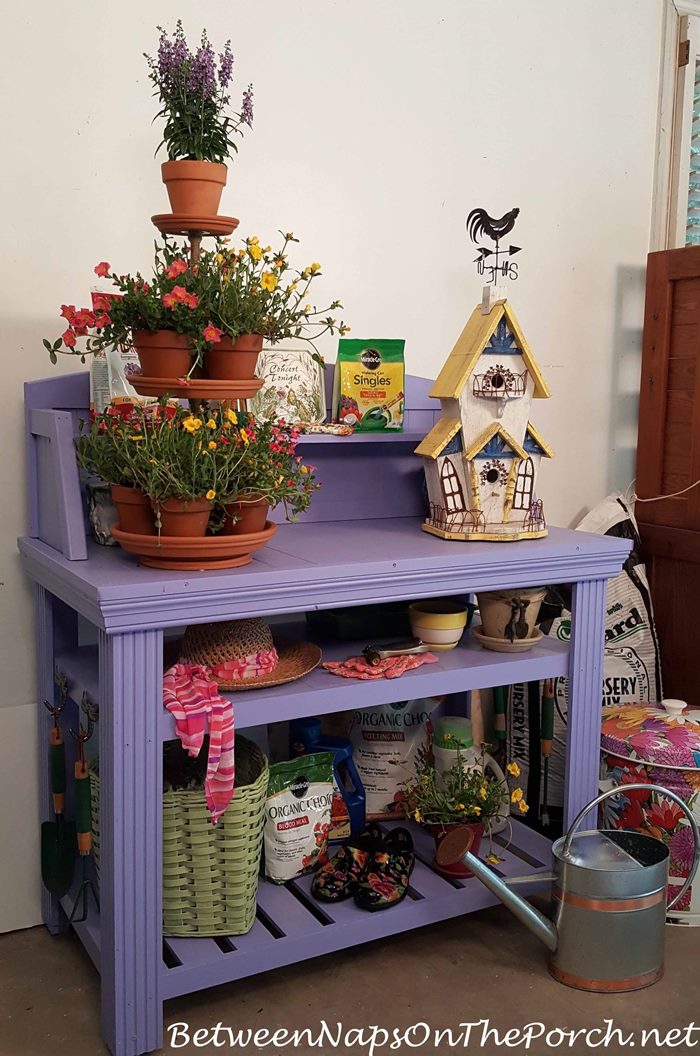 If you are participating in Metamorphosis Monday, please link up using the "permalink" to your MM post and not your general blog address. To get your permalink, click on your post name, then just copy and paste the address that shows up in the address bar at the top of your blog, into the "url" box for InLinkz.
In order to link up, you'll need to include a link in your MM post back to the party so the other participants will have an opportunity to receive visits from your wonderful blog readers.
Please observe these few rules:
Only link up Before and After posts that are home, gardening, crafting, painting, sewing, cooking or DIY related.
Do not link up to the party if you're doing so to promote a website or sell a product.
Do not link up a post that was just linked up last week since readers would have already seen that post.
Please do not link up more than 3 posts per week.
*If a post is sponsored or a product was provided at no charge, it will be stated in post. Some links may be affiliate links and as an Amazon Associate, I may earn from qualifying purchases. *