If this is your first visit to this blog, skip this post now…quickly, before you change your mind and never come back. 😉 Pictures in this post may have you running away, never to return.
Max had a big day yesterday. He partied hard, as you can see.
In the spirit of keeping it real, (are you tired of that phrase yet?) here's how my kitchen looks today after running the dishwasher once and a good bit of hand-washing and "putting-up."
I think you know what I'll be doing today. I know this sounds crazy, but I actually love this part. I turn the music on and wash away. It gives me time to reflect on the party and to just relax and enjoy putting things back in order. Sick, I know. But before I dig back in, I have to share a funny story from yesterday.
Party on the Titanic:
Shortly after everyone arrived, I suggested we heap our plates full of appetizers and head out onto the porch. There were 6 of us and we all settled down into the seating area on the porch. I pulled a chair over from the table so I could easily hop up to check on things, as needed.
Then it came…a monster of a storm. The winds were blowing, hurricane style. The rain was torrential and the thunder was unbelievable. This, my friend, was the type storm I always weather inside.
I kept wondering when the tornado warnings would sound. I had NEVER been on the porch during a storm like this. I'm usually hunkered down inside waiting it out. Remember those stories about how the band continued playing as the Titanic sank? My guests were unfazed and the party continued. I couldn't believe it!
These HUGE gusts of wind kept coming and at one point it was as if someone had turned a soaker hose on me and another guest who was sitting in the wicker chair closest to the long row of screened windows. I was so shocked, I almost leapt out of my chair! My party guests hardly reacted and everyone continued to talk and party. What??? After I got over the shock of being soaked, it actually felt pretty good. It definitely cooled me down. lol
As Forrest would say, we had "sideways rain." The sheers were whipping all around (that I've seen before) but at one time, the sheers closest to the table actually stood ALL THE WAY OUT at a 90 degree angle. We're talking STRAIGHT out folks! I have never seen that, EVER…probably because I'm normally inside.
I've gone out on the porch the day after what I call "tornado storms" and noticed the porch floor and the table nearest the window covered with rain water, but never have I been sitting right beside the windows and table when it happened. What an experience!
These women were amazing! The wind and rain was so loud at times, we were practically shouting over the storm to talk. I kept saying, "If it gets too bad y'all, we can go inside." Not one person ever said, let's go in. Occasionally, someone would say, "Look at those trees!" The trees were whipping and flailing around like crazy! I know a tornado must have been passing nearby!
There wasn't really any lightning, at least that I noticed, but the thunder was deafening. It was the most unusual start to a party, ever! When it was all over, which seemed like forever but was really only about 5-6 minutes, I grabbed a bunch of towels to wipe up the porch floor near the windows–not because it would hurt the floor, I just didn't want anyone slipping or falling.
I will NEVER forget that moment on the porch, EVER! It was as if I said to my guests, "Hey, look a tornado is coming, let's go party on the porch!" 🙂 It certainly cooled the evening off, though, and it quit raining right when we needed to actually cook out on the grill. Perfect!
During a party, my laundry room ends up being a "staging" and catch-all area. Here's how it looks today. Yikes! I need to put a sign on the door, "Disaster Area…Keep Out!"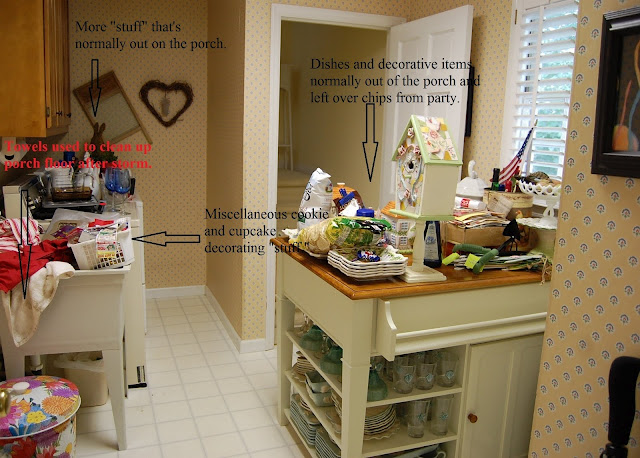 Sneaky way to use an old, container for a floral arrangement:
I've attempted to use this old, spatterware container in the past for floral arrangements, and I quickly found out the hard way that it leaks. I really wanted to use it for the sunflowers I included in T
HIS post
and for my 4th of July party. The solution was so easy, I had to share it.
I just put the flowers into another pitcher that fit down into the spatterware pitcher. No leaking and noone would ever know. I had to spread the flowers apart to reveal it for this photo. Cool, huh?
What's your funniest party story? Please share!
*If a post is sponsored or a product was provided at no charge, it will be stated in post. Some links may be affiliate links and as an Amazon Associate, I may earn from qualifying purchases. *