I am earring challenged! Over the last few years I've rarely worn earrings, despite really loving them. The problem has been two-fold: 1. Over the years my ears have become super sensitive to earrings that aren't 14K gold and 2. I am forever losing earrings, usually just one. Maybe I should just start wearing all my orphaned earrings together…start a new trend! lol
I've been hoping to add a pair of pearl earrings to my meager earring collection for some time, but I've been putting it off since I didn't feel like dealing with the same old issue of having my ears irritated each time I wore them.
I've found a way to sorta compensate for that issue and it works pretty well. Whenever I wear fashion/costume jewelry earrings where the posts are not 14K gold, I dip the posts into a little dot of Neosporin to coat the posts prior to putting them in my ears. When I take my earrings out at the end of the day, my ears aren't irritated or sore. But that gets old having to do that every time, so I tend to get lazy and just not wear earrings at all.
Since I know I'm not the only person with this problem, it dawned on me recently that there are probably some reasonably priced earrings available with at least 14K posts. I did a bit of searching and found pearl earrings with 14K posts. The first pair I ordered had great reviews and were a great price, but I was disappointed when they arrived.
They were fresh water pearls, and though I had expected some variance, they weren't even remotely round. Instead, they were squatty-looking, kinda like an Advil-shape. They even had a completely flat, square spot right in the top center of each pearl. So bizarre looking! They were called "button" pearls and maybe that's how button pearls are supposed to look, but it wasn't what I had in mind, so I returned them.
At that point I started reading a bit more about pearls online. I saw that some of the higher-end jewelry stores online were singing the praises of "Akoya" pearls. Knowing almost nothing about pearls I had never heard of those, but I decided to shop for them since they sounded more like what I had in mind. I wasn't going for expensive Mikimoto pearls, just wanted attractive pearl earrings that were real.
I found some for a much better price than what I was seeing in the online jewelry stores, After reading the reviews, which were very good, I decided to give them a try. Instead of a freshwater pearl, Akoya pearls are "cultured" pearls.
When they arrived, they were really pretty and just what I had wanted. (The pearls I purchased are available here: Pearl Earrings with 14K Posts.)
I purchased the 7.0-7.5 size after learning during my research phase that this was typically a good size for most ears. When I put them on, I noticed they had the same typical metal backs that so many of the earrings I've lost in the past have had. When wearing them, they also had a very slight tendency to lean downward due to the weight of the pearl.
After a bit more research, I purchased these earring backs below and they are perfect! They feel really secure, are super comfortable to wear and they keep each pearl earring positioned perfectly on my ear so that they don't tilt downward at all. Love them! Since they feel so secure when I push them onto the post of my earrings, I'm hoping I won't lose one. I've been wearing them every day since they arrived and so far they feel nice and secure.
There were so many backs included in my order, if I notice one starting to loosen up down the road, I'll just toss it and get out a new one. That may not happen, but I'm glad I have more if needed. (These backs are available here: Safety Backs)
Just wanted to share these earrings (and backs) with you in case you've been looking to purchase reasonably priced pearl earrings and also need 14K gold posts to avoid irritation.
A Travel Case for Your Jewelry
Just before I left for the Germany Christmas Markets trip on December 20th, I saw this travel case on the Tiffany & Co. website. I had seen one just like it on eBay many months ago, but it had a small stain inside and was priced almost as high as a brand new one. Unfortunately, Tiffany no longer had the case in stock.
As Christmas neared this year, I saw the case featured on an Instagram account I follow. Unfortunately, it was again sold out, so I called my Sales Associate to see if she saw any in stock in one of their stores. She found one in the Tiffany & Co. Hawaii store and had it shipped to my home. It was a nice surprise when I arrived back home sick with what turned out to be Influenza A and bronchitis. If you need a great associate to help with your purchases at Tiffany, ask for Regan in the Atlanta Phipps location. She's excellent.
I know Tiffany can be on the expensive side, so I was surprised to see how reasonably priced this travel case was: it's about the same price as a nice leather handbag. When you consider it's made in Italy from buttery-smooth Italian leather, and consider all the work that went into making all the different levels and components, I'm surprised it's isn't priced much higher.
The workmanship is impeccable, every stitch is perfect and the leather is gorgeous! Tiffany never disappoints, always exceeds my expectations. I expect to carry this piece on my travels for many, many years and hopefully pass it down to another family member one day. You'll find all their small jewelry travel cases here: Jewelry Travel Cases.
I placed a few pieces of jewelry in the case so you could get an idea what fits. See the pearl necklace with the anchor and ribbon closure on the left side of the photo?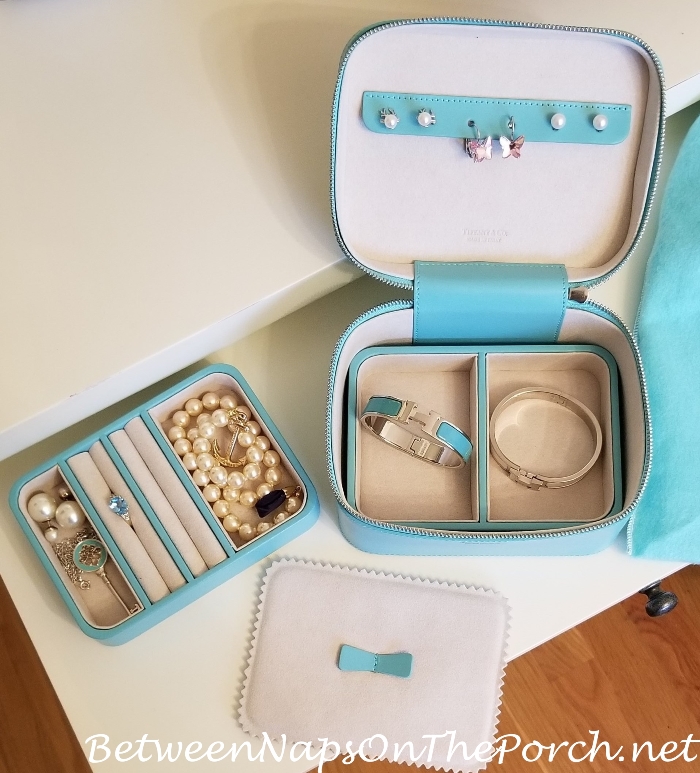 That's the necklace I was wearing when I visited The Christmas Story movie house in Cleveland, Ohio. (Read that post here: Tour the house in the movie, A Christmas Story.) Someone actually spotted that necklace and mentioned it in the comments, I was amazed! The necklace is still available here: Pearl Necklace with Anchor Closure and the matching bracelet is here: Pearl Bracelet.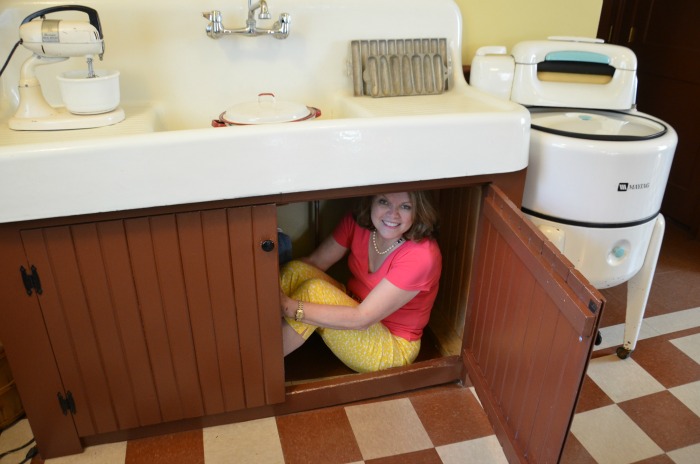 The lower section, which can be removed entirely if needed, is the perfect size to hold a couple of Hermes Clic H bracelets. I wear one almost every day and always take a couple with me when I travel, so I was thrilled to see they fit. The bottom compartments are unfortunately a tad too small for an Hermes 65 enamel printed bangle, but most other bracelets fits nicely.
Across the top you'll see three pairs of earrings. The pearl earrings with Elk antlers on the far left are available here: Antler Pearl Earrings. I purchased those to wear during the Christmas season. 🙂 They were inexpensive so I used Neosporin on the posts when I wore them during Christmas to avoid any problems.
The butterfly earrings are Swarovski and I'm not sure if they would irritate my ears or not since I've been using Neosporin on the hoops before I wear them. They also come in a stunning blue color and a beautiful purple. I purchased a pair of the blue ones, too. I also gave them as gifts this past Christmas. They are available here: Butterfly Earrings.
The earrings on the far right are the Akoya pearl earrings with 14K post that I just purchased recently. They are so pretty in person, so lustrous! They are available here: Pearl Earrings.
Hope this post is helpful if you struggle to find earrings that don't irritate your ears. I'll be looking for more 14K Post earrings in the future now that I know those work in my ears with no problems.
*If a post is sponsored or a product was provided at no charge, it will be stated in post. Some links may be affiliate links and as an Amazon Associate, I may earn from qualifying purchases. *