It's the weekend! Have you anything special planned this beautiful fall day?
I'm looking forward to a very special evening. A friend of mine had a kidney transplant a year ago and he's throwing a party to celebrate that he's had no problems, no rejection and has been able to enjoy a full year off dialysis. The guest of honor for the party will be his donor, a dear friend of his, who in an unbelievably generous act of kindness and love, gave one of her kidneys to help my friend. What a wonderful celebration it will be! I'm looking forward to meeting this beautiful person who has given my friend a most amazing gift.
Pillow Talk: Tour the New York Apartments in This Classic Doris Day & Rock Hudson Movie
You may remember from a couple of previous posts, I had a Rock Hudson, Doris Day movie marathon about a year or two back and watched the three movies in this Romance Collection. I shared the homes featured in two of the movies: Lover Come Back and Send Me No Flowers. (Those tours can be viewed here: Lover Come Back: Tour the New York Apartments in this Doris Day and Rock Hudson Classic And Send Me No Flowers: Tour This Classic Doris Day, Rock Hudson Movie House
Today, we're touring the New York apartments from the romantic comedy, Pillow Talk, filmed in 1959. I was just two years old when this movie came out so it's fun knowing these were probably the movies my parents were going to the theater to see. Pillow Talk was the first of three movies where Doris Day and Rock Hudson starred together, the other two being those in this Romance Collection.
I read at Wikipedia (where I found the pic below) that Pillow Talk was named to the National Film Registry by the Library of Congress for being "culturally, historically or aesthetically" significant and thus, is being preserved. Pillow Talk was a huge box office success and grossed big bucks for that time. Guess that's why they went on to make Send Me No Flowers and Lover Come Back.
Who could resist going to a movie with this poster as the advertisement. What a beautiful couple Doris Day and Rock Hudson made on the silver screen.
Brief snynopsis:
We're here to check out the interior design of the time, but here's a brief synopsis of the story line of the movie: In Pillow Talk, Jan Morrow, played by Doris Day, is a super successful Interior Decorator living in New York city. She lives alone and his quite the busy career woman. She has a housekeeper named Alma (played by Thelma Ritter) who has a bit of drinking problem.
In the movie, Doris is stuck sharing a party line with Brad Allen, played by Rock Hudson. Brad is a Broadway composer and a major playboy, wooing women right and left in his swanky New York apartment. Brad is a bit of a phone hog since he's constantly on the phone sweet talking his next victim girlfriend. Doris accidentally overhears a few of these conversations and develops a major dislike for her fellow party line bud.
Tony Randall is also in this movie and he plays Jonathan Forbes. Jonathan is friends with Brad and also happens to have a big crush on Jan who he knows professionally. He is completely unaware of their party line feud until well into the movie.
At one point during the movie, Brad bumps into Jan in a nightclub and is very attracted to her. He knows who she is but she doesn't know he is. He knows he doesn't stand a chance with her since she knows what a playboy he really is, so he pretends to be someone else, a wealthy Texas rancher named Rex Stetson who is naive when it comes to courting women. Eventually they end up going away to a wonderful cabin in Connecticut for a few days. I captured a few pics of the cabin but I'll have to show them in another post some time. This post would be way too long if I tried to include them here.
So that's a brief synopsis of Pillow Talk. It really is a delightful, funny movie.
Here's the living room in Jan's New York apartment. There's a lot of pink…kind of a rose pink…going on in the decor. Was this about the time sectionals were becoming popular? The sofa has a bit of a sectional look, doesn't it? Take a look at that secretary? hutch? over on the right. Is that not the oddest looking thing. It almost looks fake, like it was photoshopped into the scene. I never even noticed it while I was watching the movie.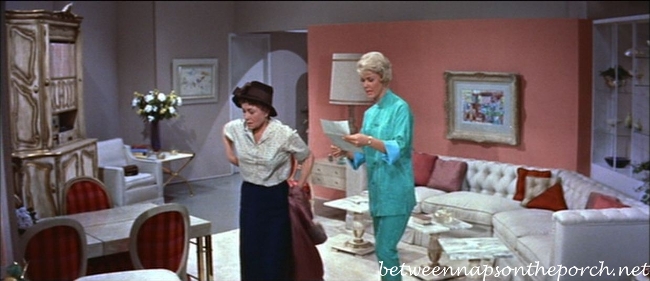 This is a similar scene but I wanted to share it because this is such a clever solution for a small space like a New York apartment. They have taken the red plaid/checked arm chairs that go with the small dining table we see in the pic above and they are being used as seating in the living area. During a dinner party, they could be pulled over to the table for seating there. You'll see where the other arm-chair is being employed in just a sec.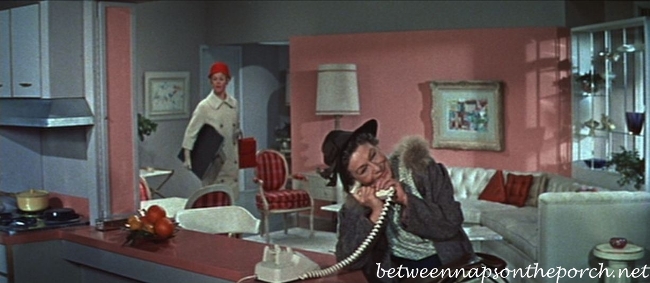 How do you like the color of the kitchen counters? They must have matched the wall color to the counters. Very bold!
A bigger view of the small kitchen. Jan has mixed her housekeeper, Alma, something to help with her hangover.
The other side of the kitchen. Have you noticed all the gray walls. I thought it was interesting that gray was used for the walls in 1959 since it's such a "in" color for walls today.
Even the cabinets are gray. I've never seen cabinets with gold edging though. I wonder if that's metal around the doors.
In this view, we get a glimpse into Jan's home office across the room. The apartment is basically one big space, divided up into a living room, kitchen, office, bedroom and bath. Not sure if there's a guest room since we never see one in the movie.
A better view of Jan's office: don't the hanging pendants look like something you would see in today's interiors. Hanging pendants are so popular in kitchens and baths now. And there's another of of the red checkered chairs, this time being used as her office chair.
Her office has quite a view doesn't it. Okay, all you New Yorker's, is this a real apartment, or do you think that's a set outside those windows? Wonder what bridge that is or is supposed to be? Any ideas?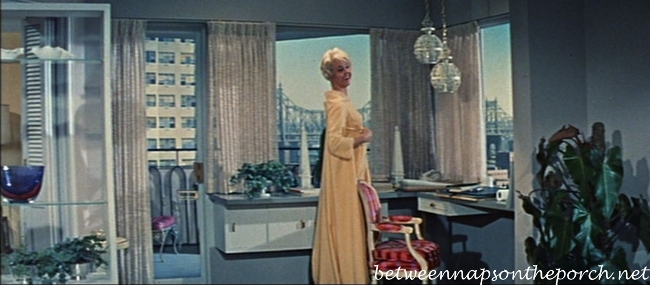 This view shows where Jan's bedroom is in relation to the office (on the right) and the rest of the apartment. It's basically located back behind the living room area.
One thing I really liked about the design is how she has a great view from both her bedroom and office out across the patio/balcony overlooking the city. I'm not one for city views, prefer views looking out into wooded areas, but I'm sure this is a coveted view for any New York apartment.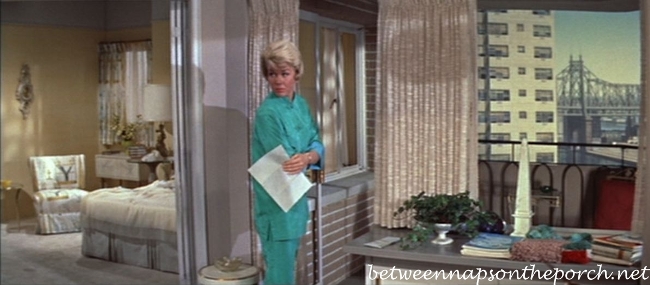 We don't get to see a lot of Jan's bedroom. Looks like we have yellow walls, a cheerful space with more great views. There's the bridge again.
Upholstered headboards are still in today. I wonder, did they ever really go out? I guess everything cycles right back around eventually. Note the rotary phone.
The art above the bed…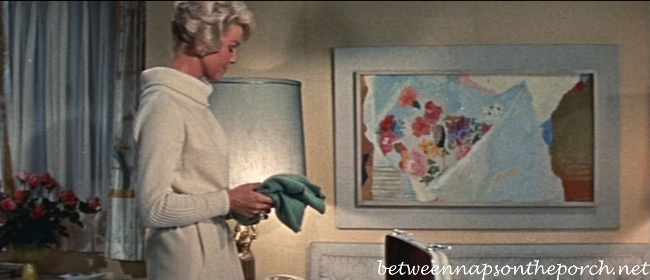 Jan's dressing area. That looks like grasscloth on the walls.
Her bath: Note the monogrammed shower curtain…fancy! Well, she is an Interior Designer, you know. Pretty fancy bath for the day. Brown and blue is another color combination that's back in today's interiors.
Brad's Apartment:
Now let's check out Brad's abode. Here's the entrance to his manly bachelor pad. Pretty modern with the spiral staircase, another great idea for small homes/spaces.
Our bachelor entertaining his next victim…
Brad loves wooing the ladies with love songs. Each time he sings the same song to another girl, he changes the name in the song to their name and tells them he wrote just for them. Yup, he's a cad.
Doesn't it seem like the piano moves around in this movie. This doesn't really jive with the picture above. We have a roaring fire to set the scene for a romantic evening.
How do you like the floating bookshelf? I like the gallery wall above it.
There are many split scenes throughout the movie as Jan and Brad keeping running into each other on their shared party line. This is one of the few scenes where we get a glimpse into Brad's bedroom. Doesn't the bolster fabric remind you of Jan's dining chair fabric in her apartment? They aren't the same but very similar.
This split scene is a pretty famous one. I think it was used a good bit in the promotion of the movie. Their baths look very different don't they?
Jan Gets Back at Brad:
H*ll hath no fury like a woman scorned. After Brad fools Jan for much of the movie, making her think he the innocent, naive Texan, Rex, she gets back at him by "decorating" his apartment. He insisted she complete the work since he had hired her to do it. And boy, does she ever! Brad has just arrived home with his friend, Jonathan and they are stunned by the transformation.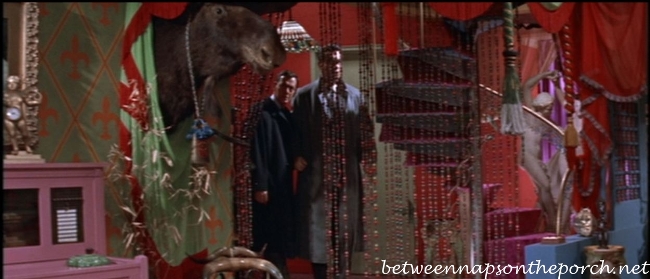 Looking at Brad's face, I think "speechless" about covers it. 😉 The moose head adds just the right touch, doesn't it? I guess you could say it's a bit on the eclectic side.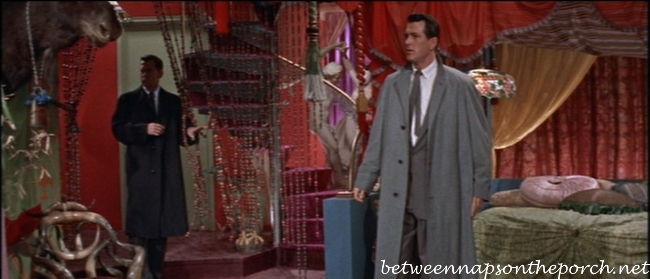 Brad's new playboy bedroom…this was formerly his living room, I think.
It's pretty funny to see all this in the movie because Brad has had it big time coming! The set designer must have had some serious fun with this part of the movie.
Every bachelor pad needs a pot belly stove and a stained glass floor lamp. I think I see Brad's throne, too. 🙂
Okay, try to get the images of Brad's apartment after Jan's revenge makeover, out of your head. 🙂 What did you think about all the similarities in today's interiors and the 1950's…the drum lamp shades, the blue/brown color scheme in her bath, the gray walls and gray kitchen cabinets, the pendant lights. I think it's so fun to see what was considered cutting edge, stylish decor in the 50's and compare it to what we see in so many decor magazines today. There are some definite similarities, aren't there?
I'll post the pics of the adorable cabin they go to sometime soon. It would make a good winter post. While there at the cabin, Jan finally finds out who "Rex" really is.
If you enjoyed this tour of the New York apartment in the movie Pillow Talk, check out these other classic Doris Day and Rock Hudson movie home tours:
Send Me No Flowers: Tour This Classic Doris Day, Rock Hudson Movie House
Lover Come Back: Tour the New York Apartments in this Doris Day and Rock Hudson Classic
Doris Day Movie Fashion Style: Pillow Talk and Lover Come Back
Vintage Hats and Doris Day: Pillow Talk and Lover Come Back
You'll find additional movie house tours here: Favorite Movie House Tours
*If a post is sponsored or a product was provided at no charge, it will be stated in post. Some links may be affiliate links and as an Amazon Associate, I may earn from qualifying purchases. *