Have you ever taken a Staycation? This past week I took my first and it was truly a lot of fun! From time to time I get e-mails from friends who are headed to the Atlanta area and are looking for ideas on what to do and where to go during their visit. I'll definitely be referring them to this post in the future.
FRIDAY
My friend, Linda, flew in on Friday, September 30th, and we wasted no time getting our week of fun underway. After leaving the airport, we stopped by The Barbecue Kitchen that's just a few exits down on Virginia Avenue for some good southern food.
I had their baked chicken with collard greens, stewed squash and cornbread, followed by their home-made banana pudding for dessert. Actually, I think everything is homemade. Linda had their barbecue, two veggies (forgotten which) and peach cobbler for dessert.
Afterwards, we waddled out and headed for home. Once Linda was settled into her room, we headed off to A Classy Flea, arriving about an hour before they closed.
I'm kind of regretting not getting this Butler's Coffee table. It was only $39! It would work well in my future "library" in front of the red camel-back sofa, if I ever finish that room as I'd like to. That room is way down the list of to-do's, somewhere after "Renovate all 3 bathrooms."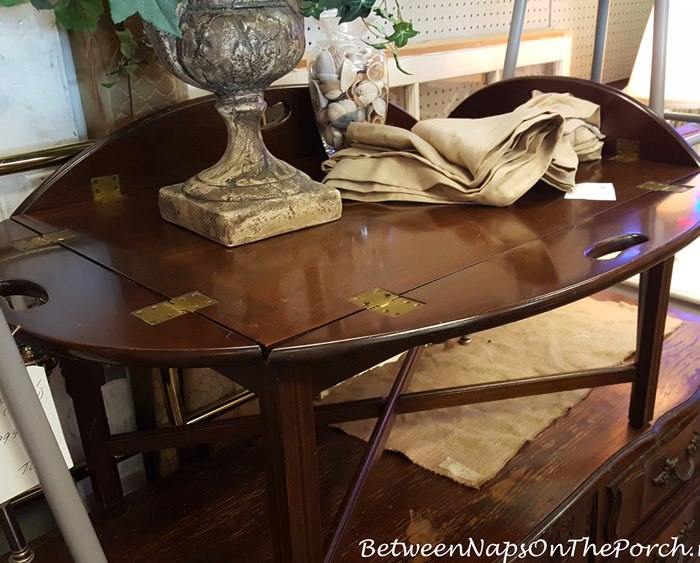 We were fascinated with this vintage double-stroller. I bet it's from around the 1940's because I've seen a photo of my sister in a similar stroller from back around that time.
Loved these old glass door knobs!
Pretty dishes!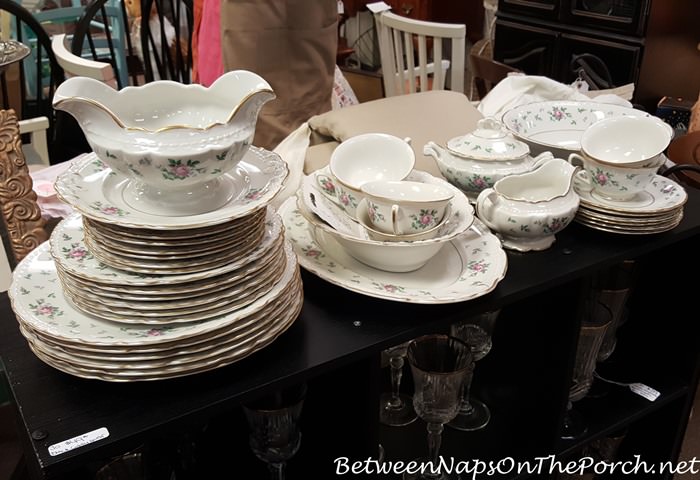 They were only $68 for the whole set!
I can't remember where we ate that night. During the week Linda was here, we usually had a large mid-morning breakfast, then stopped for a late lunch or early dinner somewhere during the day.
Lunch was usually a large meal, often accompanied by dessert. Despite all the walking we did, I know I gained a couple of pounds this past week. Usually at night we'd snack on our many left-overs or something I already had here at home. There may have been a few Peach Belleni nights out on the porch. 😉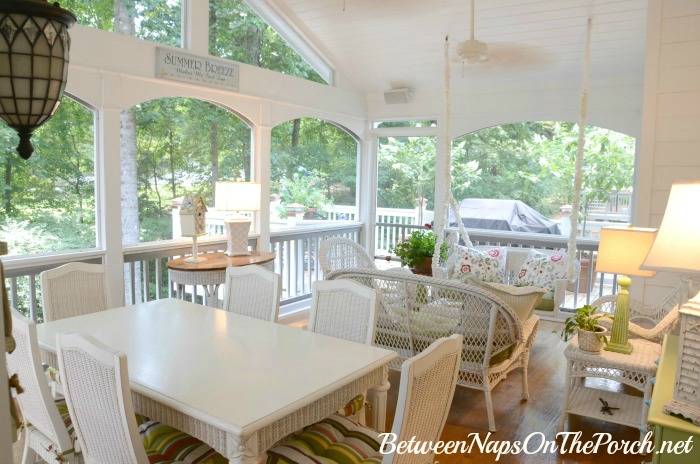 SATURDAY
On Saturday we spent the day antiquing at Queen of Hearts in Alpharetta, Georgia.
Love this hall tree! It was priced at $649.
Saw a beautiful antique needlepoint fire screen for only $245.
Afterwards we lunched at Greenwood's on Green Street.
I've shared photos from Greenwood's before HERE and HERE. My favorite spot to eat at Greenwood's is out on the porch overlooking their garden.
The garden is on the wane now that fall is here, but it was still beautiful.
I ordered their Fried Green Tomatoes as an appetizer and they were outstanding! If you follow BNOTP on Instagram HERE, you saw these in real time when I posted them during our visit. They were truly the best I've ever had. I will definitely be ordering them again on my next visit.
I had their delicious pot roast, black-eyed peas, collard greens and cornbread for lunch. Linda had a vegetable plate which included sweet potatoes, broccoli casserole, carrots and cabbage. We split a humongous slice of coconut cream pie. Greenwood's is known for their homemade pies so it's pretty much a requirement to have some on every visit.
After lunch we went antiquing at Dupre's Antique Market on the Marietta Square where I picked up a lamp that was being repaired at Flourish Art and Antiques, a shop that's located inside of Dupre's. The dresser and dollhouse in my guest room and the oval table on the screened porch came from Dupre's many years ago.
I also took Linda on a little driving tour through some of the historic districts in Marietta. Of course, we had to drive by my friend, Marie's, home that's currently all lit up for Halloween. This photo below is from a previous year, but I'll be sharing photos of this year's decorations later this month. You won't want to miss it!
Pssst: Subscribe for updates to know when a new post is up here: Subscribe for Post Updates
We made a quick run by HomeGoods and Trader Joe's before the day was done. That was the HomeGoods trip where I found the black and white plates used in this past week's Tablescape Thursday.
SUNDAY
On Sunday, we drove into Atlanta for the Candler Park Tour of Homes. This tour also included three chicken coops. Surprisingly, there were no restrictions on taking photos inside some of the homes, but I didn't take any to share on the blog since these were private homes and I wasn't sure the owners would like having their homes shared online.
I did take this photo of a home that wasn't on the tour. It was amazing! The front of the home is symmetrical. The same porches that you see below are repeated on the right side. Wish it had been on the tour! I love houses like this!
After a day touring the homes in Candler Park, we stopped by Pappasitos Restaurant for frozen margaritas and some good Mexican food.
MONDAY
On Monday we headed to Roswell and toured Bulloch Hall…
…and Barrington Hall.
Bulloch and Barrington are two of the homes that are part of Roswell's Southern Trilogy tour. Both homes have a rich history. Bulloch Hall has direct ties to President Theodore Roosevelt who visited the home in 1905. It's where his mother, Martha Bulloch Roosevelt lived as a child. His parents were married there in December 1853.
Afterwards we shopped in Ballard Designs Outlet and Grandinroad, also in Roswell, Georgia. Neither of us bought anything but it was fun shopping and seeing the fun Halloween stuff in Grandinroad.
That evening we drove over to Smyrna, Georgia to have dinner at Muss and Turner's with a relative of Linda's who lives in the area.
TUESDAY
On Tuesday we toured the World of Coca-Cola. You can read more about that in this previous post: Back to the Future Meets Harry Potter.
After the WOC tour we had dinner at a restaurant near the Atlanta Botanical Garden, then entered the garden about 1-1/2 to 2 hours before nightfall. We toured all of the garden by day, then toured the whole garden again after dark so we could see all the Chihuly Glass Art illuminated at night.
I was really glad I had visited the garden a couple of weeks before with a friend and had seen the Earth Goddess during that visit. (View that post here: Chihuly in the Garden)
By the night of our visit, all the flowers had been removed and the Earth Goddess form was completely bare with no color at all. I shared photos from my blog (via my phone) with a few folks who were standing around asking why she looked this way. If you had never seen her covered in flowers, it was really confusing to see her in this state.
The Chihuly art pieces were really beautiful all throughout the garden, although one end of the boat (in the water below) didn't appear to be illuminated.
If I were doing it again, I would not see the World of Coca-Cola and the Botanical Gardens in the same day, at least not when I'm planning on walking the entire garden twice: once by day and again after dark. That was a bit too much walking for one day since we had already done a lot of walking/standing in World of Coca-Cola earlier in the day.
At one point, I sat down while Linda was doing something else. When it came time to stand back up, I felt like I couldn't move. lol Have you ever had that happen? As long as you keep moving, you're okay, but you sit down and it's all over!
I was sooo tired! I did drag myself up out of the chair and amazingly, after we sat down again an hour or so later and I had some water to drink, I felt much, much better. Looking back, I think I may have been getting a bit dehydrated and just hadn't realized it.
WEDNESDAY
On Wednesday, I arose and completed and photographed the Halloween table I shared in this post: Halloween Table with MacKenzie-Childs Inspired Dishware
Afterwards we headed back to Roswell, Georgia to tour the Smith Plantation, the final house we had not previously seen in the Roswell trilogy.
After the tour, we had dinner at The Swallow at the Hollow, a barbecue restaurant owned by the same folks who own Greenwood's on Green Street. The Swallow is just across the street from Greenwood's. You can see the smoke billowing up from it in this photo taken from the porch at Greenwood's.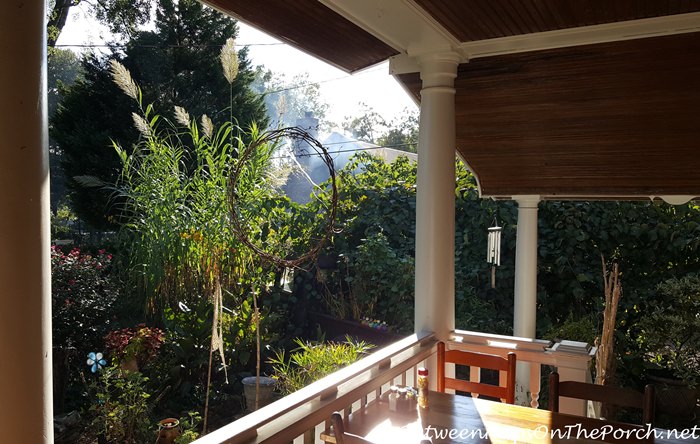 THURSDAY
On Thursday we toured the Gone With The Wind Museum in Marietta, Georgia. It was so interesting! I'll do a separate post sharing some photos I took during our visit. The Marietta Museum of History is right next door, too.
Update: You'll find a tour of the Gone With The Wind Museum here: Gone With The Wind Museum: The Beautiful Dresses, Furniture and Collectible Memorabilia
After we finished touring the Gone With The Wind Museum, we toured the historic William Root House & Garden that's just a stone's throw away. The Root House is believed to be the oldest home in Marietta, Georgia.
Of course, I could do a whole post on the Root House but I'll just share something special our guide shared with us during our tour. In the garden, she showed us a vine called Love in a Puff. Such a cute name!
Love in a Puff gets its name from its seeds. Down inside the little balloon-shaped, puffy pods that adorn the plant, there are three little seeds and each has a tiny little heart on it. Is that not the cutest?!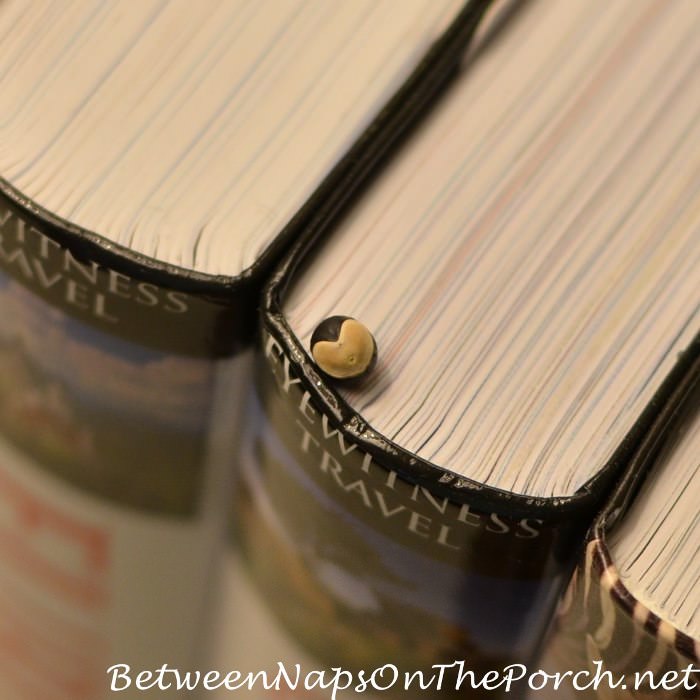 Afterward, we had lunch at Douceur De France, a French bakery & cafe. I had their Beef Bourguignon (which was excellent) along with the most delicious lentil salad and French bread. I could have made a meal out of just the salad and the bread! For dessert, I had a big slice of Rum Pecan Pie. Everything on the menu is made by their chefs and the food is just beyond words!
Linda had their fabulous Tomato Basil soup, a favorite of mine. When I used to work near their original location, I would often stop by and pick up a to-go jar of their tomato basil soup to have for supper. Along with the soup, Linda had broccoli cheese quiche and proclaimed it to be the best she had ever eaten. I think she had a lemon bar for dessert.
We each bought a box of their macarons to take home and enjoy later. The flavors below (starting from the bottom) are: Vanilla, Pistachio, Lemon, Cappuccino, Pumpkin, Salted Caramel, Raspberry and Lavender White Chocolate.
That evening we went on the Ghosts of Marietta Tour. I've been on it several times before. It's basically a history tour of Marietta with some spooky tales thrown in for fun.
FRIDAY
On Friday I said good-bye to Linda as I sadly dropped her off at the Atlanta airport for her return home. And thus ended my Staycation, one of the most fun weeks I've had in a long time.
Have you ever taken a Staycation before? I definitely recommend it!
*If a post is sponsored or a product was provided at no charge, it will be stated in post. Some links may be affiliate links and as an Amazon Associate, I may earn from qualifying purchases. *