Welcome to the 297th Metamorphosis Monday!
Greetings! How was your weekend?
This weekend was a productive one around here. I was able to get all the Savannah Holly trees in, although one may need to be moved. I need your help to decide. I hired someone to help me get all the trees planted and I worked alongside him digging the holes and helping the entire time. I'm sore today, but it's a good sore!
One problem though, I think we may have planted one tree too far out. I'd love to know what you think. So, after you see read this post, please let me know in a comment if you think it should be moved.
This is the view coming down the walkway these days, ever since I had to remove some Leyland Cypress trees from my side yard. They were looking pretty scraggly after being there for many years so they had to go. I miss the privacy and screening those trees offered from the house next door.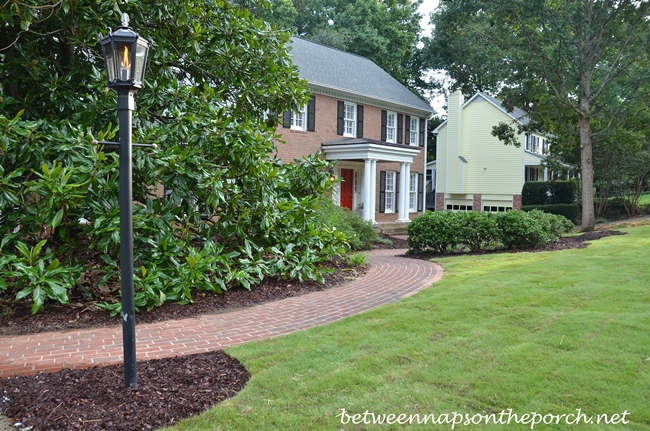 You may remember I purchased 4 thirty-gallon Savannah Holly trees with plans to put three in this area. It was hard deciding what to plant back here since I didn't want to shade things out so much that all the grass died again like it did when the Leyland Cypress trees were here. I really love the look of a Savannah Holly and they are pretty when covered in bright red berries in late fall and winter. The birds love the berries, too.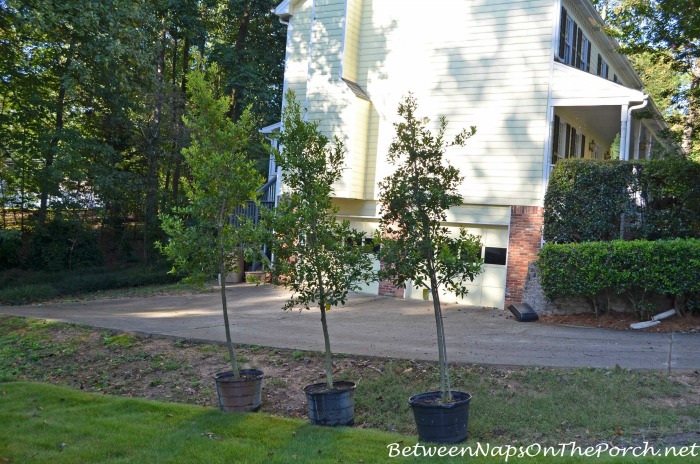 A landscape designer drew up a rough plan for me last year but it didn't cover this area. After I decided on the Savannah Holly trees, I called her and she recommended I stagger them and NOT plant them all in a straight row. I took her advice because ultimately I plan to add some shrubs in/around the trees…probably some Encore azaleas.
So that's why they are planted this way and not in a straight line along the lot line. They will ultimately end up in an island surrounded with (most likely) azaleas.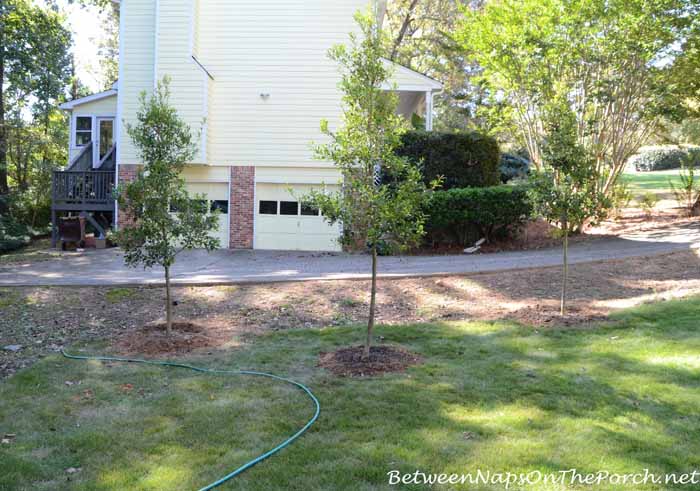 I also purchased a Savannah Holly for the corner of the house on this end. Actually, I had decided on the Savannah Holly for this spot last summer, long before I thought about using them in the side yard.
Here's where I need your help. The plan the designer drew up last summer showed this Savannah Holly approximately 8 feet out. The reason it needed to be at least 8 feet out is other shrubs will be going in behind it. There will also be shrubs in front of it, too.
Today when I was looking at the tree, it looked too far out. We measured before we planted it but today after looking at it again, I discovered that somehow the tree ended about 10 feet, 6 inches out from the corner of the house, not the 8 feet I had wanted. A Savannah Holly when mature can get 6-10 feet wide but that can be pretty easily controlled. Mine are already around 4 feet wide so they will get around 4 feet wider if I keep them around 8 feet wide.
I think it's about 2 feet out farther than it should be. Drat.
That extra 2 feet is really going to be a problem I think when shrubs are planted in front of the holly. It will reduce this grassed section to just a small strip which is going to be too small.
The guy who is helping me is coming back later in the week to help me dig out some old shrubs and I'm thinking we need to move this Savannah Holly back 2 feet toward the house while he is here.
Update: A little additional info about the Savannah Holly. A few folks expressed concern about the roots. Thanks for thinking of that! In this case we thankfully won't need to worry about the roots because the roots are not invasive. The Savannah Holly is really just a holly bush that can be grown either as a large shrub or a small tree…in this case, it will be a small tree. So it's roots won't be any more invasive than a holly shrub roots would be. Thanks again though for thinking of that…always good to consider that when planting near a home.
So, what do you think? Leave it where it is or move it in a couple of feet?
Looking forward to the other Before and Afters for this Met Monday!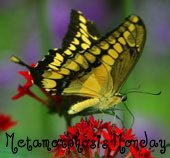 If you are participating in Metamorphosis Monday, you will need to link up the "permalink" to your MM post and not your general blog address. To get your permalink, click on your post name, then just copy and paste the address that shows up in the address bar at the top of your blog, into the "url" box for InLinkz.
In order to link up, you'll need to include a link in your MM post back to the party so the other participants will have an opportunity to receive visits from your wonderful blog readers.
Please observe these few rules:
Only link up Before and After posts that are home, gardening, crafting, painting, sewing, cooking, DIY related.
Do not link up if you're doing so to promote a website or product.
Do not link up a post that was just linked last week since a lot of readers will have already seen that post.


*If a post is sponsored or a product was provided at no charge, it will be stated in post. Some links may be affiliate links and as an Amazon Associate, I may earn from qualifying purchases. *