Welcome to the 452nd Metamorphosis Monday!
I've made a decision about which company I'll be using for cleaning and staining the decks. They will also be pressure washing the exterior of the house and staining the door that was recently replaced inside. (Read more about that HERE.)
Unfortunately, the door may hold up the deck cleaning since the replacement door was cut too short and will have to be replaced again. I'll be working on that issue more this week, I'm eager to get the deck project completed.
I've been doing a bit of rearranging on the decks, and in the process I noticed this plant stand that's been out on the deck for many years is looking pretty rough.
It lives just behind the little bistro table on one of the decks. (View this tablescape here: Romantic Table for Two.)
It usually holds three pots of geraniums during the summer months. This photo was taken in 2010, so the plant stand has been here on the deck for at least seven years.
I hadn't realized how rusty it had become. It wasn't expensive, but I have really enjoyed using it on the porch, so didn't want to toss it out just yet.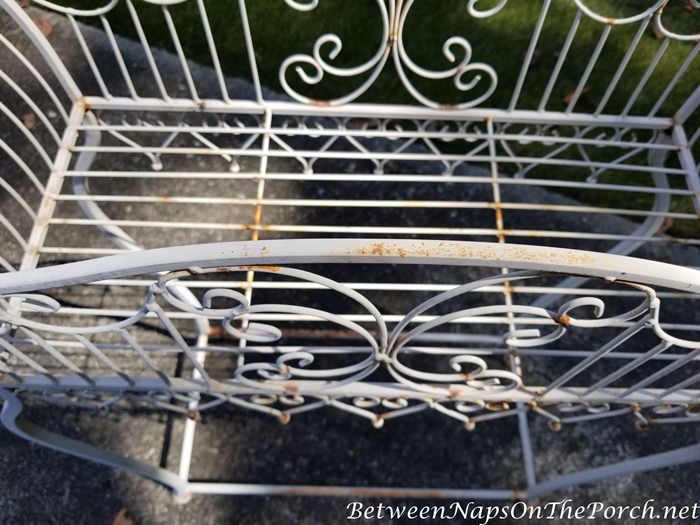 The rust was pretty bad though, especially down in that far left corner where it had eaten a small hole into the stand.
You may remember when I completed a mini-makeover on the bistro set, painting the table and the chairs a dark green with Rust-oleum paint.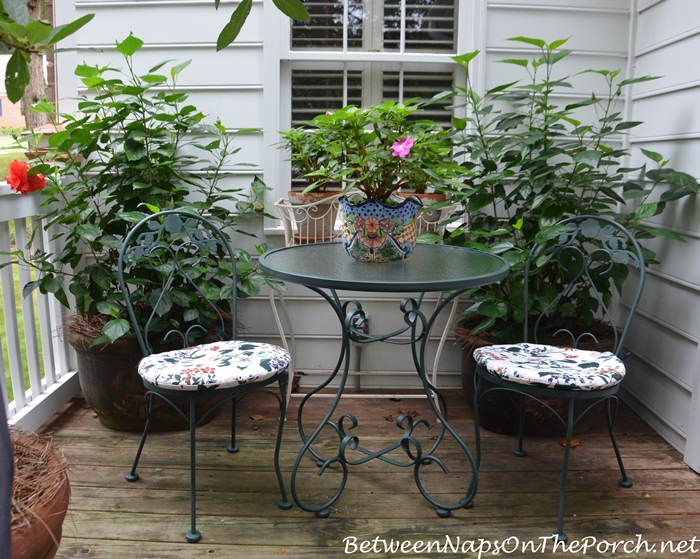 I guess I purchased two cans of paint back when I painted the bistro set because I discovered I still had about 2/3 of a can left over. I wasn't sure if it would be enough to fully cover the plant stand, but decided to give it a go.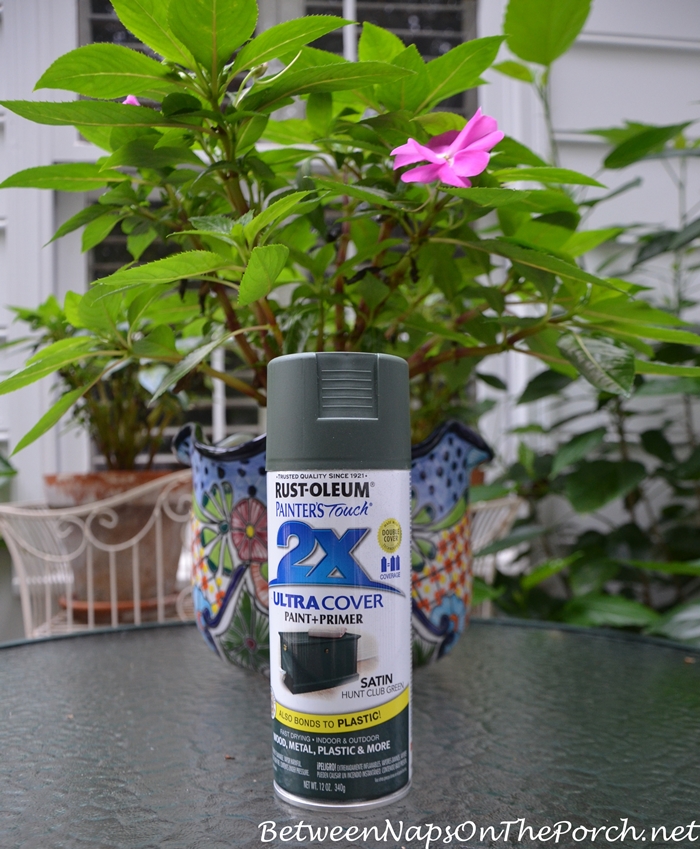 By the way, if you don't have one of these awesome little Comfort Grip handles, get one! I don't remember when or where I got this one, but I came across it in my box of painting paraphernalia when I was getting my supplies together to paint the stand.
I decided to give it a try, and WOW, is it awesome! It beats the heck out of having to keep that tiny little nozzle pressed down with just your finger! It's not a one-time-use thing, it can be used anytime you spray paint something. I'll never spray paint without it again, made this job so much easier! (It's available here: Comfort Grip Spray Handle.)
We've been having gorgeous weather, so I sanded down the rusty bits as best I could outside in the driveway. Next, I spread out a plastic, painters sheet and got to work spraying the stand.
The green Rust-oleum paint I used is both primer and paint, so there was no need to prime the stand first. I laid the stand down to paint it, spraying one side, then flipping it over to spray the other side a few hours later. It didn't take any time at all, the work went very fast.
Much better! It's going back behind the bistro table where it will be ready for more flowers next summer. Not sure how long this little stand will last but hopefully I'll get a few more years out of it.
The Never-Ending, Always-Dirty Deck Rails
So, I have this problem. I can't for the life of me keep my white deck railing clean. I scrub and scrub or have them professionally pressure washed, and within weeks, sometimes just a few days depending on how much it rains, they look awful again! The problem is all the big trees in my backyard–they are forever staining and dirtying up the deck rails.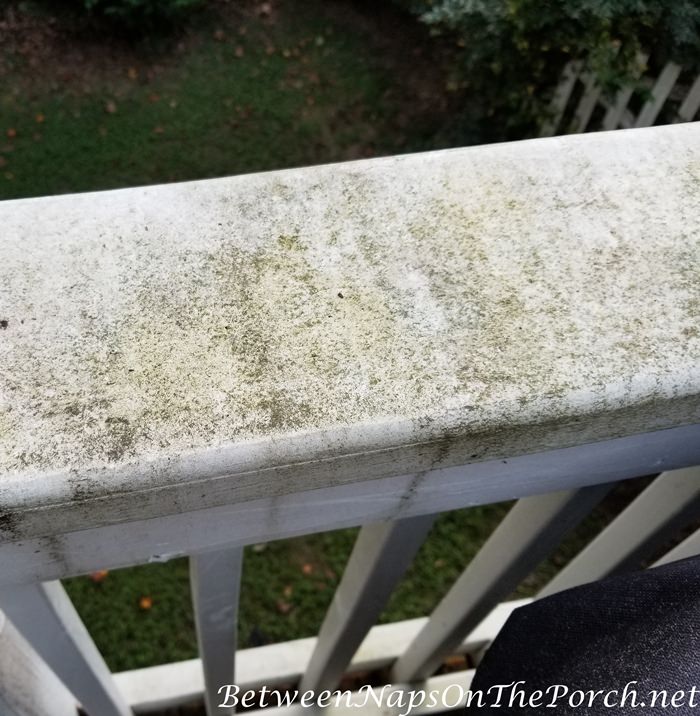 I'm not a big fan of the two-tone look, love an all-white deck, but I can't deal with this anymore!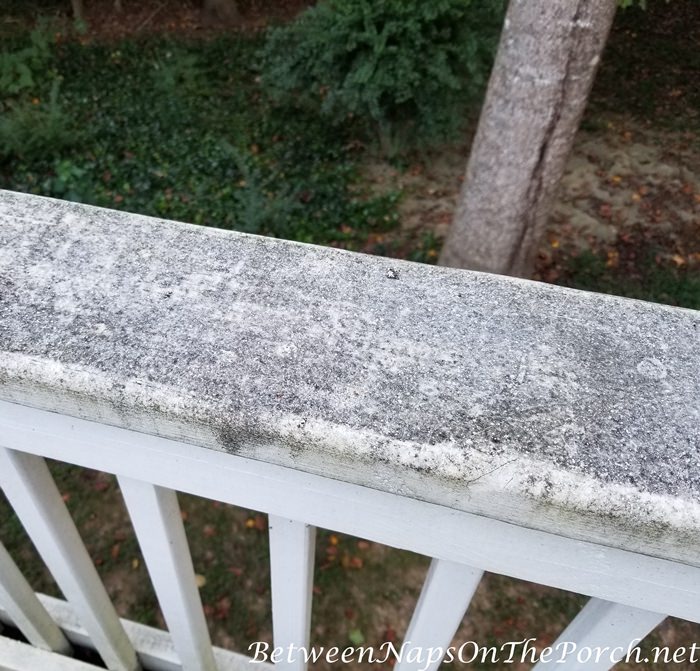 So, I'm going this route. I'm not going to have the balusters painted, only the top railing and the little post caps–can't keep the post caps clean either! I tried to trace down the origin of this photo below and I'm pretty sure it's from the Trex website, but if you google phrases like "paint deck railing brown" you'll find quite a few pictures online where others have done this. Again, the balusters will remain white, only the railing and post caps will be painted.
The trees will continue to stain the railings whenever it rains, but at least it won't look near as bad as it does now! The brown paint should help to camouflage the stains in between cleanings. I hope my next house doesn't have any trees right over the deck–further out in the yard, yes! But NOT directly over the deck.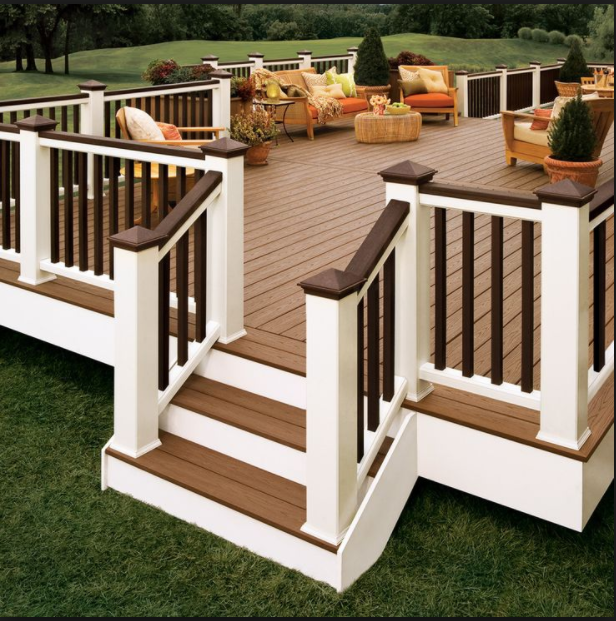 So that's the plan: the whole house is getting pressure washed, the decks will be cleaned and stained and the top railing and post caps will be painted brown which will coordinate with the stain color I'll be using on the deck.
I'm going to go with a stain color similar to what you see in the photo above of the Trex deck. I've had that color stain on my decks before and really liked it. I think next year it will finally be time to paint the whole house again. The last time that was done was in 2008, so the Sherwin Williams Duration paint my painter recommended back then has held up beautifully. I will be going with SW Duration again when the time comes.
Update on the Mopnado
Remember the Mopnado I ordered recently? Oh. My. Gosh, I absolutely love this thing! I mopped the screened porch this weekend and it worked beautifully! That was the fastest I've ever mopped a room AND I really felt like the floor was getting clean for once. The porch floor was really in need of a good moping since I had only vacuumed it all summer.
The mop heads that come with this mopping system are really fat and they hold a lot of water. So when you're mopping, you can cover a lot of territory quickly. I watched a "Tips and Tricks" video on YouTube before I started and I learned a few tips that made the process even faster.
One trick I learned from the YouTube video was that you don't have to re-tighten the handle each time after rinsing out the mop if you hold the mop a certain way while mopping. Love that trick because it saves even more time!
I've only used the Mopnado once, but so far I absolutely love it! It definitely made mopping the porch a lot more enjoyable and a lot faster. I also like that I can toss the mop heads into the wash. It's just a much more efficient way to mop. You can read more about the Mopnado where I purchased mine here: Mopnado.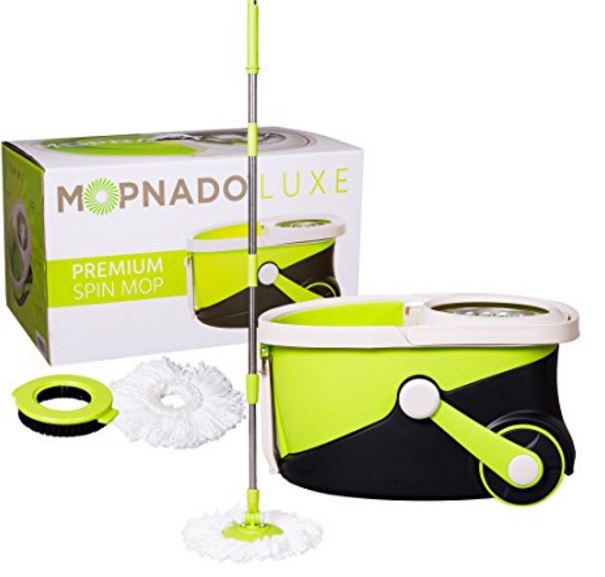 Looking forward to all the great Before and Afters linked for this week's Metamorphosis Monday!
Pssst: I post almost daily to Instagram. Follow Between Naps on the Porch on Instagram here: Between Naps On The Porch.
Metamorphosis Monday
Metamorphosis Monday is a party that's all about Before and Afters. If you are participating in Met Monday, please link up using the "permalink" to your MM post and not your general blog address.
To get your permalink, click on your post name, then just copy and paste the address that shows up in the address bar at the top of your blog, into the "url" box for InLinkz.
In order to link up, you'll need to include a link in your MM post back to the party so the other participants will have an opportunity to receive visits from your wonderful blog readers.
Please observe these few rules:
Please link up Before and After posts that are home, gardening, decorating, crafting, painting, sewing, cooking, fashion or DIY related.
Be sure to include a link back to the party in your post, so your readers will be able to find and visit the other bloggers who are participating.
Do not link up to the party if you're doing so to promote or sell a product.
To those who are linking up: If you notice a shop or store linking up to sell products (yes, unfortunately that does happen) please let me know so I can remove their link from the party. No one wants to click a link expecting a Before and After, only to find a spam link to an online business/store.
*If a post is sponsored or a product was provided at no charge, it will be stated in post. Some links may be affiliate links and as an Amazon Associate, I may earn from qualifying purchases. *