Welcome to the 189th Metamorphosis Monday!
Back around New Years I posted a wonderful tablescape my friend, Bonnie put together for a New Year's Eve dinner party with friends. I love vintage/antique clocks and this table was so perfect for a New Year's Eve gathering with its clock theme.
Bonnie used her Pottery Barn clock plates for this tablescape.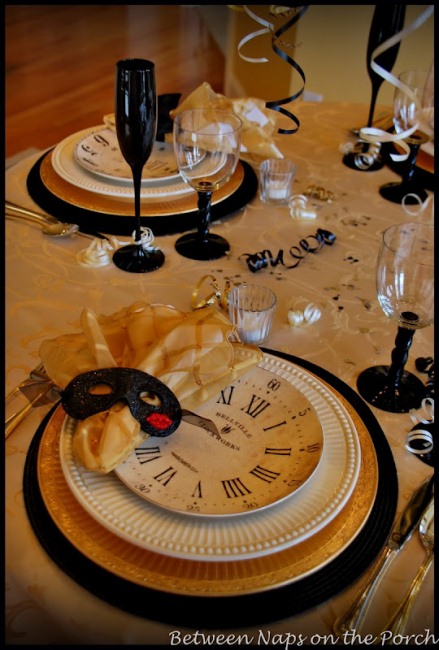 These plates were available at P.B. around two years ago. I sure wish they would bring them back. I've seen them on eBay occasionally, but they always go for more than a $200 for just four plates…too pricey to tempt this girl to bid.
So, what do you do when you're craving Pottery Barn Clock Plates and there are none to be had? Make your own!
Image from PB site in 2009
I spotted an ironing board cover in Marshalls a few weeks ago and it got the squeaky wheels in my brain a-turning.
I already had some clear glass plates that were just sitting in a closet in the laundry room gathering dust. Many years ago I had a party for my Sunday School class. I didn't have a lot of dishes/china back then and I really didn't want to use paper or plastic plates for the party, so I bought 40-50 clear glass plates at Costco. They were super inexpensive. I think they ended up being around .50 cents each.
I've almost donated them a few times since I didn't think I'd ever use them again. They were not exactly the size I wanted for this project since they are more of an appetizer size than a salad plate size. I checked two different Dollar Tree stores since I've seen clear glass plates there before. Neither had smooth glass plates, only saw them with ridges and decorative raised designs. I decided it was a sign to just use the ones I already had.
Using a seam ripper, I separated the wooly thick padding from the top fabric of the ironing board cover. That only took about a minute because once I ripped a couple of the seams, the fabric was easy to pull away from the padding.
I wanted my plates to have a vintage look like the Pottery Barn plates, so I stained the fabric in a few places with tea bags left over from making a pitcher of tea. I just blotted them onto the fabric in various places.
I cut out sections of the fabric, cutting each about an inch or so bigger than the plates.
I slathered Mod Podge onto the back of the plate with a sponge brush, covering the back completely. (Is there anything you can't do with Mod Podge? Love that stuff!)
I placed the fabric on the Mod Podge covered plate, making sure the printed/decorative side was facing into the back of the plate. I pressed the fabric down well, smoothing out any bubbles. You want the fabric nice and smooth against the plate. Next, I covered the fabric with a thin coat of Mod Podge to make sure the back was protected and really holding well to the plate.
Tip: Mod Podge drys very fast so once you coat the back of your plate with MP, you need to work quickly and get your fabric in place. Best to have your fabric sections already cut so you can stick them on right away.
Notice the small upside down bowl…that will come in handy in a sec.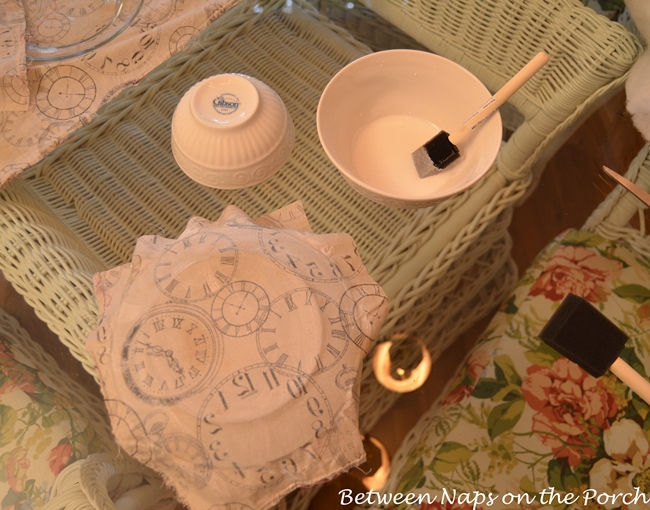 After pressing the fabric down really well all over the back of the plate, I placed the plate on a small bowl to dry with the back of the plate facing upward.
Here's all six plates doing their drying thing.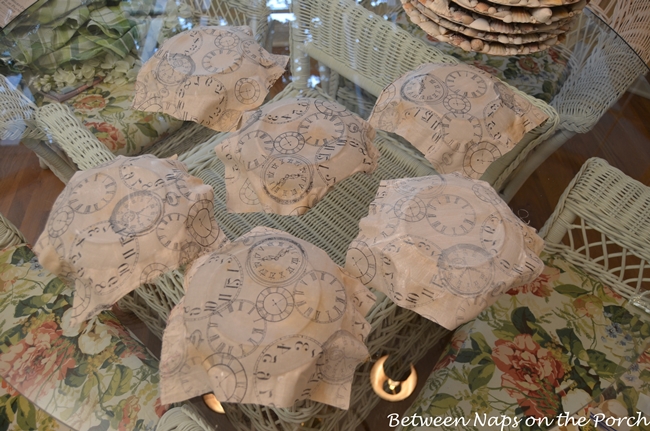 The next day, after the plates were dry, I trimmed off all the excess fabric around the edges.
Do you see the tea stains? I could have stained them a bit more than I did. I just wasn't sure how much to stain them so I decided to err on the side of less staining. If you stained them all over or just dipped the fabric into a large container of tea for a while, they would probably look even more like the PB plates, which are more beige/antiqued looking.
One thing I didn't do, but I'm thinking about…you could spray the backs with a clear sealer, just for extra protection. I tested getting a little water on mine and they were fine, but spraying the backs with a clear sealer, like the Krylon "Make It Last" Sealer, would probably be a good idea, too. Just don't get the sealer on the side you'll be eating on.
Here's a little close up of my Pottery Barn "Knock-off" Clock Plates. I know they aren't exactly like the real ones, but they only cost me $10 for six plates and I still have enough fabric left over to do at least two more. You may be able to find "clock" fabric. I just went with the moment and bought the ironing board cover when I saw it.
Don't think I'll wait for New Year's Eve to use them. I have an idea for a tablescape so you may be seeing these in action sometime soon.
Update: Used these plates in a Halloween tablescape this year. Tablecape can be seen here: Halloween Tablescape with Spider Cupcakes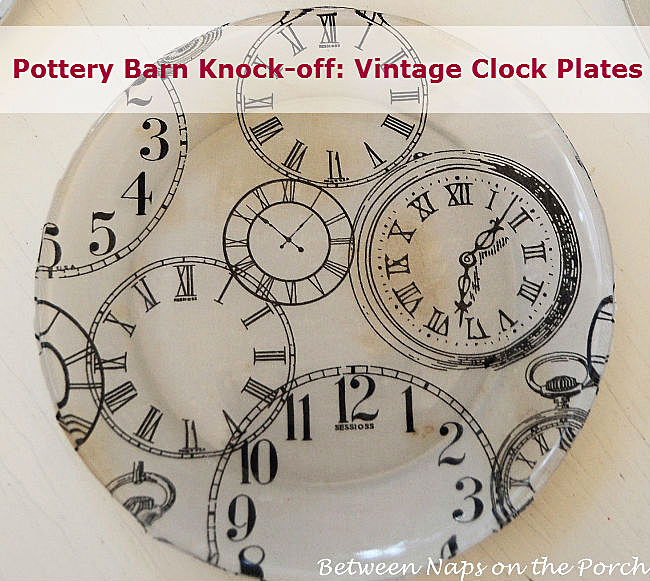 Tip: I heard from a reader of BNOTP that this project didn't work for her when she used a fabric that was dark in color, containing a lot of black in the fabric. She said the Mod Podge tended to show up with the darker fabric. She switched to a different fabric and it worked great.
So if you use a darker colored fabric, you'll probably want to try a test plate first before you commit and do this project on all your plates. I didn't have any problems with the fabric I chose to use, but just passing this along in case it's helpful.
Looking forward to all the wonderful Before and Afters.
Psst: You can view Bonnie's clock themed tablescape in this post: Elegant New Year's Eve Table Setting
Metamorphosis Monday: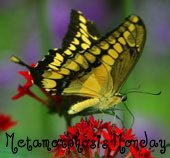 If you are participating in Metamorphosis Monday you will need to link up the "permalink" to your MM post and not your general blog address. To get your permalink, click on your post name, then just copy and paste the address that shows up in the address bar at the top of your blog, into the "url" box for InLinkz.
In order to link up, you'll need to include a link in your MM post back to the party.
If you'd like to include the MM button in your post, just copy and paste the Met Monday button to your computer and unload it as you do your other photos to your post. Or, click on the "Other" category at the top of the blog and on Metamorphosis Monday. You'll find the html code for the button there.
PLEASE DO NOT type in all caps…it spreads the links waaaay out.
PLEASE DO link up Before and After posts that are home, gardening, crafting, painting, sewing, cooking, DIY related. Do not link up if you're doing so to promote a website or product.
PLEASE DO be respectful of the BNOTP readers, visitors and those who participate in Met Monday by not linking posts inappropriate for the party.
Let's try something fun today! Please visit the person who linked before you and after you…that way everyone will get some visits. Hope you'll visit more, of course.


*If a post is sponsored or a product was provided at no charge, it will be stated in post. Some links may be affiliate links and as an Amazon Associate, I may earn from qualifying purchases. *