For Metamorphosis Monday, I shared this wonderful photo from a Pottery Barn Catalog and a little info about how I was inspired to re-create a similar look for my front porch for less than half the price of the PB Garland. As promised, I'm back today with a tutorial on everything you need to know to make this ornament-covered garland for your home.
Before we get started, let me torture you with a couple more photos I found online at Pottery Barn using this same garland. ~~~SIGH~~~
You may remember I mentioned the PB garland is only 5 feet long. Notice anything about the column on the left as compared to the one on the right? Apparently, they didn't have enough garland to complete the job for the photo shoot. I never would have noticed this if I hadn't been analyzing these pics so much to make my own. I love the large lanterns they have shown on the ground. Beautiful!
I could stare at these scenes all. day. long! Soooo, pretty! I was curious about this home featured in the PB shoot, so I did a little research online.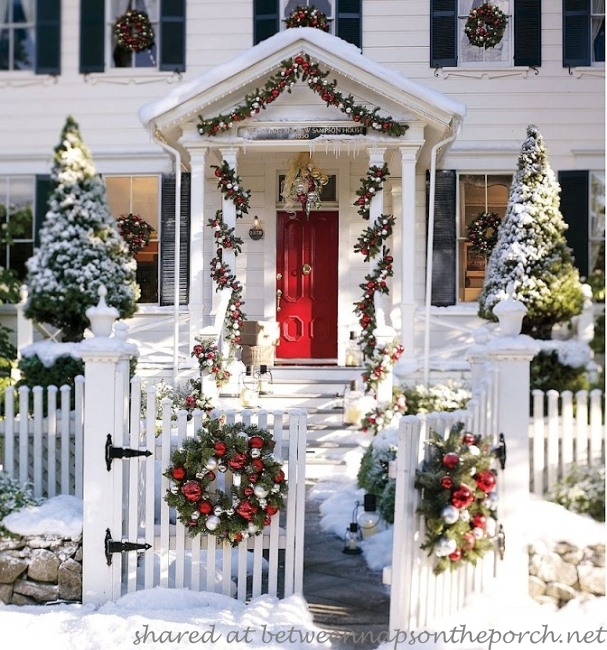 Here's a pic from Google Maps of what it looks like in real life. It was built in 1850 and was the home of Captain Andrew Sampson. It's located at: 1157 Division Street, Napa, California and apparently it's home to a business now.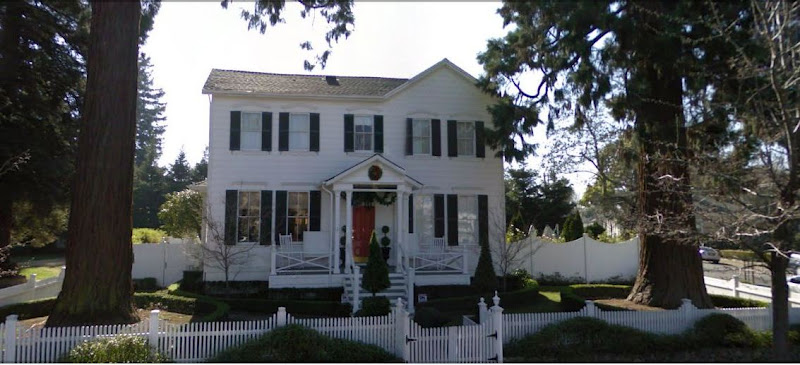 Here's a fabulous (short) video showing how they transformed this home in the middle of summer to look like the one you see in the photo. It's nothing short of amazing how they worked their magic.
Pottery Barn Inspired Garland Tutorial:
Okay, let's get to that tutorial. To make the garland shown below on my front porch (and in this post) for less than half the price of the Pottery Barn garland…
I purchased this lit garland from Lowe's. It's 9 feet long so two were all I needed and they were just long enough to wrap three times around each column. (Tip: Make sure the garland you buy to use outside is certified for outdoor use.)
To verify the length garland you will need to purchase, take a long string or rope and wrap it around your columns. Nine foot long garland just barely worked for mine. If you wish to wrap your garland around more than 3 times, you may need additional garland. Also, I bought lit garland but you can find the unlit garland for even less.
If you have lit garland, before you begin to put the ornaments on, plug your garland in and test it to make sure the lights work. You don't want to get it fully decorated and find that you have a faulty garland. I stretched mine out across my kitchen counter to work on it. It took me around 45 minutes to completely cover each garland in ornaments, so about an 1 1/2 hours to do both. This is fun to do while watching t.v.
I purchased plastic ornaments because that's what they used to make the PB garland. Glass ornaments would not hold up to temperature/weather changes very well. I bought the ornaments at discount stores: Old Time Pottery and Dollar Tree.
In the close up pics on the PB site, you can see their garland is covered with shiny and satin finish ornaments. So I bought shiny and satin ornaments, too. Also, I bought ornaments that look as if they are covered in glitter.
It took 7 boxes (each containing 24 ornaments) from Old Time Pottery, and two tubes of ornaments from Dollar Tree ($1 each) to completely cover my two garlands. That's around 180-200 ornaments, total.
To attach the ornaments, I used some green coated twist type wire I already had. I think I bought it years ago in a garden store. It was a little brighter green than I would have preferred, but I already had it and I knew it would be hidden by the ornaments and greenery on the garland. You can just see the wire on the counter to the right of the ornaments in the picture below.
Before you get started, if you have a glue gun, plug it in nearby. Occasionally you are going to have a plastic ornament pop loose from its top. If an ornament pops out, just use a little hot glue and reattach it. (More on that in a sec)
Start by spreading out the branches on your garland. You'll only need to attach the ornaments to the top side since you'll want it nice and flat on the other side to wrap around your columns or wherever you'll be decorating.
It's best to attach your biggest ornaments first. I initially used some really large ornaments but I decided later they were out of proportion to the rest of the ornaments and I took them off. Medium, small and very small ornaments work best for creating the PB look. The smallest ornaments I used were the ones I found at Dollar Tree…they came in tubes.
Spread out the colors:
To get the different types/colors evenly spaced out, I placed them on or near the garland where I wanted them before wiring them. I first took all the shiny reds and spaced them out and attached them. Then I took all the shiny silver ornaments and spaced them out along the garland and attached them. I continued that process until all the ornaments were attached.
Attaching the ornaments:
I attached the ornaments to the center of the garland with the green wire. Some will fall naturally to the left, some to the right…so that will give it a nice look. On one garland, I cut off the excess wire as I went along. When I worked on the second garland, I decided to attach all of the ornaments first…then I flipped the garland over and cut off all the excess green wire at one time.
In this pic below, you can see the excess wire. While you are wiring on the ornaments, this gives you an opportunity to use the wire to pull in the "lighting wire" a little tighter to the center of the garland. In other words, if the lighting wire is sort of sticking out on your lit garland, pull it inward when you wire on your ornaments for a nicer look when finished. You can see how I did that in this pic below.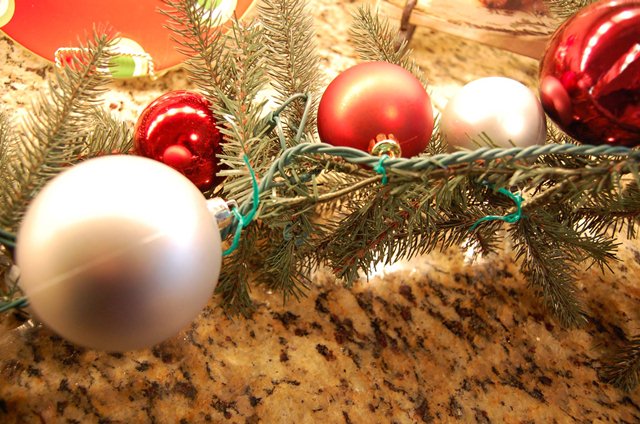 Here's how it looked after I snipped it off. You don't have to cut that closely. I just didn't want to risk scratching the paint on my columns. If you leave your wire a little longer, just turn it inward toward the ornament so you don't scratch your columns. Update: I've used this garland for two years on my columns and I'm happy to report, there hasn't been any problem with scratches.
As you work, occasionally an ornament will pop out of its top or the plastic top might break.
Just reattach with a little hot glue and you're good to go.
Here are a few pics I took after I was finished. I later removed the really large ornament balls and replaced them with medium size balls.
The garland I purchased from Lowe's had these long wire pieces on the end.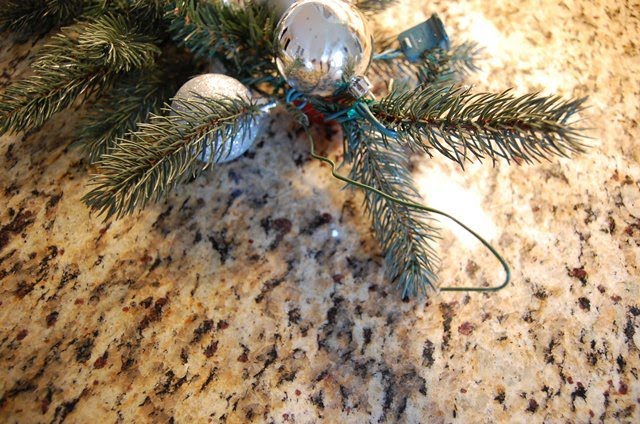 Since my columns are pretty fat, it helped to stretch my garland a bit so I could wrap each column with just one 9ft. garland. I used the 3M hooks that are supposed to be easy to remove to attach the garland to the column.
Update: When it rained, the 3M hooks let go of the pole. So I hammered a skinny little nail into the top of the pole above the decorative ring that goes around the top of the column. I hooked the end of the garland onto the nail and it has held perfectly all season. Update 2014: I didn't remove the nail and have left the nail there since it isn't very tall or noticeable and I continue to use it year after year for hanging the garland.
Here's a close up of one section on the column…wish I'd pulled that silver ornament up out from under the greenery before I took the picture. Why do we always notice this stuff after we take pics? 😉
I ran into a little snag when plugging in my garland. The plugs on the garland I used only had narrow slits and my extension cords all had the prongs where one side is big and one side is little. (I know there's a name for that, but I have no idea what it's called.) I looked at Lowe's and they didn't have extension cords that would plug into the garland. So, I bought one of these.
I cut the end off my extension cord and attached this plug. The directions are on the package plus the nice Lowe's guy told me how to do it.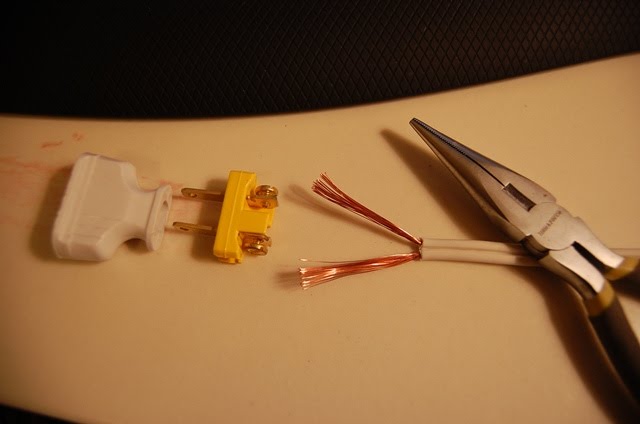 Then I was able to plug in the extension cord I had run across the top of my porch from one garland to the other garland. If your garland isn't lit, you won't run into this. Or, you may be able to find extension cords that work with your garland.
I still have more decorating to do on my porch (wreath, etc…) but I wanted to share the garland tutorial now so you'd have time to plan if you wanted to make some for your porch or stairway rails, etc…
Final Costs:
Final cost for both lit garlands was $88.87 vs $218 from Pottery Barn…and the PB garland isn't lit. If you chose to use garland that doesn't have lights, your cost should be closer to $50 to do two columns, using 9 ft garland.
Christmas 2010
Here's how the porch look decorated for Christmas, 2010, the year this tutorial was written.
Christmas 2011
Pottery Barn inspired garland is still looking great in 2011 (This porch post featuring triple wreaths (a Grandinroad Knock-off) can be viewed here: A Christmas Porch, 2011)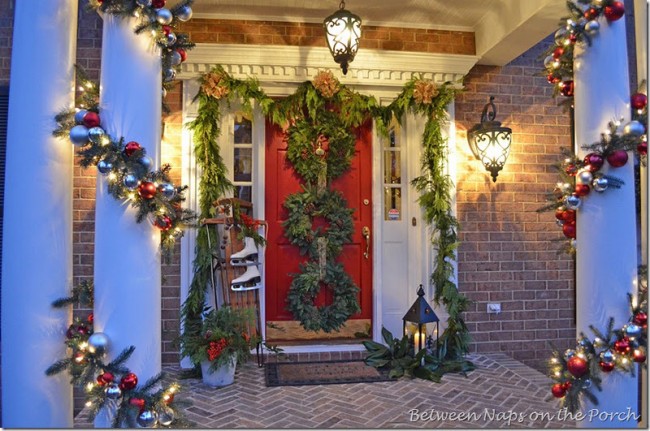 Christmas 2012
Garland is still looking good for Christmas 2012. I decorated with a snowflake wreath and live cedar garland around the door. Additional pictures can be found here: Decorating the Porch with Cedar Garland and a Snowflake Wreath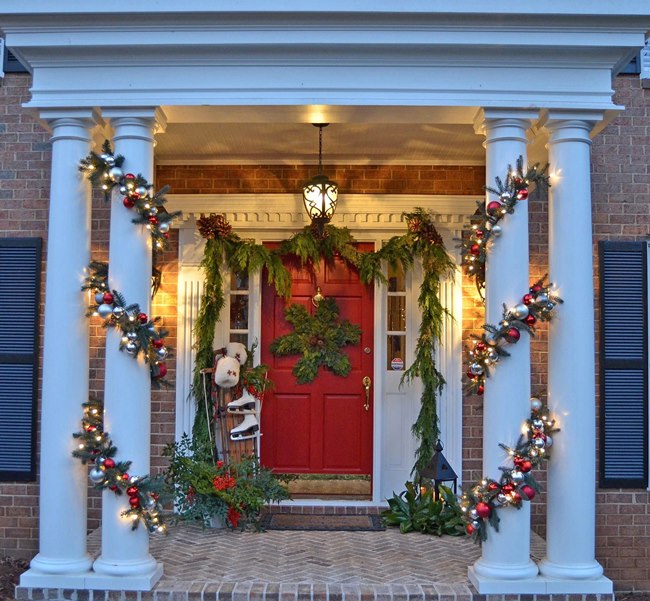 Christmas 2013:
Decorated again with a triple wreath design, this time using live boxwood wreaths. I hung pine and cedar garland around the door and the top wreath is sporting my faux deerhead that normally decorates my office as seen here: A Bit of Whimsy For The Office.
The porch is still rocking the Pottery Barn inspired garland for Christmas. Very pleased with how it has held up! You can view this porch in full in this post: Decorating the Porch for Christmas.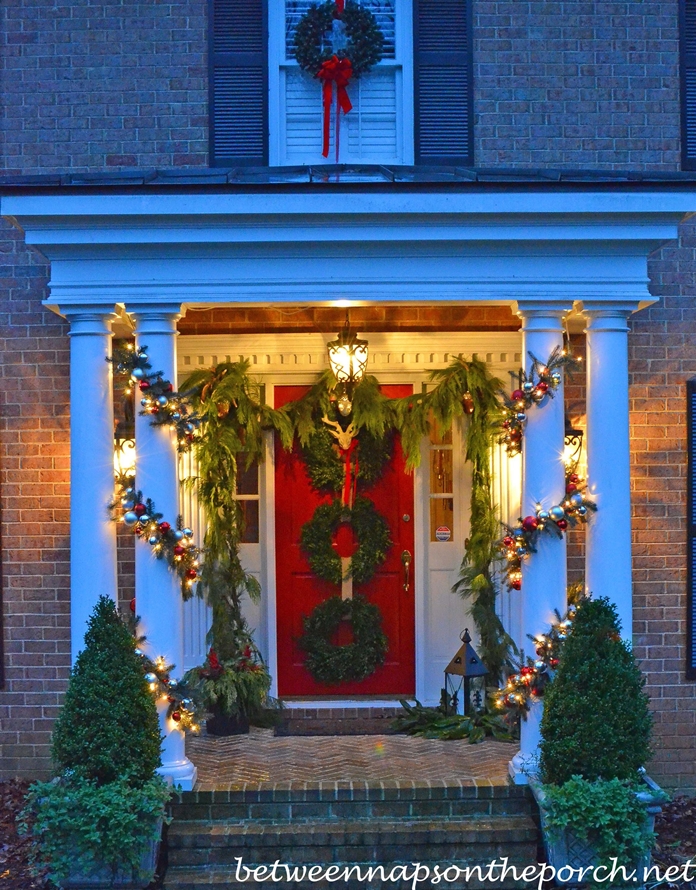 So, that's about it. Hope this tutorial helps if you decide to make your own PB inspired garland. Please let me know if you have any questions…I'm happy to help!
*If a post is sponsored or a product was provided at no charge, it will be stated in post. Some links may be affiliate links and as an Amazon Associate, I may earn from qualifying purchases. *