I've been using a lot of fresh flowers in table settings lately. Once those cold winter months are behind us, it's such a joy to bring fresh flowers into our homes. One of my favorite flowers is the tulip. It's almost impossible to think of spring and not think of beautiful tulips.
Tulips are a wonderful flower to give or receive for a birthday or for Mother's Day. I've been the happy recipient of tulips on several previous Mother's Day.
A few months ago I was shopping in Pottery Barn and I came across a vase that really caught my eye. It was designed with a center vase for flowers and that was surrounded by a larger vase. It was more or less, a vase within a vase and it opened up lots of possibilities for pretty centerpieces.
I couldn't find a picture of the vase online, but here's a screen shot of two of them being used by a Pottery Barn Floral Designer and Expert Sylist in this Pottery Barn You Tube Video found, HERE. He calls it a "double bowl hurricane."
I really liked the design of the double bowl hurricane but not so much the $49. So I decided to try and make my own.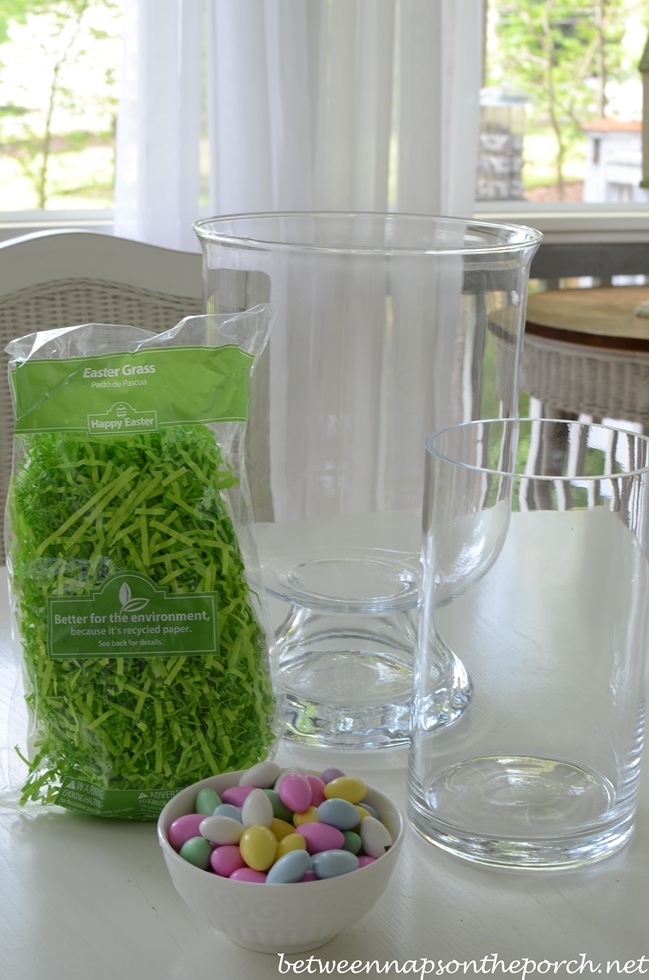 I found both in a local discount store. The large vase was just $9.99 and the smaller one was on sale for $5. You can see in the photo below, the smaller vase fit nicely down inside the larger one leaving about an 1 1/2 inches all the way around. Before purchasing the vases, I checked to make sure the height of the center vase would work fine with that of the larger vase. It was just right…not too tall and not too short.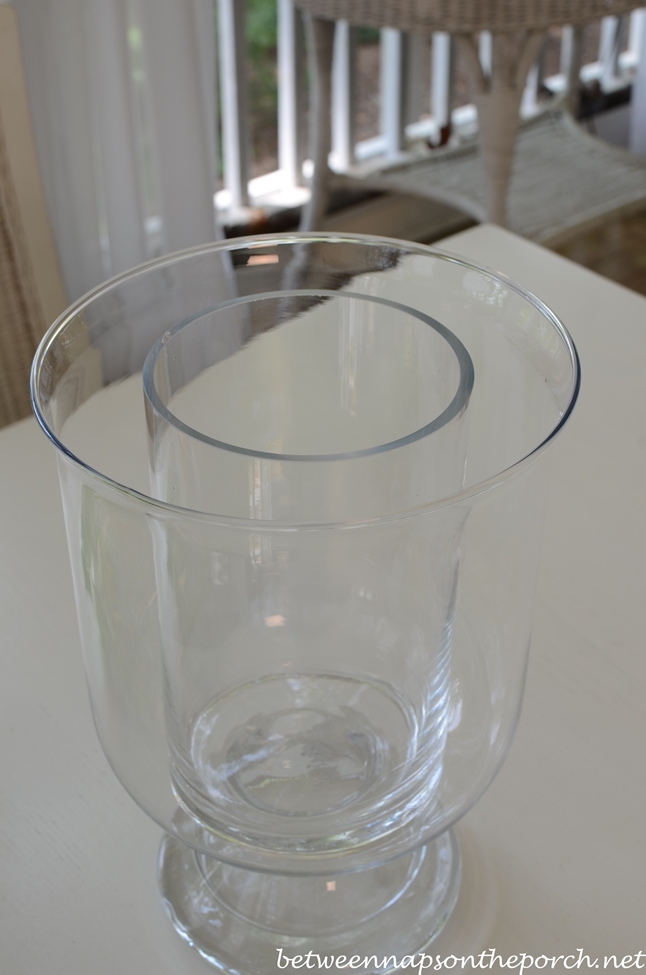 For this centerpiece, I purchased Easter basket grass and candy-covered almonds in the shape of pretty pastel-colored eggs.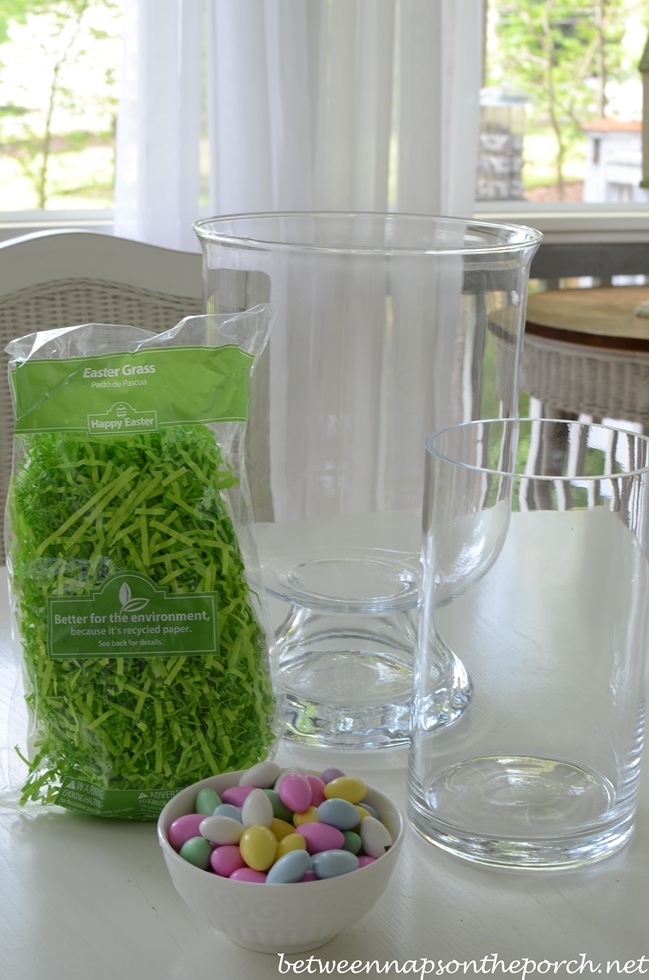 This is such an easy centerpiece to make. I placed the smaller vase down inside the larger vase, centering it inside the bigger vase.
Next, I tucked a little basket grass inside between the two vases as shown below.
Then, I just randomly dropped in a few of the candy eggs. I carefully added water to the center vase, making sure to not spill it on the grass and eggs. Tip: If you are worried you may spill some water on the outside of the center vase, just add the water to the vase before placing it inside the larger one.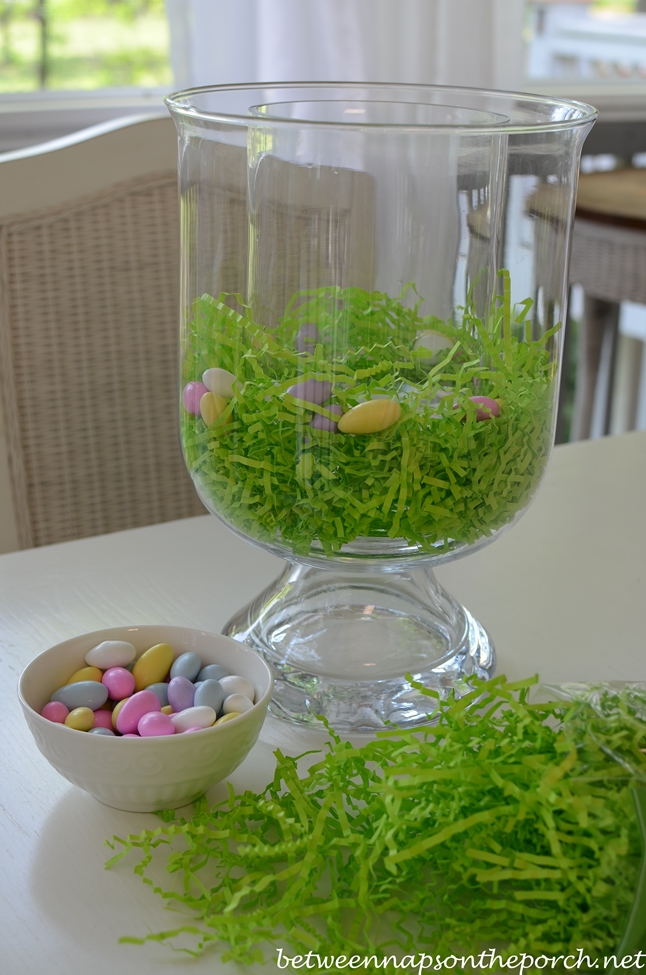 A view from overhead…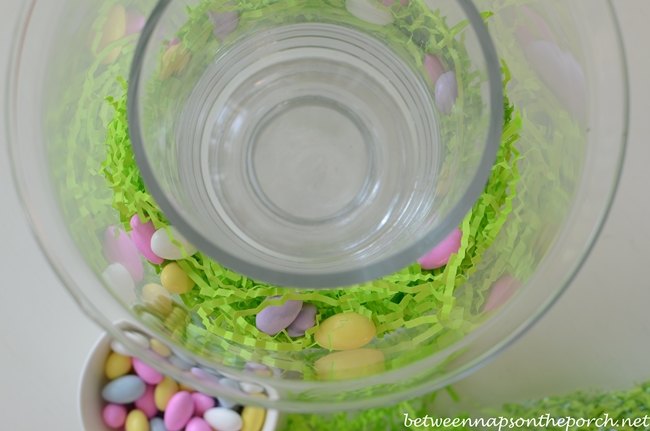 I filled the center vase with lots of gorgeous white, pink, and lavender tulips. Welcome Spring!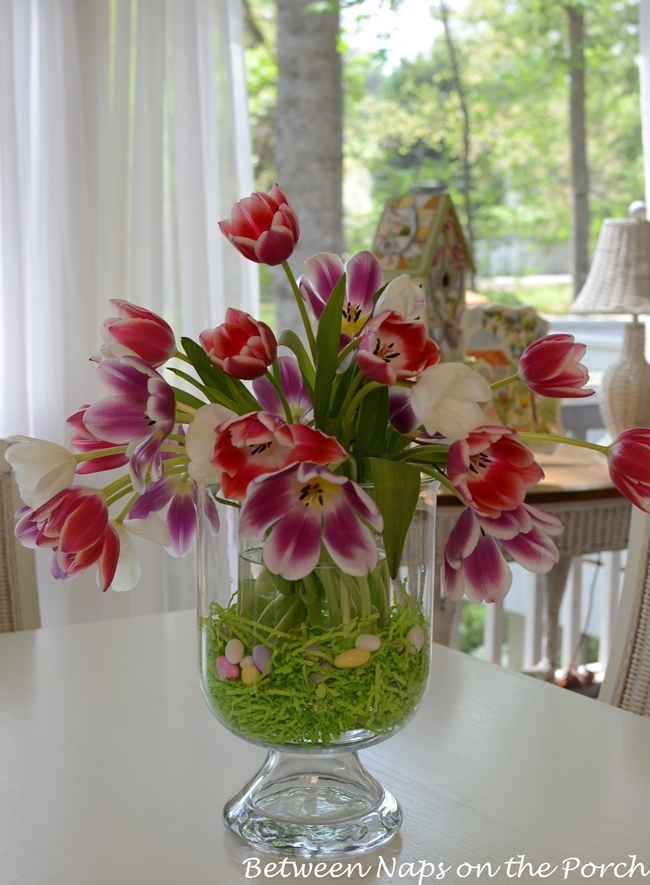 Don't they just make you smile! Stunningly beautiful and the colors of cut tulips are so vibrant!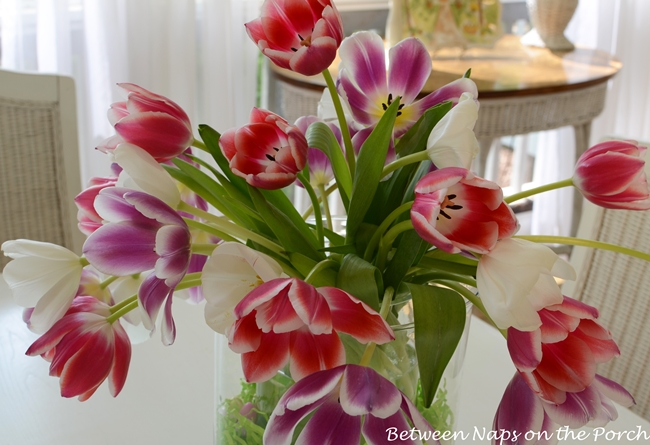 I loved how the tulips looked here on the porch. They just lit up the space on this gorgeous spring day! Something tells me you may be seeing them in a table setting real soon.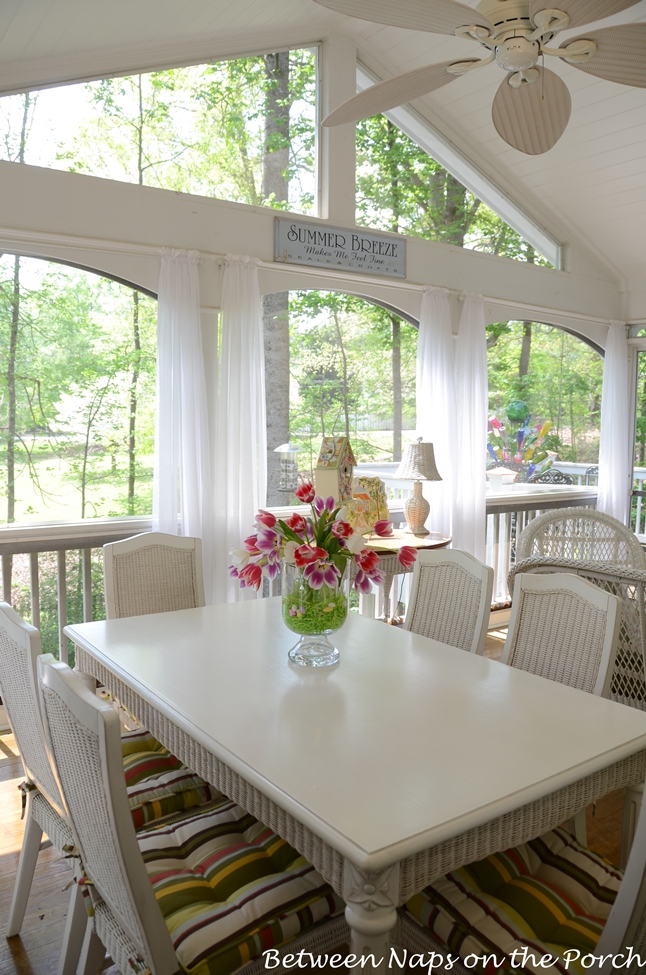 Update: here's how this centerpiece looked in my Easter table setting. Tablescape can be viewed here: Easter Tablescape with Tulip Centerpiece in Double-Bowl Hurricane Vase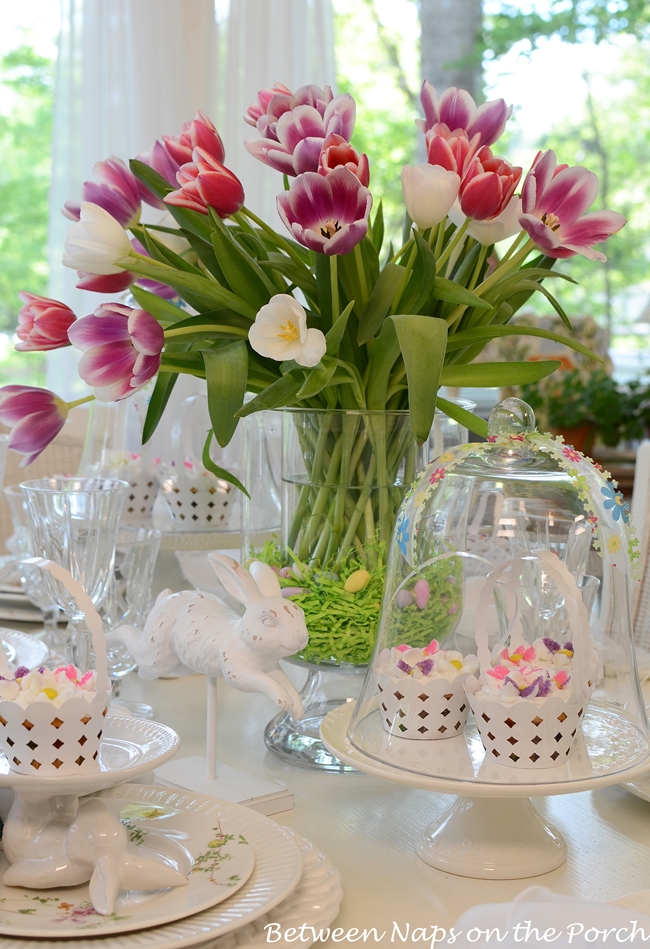 *If a post is sponsored or a product was provided at no charge, it will be stated in post. Some links may be affiliate links and as an Amazon Associate, I may earn from qualifying purchases. *