Welcome to the 184th Metamorphosis Monday!
Shell Chargers are Done!
Another significant metamorphosis checked off my "should-have-finished-ages-ago" list, was the completion of the shell chargers I started a while back. Remember those?
You may recall, I came across these six Pottery Barn shell chargers on eBay while searching for chargers for an Easter table setting. I briefly thought about bidding on them but never got the chance since the bidding escalated quickly to way beyond what I would have been willing to pay. They ultimately sold for for $233.49 with shipping. That's a pretty hefty amount for six chargers.
They were pretty awesome looking, though.
Since I have lots of shells from a trip we took many years ago to Sanibel and Captiva Islands, plus you can find shells in all the discount stores pretty inexpensively, I decided to try making my own. You may remember I made one shell charger and posted a tutorial for making them in this post: Pottery Barn Knock-off Shell Chargers for Summer Dining.
I had not had a chance to finish them since I've been spending almost all my spare time categorizing posts for the new system that went live this weekend. Since my categorizing days are behind me (YAY!) I got back to work on the chargers. I'm happy to report, they are done! Double Yay! (Sorry these pics are a bit yellowish, they were taken after dark so not the best lighting.) Click on any pic to enlarge it for a better view. Then hit the "back" arrow in your browser back to normal. Or, click Ctrl + on your keyboard to enlarge pics, then ctrl zero when done.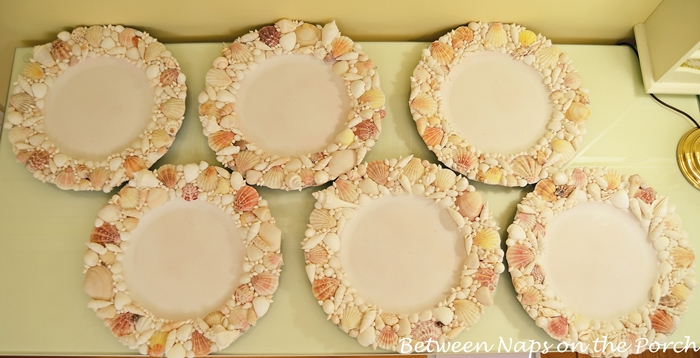 I was curious how many shells each charger contained when completed. So, I counted all the shells on one charger…231 shells! It took me pretty much all day Sunday to complete the last 5 chargers and that was after getting a good start on those last five a while back, as seen in this post: Shell Charger Progress
All in all, I'm guessing it took about 10-12 hours to make all six. I noticed the longer I worked on them, the more "3-D" they became. I added more of the taller shells to the last five chargers than I did the first one. I liked the multi-dimensional look around the outer edge where it wouldn't interfere with a plate.
I really do like how they turned out so it was worth all the work. Good thing, huh? 😉 I"m looking forward to using them in a beachy tablescape sometime soon.
Update: Shell chargers were used in this summer, beach-themed tablescape: Shell Chargers for a Coastal Themed Table Setting
Here's a side-by-side comparison of the PB chargers that sold on eBay for $233 (on the left) and my DIY knockoff shown on the right.
The final cost was around $27 for all six chargers, plus a few hot glue burns and some sore fingertips from poking approximately 1,400 sharp, little shells into place.
There are so many ways you could make these. I think they would be stunning with touches of blue or aqua seaglass mixed in!
Would I do it again? Yup, definitely…sore fingers and all.
You'll find the full tutorial for making your own shell chargers here: Pottery Barn Knock-off Shell Chargers for Summer Dining
Receive BNOTP updates right in your Inbox:
To receive the latest posts, as well as updates about upcoming blog parties, subscribe To BNOTP posts via an RSS Reader. Or, have BNOTP delivered right to your Inbox. You'll find links to subscribe via RSS and/or e-mail at the top sidebar of the BNOTP home page. Just look for the words, "subscribe."
Reading this post via e-mail or RSS feed?
*If you are reading this via email or RSS feed, to view all the Before and Afters linked for Metamorphosis Monday, click HERE and then click on the first post excerpt showing underneath the rotating picture slider.

Metamorphosis Monday:
If you are participating in Metamorphosis Monday you will need to link up the "permalink" to your MM post and not your general blog address. To get your permalink, click on your post name, then just copy and paste the address that shows up in the address bar at the top of your blog, into the "url" box for InLinkz.
In order to link up, you'll need to include a link in your MM post back to the party.
If you'd like to include the MM button in your post, just copy and paste the Met Monday button to your computer and unload it as you do your other photos to your post. Or, click on the "Other" category at the top of the blog and on Metamorphosis Monday. You'll find the html code for the button there.
PLEASE DO NOT type in all caps…it spreads the links waaaay out.
PLEASE DO link up Before and After posts that are home, gardening, crafting, painting, sewing, cooking, DIY related. Do not link up if you're doing so to promote a website or product.
PLEASE DO be respectful of the BNOTP readers, visitors and those who participate in Met Monday by not linking posts inappropriate for the party.


*If a post is sponsored or a product was provided at no charge, it will be stated in post. Some links may be affiliate links and as an Amazon Associate, I may earn from qualifying purchases. *