Welcome to the 486th Tablescape Thursday!
I had expected to be home by now and was planning on creating a table for this week's Tablescape Thursday. With all the snow and ice moving in across the southern states yesterday, I decided to delay my return by a couple of days. Getting stuck on the interstate or a side road somewhere didn't sound too appealing!
The temps are supposed to start rising today so I'm hoping the snow/ice will melt enough that I will be able to make my way back home safely tomorrow. I'll be trekking south down I-75 all day tomorrow. Wonder how those steep hills in Tennessee are looking today? Hopefully they will be clear by tomorrow.
So since I'm still here visiting with my son, dil and two grandsons, I decided to create a table setting that's unlike any table setting you've ever seen here at Between Naps On The Porch. 😉 In the neighborhood where my son/dil live, they have a Mom's group that shares toys and such as their children outgrow them. My dil scooped up this adorable play kitchen with play dishes a while back, and the youngest of my two grandsons (he'll be 2 in June) loves cooking and preparing meals with it.
A special delivery came yesterday. I brought it in from the snow-covered, screened porch and got busy putting it together.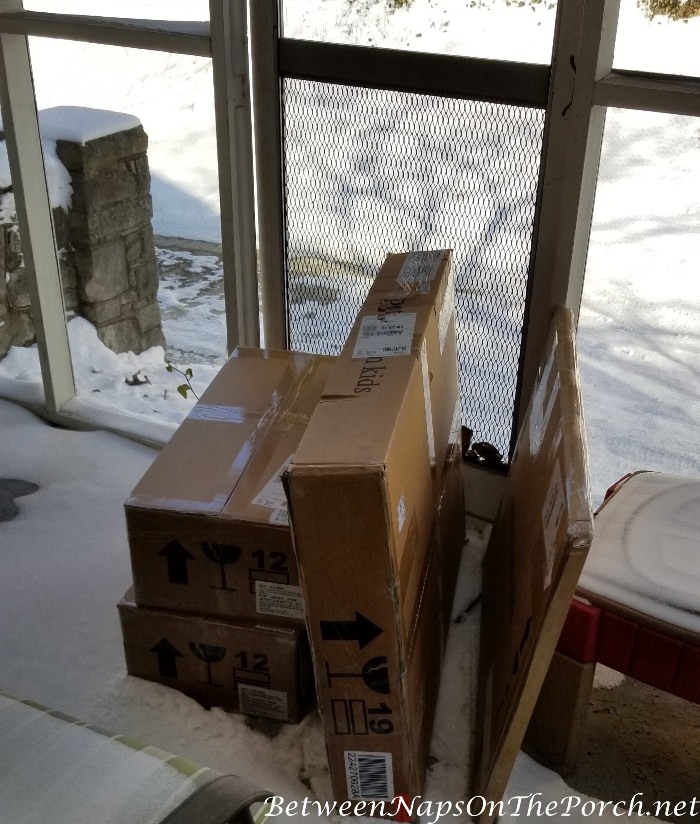 Sorry these photos are a bit dark…it was already getting dark outside when they were taken. You'll notice the blue hour in one of the photos. (Read more about the Blue Hour here: Blue Hour.)
I'm so glad that we've finally hit that time of the year when the daylight will be staying with us a little longer each day. Love that!
Here's what was inside the boxes on the porch. This adorable table and chairs is available in a ton of colors, so you can mix and match to create the color scheme you like best. My dil decided to go with a white table and red chairs which works great with the colors in the downstairs part of their home.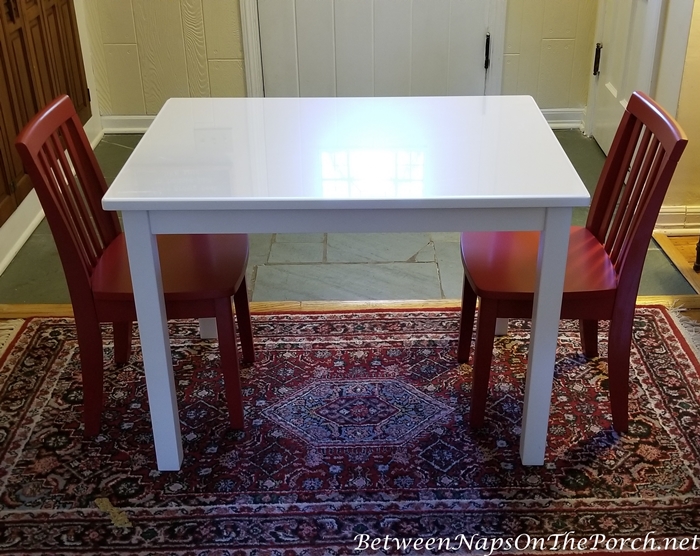 The table is set for Tablescape Thursday, won't you join me? 🙂
I picked a fresh bouquet of flowers for our centerpiece. Hee, hee. These little flowers are normally in the window of the play kitchen. I think that's my favorite feature of the play kitchen…the flowers in the window. 🙂
Ummm, what are we having for dinner?
Oh, it looks like roast chicken, carrot soup and freshly baked bread. Yum! Hope you're hungry!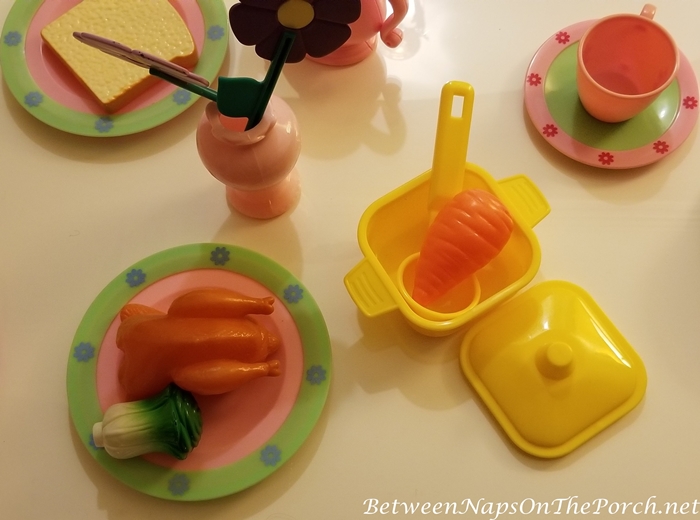 I brought out our best china for the occasion. Since it's so yucky and cold outside, I went with a happy, spring-floral pattern to remind us that spring will soon be here.
Thanks for joining me for this dinner party for two. You'll find this adorable table and chairs available here: Play Table AND Chairs.
I added one of their clear, protective play mats to the top. The "Small" size is the one that fits this particular table and it's available here: Protective Mat.
There's a smaller version of this table set available here: Smaller Table and Chairs. We were tempted to buy the smaller set since it would have been perfect for my youngest grandson, but the older one who is almost 4, would have outgrown it pretty quickly. So that's why we went with the slightly bigger set.
Here's a better photo of the set taken this morning. You'll find all the table/chair sets here: Table and Chairs Sets. They also have a really cute craft table with drawers that tempted us.
Looking forward to all the beautiful table settings for this week's Tablescape Thursday!
Pssst: I post almost daily to Instagram. Follow Between Naps on the Porch on Instagram here: Between Naps On The Porch. If you enjoyed this post, subscribe for free email updates when a new post is up here: Subscribe for post updates.
Tablescape Thursday
If you are participating in Tablescape Thursday, please be sure to add your permalink below, and not your general blog address.To get your permalink, click on your post name, then copy and paste the address showing in the address bar, into the "url" box when you link up.
You'll need to include a link in your post back to the party to link up and participate. That's so visitors to your blog will be able to find the party and the other Tablescape Thursday participants. Requiring a link back also prevents businesses and scammers from linking up to sell their products. (Yup, that really happens, unfortunately.)
*If a post is sponsored or a product was provided at no charge, it will be stated in post. Some links may be affiliate links and as an Amazon Associate, I may earn from qualifying purchases. *