Welcome to the 311th Metamorphosis Monday! If you are participating in Met Monday (a blog party that's all about Before and Afters) please don't forget to include a link in your post back to today's party so your readers will find the other participants who have also linked up. Please do not link up a post you've just previously linked up in the last 2-3 weeks since readers will have already seen that post. Thanks!
Colorful paint markings and flags galore, that describes my front yard right now. The electric, cable, gas and water lines have all been identified and clearly marked for the digging that will be taking place today. It promises to be a busy day!
This area in front of the house will be seeing a change. The shrubs that were in this bed were removed during the fall since they weren't evergreens and became naked, stick bushes during the winter. Not a great look for the front of the house.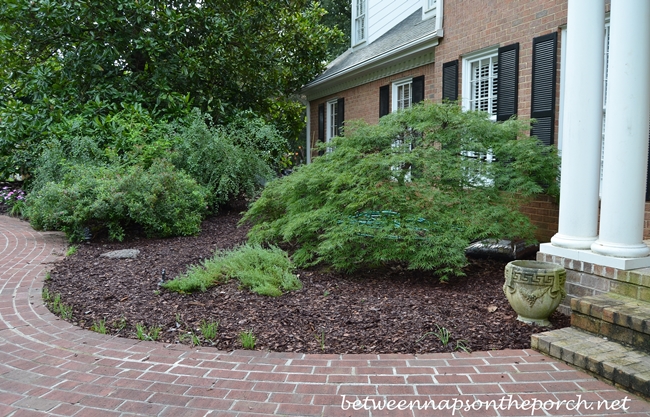 Now that the maple has gone dormant, it will be transplanted to a different location in preparation of adding evergreen shrubs in the spring. They'll have to be super careful digging in this area today since that's where the water line comes into the house. The tree will be hand-dug out.
It would be much cheaper to just cut it down, but I hate to do that so I'm going to try transplanting it. I've been told Japanese Maples normally take transplanting well. I'm keeping my fingers crossed it will do okay if I keep it watered well this winter.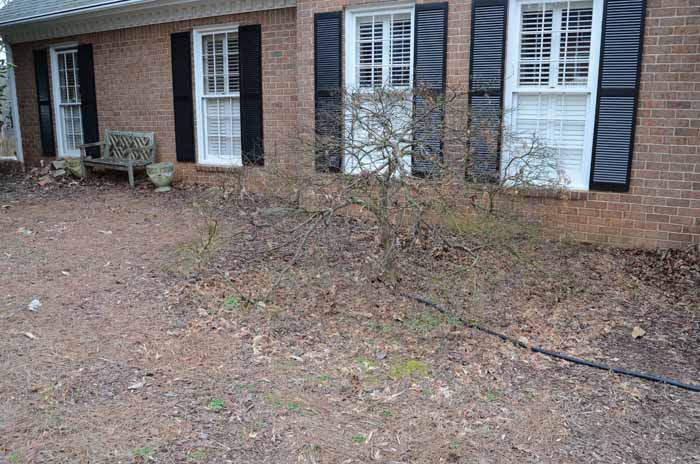 The 4 tree-form Savannah Hollies, 3 Leyland Cypress trees and 5 Double Mint Gardenias that were planted in the fall are all doing great.
There will be a whole lot of digging going on today. See the brown thingy that's attached to the gutter? It will be disappearing along with all the other above-ground gutter extensions. All the downspouts will be piped out and hidden underground. I'm really looking forward to those vanishing since they aren't the most attractive thing(s) to see laying in the yard.
This work is all being done now so I can get busy installing evergreen shrubs this spring. I hope I'll be able to find some good size shrubs for the beds across the front. I'm looking forward to sharing the landscape changes with you this spring. If you would like to see a tentative plan that I'm following, you'll find it here: The Landscape Plan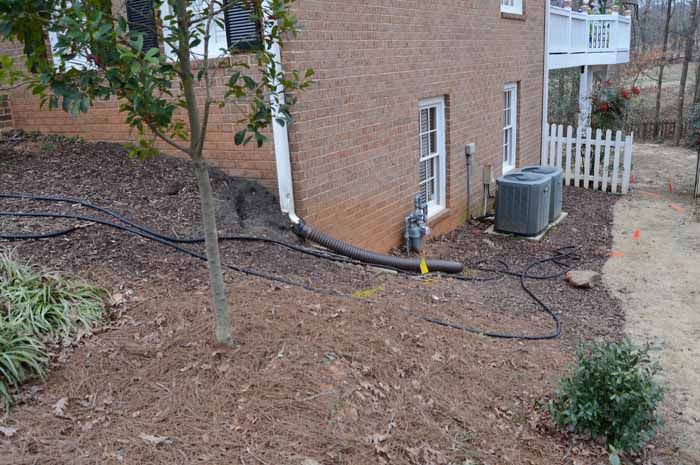 Finally, A Bed Skirt!
The other thing that's happening around here this week, the completion of my winter bedding is finally getting underway. Now that the holidays are behind us, a seamstress will be coming out on Tuesday to measure for the dust ruffle she'll be making to go with the winter bedding. Since I'll be using this bedding during the winter months for many, many years and since the bed skirt is such a significant feature of the bedding, I've decided to have it professionally made.
You may remember when I faked it and gave you a sneak preview in this post: Dressing the Bed in Tartan, Ralph Lauren Inspired.
I'm looking forward to having a real bed skirt in a few weeks. What projects are you working on around your home?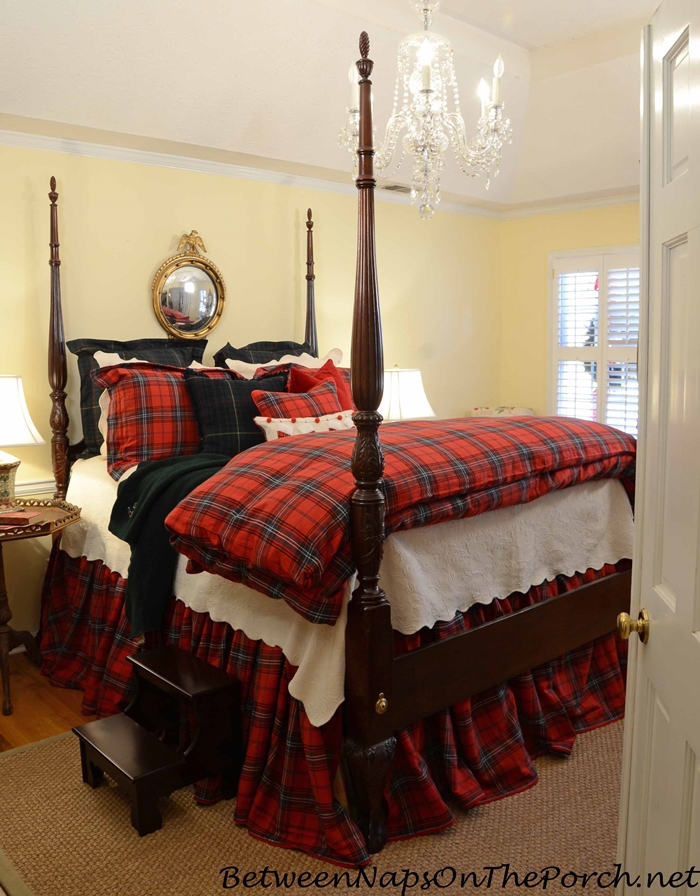 Looking forward to seeing all the wonderful Before and After for this Met Monday!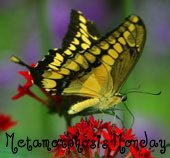 If you are participating in Metamorphosis Monday, you will need to link up the "permalink" to your MM post and not your general blog address. To get your permalink, click on your post name, then just copy and paste the address that shows up in the address bar at the top of your blog, into the "url" box for InLinkz.
In order to link up, you'll need to include a link in your MM post back to the party so the other participants will have an opportunity to receive visits from your wonderful blog readers.
Please observe these few rules:
Only link up Before and After posts that are home, gardening, crafting, painting, sewing, cooking, DIY related.
Do not link up if you're doing so to promote a website or product.
Do not link up a post that was just linked last week since a lot of readers will have already seen that post.
Please do not link up more than 2 Before and Afters each week. Thanks!
*If a post is sponsored or a product was provided at no charge, it will be stated in post. Some links may be affiliate links and as an Amazon Associate, I may earn from qualifying purchases. *