Welcome to the 312th Metamorphosis Monday!
Thanks so much for all the comments left on my last post. I read each one, not just once, but several times. Your prayers, encouragement and individual stories have been a true blessing and they have brought me much comfort over the last few days. So many of you well-know the heartache of losing someone very close to you. I'll be returning to that post to read your comments again whenever I feel overwhelmed or sad in the coming days. Thank you for that gift.
Preparing The Front Beds For Spring Landscaping
Recently I shared some of the last-minute steps I've been taking to prepare the front beds for landscaping. The unsightly gutter extension is now gone.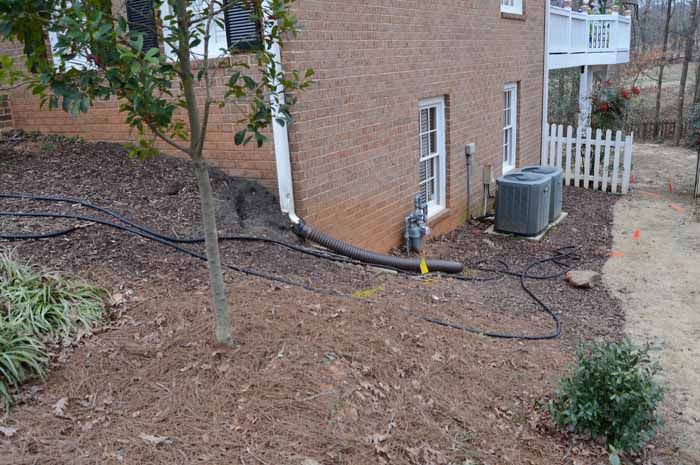 That downspout was piped out across the side yard. You can see the faint lines where the grass was temporarily removed to install the piping.
This particular pipe ends in a pop-up device. When it rains, water will flow down the gutter and into the piping where it will eventually end up down here where you see the circular green thing below. Then the green thing will pop up and release the water. I like that it will give the newly planted Leyland Cypress trees a little watering each time. Better to have the rain from the gutters end up here than in the center of the side yard.
I had all the gutters around the house piped underground and out to the natural area in back of my home.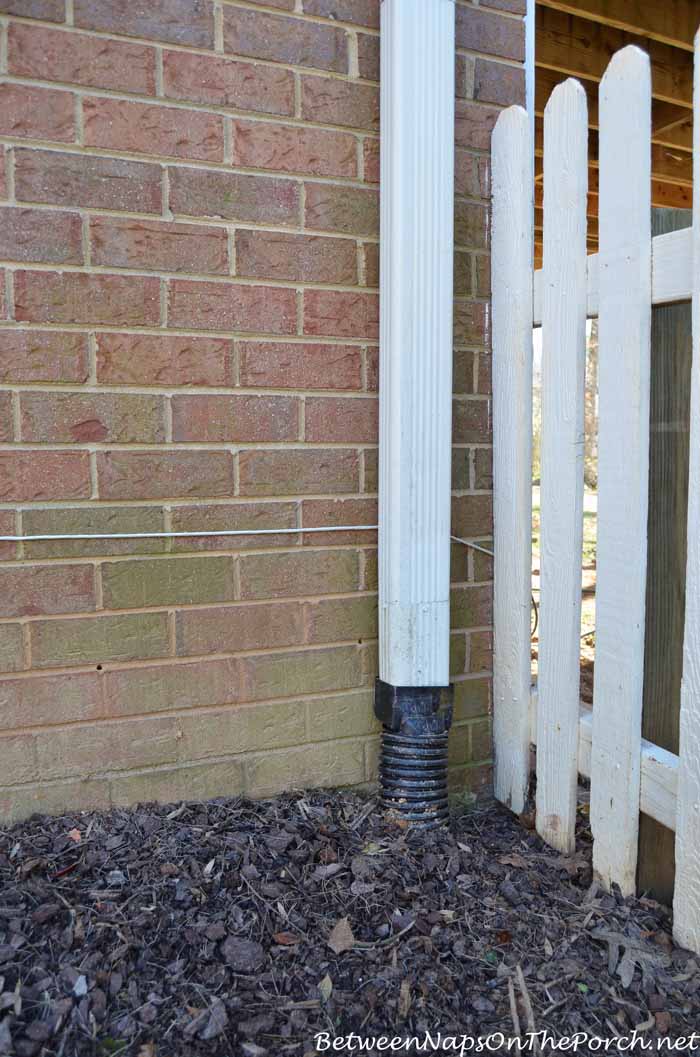 Waterfall Japanese Maple Transplanted
The shrubs in front of the house on this side were removed a few months ago so all that was left to move was the Japanese Maple.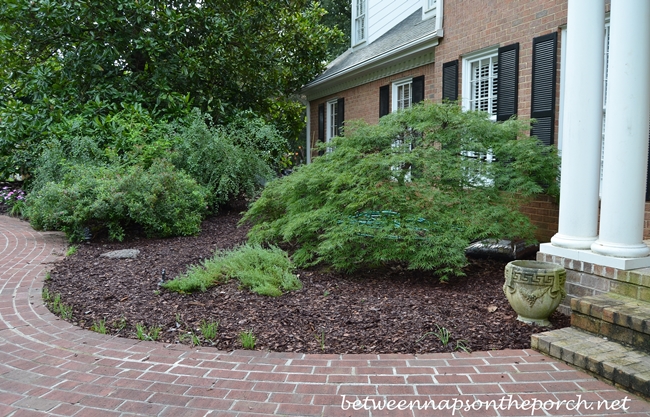 I waited until it was dormant to give it the best chance of survival during the move.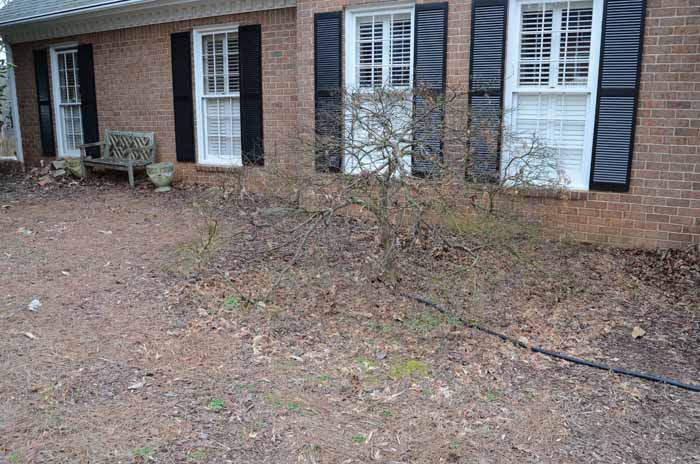 It's now in its new home here in this small island.
I've been keeping it watered so hopefully it will do okay here. It actually looks much better here than it did in front of the house. A branch had been touching the ground in front of the house and now it doesn't, so it really does look a lot better. I'm hoping it will thrive in this spot.
Now that this area is cleared, I'll be making final decisions on the shrubs I want to put back in the next few months. I know it will involve plenty of boxwood. I love boxwoods and they are a great look for a traditional home. Low maintenance, too.
In Georgia, the best time to plant shrubs is in the fall. The heat of a Georgia summer can be tough on newly planted shrubs. Since I don't want to wait all the way to fall, I'll just have to be diligent this spring/summer about keeping the shrubs watered.
Here's a view of the front cleared for planting…well, all except for one little Nandina that bravely grew back after the Nandinas in this area were moved to the backyard. I'll be transplanting it to the back, too, I love decorating with the berries at Christmastime.
I'm really looking forward to getting this area completed, then I'll be able to start thinking about a bath renovation. Or, two.
Looking forward to seeing all the wonderful Before and After for this Met Monday!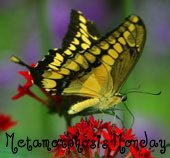 If you are participating in Metamorphosis Monday, you will need to link up the "permalink" to your MM post and not your general blog address. To get your permalink, click on your post name, then just copy and paste the address that shows up in the address bar at the top of your blog, into the "url" box for InLinkz.
In order to link up, you'll need to include a link in your MM post back to the party so the other participants will have an opportunity to receive visits from your wonderful blog readers.
Please observe these few rules:
Only link up Before and After posts that are home, gardening, crafting, painting, sewing, cooking, DIY related.
Do not link up if you're doing so to promote a website or product.
Do not link up a post that was just linked last week since a lot of readers will have already seen that post.
Please do not link up more than 2 Before and Afters each week. Thanks!
*If a post is sponsored or a product was provided at no charge, it will be stated in post. Some links may be affiliate links and as an Amazon Associate, I may earn from qualifying purchases. *