The makeover I've been working on in my bedroom feels very timely with all this cold weather we've had come in so early this year. You may remember my inspiration is this bed dressed all in Tartan by Ralph Lauren. I don't know why Ralph Lauren likes plaid fabric so much but I'm so very glad he does. Never in my wildest dreams would I have thought about mixing different plaids or tartan patterns if I hadn't seen this room.
I've been talking with a few seamstresses in the area where I live, getting estimates for having a bedskirt made for my bed. Having sewn Halloween costumes in the past for my son and for myself, I know with a little time and patience I could figure out how to sew a bedskirt for my bed.
The reason I've decided to have the bedskirt professionally made is I'd like to have it made with triple fullness. Once you start gathering that much fabric, it helps to have a professional sewing machine that can handle it, especially when the bedskirt will be lined and the fabric is a hefty blend of linen and cotton.
Unfortunately, most seamstresses in my area are booked up right now due to the holidays. I was hoping I could find someone to sew my bedskirt in the next couple of weeks but I don't think that's going to happen. Since I've had a few folks asking how the bedding makeover was coming, I didn't want to make you wait all the way until January to see how it's going to look, especially since I have everything now except the bedskirt. So, I finagled a sneaky way to give you a peek.
As you may remember, this is how my bedroom looks most of the time. It will still look this way from April through September of each year. But come October…
It will transform to a fall/winter look. The duvet is from Williams-Sonoma this season. It's available here: Tartan Bedding.
Since they don't sell the tartan fabric, I've purchased several tablecloths in the same fabric from a seller on eBay. Fortunately, WS made the tablecloths out of the exact same fabric as all their tartan bedding.
For this "simulation" today, I've tucked the tablecloths in as best I could to somewhat imitate a bedskirt. The bedskirt should look a whole lot better when it's an actual bedskirt. lol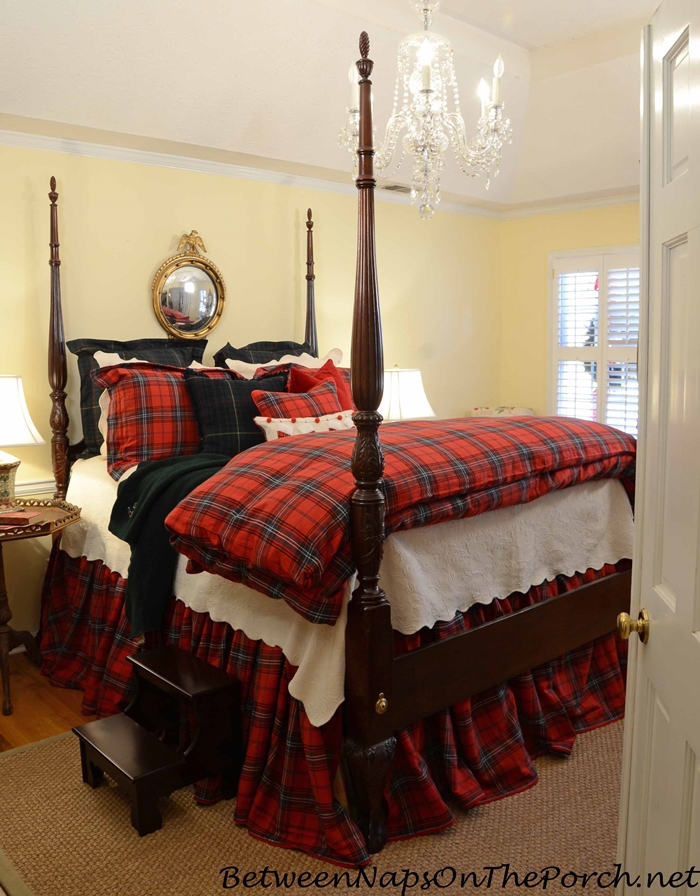 I had a hard time photographing the red tartan bedding and the Ralph Lauren "Duke Devonshire" bedding I chose as my other tartan pattern for the bed. Since I took the photos on a setting that kept the red tartan fabric as true as possible to its real color, the Duke Devonshire fabric looks super dark. You'll be able to see it better in a photograph I lightened up later in this post.
The wool throw is forest green in color, though you really can't tell it very well in the photo.
It's a "souvenir" from a skiing trip we took as a family 2o years ago to Snowshoe, West Virginia. It has a pretty embroidered fox on it. Even back then I was obsessed with fox motifs and hunt themes. Some things never change.
One thing I'm going to have done when the bedskirt is made, I'm going to have some padding/felt added inside the flange that goes around the red-tartan shams so they don't flop over so badly. Unfortunately, these are super floppy. Update: Check out this post to see how I was able to improved the look of the pillows on the bed with new, properly fitting down/feather pillow inserts: It's All In The Details
The stocking pillow is from either HomeGoods or Marshalls (forgotten which) and will only be on the bed for the Christmas season. The back of the pillow is done in the same tartan fabric as seen on the front, perfect for my tartan theme.
While shopping for pillows, I came across two Ralph Lauren red velvet pillows in TJ Max.
I loved them except for one thing…Ralph's GIANT monogram is across the back. Boo hiss! Could someone tell me why RL feels compelled to plaster his three-initial monogram(RLL) in giant letters across so many of his pillows. (Sorry Ralph, if you ever read this!) I haven't taken the tags off these yet because I'm still trying to decide if I should return them. I just hate that big monogram. Anyone else hate that RL does that?
Update: I did take the RL pillows back. Just couldn't get past the BIG RLL monogram. The bed actually has plenty of pillows without them so it worked out well.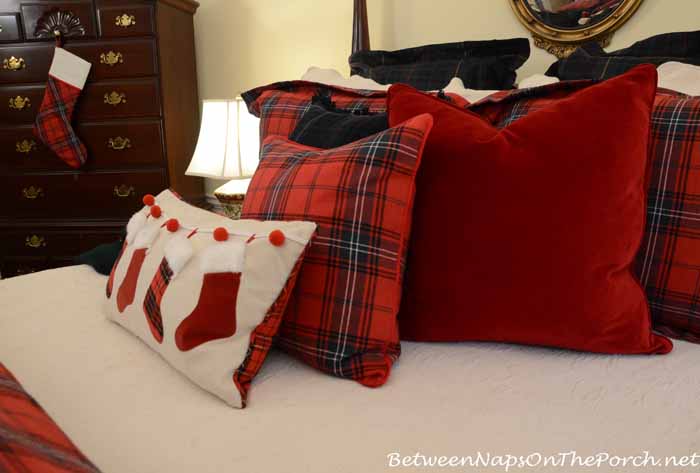 The Ralph Lauren, Duke Devonshire fabric is the tartan I chose for the Euro shams across the back. I love how the dark green pulls out the green from the red plaid fabric.
I purchased the Ralph Lauren, Duke Devonshire Euro shams and the Duke Devonshire, fringed, wool pillow on eBay. Even on eBay the price was pretty ridiculous but I ended up getting them for less than half of what they would have cost retail and for much less than any of the sale prices I was seeing at Macy's, Bloomingdales, etc…
Here's a picture I lightened up a lot so you can see the colors in the Duke Devonshire fabric. In person you see the colors well, but in photos they are hard to see unless I really over-lighten the whole photo.
Recently when I was in the Williams-Sonoma store that's about 2 miles from my home, they had coordinating mugs and coasters on display. I bought one mug and a set of the coasters. When WS does a theme, they really do a theme! The WS sales associate and I were joking that I'd be camouflaged while sipping hot cocoa in bed. 😉
This little tartan stocking is what started this whole debacle makeover. I found it in WS after Christmas last year on clearance. It was just $4.99, as I recall. When I saw the bedding online this year, I already knew how wonderful the fabric was since I had the stocking…it's a blend of 55% linen and 45% cotton. So beware of innocent little bargains…you see where they can lead! 😉
My dear friend and fellow pillow lover, Sarah, who blogs at Hyacinths For The Soul alerted me yesterday that the adorable Pottery Barn "Woody" pillow that sold out so quickly last year, was currently on sale. It's so ironic that she mentioned it because just two weeks ago I had oohed and aahed over it in the Pottery Barn that's 2 miles from my home. That night, as I stood petting admiring it, a PB sales associate encouraged me to buy it, saying a lot of folks were disappointed last year when it sold out so quickly. I resisted and left empty-handed.
When I got Sarah's email last night, I remembered I had a $50 gift certificate for Pottery Barn. I hurried over last night to pick one up before the sale ended. I tossed it on the bed last night just to see how it looked. It also looks great on a sofa or in a window seat. You can find this pillow available here: Woody Car with Christmas Tree.
For this makeover, I was able to use pillow inserts from my spring bedding for the euro shams and for the regular/standard shams. I'm also using the same matelasse and matching shams I use for my spring/summer bedding. And I already had the down insert for the duvet. Not having to buy all those things helped a little with the cost, as well as with storage space.
Each October and each April, I'll change over to that seasons bedding and swap out the inserts for the shams. I almost gave away the down duvet insert a few years ago since I wasn't using it. Glad I held onto it now.
Other than a finished bedskirt, the makeover is complete for now. The colors are much softer and prettier in person…but hopefully this gives you a little idea how this Ralph Lauren inspired bedding makeover is turning out. And Ralph, if you don't mine, please stop monogramming your pillows! 😉
If you love the look of this wonderful tartan bedding, you'll find it available at Williams-Sonoma here: Tartan Bedding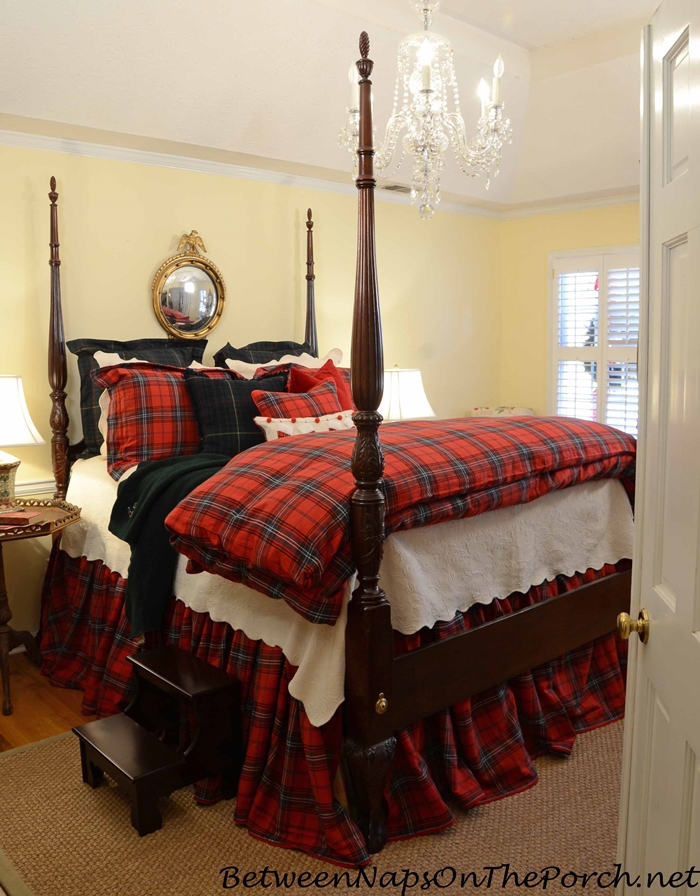 Update: Here's a view of the bed with the finished bedskirt. Read all about the process of making the bedskirt in this post: Behind the Scenes with "The Beast."
*If a post is sponsored or a product was provided at no charge, it will be stated in post. Some links may be affiliate links and as an Amazon Associate, I may earn from qualifying purchases. *