Welcome to the 181st Metamorphosis Monday!
A few weeks ago I attended the Haven Blog Conference in Atlanta. Rust-Oleum held a cocktail party one evening for all those attending. The tables were decorated in such a pretty and unique fashion, I knew I had to share it with you. I continue to be amazed at all the wonderful things you can "metamorphosis" with paint.
Each table was decorated in a different color scheme. If you look closely, you'll notice the good folks at Rust-Oleum took everyday items like mason jars, wine bottles and odd containers, painted them and turned them into pretty vases for the table centerpieces. I spy a mason jar and several old screw-top wine bottles in this arrangement.
Have a bunch of small, inexpensive vases or containers stashed away under the kitchen sink? Give them an "opaque" or painted finish for a whole new look.
Any color goes…you're only limited by your imagination.
Any type container will work. I wonder what color the horn shaped vase was before it was given a bold, spicey red-orange life. If you don't have enough containers, check your local thrift stores and garage sales. You can usually find them there for almost nothing.
Notice the central theme that ties all the table arrangements together are the white flowers: hydrangeas, roses and is that a touch of Queen Anne's Lace? This silver arrangement even contained what appeared to be an old syrup bottle. It was fun trying to figure out what some of the containers had been in their previous life.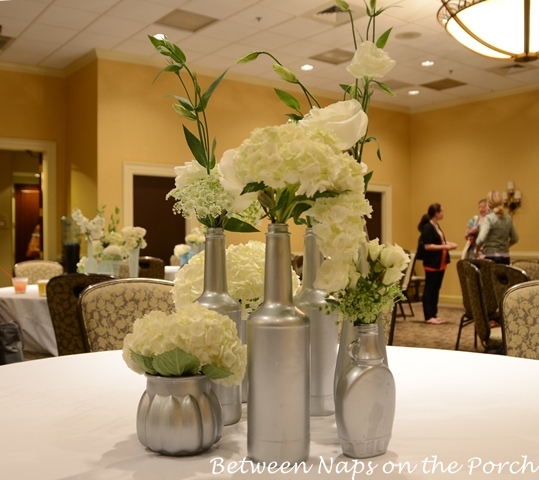 The different heights of the containers used in each centerpiece add a lot to the overall appeal of the arrangements. So, you'll want to use all sizes, heights and shapes to achieve this effect. Even an old cracked or chipped cup can be given new life with sunshine yellow paint.
Looking forward to your Before and Afters for this Metamorphosis Monday!
Receive BNOTP updates right in your Inbox:
To receive the latest posts, as well as updates about upcoming blog parties, subscribe To BNOTP posts via an RSS Reader. Or, have BNOTP delivered right to your Inbox. You'll find links to subscribe via RSS and/or e-mail at the top sidebar of the BNOTP home page. Just look for the words, "subscribe."
Reading this post via e-mail or RSS feed?
*If you are reading this via email or RSS feed, to view all the Before and Afters linked for Metamorphosis Monday, click HERE and then click on the first post excerpt showing underneath the rotating picture slider.

Metamorphosis Monday:
If you are participating in Metamorphosis Monday you will need to link up the "permalink" to your MM post and not your general blog address. To get your permalink, click on your post name, then just copy and paste the address that shows up in the address bar at the top of your blog, into the "url" box for InLinkz.
In order to link up, you'll need to include a link in your MM post back to the party.
If you'd like to include the MM button in your post, just copy and paste the Met Monday button to your computer and unload it as you do your other photos to your post.
PLEASE DO NOT type in all caps…it spreads the links waaaay out.
PLEASE DO link up Before and After posts that are home, gardening, crafting, painting, sewing, cooking, DIY related. Do not link up if you're doing so to promote a store or your website.
PLEASE DO be respectful of the BNOTP readers/visitors and those who participate in Met Monday by not linking posts inappropriate for the party.


*If a post is sponsored or a product was provided at no charge, it will be stated in post. Some links may be affiliate links and as an Amazon Associate, I may earn from qualifying purchases. *