Welcome to the 200th Tablescape Thursday! Can you believe it? It's our 200th Tablescape Party! Wow!
Did you know, in the beginning it was called Tablescape Tuesday? My friend, Shelia (Note Songs) made a wonderful button that we still use today, only it says "Thursday" now instead of Tuesday.
After about 20+ weeks of blogging, Metamorphosis Monday got underway and I moved our tablescape party to Thursday to give a bit of distance between the parties.
Today marks our 200th week of sharing beautiful table settings here at Between Naps on the Porch!
Thank you for stopping by each week, whether it's to link up a tablescape or to just enjoy those you find linked. Your participation is why 200 weeks later, we're still celebrating our love for creating wonderful table settings for our friends and family. A beautiful table is just one more way we show those who gather there how much we love and care about them. And did I mention it's just plain fun! After 200 weeks, I enjoy it today as much as I did on August 25th, 2008, the day of our first Tablescape party.
The First Tablescape Party
Today I wanted to celebrate by posting photos of the very first table setting I created for our Tablescaping party. I had put together a similar table during my BB (before blogging) days and posted it on Rate My Space. At the end of the post you'll find links to those first dearhearts who joined in. Most are still blogging these 200 weeks later; a few have stopped but left their blogs in tact.
Back in the day, when someone wished to participate in TT, they e-mailed me to let me know and I added their blog name (with link) to the Tablescape party post here at BNOTP. I was new to blogging and didn't know about things like permalinks. I did know about the party linking systems but the one everyone was using failed A LOT! So I stuck to my system of manually adding the blog name/link to the post until TT grew to the point where it was taking about two hours each week to add/create the links. At that point, I reluctantly started using the aforementioned unreliable linking system. It was all we had back then.
Thank goodness we have InLinkz now! Parties used to be just a long list of blog names/text links and not the beautiful picture links we have today. It was certainly not anywhere near as reliable.
Tablescape Thursday is a special party. It truly is! Why do I say that? I can't tell you how many times I've received an e-mail from someone participating for the very first time, exclaiming they've never met such nice folks at any other party in Blogland. Yep, I get that email all. the. time!
♥♥♥ Thank you for making Tablescape Thursday such a wonderful party each and every week! YOU are the reason we're still here sharing beautiful tables 200 weeks later! ♥♥♥
Hope you enjoy this very first Tablescape party post!
Sand and Sea: The 1st Tablescape Tuesday, August 25, 2008
I know summer is almost over, but I'm just not quite ready to let it go. I found some adorable shell candlesticks recently and put together this "beach" themed tablescape.
Found the sea-blue flatware at Pier 1 recently and it was half off…whoo, hoo! Thought it worked well with the colors in the china…what do you think?
Napkin rings were made by gluing shells to plain wooden rings…
Used both starfish-shaped salad plates with shell-shaped ones in this tablescape…star-fished shaped salad plate shown here.
Shell shaped salad plate…
Do you see the little starfish on the glass?
Sea-biscuit bread plate…
Love how they decorated all four sides of the bowls…
Thought these candlesticks look like they were designed to go with this beach china. (Candlesticks are from HomeGoods.)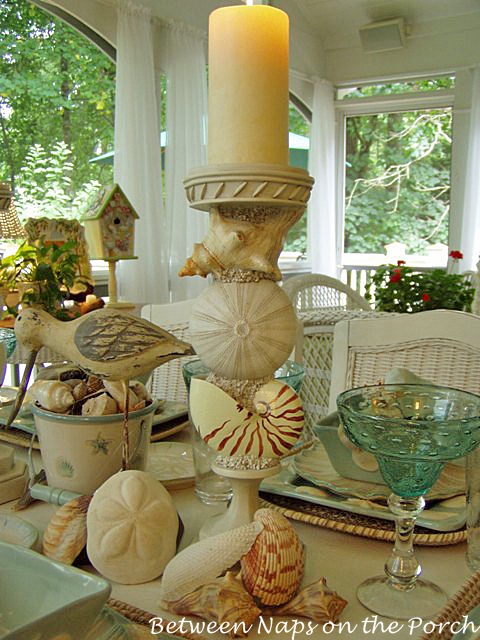 Close-up of candlestick base…
Come walk with me, along the sea, where dusk sits on the land. And search with me, for shells are free, and treasures hide in sand. (Author unknown)
Hope you enjoyed this little escape to the beach.
You will find beautiful tablescapes awaiting your oooohhhs and ahhhhhs at the following blogs (listed in alphabetical order):
A Beach Cottage
Angelic Accents
Cathymac's Holiday Hamlet
'D's DayDreams
Equus Villa
Designs by Gollum
My Romantic Home
Note Songs
Ribbonwood Cottage
Sweet Designs
There is Always Thyme for…
Thinkin' of Home
(End of the first Tablescape Party post.)
Thanks again to everyone for making Tablescape Thursday so much fun each and every week!
Receive BNOTP updates right in your Inbox:
To receive the latest posts, as well as updates about upcoming blog parties, subscribe To BNOTP posts via an RSS Reader. Or, have BNOTP delivered right to your Inbox. You'll find links to subscribe via RSS and e-mail on the top right sidebar of the BNOTP home page.
Reading this post via e-mail or RSS feed?
*If you are reading this via email or RSS feed, to view all the tablescapes linked for Tablescape Thursday, click HERE.


Please Read:
If you are participating in Tablescape Thursday, please be sure to add your permalink below, and not your general blog address. To get your permalink, click on your post name, then just copy and paste the address that shows up in the address bar, into the "url" box when you link up.
You'll need to include a link in your post back to the party in order to link up and participate. That's so visitors to your blog will be able to find the party and the other Tablescape Thursday participants.
If you would like to use the Tablescape Thursday logo button in your post, just copy and paste it to your computer and upload it to your post as you would any photo.
Please, don't add your post name/blog name ALL IN CAPS…it tends to create big spaces between the rows of links. Thanks!


*If a post is sponsored or a product was provided at no charge, it will be stated in post. Some links may be affiliate links and as an Amazon Associate, I may earn from qualifying purchases. *