Welcome to the 282nd Metamorphosis Monday!
Hope you had a wonderful weekend! Mine was great although part of it involved dealing with a vicious intruder in the garden. You may remember this view from last summer, it's the walkway that leads to my front porch.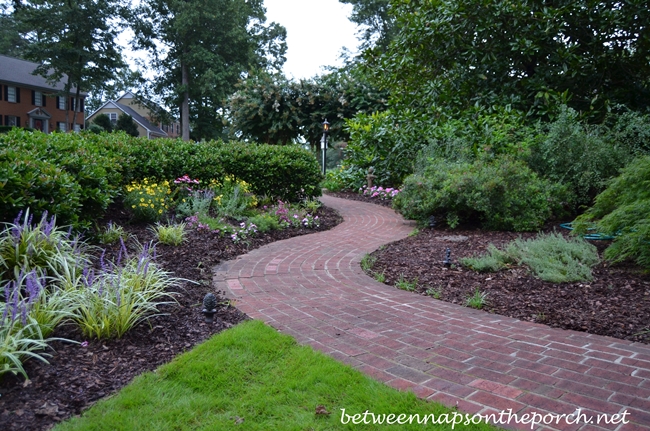 Notice the clump of bushes off to right. Three of those are spiraea a friend gave me many years ago. They have pink flowers each spring. I've completely forgotten the name of the shrubs growing behind them but they bloom with white flowers in the spring.
Smack in the middle of that big clump of bushes is what I've been not-so-lovingly calling a "sticker bush." I've fought it for years and years. It used to be pretty easy to control when the shrubs surrounding it were smaller. I could wade right in and dig it out of the ground, pulling out its underground runners that grew like kudzu on steroids.
It's a scary monster with BIG fangs thorns that catch on your clothing and destroy your skin if you give it half a chance. If you dare to pass near, it comes to life, reaches out and goes for blood. It makes kudzu look like a slow-grower and an octopus look like it's lacking arms. See all those arrows? Those are just a few of its thorn-covered appendages, laying in wait to embrace its next unsuspecting victim.
Someone recently told me it's a "blackberry bush." That was news to me since in all the years I've been fighting it, I've never seen any blackberries. On closer inspection Sunday, I found a couple.
I like blackberries but not enough to fight thorns like this.
It's a nightmare to get rid of it because every inch of its 1,000 prickly arms looks like this.
I let it get way out of hand this summer because I plan to have all those shrubs removed since they are deciduous and turn to sticks come winter time, not a look I really want for the front of my home. I figured I'd get it dug out when I had the shrubs removed this spring/summer, or I'd at least be able to dig it out myself.
But I got busy with other home-related needs, scheduling house pressure-washing, porch painting and a bit of bat shooing-away. Before I could get the bushes removed, my thorny intruder took over half the walkway and a section of the front island.
I put on my battle gear yesterday which included long pants, a long sleeve shirt and heavy-duty gloves that reached all the way up to my elbows. Before I was done, I had three big piles like this.
It's still inside that clump of bushes, just waiting to come back out again, but at least it's been beaten back for a while. Once the bushes are gone, I'll be able to get more of the roots out.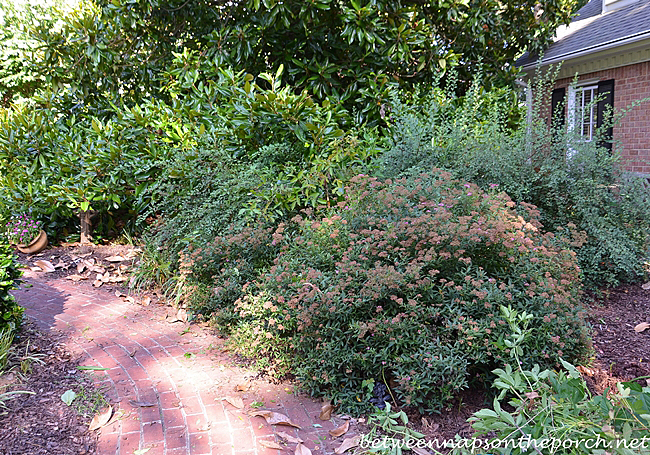 Remember the little perennial bed across the walkway, the one I planted last summer there on the left?
The plants are much bigger now…amazing what a year can do!
Notice the size of the Purple Coneflower in the center of the back row and the size of the of the small clump of Coreopsis 'Moonbeam' in front in this picture from last summer.
They survived our harsh winter and are thriving in this spot. I love Purple Coneflower and it blooms for a pretty long time.
The Russian Sage I planted is just starting to bloom, too.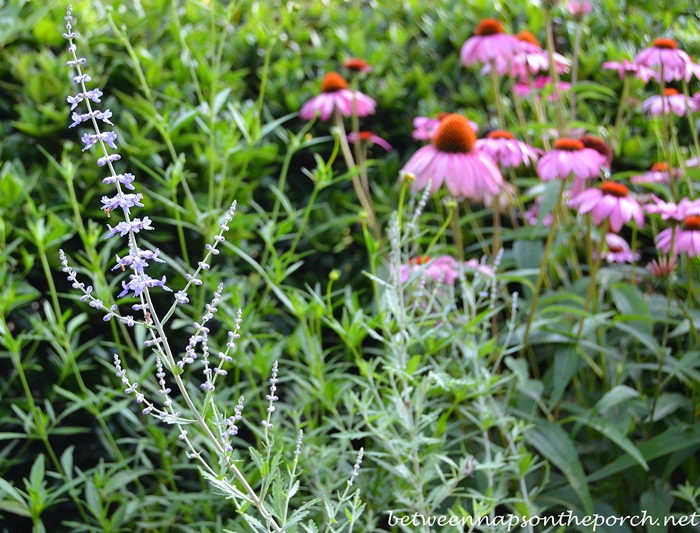 I love its subtle lavender color here in the garden.
Hope your weekend was a lot less prickly! 🙂 Can't wait to view all the Before and Afters for this Met Monday!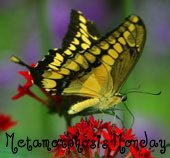 If you are participating in Metamorphosis Monday, you will need to link up the "permalink" to your MM post and not your general blog address. To get your permalink, click on your post name, then just copy and paste the address that shows up in the address bar at the top of your blog, into the "url" box for InLinkz.
In order to link up, you'll need to include a link in your MM post back to the party so the other participants will have an opportunity to receive visits from your wonderful blog readers.
Please observe these few rules:
Only link up Before and After posts that are home, gardening, crafting, painting, sewing, cooking, DIY related.
Do not link up if you're doing so to promote a website or product.
Do not link up a post that was just linked last week since a lot of readers will have already seen that post.


*If a post is sponsored or a product was provided at no charge, it will be stated in post. Some links may be affiliate links and as an Amazon Associate, I may earn from qualifying purchases. *