Welcome to the 274th Metamorphosis Monday!
How was your weekend? Hope it was grand! I spent much of my weekend pouring through One Man's Folly, a book I had pre-ordered and have been eagerly awaiting its arrival. I rarely pre-order a book but this one sounded like it was going to be amazing from the articles I had read online. Oh, my gosh…is it ever! Such a wonderful book! I have so enjoyed every moment reading and drooling over the photos within.
Here's an interesting little tidbit in the book that cracked me up: I read in One Man's Folly that Furlow Gatewood (love that southern name) an antique expert and friend of Bunny Williams, as well as an associate to her husband, years ago sold Bunny an antique bed for her master bedroom. Later she ended up trading the bed back to him.
Out of curiosity, I headed to my office and pulled Bunny's book, An Affair With a House off the shelf. I looked for the bed and sure enough, there it was on page 65, the exact same bed you'll find in One Man's Folly on page 130. And you know what? It looks great in both houses!
Okay, time for me to quit gushing about this book and share what I've been up to this weekend, a wee "Before and After" that turned out to be quite the challenge.
In the hutch out on the porch, I store two sets of dishware that are often used when dining on the porch.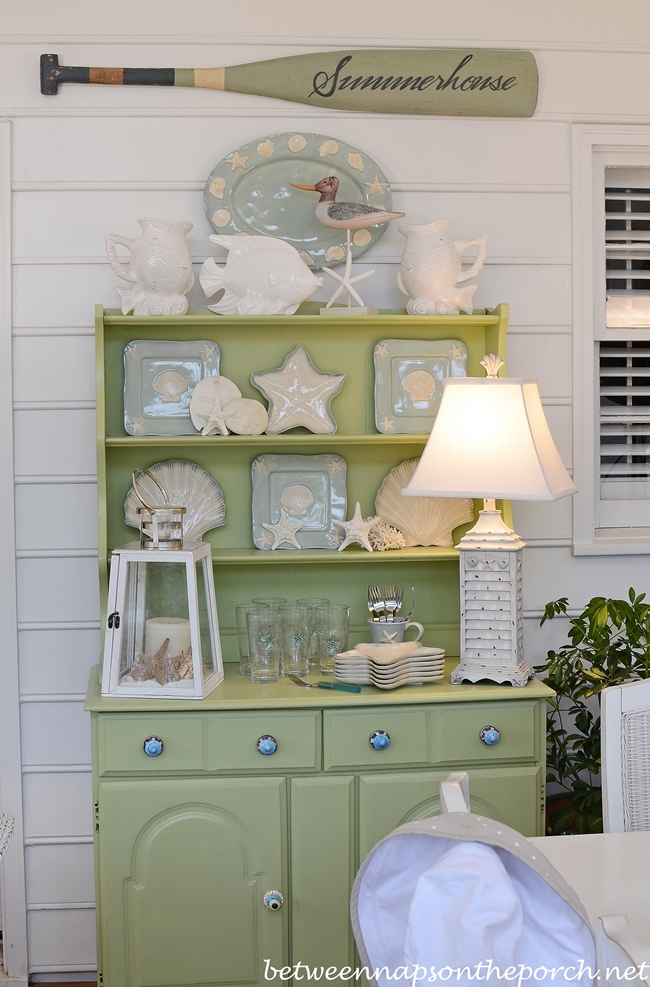 You may remember a few weeks ago I posted about bringing home some wood that included a half sheet of plywood for an upcoming project. That project turned out to be the Pottery Barn Inspired Cubby Organizer shown below. (You'll find the tutorial for building this cubby organizer here: Build a Cubby Organizer, Pottery Barn Knock-off)
I noticed after I cut the back for the organizer, I had plenty of plywood left over for another little project that's been needing done for ages. This!
The lower shelf inside the porch hutch had begun sagging a year or two ago under the weight of the dishes stored inside. I don't know how well you can see it in the photo but basically that whole shelf leans drastically to the center. You can see how that back platter is leaning down toward the center and the dishes on top of it are sliding that way, too. It's kind of hard to store dishes on a shelf that wants to funnel them all to the center like a giant sucking drain.
So I unloaded all the dishes from the lower shelf of the hutch and placed them on the porch table.
The hutch is where I store Metlox Poppytrail, Sculptured Daisy and Tabletops Unlimited, Ma Maison dishware, along with two styles of glassware often used on the porch. I didn't have to unload the glassware or the Ma Maison bowls since they were on the top shelf inside the hutch.
At first I had plans to remove the sagging shelf but after prying up the front part, I realized that sections of the shelf went pretty far up under the center support in front. It looked like it would be just about impossible to get it out. So, I decided to just make a template of the existing shelf and install the new one on top of it.
The corners were really tricky to trace since they had so many different angles.
After the template was created and cut out, I traced it onto my left over plywood. (The template went all the way to the end of the plywood board–the tape in the center is where I had to tape together two pieces of paper to make it long enough for the template.)
Using my jigsaw, I began cutting out all the little angles of the shelf.
This is how the back corners needed to be cut based on my template. See that extra little "wing" on the far left? It, and the one on the other end, proved to be a big headache! More on that in a sec.
After cutting it all out, it was obvious it wasn't going to fit. Waaaaa! I had thought I could catty-corner it in and tilt it down, but nope…not happening.
The problem was those little "wings" (see arrow) sticking off either end of the shelf. They were hitting the supports for the upper shelf that were nailed to the inside of the hutch, allowing for zero wiggle room.
As you can see in this earlier photo, the original shelf didn't go all the way out to the outer edge like I had designed my shelf. (see arrow below) I guess they had the same issue I did and cut the shelf shorter so it would fit pass the side pieces that support the top shelf.
There was just no way to get the bottom shelf in and slide it into place with it being that long.
So, I took the shelf back down to the basement and reluctantly cut the little wings off on either end. When it still wouldn't quite fit, I discovered there was a nail in the way. Strange place for a nail!
Using some super strong wire cutters, I cut the nail out.
But the shelf still wouldn't quite fit. ~~~Sigh~~~
It took several trips back down to the basement but I finally sanded off enough of the part that fits around the center support to make the shelf fit.
I had a small amount of green paint left over from where I painted the hutch six years ago. Though super thick, it was still good.
I added a little water to it and it was fine for painting the shelf.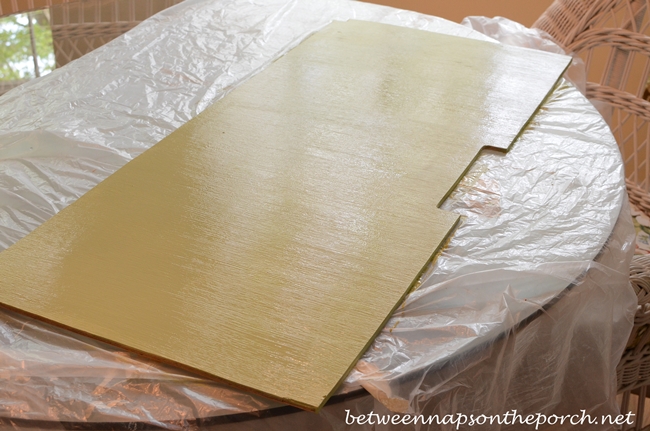 Using my brad nailer, I nailed the original shelf back down from where I had initially pried it up when I thought I'd be removing it. Unfortunately, I took the picture below before I did that so that's why there are little gaps showing.
I placed the new shelf on top of the old shelf. I don't think I'll nail the new shelf down because it's a snug fit already and nailing it down really wouldn't serve any purpose. I'm happy to report, the new shelf feels really good and sturdy, so much stronger than the old shelf underneath.
Though mostly dry, I couldn't put the dishes back today because the paint still felt slightly tacky. I'll give it a few days to get good and dry before I load it back up. It feels good to have that finally done!
So, that's what I was working on this weekend when I could tear myself away from my new book. 🙂
Did you tackle any repairs or fixes this weekend? Looking forward to all the Before and Afters linked for this Met Monday!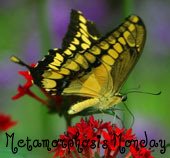 If you are participating in Metamorphosis Monday, you will need to link up the "permalink" to your MM post and not your general blog address. To get your permalink, click on your post name, then just copy and paste the address that shows up in the address bar at the top of your blog, into the "url" box for InLinkz.
In order to link up, you'll need to include a link in your MM post back to the party so the other participants will have an opportunity to receive visits from your wonderful blog readers.
Please observe these few rules:
Only link up Before and After posts that are home, gardening, crafting, painting, sewing, cooking, DIY related.
Do not link up if you're doing so to promote a website or product.
Do not link up a post that was just linked last week since a lot of readers will have already seen that post.
*If a post is sponsored or a product was provided at no charge, it will be stated in post. Some links may be affiliate links and as an Amazon Associate, I may earn from qualifying purchases. *