Welcome to the 294th Metamorphosis Monday!
In 1999 Liz who blogs at Infuse With Liz and on her garden blog, Sit With Me In My Garden, added a pond to her backyard. The pond eventually grew into a much larger scale project that included a creek with extensive plantings.
Liz and her hubby, Dan enjoyed the pond for many years but in spring of 2009 they decided they were ready for a change. The pond, creek and surrounding landscape had reached the point where it required a fair amount of work to maintain.
Dan and Liz came up with a great plan and Dan got to work filling in the large hole left by the removal of the pre-formed pond.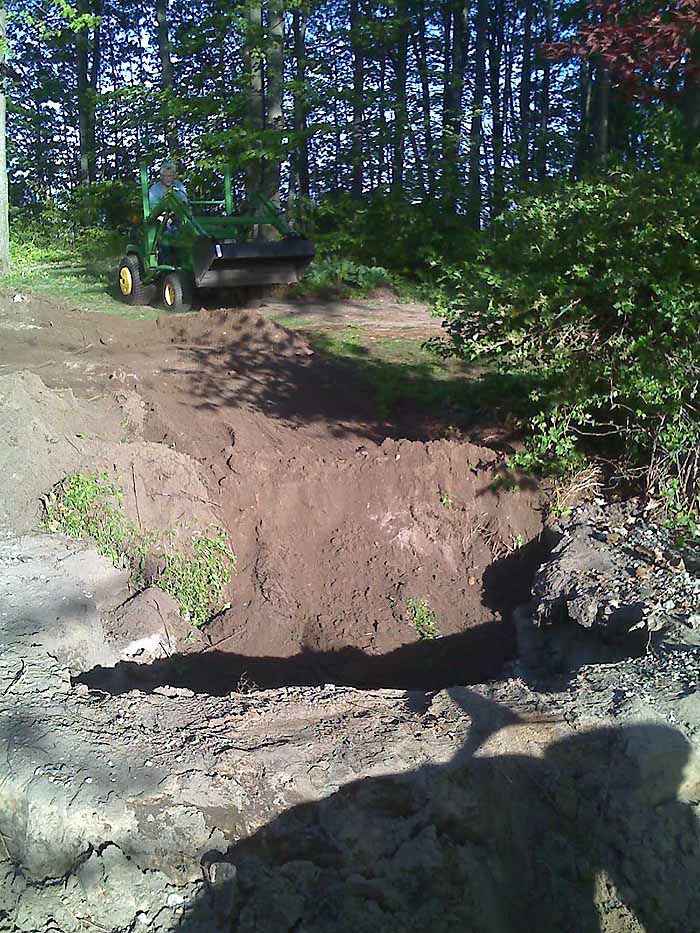 Liz and Dan were able to do all the work themselves with the help of their garden tractor. Liz said, "The John Deere garden tractor with its mini front-end loader has paid for itself with all the projects it's done for us."
Job done…hole all filled in!
One of the keystone pieces to making over this area of the backyard was going to be a water feature, a big, beautiful fountain weighing in at around 880 lbs! Before the fountain could be assembled in its permanent location, Liz and Dan poured a 5-inch thick cement pad foundation. After it was inspected for quality control by the resident canine inspector and found acceptable, 🙂 it was time for the next stage: assembling the fountain.
Using their trusty garden tractor, Dan placed the base of the fountain in the exact spot he had pre-measured and planned for it to go.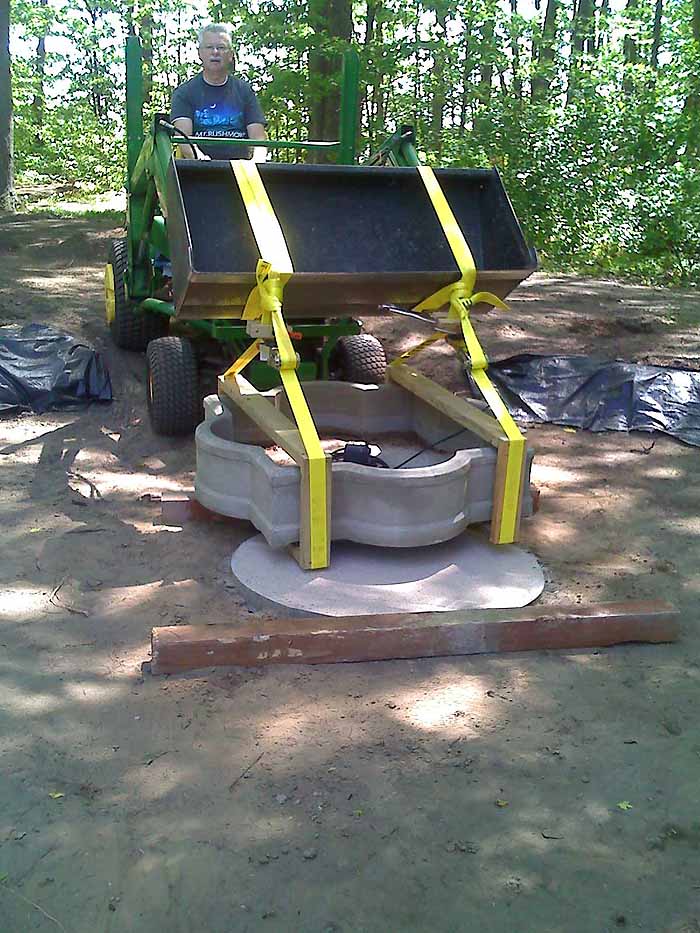 Once the fountain was assembled, it was time for the moment of truth…would the water flow? It did! (For more information about this beautiful fountain and the manufacturer, be sure to visit Liz's blog linked at the end of the this post.)
Liz and Dan surrounded the fountain with a stone wall, creating a wonderful courtyard.
In 1999 Dan and Liz built a flagstone patio in their backyard. The patio was extended with this transformation, making the new courtyard a seamless addition to their previous design.
Next Liz and Dan brushed very finely crushed stone they called "Diamond Dust" into all the little crevices and gaps between the flagstone pieces. The crushed stone/dust was sprinkled with water which helped it to harden.
Ready to see the "After?"
Beautiful! Truly a backyard paradise! Love the gazing globes Liz placed in her backyard…do you see the clear one there on the right? It looks like a big, beautiful bubble left by the garden faeries who must surely visit this lovely garden!
Liz divided up her existing Hostas and they are flouring, filling in the area around the courtyard beautifully. Liz also stained two benches for this outdoor "room." They provide the perfect spot to sit and enjoy the view and music of the fountain.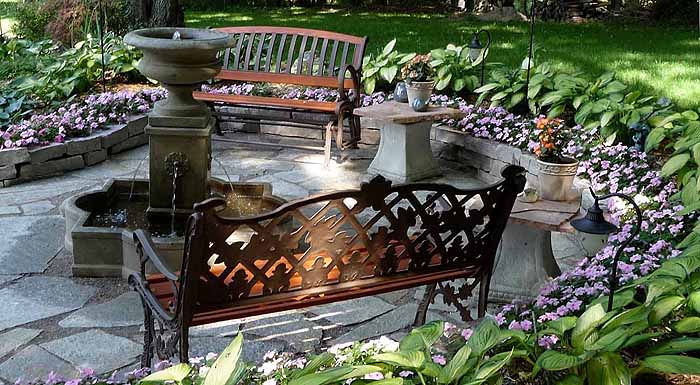 Liz and Dan created this amazing garden paradise all by themselves working in the evenings each night over a period of two months. They spaced the work out to avoid overdoing it and injuring their backs with all the heavy lifting that was needed to complete this project.
Do you have a large project to do in your home that keeps being put on the back burner because it feels so overwhelming? The secret is to just start. Plan the project and then…start. Work on it for an hour or two each day and eventually you'll be where Liz and Dan are today, thrilled with the satisfaction of a job completed and ready to be enjoyed!
To see additional photos and read more about this wonderful backyard transformation, check out Liz's post at Sit With Me In My Garden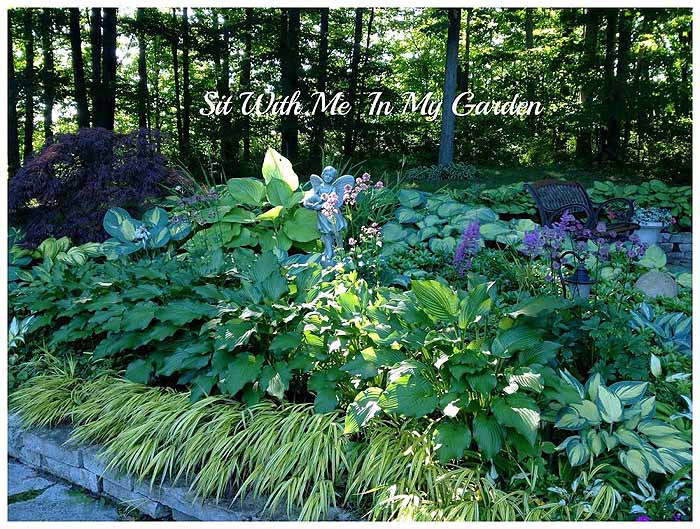 Looking forward to seeing what you've been working on!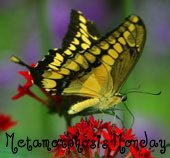 If you are participating in Metamorphosis Monday, you will need to link up the "permalink" to your MM post and not your general blog address. To get your permalink, click on your post name, then just copy and paste the address that shows up in the address bar at the top of your blog, into the "url" box for InLinkz.
In order to link up, you'll need to include a link in your MM post back to the party so the other participants will have an opportunity to receive visits from your wonderful blog readers.
Please observe these few rules:
Only link up Before and After posts that are home, gardening, crafting, painting, sewing, cooking, DIY related.
Do not link up if you're doing so to promote a website or product.
Do not link up a post that was just linked last week since a lot of readers will have already seen that post.



>
*If a post is sponsored or a product was provided at no charge, it will be stated in post. Some links may be affiliate links and as an Amazon Associate, I may earn from qualifying purchases. *