Welcome to the 209th Metamorphosis Monday!
I have a little master bedroom update to share for this Met Monday. You may remember, back in November I updated the candle covers on the chandelier in the dining room.
The old plastic covers had gradually yellowed over the past 16+ years and were looking pretty bad. I also replaced the regular bulbs that were so glaring on the eyes with silk-wrapped bulbs. The pic below shows the new silk-wrapped bulbs inside the old plastic candle covers in the dining room chandelier.
I hadn't really realized just how bad the plastic covers looked until I read about wax and resin candle covers. I took a closer look at my chandelier and saw it was badly in need of an upgrade. Ultimately, I went with resin covers over the wax covers because a local lighting expert told me the wax covers can melt if you used bulbs over 25 watts and they can be difficult to keep clean. To read more about wax vs resin candle covers and to see a side by side comparison, check out my November post here: Transform Your Chandelier with Resin Candle Covers and Silk-Wrapped Bulbs
I have really enjoyed how the resin covers look on the dining room chandelier, so much so I decided to update another chandelier in my home.
The plastic covers on the chandelier in my master bedroom were not yellow even though the chandelier is around 50 years old. I'm guessing the dealer from whom I bought the chandelier must have replaced them with new plastic covers before putting it in her shop.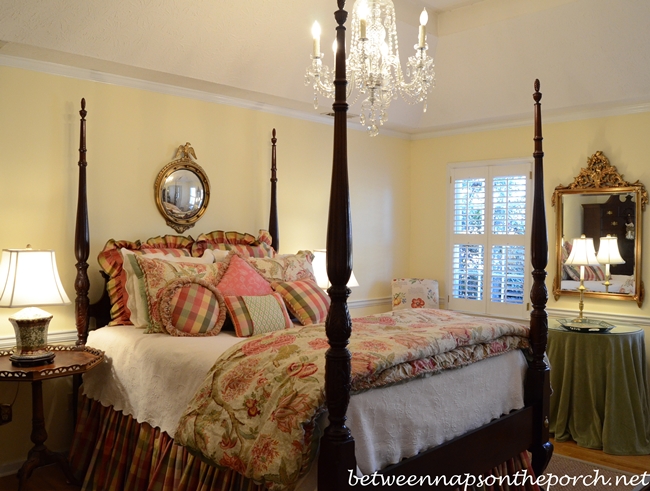 If you've been reading BNOTP for a while, you may remember what was here before I had the chandelier installed. It was an old, wobbly ceiling fan that was most likely the original fixture from when the home was built in 1983. When I first moved into this home 22 years ago, I painted the brown, fake-wood fan in an effort to try and make it just disappear into the ceiling.
Replacing the fan was on my to do list for many years and in the spring of 2010 I finalled stumbled across a chandelier that was large enough for the room and affordable. When I bought the chandelier, I took it to a local lighting/antique shop to have it checked out before hanging it. He replaced a missing crystal and had good things to say about the quality of the chandelier and the crystals. (You'll find the post about when this chandelier was first installed here: A Chandelier for the Master Bedroom)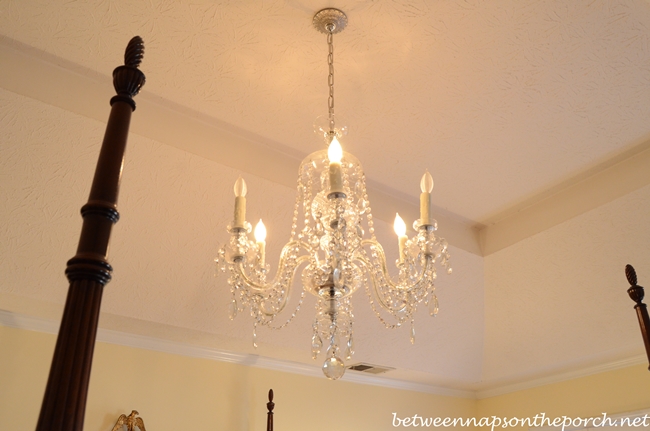 Over the past year or so, two of the bulbs have ceased to work. When you wiggle them, they flash on and off like they have a short. You can see the new resin covers and silk-wrapped bulbs I just added about a week ago. That's my recent update for this chandelier. But an update isn't much fun when two of the lights won't work.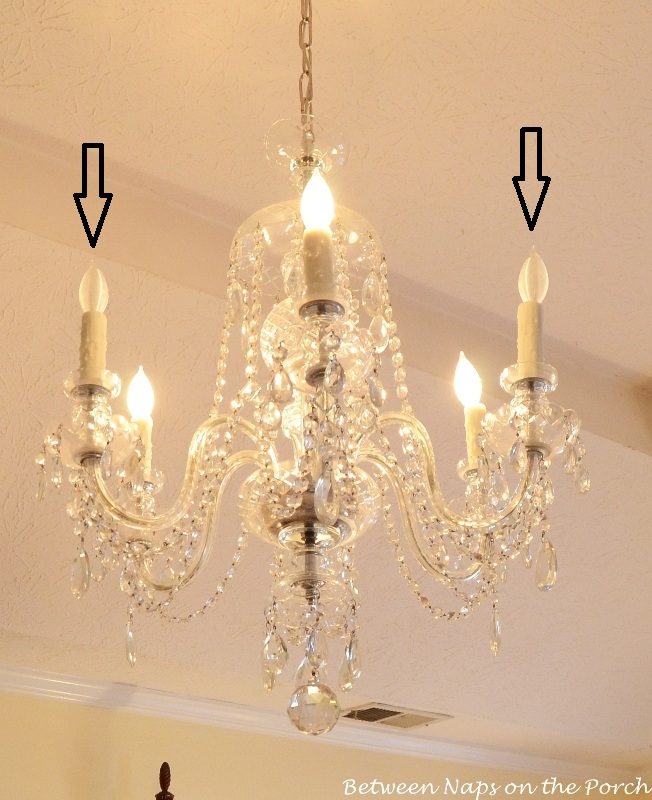 I noticed when I pulled off the old plastic covers, they were super, super tight. It was really hard getting them off. That reinforced my thoughts that they may have been replacements put on by the dealer in the shop where I bought it. I kind of wonder now if that loosened or messed up the wiring when they forced those plastic covers down over the socket/candles.
I decided to check the wiring under the candle covers to see if it appeared loose, so I headed down to the basement to turn off the electricity to the fixture. After a gazillion trips up and down the steps, I finally located the correct switch.
Once the power was off to the chandelier, I took a look at the two lights that wouldn't burn and tightened up the screws that held the wires in place. They didn't really feel loose, but…
I did find pieces of the brown paper backing that had been part of the plastic covers, stuck down into the edge of the screws where someone had forced those "too-tight" plastic covers down over the socket thingies.
After tucking the wires up under the screws a bit better and re-tightening them down, one of the bulbs that had not been working, now worked. Unfortunately, the bulb that was the first one to stop working a while back, didn't light up.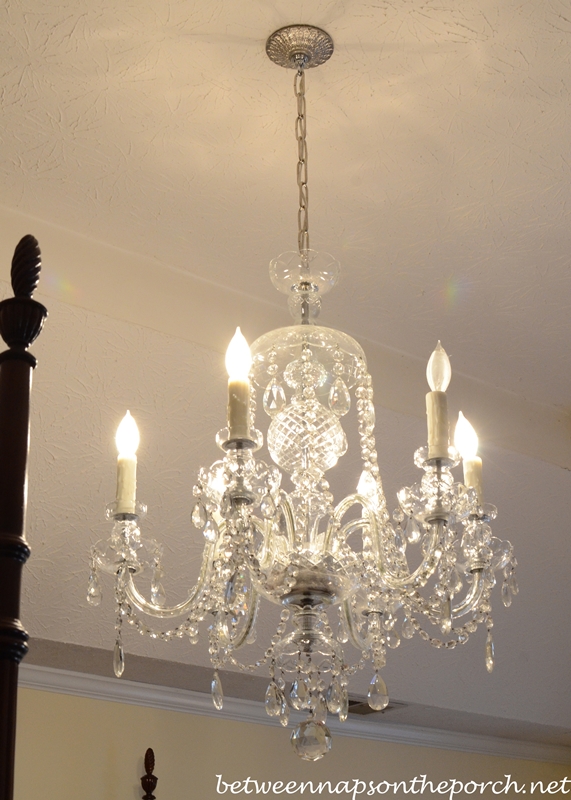 I turned the power back off and tried once again to loosen and re-tighten the screws on the one that wouldn't light, but I never was able to get it to work. It flashed on if you tilted it to one side, but as soon as you let go, it went off again. Drat! You can see it there on the right…not lit up. Any electricians out there with any ideas?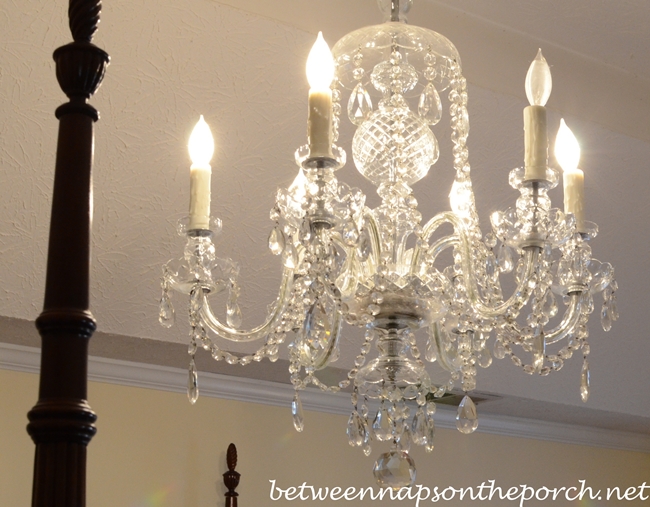 I guess I'll call my lighting expert and see if he'll make a house-call. Maybe the socket thingy isn't working properly. I think something is loose somewhere, just not sure where.
I do love the resin covers with their "drippy-wax-down-the-sides" appearance. And I love the silk-wrapped bulbs. They make such a beautiful upgrade for any chandelier.
If you would like more information about the resin candle covers and silk-wrapped bulbs, just check out the November post here: Transform Your Chandelier with Resin Candle Covers and Silk-Wrapped Bulbs In that post, I also list the name of the company where I bought the resin covers. I was so surprised to see they are actually in Georgia and only about 2 hours away from me.
Update: Lumiere Candles received a call from a reader of BNOTP today. They told Lumiere about this post. I'm so glad they did because they just emailed me to say, when ordering from them, if you use the code: BNOTP (all in caps) at checkout, you'll receive 10% off your order. And just so you know, I'm not affiliated with Lumiere Candles and won't be receiving anything in compensation from them. Just sharing this info in case it's helpful.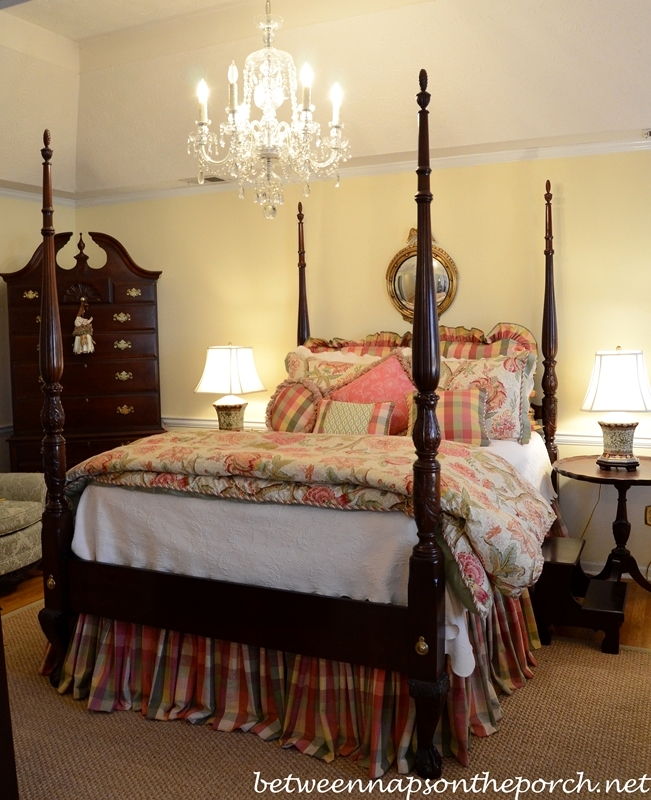 You can see more of the master bedroom and the adjoining dressing area in this post: A Princess and the Pea Master Bedroom
Looking forward to all the fabulous Before and Afters for this Met Monday!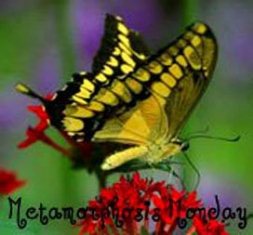 If you are participating in Metamorphosis Monday you will need to link up the "permalink" to your MM post and not your general blog address. To get your permalink, click on your post name, then just copy and paste the address that shows up in the address bar at the top of your blog, into the "url" box for InLinkz.
In order to link up, you'll need to include a link in your MM post back to the party so the other participants will have an opportunity to receive visits from YOUR wonderful blog readers.
Please observe these few rules:
Only link up Before and After posts that are home, gardening, crafting, painting, sewing, cooking, DIY related.
Do not link up if you're doing so to promote a website or product.
Do not link up a post that was just linked last week since a lot of readers will have already seen that post.
Do not type in ALL CAPS. It spreads the links waaaay out.
Let's try something fun today! Please visit the person who linked before you and after you…that way everyone will get some visits.


*If a post is sponsored or a product was provided at no charge, it will be stated in post. Some links may be affiliate links and as an Amazon Associate, I may earn from qualifying purchases. *