Welcome to the 211th Metamorphosis Monday!
I have had so much fun reading your comments on the Downton Abbey Personality Quiz. Y'all know your characters and your reactions to the quiz results were too funny! The comments kept me laughing all weekend as more and more folks took the quiz and left a comment. Thanks to Derrick (aka Lord Grantham) for humoring me and choosing the foxhunt/cigar/billards room answer. 🙂
Turn on 2-Step Verification and Save Yourself Some Major Grief!
Before we dive into this week's Before and After, I just wanted to mention something in case you find it helpful. Over the past few weeks I've been getting at least one or two spam e-mails per day from friends who have had their Gmail accounts hacked. I'm used to getting e-mails that look suspicious occasionally, but apparently it's happening a lot more now because I'm getting around 2 of them per day.
If you haven't already, I highly, highly, highly and highly a hundred times more, recommend you turn on 2-step verification for your Gmail account. You can read all about 2-step verification, HERE. This is very, very, very important. If you have a Gmail account, you need 2-step verification turned on.
If you are a blogger and you blog on Blogger, you especially need to set up 2-step verification because word on the street is if your Gmail account gets hacked, Blogger shuts down your blog, too…I guess because they are all connected via Google.
Save your friends from a virus originating from your Gmail account by using 2-step verification. When your Gmail account gets hacked and a spam e-mail from you arrives in your friend's Inbox, they may unwittingly click on the bad link that is always in the spam e-mail and that link could download a virus onto their computer. Never, ever click on a link in an e-mail that looks odd, even if it does appear to be from your BFF.
Please change your password for your Gmail account (or for any email account you may have) to something that's complicated with random capital letters, numbers, symbols, etc… It's also recommended you change your password every few months. Write it down in a safe place so you'll know where to find it, if you should forget it. Here's a great article in the New York Times with some excellent advice on this subject.
Use 2-step verification. It's easy to set up and will save you and your friends a huge amount of grief down the road. If you don't have a strong password and don't set up 2-step verification, it's just a matter of time before your e-mail gets hacked because the bad guys have programs that can try out a gazillion passwords in minutes to brute force their way into your e-mail account.
Here's a video with more info about 2-step verification: 2-Step Verification Video.
Metamorphosis Monday:
My friend, Michael, author extraordinaire and the fabulous blogger at Rattlebridge Farm, is knee deep in a bathroom renovation and she needs your help. Last year she and her hubby purchased this beautiful home. The renovations on the outside are getting close to being finished…just needs shutters, a new window above the porch and a few final touches. As soon as the outside is complete, I'll post a follow-up post so you can see how the exterior was finished. If you missed the previous post showing the "Before" and the plans for the exterior, you'll find it here: A Dramatic Porch Renovation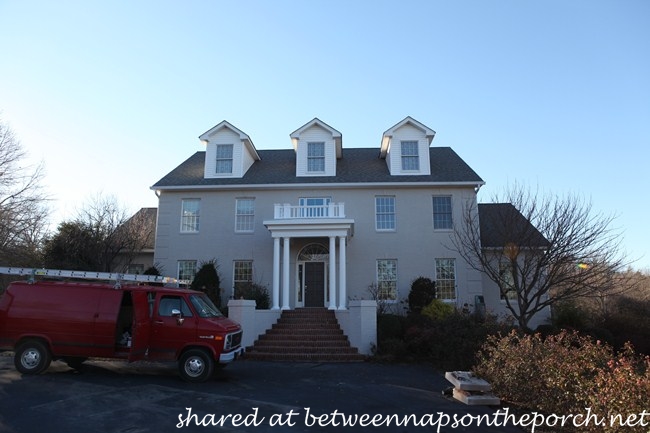 Michael is currently working on the master bath and she is facing some tough decisions. I told her you guys are awesome at making suggestions and that we would help her brain-storm the problems she has run into during her renovation.
First off, let me show you how the bathroom looked when Michael purchased the home. The walls were painted yellow…kind of hard to see in the pics.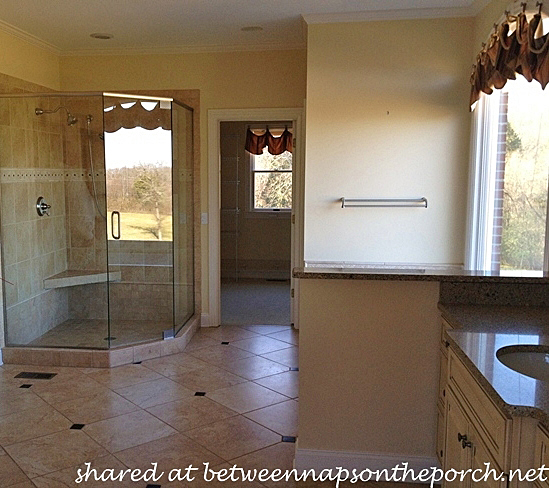 Michael moved the mirrors you see here to another location in the home since she has different plans for the mirrors in this space.
Recently, Michael had her bathroom walls painted. The color is "Macadamia" and she said "it has a green base, and it did muffle the orange elements in the tile."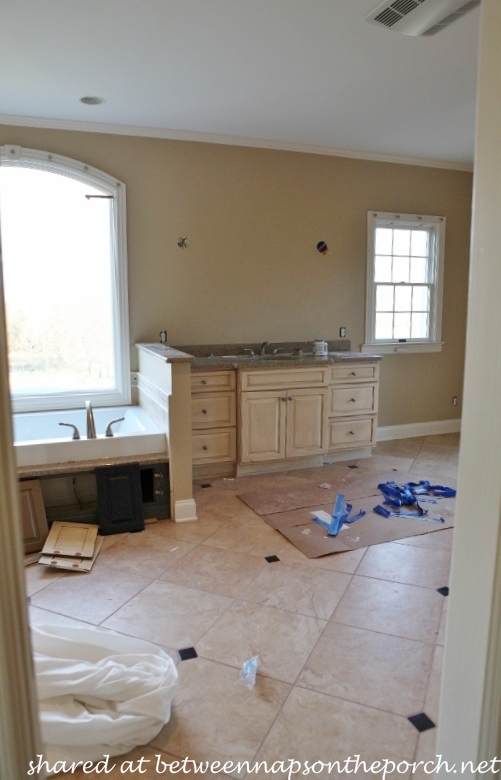 About the paint color she said, "In person, it looks passable, but a little "off. The floor tiles aren't quite so orange in real life. Photos seem to pull out the color."
Another view…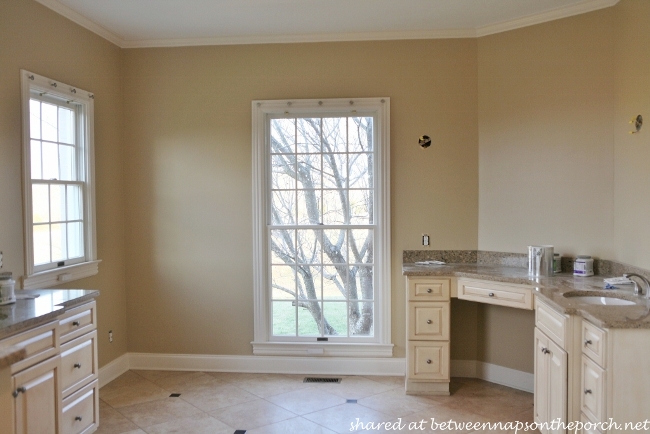 Michael said, " In some places, like next to the tub, the paint is almost too matchy-matchy. In other places, the paint is a little "off." I'm wondering if the color will look different once Michael has her window treatments in place.
Michael has considered painting her cabinets a color called "Thatch Brown" shown below.
Inspiration Room from Restoration Hardware
Michael fell in love with the sconces and mirror you see below at Restoration Hardware. Michael said, "I've ordered a wooden mirror from Restoration Hardware and two rather big sconces."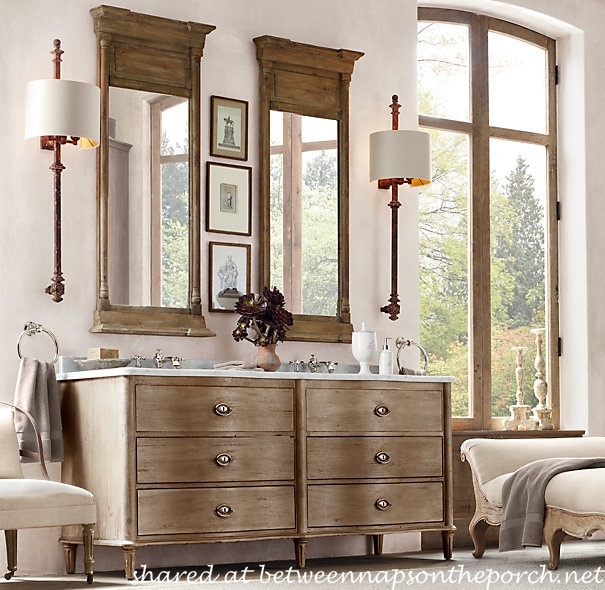 Michael added, "I think the sconces are going to be too big. I love the mirror (it's here–I haven't put it up), but I'll have to try and match the paint on the vanity. Or, break down and buy the Restoration Hardware vanity (the tile on the floor doesn't extend under the present counters, so I would have to have more tile installed."
For clarification, I asked Michael what she would be matching to the vanity and she said, the wall paint, if she does repaint. So, she's thinking of repainting the walls to possibly match closer to the the color of the RH mirror and vanity.
One last inspiration picture from Restoration Hardware…
Michael needs your help:
Michael wants to know what you think. What would you do in this bathroom based on her inspiration pics above. She already has the mirror and the sconces and is thinking of buying the vanity if she really needs to, since she's concerned how the mirror will look with her existing cabinets or if she can find a good color for her existing cabinets.
Please leave your suggestions for Michael, she wants to hear them all and greatly appreciates your help.
Here's a summary of how Michael sees some of the problems she's facing and a few solutions she is considering:
The Problems:
* The floor tile and the tile in the shower and around the tub do not match. The floor has black inserts, and the inserts around the tub/shower are blue, almost navy. I can't rip it out due to the budget.
* Can't remove the odd-looking tub. Was installed by previous owner, and it's a pricey "soaker" tub. Too wasteful to remove it.
* Counter tops (granite or granite-like) don't match tiles. Might be able to get a lighter counter and repurpose counters in the laundry room or upstairs baths. But will push the budget.
* The layout is unbalanced. The tub and vanity are crammed together. I don't like how the vanity on the other wall eats up the space. The shower/tub end is heavy; the other side is light. It will almost be worth it to buy RH cabinets and have tile installed!!! However, I have no guarantee that this will fix the problem.
* Can't find a paint that works with the tile. I have tried. I don't want to go darker, as the rest of the house is creamy white/neutral. The SW Macadamia is almost too dark for me.
Possible Solutions:
*Buy an inexpensive rug and cover the tile.
*Add plantation shutters to deal with the clash of east and north light, which makes the paint color look "off" in one end of the room.
*Make the large, arched window the focal point. Build a divider between the tub and vanity. An architectural arch or open shelves.
* Wait and see if the RH mirror and sconces work. If they do, deal with the vanity and tile.
*Move deeper in the neutral direction. Add a creamy white mirror and paint the vanities cream. Add sparkle with a chandelier.
*Have the carpenter build a divider between the tub and the vanity.
I'm so dreading the day I renovate my baths because the decisions can feel so overwhelming at times. Thanks so much for helping Michael with your ideas. She is eagerly waiting to hear your suggestions.
Looking forward to all the fabulous Before and Afters for this Met Monday!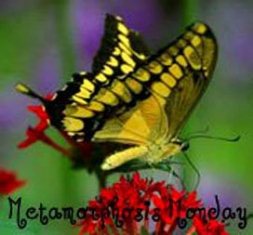 If you are participating in Metamorphosis Monday you will need to link up the "permalink" to your MM post and not your general blog address. To get your permalink, click on your post name, then just copy and paste the address that shows up in the address bar at the top of your blog, into the "url" box for InLinkz.
In order to link up, you'll need to include a link in your MM post back to the party so the other participants will have an opportunity to receive visits from YOUR wonderful blog readers.
Please observe these few rules:
Only link up Before and After posts that are home, gardening, crafting, painting, sewing, cooking, DIY related.
Do not link up if you're doing so to promote a website or product.
Do not link up a post that was just linked last week since a lot of readers will have already seen that post.
Do not type in ALL CAPS. It spreads the links waaaay out.
Let's try something fun today! Please visit the person who linked before you and after you…that way everyone will get some visits.


*If a post is sponsored or a product was provided at no charge, it will be stated in post. Some links may be affiliate links and as an Amazon Associate, I may earn from qualifying purchases. *