What if you could go inside and tour the Greenwich Connecticut home, Conyers Farms, where the famous actor, film director and producer, Ron Howard (remember Opie from The Andy Griffith Show) has lived with his family for the past 20 years? Would you say "heck yay!" and take that tour? Well, you are in luck because his beautiful home is available now for sale and we get to go inside! Spoiler: It does not disappoint!
Sometimes I don't especially care for the interior design/decor found inside your typical "celebrity" home. I was surprised to discover how traditional, inviting and real Ron Howard's family home is.
The home sits on 32 acres and from the outside it has that lovely New England, Greenwich Connecticut feel. Love the roof line of this Victorian home–all those special little places that curve out, making what you know must be wonderful little nooks and crannies in those rooms inside. As pretty as the front of the home is, I like the back even more. We'll see it toward the end of the post.
Let's go inside and tour this beautiful home!
Gorgeous entry! Look at that curved, floating staircase…just beautiful! I love the color of the walls, such an inviting entry!
The living room is right off the entry and has a dressy, formal feel. This house has 7 fireplaces. Imagine a winter party–guests are arriving and as soon as they enter the home, they are greeted by a fire blazing away here in the living room. Love that!
The kitchen has granite countertops, mahogany cabinets and a large butler's pantry just glimpsed through the open door.
The kitchen looks so normal for a celebrity's home, doesn't it?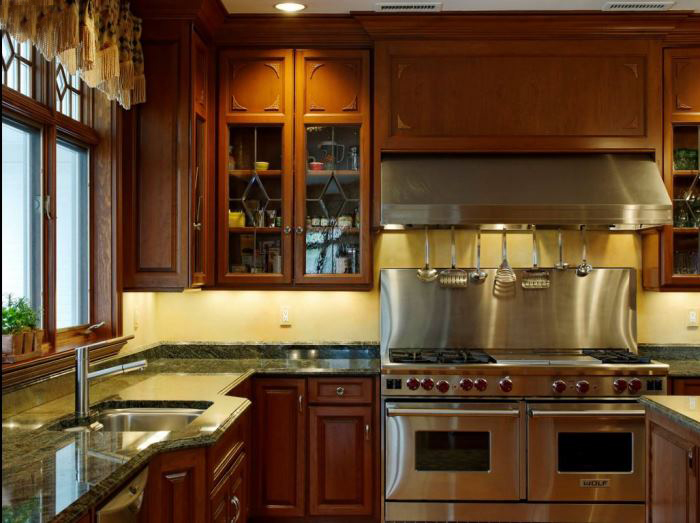 Beautiful breakfast room with gorgeous views of the lake. Can you imagine all the birds and wildlife they must have living here on 32 acres!
Very traditional dining room with Zuber wallpaper panels featuring an historic, panoramic view of a waterfront scene. Love a fireplace in a dining room!
The family room is right off the kitchen…notice there's a back staircase, too.
A better view of the family room…
A beautiful 2-story mahogany library…would love to see the upstairs of this library.
Ron Howard's office is just off the library and it includes a screening room with a large projection screen. Beautiful coffered ceiling! I see a spiral staircase in the background.
The master bedroom…are you surprised by how traditional the furniture is in this home? It must have been nice to come home to such calm and beautiful surroundings after months of filming in the glitz and glam of Hollywood or somewhere on location.
The master bath with a lovely Venetian glass mirror.
The lower level showcases a lot of Ron Howard's past work with movies posters and movie memorabilia. Wouldn't this have been a fun place to grow up!
Of course, you would expect an amazing media or theater room in the home of a famous movie producer and director! Some of the movies Ron Howard has directed include: A Beautiful Mind, Apollo 13, Parenthood, Cocoon, Splash, The Da Vinci Code, Inferno, Backdraft and so many more. It would take an hour to list all the movies and television shows he has starred in…you'll find a detailed list at Wikipedia and his body of work is amazing!
I'm not much a pool person but WOW, love the sunshine feel of this room!
There's a great sunroom/observatory down on one end of the room. Imagine what it must be like to sit back, look up and enjoy the stars at night.
Ron Howard's home overlooks Converse Lake. What a gorgeous view! You can see the pool just inside those windows.
I love the back view of the home with its cupolas, eyebrow-arch windows, porches, deck, pergola and other beautiful architectural features.
This is truly a home you could raise a family in, isn't it? It feels like a real home and not a giant showplace built to impress, though impressive it is!
You'll find additional pictures of this home at the Sotheby's listing HERE where these pics were found.
*If a post is sponsored or a product was provided at no charge, it will be stated in post. Some links may be affiliate links. *