Welcome to the 305th Tablescape Thursday!
Pssst: My content area is wider now here at the blog… so horizontal photos are going to look a lot bigger/better. Yipee! But, I have a question for you about the size of the vertical pictures. You'll find that question part way down in the post. Please leave a comment answering the question regarding the size of the vertical pics you'll see in this post. Let me know what you think. What you say will have an impact on the size of the pictures I use, so please share your thoughts.
Rosedown Plantation: The Butler's Pantry
Things are starting to wind down here with the work being done on the porch and decks. The house and decks have been pressured washed, the porch has been painted, the chimney corner pieces were replaced (no more woodpecker damage) and one deck has been painted. I think all they have left now is to paint the chimney, the other deck and the pergola overhead. They are sanding the pergola now as I type this and it's deafening here in the office above that deck. Be glad when the sanding is done.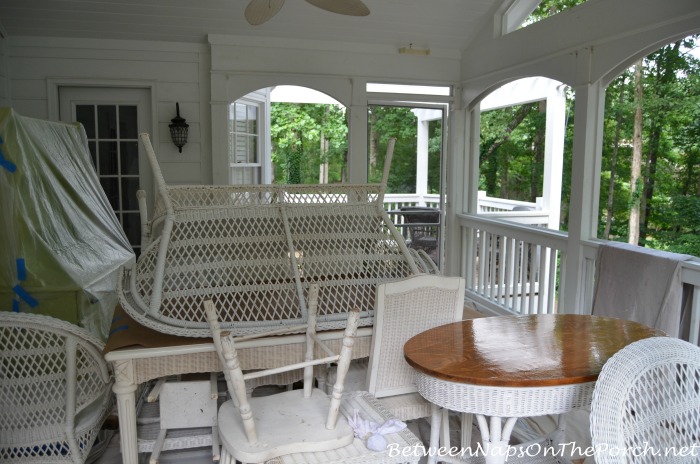 With so much going on this week, I didn't get a chance to create a table setting so I thought it would be fun to take you inside the Butler's Pantry in Rosedown Plantation. Rosedown is in St. Francisville, Louisiana and it was the home of Daniel & Martha (Barrow) Turnbull. The Turnbulls named their home after a play they saw while on their honeymoon. Rosedown was once a huge cotton plantation with 3,455 acres of land.
You may remember, we toured the dining room in this previous post: Dining in Rosedown Plantation. I'll share a lot more about Rosedown when I take you on a tour of the home in a later post, but for today, we're headed to the Butler's Pantry.
The Butler's Pantry is always a room that's near and dear to my heart. Such beautiful cabinetry in this room!
See those papers spread out on the counter. You'll be seeing those close up in just a sec. I need your help reading some of them. Some are pretty easy to read, others are a challenge. Maybe you can help. I'd love to know what they say!
Look at that old flatware. I'm not sure if those are Bakelite handles, bone or the white one may even be ivory. If it is, I'm glad they don't make them from ivory anymore.
Here's another side of the Butler's Pantry.
Okay, here's that picture question I had for you: Are vertical photos like this one below and the one a few pictures up, too long for you to view?
If the vertical pics are too long, I can reduce them down, but then the whole photo will be a fair amount smaller, not just the length. I know a lot of folks have BIG monitors these days so wasn't sure if I should enlarge the vertical pics to be the full width of my content area, which makes them really tall, or keep them smaller. Let me know what you think.
A closer view…
The Butler's Pantry has so many doorways. There's one going to the dining room, one going to another room, one going outside and one going up a back staircase that was used by the staff back in the day. With that many doors into this room, the cabinetry for this Butler's Pantry was built into the various corners of the room.
Lovely examples of the various dishware/china used here in Rosewood back in its heyday.
Okay, remember the papers we saw spread out on the counters? I tried to take some close-ups in the limited lighting available. It's always hard to take photos on tours because the guides are moving the group along pretty quickly and this particular tour had a large group of folks attending.
So now that I've whined and made excuses for my less than stellar photography, let's look at some of the papers. Martha Turnbull's grocery list looks a little different from the one I usually take to Publix each week. I'm guessing this was what she purchased when hosting a dinner party or grand gala. That's a lot of food, isn't it?
This one came out a bit blurry. I sharpened it several times so I think we can read it. It a cake recipe and it says "By the Misses Bowman of Rosedown." If you like, I can type it out in the plugin I use for sharing recipes and add it to this post so you can print it out. Let me know if that is something you would like. I can see it well enough to do that if I enlarge it on my computer.
Update: Here's a printable version of the above recipe.
Print Recipe
Cake Recipe From Rosedown Plantation
This recipe was found in the butler's pantry of Rosedown Plantation, St. Francisville, Louisiana.
Ingredients
1- 3/4

pounds

of flour

sifted

1-1/4

pounds

of fairly brown sugar

3/4

pound

butter

creamed

1-1/4

pound

raisins

1/4

pound

citron

1

grated nutmeg

1

pint

milk

slightly sour

1

teaspoon

soda

4

eggs

beaten separately

2

cups

boiling water

1-1/2

teaspoon

cornstarch

1

large spoonful butter

1/2

cup

sugar

Wine if desired
Instructions
Mix sifted flour with fairly brown sugar, creamed butter, raisins, citron, nutmeg, separately beaten eggs.

Last add milk mixed with soda.

Bake in a cake mold almost two hours.

This cake is delicious served as a pudding with a rich sauce made by boiling 2 cups of water thickened with cornstarch, then adding a large spoonful of butter and half a cup of sugar.

Add wine if desired after it cools.
Notes
A note was added to this recipe and it read:
Note: This recipe is taken from an early cookbook. Feliciana Recipes, published by Grace Episcopal Church. This information was found in Ann Butlers: More Than a Cookbook and eclectic collection. Copyright 1988.
Found this photo online HERE and it shows the family, so the above recipe belonged to one of the Bowman ladies (sisters) shown below. Actually, maybe it belonged to all four sisters since the recipe says it was shared by the "Misses" of Rosedown. That sounds plural, doesn't it?
This grouping of papers here in the butler's pantry looked so interesting. I tried to snap a few pics to see if we could decipher it.
Can you read any of it? Not sure why some of the papers have writing going both ways. Maybe the originals bled onto each other. Update: You guys are so smart! Several folks cleared up the sideways writing in the comments saying paper was expensive and hard to come by back then so sometimes folks wrote in both directions. Can you imagine trying to read it! Maybe they used two different color inks or something to help. We just take paper for granted and it was practically a luxury back then.
Okay, I left this picture below really big so try zooming in to read it. It shouldn't go blurry since I left it large. You can zoom in by hitting Ctrl + on your keyboard, then click Ctrl 0 (that's the number zero, not the letter) when you're done.
Here's another one for our perusal today. It looks like it may be a bit easier to read.
Hope you enjoyed a peek inside the butler's pantry at Rosedown Plantation. Let me know your thoughts on the length of the vertical pictures in this post…too long or do you love them? I think you're going to like the wider content area of the blog. It will really help make the horizontal pics like this one below a much nicer size than before.
Looking forward to all the beautiful tablescapes posted for this week's Tablescape Thursday!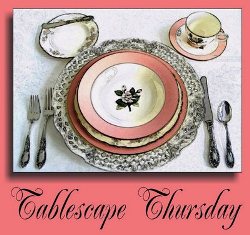 If you are participating in Tablescape Thursday, please be sure to add your permalink below, and not your general blog address. To get your permalink, click on your post name, then copy and paste the address showing in the address bar, into the "url" box when you link up.
You'll need to include a link in your post back to the party in order to link up and participate. That's so visitors to your blog will be able to find the party and the other Tablescape Thursday participants. Requiring a link back also prevents businesses from linking up to sell their products. (Yep, that really happens, unfortunately.)
If you would like to use the Tablescape Thursday logo button in your post, just copy and paste it to your computer and upload it to your post as you would any photo.
Please, don't add your post name/blog name ALL IN CAPS…it tends to create big spaces between the rows of links.
Click on the Blue Frog below to see the links to all the participants in last week's Tablescape Thursday:


*If a post is sponsored or a product was provided at no charge, it will be stated in post. Some links may be affiliate links and as an Amazon Associate, I may earn from qualifying purchases. *