Welcome to the 356th Metamorphosis Monday!
For this week's Met Monday, I could share the wreaths I hung across the front of the house yesterday as my metamorphosis, but since Drew and Jonathan (the Scott Brothers) are the masters of Before and Afters, in honor of all their past makeovers, let's go "Sailing with the Scotts" this week instead.
This was the ship the Scott Brothers chartered for our design cruise. I'm not sure how many folks it normally holds, but there were at least 2,000 fans aboard for the design cruise.
I'm going to be completely honest with you…the ship itself felt really dated.
The fastest internet service they offered was $60 for the 3 1/2 days we were on board, and it was really, really slow. It was fine the first day before everyone began using it. After that it was only good for reading emails or accessing a website to read. Sometimes it didn't work at all. It took a gazillion tries all throughout the day to upload a single picture to Instagram. Usually, I just gave up and ended up using the wi-fi in a restaurant while we were docked.
After a few days of staring at walls like this all throughout the ship, I began to wonder who designs the interior of cruise ships. I couldn't help but wonder what all the designers on this cruise thought about the decor. 🙂 This type wall treatment was throughout all the staircases on all the floors of the ship. The carpet was just as colorful as you can see in the photo above. Is this type decor normal for all cruise ships these days? I was not a fan of the food, although the dinners were good.
Now for the good stuff! Before boarding the ship, we were given a canvas HGTV bag which contained a "Sailing With The Scotts" beach towel, a water bottle and an HGTV magazine.
In the materials we received before the trip, folks were encouraged to decorate their cabin doors. In the collage below are five doors I saw that were really cute. There were many, many more decorated all throughout the ship. I'm not sure who won the door contest.
Shortly after boarding the ship, a "setting sail" party was held on the Lido Deck.
It was super crowded and I had trouble getting close to the stage. I was able to zoom in to get a few pictures. You can see Jonathan, Drew, their brother, JD, Contractor, Writer, and Actor, Jason Cameron, Designer Jillian Harris from Love It or List It-Vancouver, Designer Kim Myles, Amie Sikes from the Junk Gypsy TV show, artist Jared Emerson and actor/comedian, Heath Arthur.
Cameramen were everywhere and in the photo below, Drew is dancing for one of the cameras.
JD participated and was very active on the tour, always greeting and talking with the fans. He genuinely appeared to enjoy meeting and talking with anyone who approached him throughout the trip.
Jonathan and Drew were the same way, spending as much time as they possibly could meeting and mingling with everyone on the ship. They were always out somewhere on the ship talking with fans. You never knew when you would bump into them or where they might pop up next.
While shopping in the "Scott Store" on the ship, I ran into Drew and mustered up the nerve to ask if I could have a picture with him. Of course, he graciously agreed without hesitation.
I didn't have to tell him how my camera worked for photos and he had no trouble using it. I bet he and Jonathan have seen every camera known to mankind with all the selfies they were asked to take. Is it still called a selfie when two of you are in the picture? lol
If you follow BNOTP on Instagram, you saw this picture in real-time when I shared it right after it was taken. Do I look starstruck or what?! lol By the way, I have not photoshopped this picture. or edited it…only cropped it to cut out a guy in the back who major photobombed the pictures. So, I have no idea why my eyebrows look so weird. Even Drew's eyebrows look strange.
Drew and Scott had to have been completely exhausted by the end of the cruise because they were always out and about spending as much time with their fans as possible. When they weren't running around the ship, they were at all the scheduled photography sessions getting their photo taken with fans, or on stage giving a presentation.
Every time I saw them, they were working. My respect for them grew even more on this trip. Their work ethic is unbelievable and their sincere appreciation for their fans is always evident. They said several times that they take none of their success for granted and that's exactly how they came across. They know it's their fans that have gotten them where they are today, and they were truly giving back as much as they could every moment of the cruise.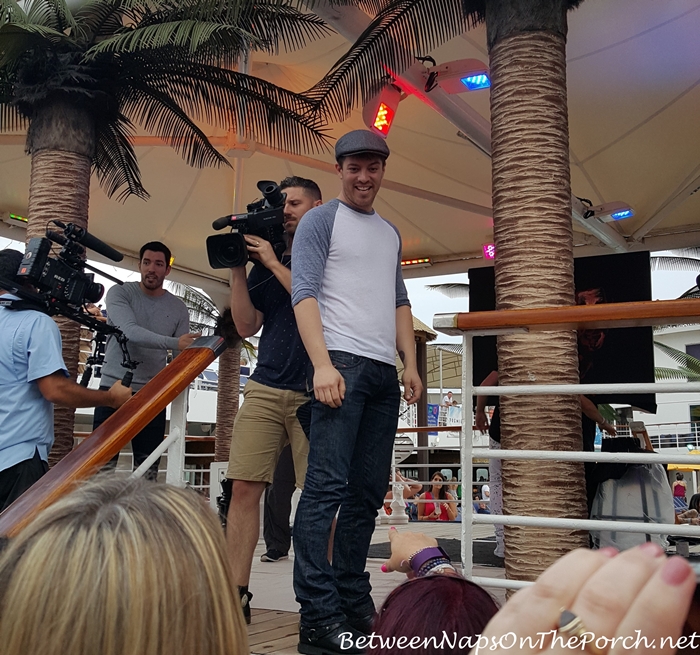 I've never seen any of Jason Cameron's TV shows but he was a lot of fun on the trip. He has a great personality and was really funny.
ET from Canada was there, which makes sense since Jonathan and Drew are from Canada. Surprisingly the majority of the renovations Drew and Jonathan do are in the U.S. I think Drew said only 40% of the renovations take place in Canada.
I enjoy watching Jillian Harris on the show, Love It or List It. I also follow her on Instagram and Snapchat, so it was fun hearing her talk. Folks asked her a lot of questions about the Love It or List It show and she was happy to answer them.
Don't you love her shoes! During the question and answer time at the end of her presentation, I came sooo close to raising my hand and asking her where she got those cute shoes. When I got home, I googled and found them online and on sale here: Studded Pump in Blue
I did work up my nerve to ask for a photo along with all the others who lined up for the same. All the designers on board were happy to take photos with anyone who asked.
During another one of the "design sessions" I attended, five designers each gave a presentation. These designers were all about as different from each other in style and design as you can be.
Part way through the show, I noticed how very different their shoes were, too. Their shoes seemed like such a great metaphor for just how varied their design styles were so I had to zoom in and snap a photo. Do you recognize any of the designers from their footwear?
Here they all are…Jason Cameron…he has a great sense of humor and it was fun hearing how he got into acting and being in TV shows.
Sisters, Amie and Jolie Sikes from the show, Junk Gypsy. They were really cute, I liked them a lot.
This was Jillian Harris from Love It or List It, Vancouver. I don't know why, but it seemed to me like Jillian got all the hard questions from the audience. The other designers were all getting these super easy questions, then it would be Jillian's turn and she would be asked some complex design question. I thought she handled herself beautifully.
The designer on the end is Kim Myles. I watch so little TV, I wasn't familiar with her but she was HGTV's Design Star in 2007 and is currently appearing on OWN in a show called Home Made Simple. She was funny and very down-to-earth.
There was always a show each evening and during the first show of the week, Drew and Jonathan shared a lot of fun information about their show, The Property Brothers.
They tried to dispel some of the myths and rumors folks hear about the show, so that was really interesting. Some of the tidbits they shared were:
The renovations really do take place under the time constraints given on the show.
Homeowners are truly working under a set budget but they get a break on some things. For example, Jonathan gets contractor prices on everything he buys and he passes that savings down to the homeowners. Also, homeowners don't pay for the work Jonathan does. I wasn't sure about the other contractors but just checked the FAQ section on their site and it says that homeowners don't pay for any labor.
Jonathan and Drew admitted that they have had homeowners they found difficult to work with and who really pushed their buttons.
I think they said they do something like 65 renovations a year. That's more than one per week! So, they have multiple renovations going on all throughout the year.
Their brother, JD joined them toward the end of their presentation when they sat down to answer the audience's questions.
They all truly, truly appeared to enjoy the interaction with the audience. You can see it on their faces. Such nice guys!
I videotaped just a couple of minutes at the opening party for the cruise. I couldn't videotape for too long because it would drain my phone's battery quickly and I was worried about blocking the view of others behind me if I kept my arms up in the air for too long. Hope you enjoy the part I did capture.

I'm looking forward to sharing Ernest Hemingway's Key West House, some of the other sights around Key West and the Mayan Ruins in Tulum, Mexico (Yucatan Peninsula) in future posts.
Looking forward to all the wonderful Before and Afters for this Metamorphosis Monday!
If you are participating in Metamorphosis Monday, please link up using the "permalink" to your MM post and not your general blog address. To get your permalink, click on your post name, then just copy and paste the address that shows up in the address bar at the top of your blog, into the "url" box for InLinkz.
In order to link up, you'll need to include a link in your MM post back to the party so the other participants will have an opportunity to receive visits from your wonderful blog readers.
Please observe these few rules:
Only link up Before and After posts that are home, gardening, crafting, painting, sewing, cooking, DIY related.
Do not link up if you're doing so to promote a website or product.
*If a post is sponsored or a product was provided at no charge, it will be stated in post. Some links may be affiliate links and as an Amazon Associate, I may earn from qualifying purchases. *