Welcome to the 298th Tablescape Thursday!
While on vacation in Louisiana and Mississippi a few weeks ago, I had the opportunity to tour San Francisco Plantation in Garyville, Louisiana. Linda and I were really lucky because the day we toured it was the absolute last day it would be open for the whole summer. San Francisco is going through a restoration all this summer and will reopen for tours on September 1, 2014.
For Tablescape Thursday, I'm taking you inside the dining room and the butler's pantry. When San Francisco Plantation was built in 1853, Edmond Marmillion wanted to build a grand home for his only two surviving children, Valsin and Charles. It took two years to build and once it was finished, Edmond hired artists to paint beautiful elaborate ceilings, door panels, faux marbling and faux wood graining throughout the home.
San Francisco Plantation is so distinctive and beautiful, it was the inspiration behind author, Frances Parkinson Keyes novel, Steamboat Gothic. We toured her home tour while on this trip, too–the home where she wrote so many of her novels. Looking forward to sharing that with you in a future post!
When you visit San Francisco Plantation, you'll notice from some angles it really does resemble the old ornate Mississippi riverboats from that time period. Today the home sits right alongside a main road, you can see the fence there on the left running along the road out front.
As shown in these old photos from their website, San Francisco once had magnificent gardens going out toward the Mississippi River, Unfortunately, after the Great Flood of 1927, the Army Corps of Engineers built a big levee and it took the whole front yard and gardens. It almost got the home, too but the Louisiana legislature passed a measure that saved many of the plantation homes along the River Road, including San Francisco.
Can you imagine how beautiful this must have been in person!
Back around 1974, the home saw a massive restoration. (Photo below is from the San Francisco webite.)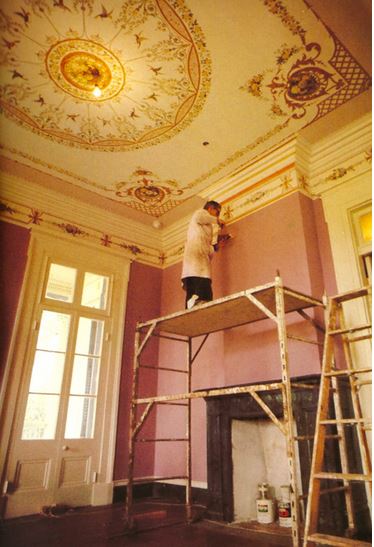 When we toured the home, the dining room table was beautifully set for dinner.
The chandelier in the dining room of San Francisco Plantation…picture taking was a bit of a challenge since the home was so dimly lit in many rooms. I'll be sharing more of this beautiful home with you in future posts.
The hand-painted ceilings were truly gorgeous!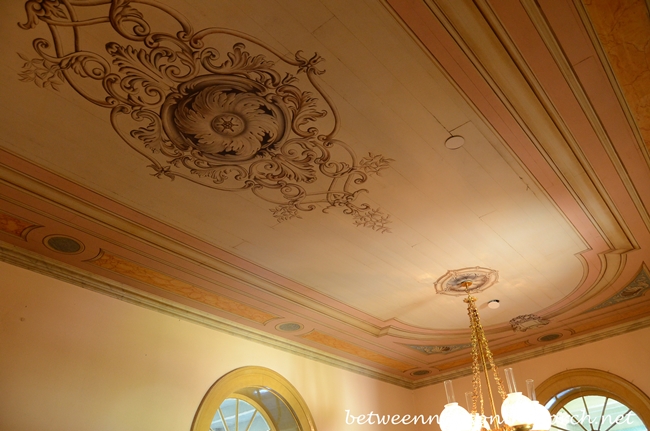 Several of the plantation homes we toured on our trip had butler's pantries. I loved seeing them so much. The cabinetry was always so beautifully done. Just look at the cathedral arch design in the doors. Beautiful flow blue displayed below.
Let's take a peek inside.
A bit closer view…
There was a storage room nearby and the guide explained that they used urns buried into the floor/ground to store food like meats, cheese, milk etc… since the earth surrounding the urns would have stayed around 45 degrees in temperature.
Interesting way to store food, huh? I'd be afraid a child would fall in. They probably had lids on them back then. Update: Duh, I totally missed that big piece of wood behind it leaning against the wall. I'm sure that must be the lid. Thanks Mary for noticing that!
Hope you enjoyed this brief tour of San Francisco Plantation…can't wait to share the rest of this historic home with you!
Looking forward to the beautiful tablescapes linked for this week's Tablescape Thursday!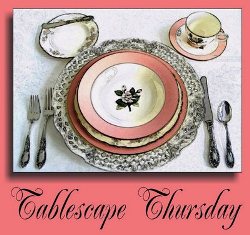 If you are participating in Tablescape Thursday, please be sure to add your permalink below, and not your general blog address. To get your permalink, click on your post name, then copy and paste the address showing in the address bar, into the "url" box when you link up.
You'll need to include a link in your post back to the party in order to link up and participate. That's so visitors to your blog will be able to find the party and the other Tablescape Thursday participants. Requiring a link back also prevents businesses from linking up to sell their products. (Yep, that really happens, unfortunately.)
If you would like to use the Tablescape Thursday logo button in your post, just copy and paste it to your computer and upload it to your post as you would any photo.
Please, don't add your post name/blog name ALL IN CAPS…it tends to create big spaces between the rows of links.
Click on the Blue Frog below to see the links to all the participants in last week's Tablescape Thursday:


*If a post is sponsored or a product was provided at no charge, it will be stated in post. Some links may be affiliate links and as an Amazon Associate, I may earn from qualifying purchases. *