Welcome to the 300th Tablescape Thursday!
Wow! Three-hundred Tablescape Thursdays! For 300 weeks, a little over 5-3/4 years, we've been meeting here each week to share our love for creating beautiful tables for our family and friends. Thank you so much for sharing your talents and creativity. It's an honor to host Tablescape Thursday each week and I've loved every moment!
How fitting on this, our 300th Tablescape Thursday, I'm sharing a beautiful table setting from a reader of BNOTP who has also become a friend over these many years. Meg and her hubby have a wonderful canopied, screened room behind their home they have been enjoying for years. Meg wrote,
If you remember, we lost the roof two summers ago and also had to replace the mosquito netting this year. Hubby had cemented the framework into the blocks and concrete.

This is where I go to read a book or listen to a book tape and watch the birds at the feeder and in the trees. The big tree make shadows on the roof of the gazebo, so pretty and calming.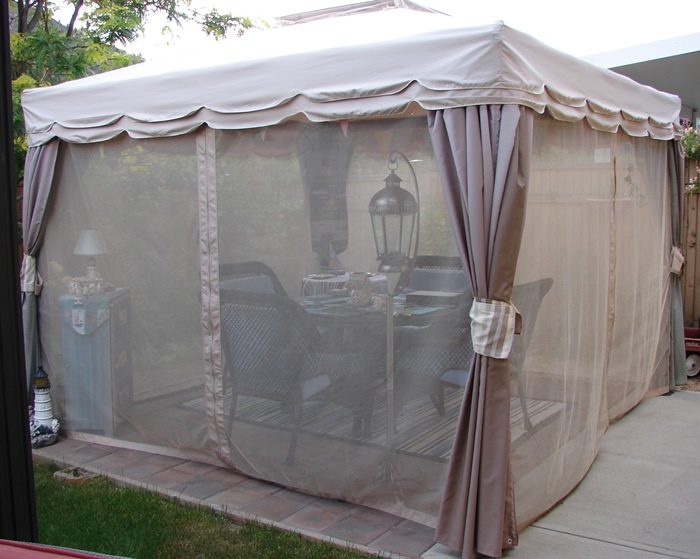 If you've been craving a screened room or porch but there's just not a good spot to add one onto your home or it's just not in the budget right now, consider a canopy-screened room like Meg and her hubby enjoy. You may have to replace the netting after a few years but as you can see, the basic structure will last for many years. I love this idea!
Let's go inside and see what Meg's been up to.
The turquoise/aqua color of the place mats is so pretty against the brown color of the table and the white dishes.
Meg used a cute shell lantern for her centerpiece. I bet this canopied room looks wonderful lit in the evening via candlelight.
Love the beachy, shell-covered dishes! They are so perfect for casual summertime dining.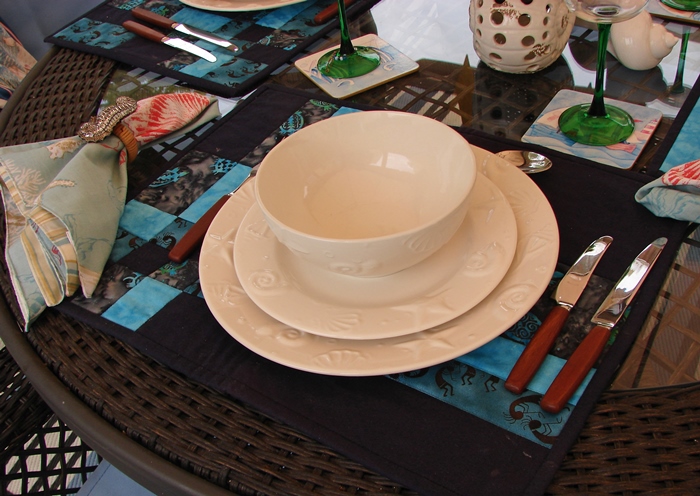 Double-sided napkins in pretty shades of blue, work beautifully for this summer setting. Cute starfish napkin ring!
A turtle, too! Love these!
A small table in the corner of this screened room conveniently holds other items needed when dining. See the cute little yacht?
Meg's husband made it by hand and Meg painted it. Isn't it wonderful? I love that they created it together! Meg is quite the artist, too, she could give Warren Kimble a little competition, don't you think?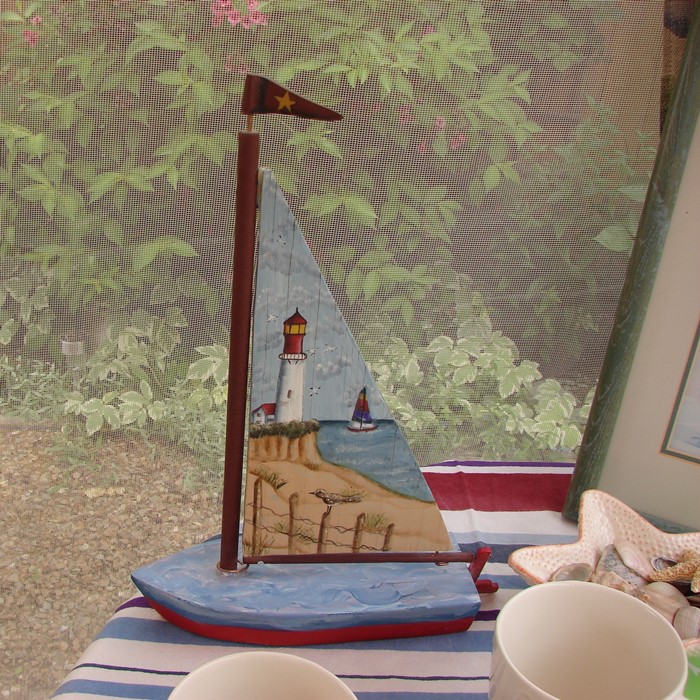 Oh, I bet this space feels magical when the lights are aglow!
A decorative banner makes the space feel festive.
A chest in one corner holds a lighthouse lamp, a gift from Meg's brother.
Ha! A little whimsy for this outdoor room!
The view while dining…beautiful!
Thanks so much to Meg for sharing this wonderful tablescape on our 300th Tablescape Thursday! I'm looking forward to the next 300! 🙂
Resources:
Ocean dishes from Bealls U.S.
Napkins from Daytona in March this year
Napkin rings from Hotel boutique Florida two years ago
Placemats with turtles, quilted by neighbour
Lighthouse lamp, gift from brother
Yacht, made by my hubby, painted by me
Conch shell centerpiece and salt and pepper, local boutique Canada
Cheeky bun sign, from flea market in Oreville, U.S.
Beach hut, cushion, lights, paper napkins, cup mats and bunting from England
Seaside picture from U.S. a few years ago.
Looking forward to the beautiful tablescapes linked for this week's Tablescape Thursday!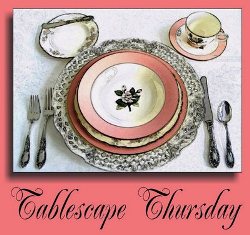 If you are participating in Tablescape Thursday, please be sure to add your permalink below, and not your general blog address. To get your permalink, click on your post name, then copy and paste the address showing in the address bar, into the "url" box when you link up.
You'll need to include a link in your post back to the party in order to link up and participate. That's so visitors to your blog will be able to find the party and the other Tablescape Thursday participants. Requiring a link back also prevents businesses from linking up to sell their products. (Yep, that really happens, unfortunately.)
If you would like to use the Tablescape Thursday logo button in your post, just copy and paste it to your computer and upload it to your post as you would any photo.
Please, don't add your post name/blog name ALL IN CAPS…it tends to create big spaces between the rows of links.
Click on the Blue Frog below to see the links to all the participants in last week's Tablescape Thursday:


*If a post is sponsored or a product was provided at no charge, it will be stated in post. Some links may be affiliate links and as an Amazon Associate, I may earn from qualifying purchases. *