Welcome to the 230th Metamorphosis Monday!
Recently, I received an email from author, Amy Gamet. She shared some exciting news. Amy's husband had just completed work on their new screened in porch. In the picture below you can see how the back of their home looked before work had begun.
Before: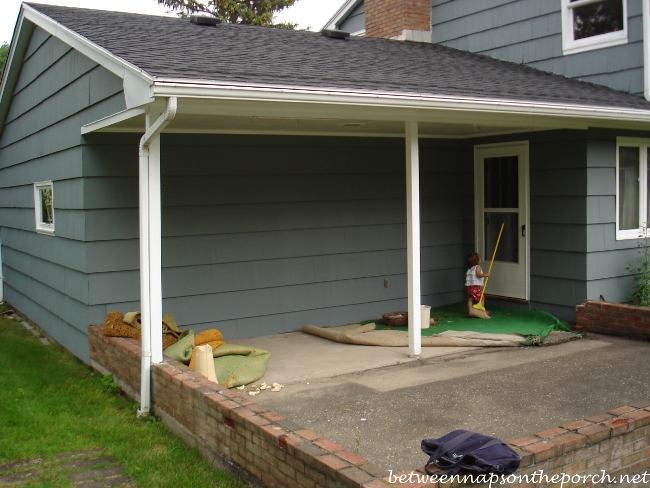 Construction was just getting underway in the picture below. The brick wall surrounding the patio was now gone.
Amy and her husband did all the work. The only parts they hired out were the building of the foundation and installation of the flooring. Everything else they built themselves! Wow!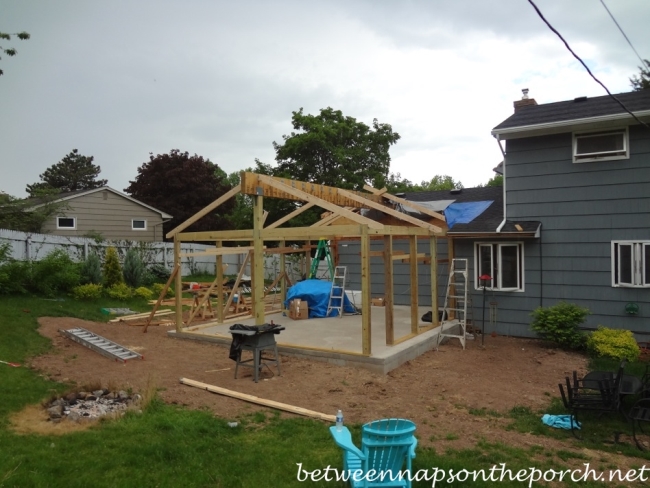 Good friends helped Amy's husband with some of the heavy lifting.
Amy wrote that they used my porch as inspiration. I can see some similarities, especially in the gabled roof.
Porch was almost finished in the picture below. You can see the screen has been installed.
The porch is 24 feet deep by 18 feet wide…such a nice, big size!
Regarding final cost, Amy said the construction of the foundation and the carpet installation ran $6,000. They did everything else themselves at a cost of $7,000, making the final cost of their screened porch $13,000 including all the furnishings. That's an awesome price for a porch that size, especially including the furnishings.
Let's go inside and check it out.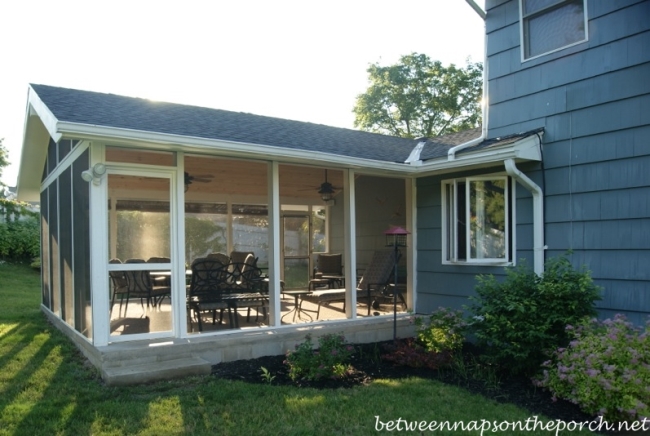 Amy said, " I got the patio furniture on Craigslist (except the black bench and the tiny square tables). I was checking multiple times a day for months. When the set became available they were only asking $200 for all 17 pieces, but my husband was out of town, two out of three kids had a stomach bug, and someone else was coming to look at it in a matter of hours."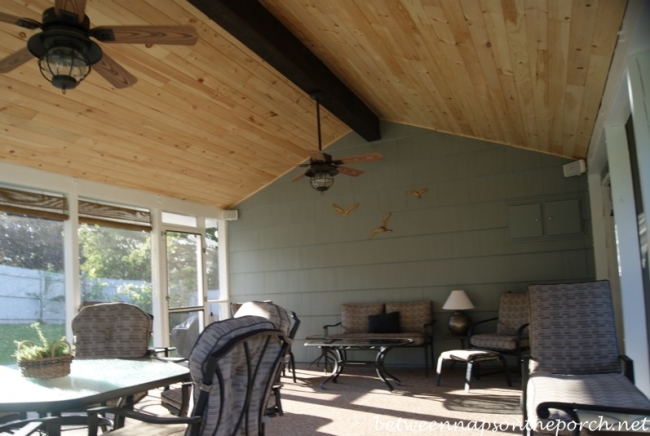 "I called my husband on the road, and he told me to offer them $300 if they'd hold it for us for 24 hours. I still can't believe they said, yes."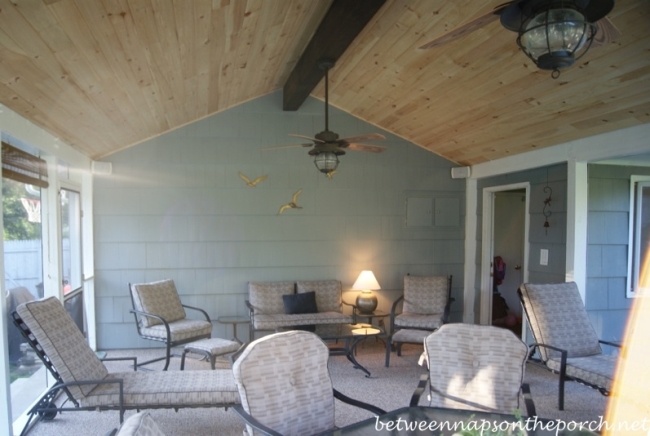 Love how spacious it feels and such a great backyard! Amy and her hubby went with indoor/outdoor carpeting for their porch floor.
Two Hunter fans keep the breezes flowing across this wonderful outdoor room. A porch this large really benefits by having two fans.
Amy also added woven, wood shades for sun control where needed.
During construction, the porch was wired for music. You'll notice the outdoor speakers tucked up high in the corners.
If you've been thinking of adding on a porch, hope this provides some inspiration for your porch addition. If you have any questions for Amy, leave them in the comments and I'm sure she'll be happy to answer them. You can check out Amy's books at www.amygametdotcom.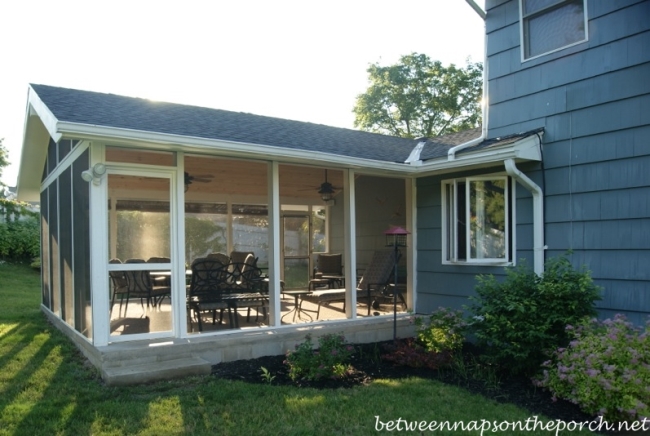 Have you recently added on a porch or completed a room makeover in your home? I can't make any promises, but send me some non-blurry, large photos, taken without a flash, and if I can, I'll feature your makeover here on BNOTP. You'll find contact information at the top of sidebar under the "contact" tab.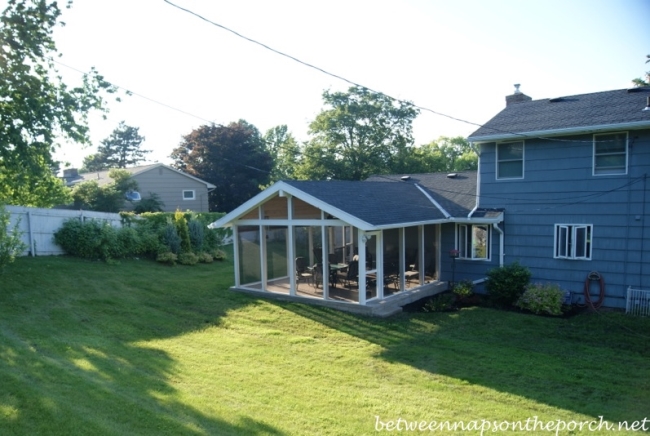 Looking forward to the Before and Afters posted for this Metamorphosis Monday!
Metamorphosis Monday: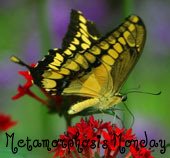 If you are participating in Metamorphosis Monday you will need to link up the "permalink" to your MM post and not your general blog address. To get your permalink, click on your post name, then just copy and paste the address that shows up in the address bar at the top of your blog, into the "url" box for InLinkz.
In order to link up, you'll need to include a link in your MM post back to the party so the other participants will have an opportunity to receive visits from your wonderful blog readers.
Please observe these few rules:
Only link up Before and After posts that are home, gardening, crafting, painting, sewing, cooking, DIY related.
Do not link up if you're doing so to promote a website or product.
Do not link up a post that was just linked last week since a lot of readers will have already seen that post.
Do not type in ALL CAPS. It spreads the links waaaay out.
Let's try something fun today! Please visit the person who linked before you and after you…that way everyone will get some visits.




Welcome! Thanks for coming to the party!
*If a post is sponsored or a product was provided at no charge, it will be stated in post. Some links may be affiliate links and as an Amazon Associate, I may earn from qualifying purchases. *