Welcome to the 287th Metamorphosis Monday!
Happy Monday! Hope you had an awesome summer weekend! I was fretting a bit over mine, wondering how I would be getting a post ready for Met Monday since I dropped my computer off for repairs early on Friday and when last I checked on Saturday, they still haven't gotten around to working on it. I was 4th in line, now 2nd, so hopefully they will be repairing it today.
In the meantime I've been working on my somewhat slower laptop which doesn't have my stash of photos or any of the software I normally use to crop, resize, sharpen and watermark photos. I managed to figure out a work around, albeit a slow one.
The Porches and Decks
I got a good workout this weekend staining one of the decks and the staircase that's off that deck. I'll be sharing how that went real soon. I chose a different material and a different look so you'll have to tell me whatcha think when I post it. Since I can't access any of those before pics (they're on my other computer) I thought I'd share how the work on the porch has been going.
When you last saw it, the porch was looking like this. White wicker furniture was all piled up in the center, the porch hutch and ceiling fans were covered in plastic along with the swing, all done in preparation for the painting to come.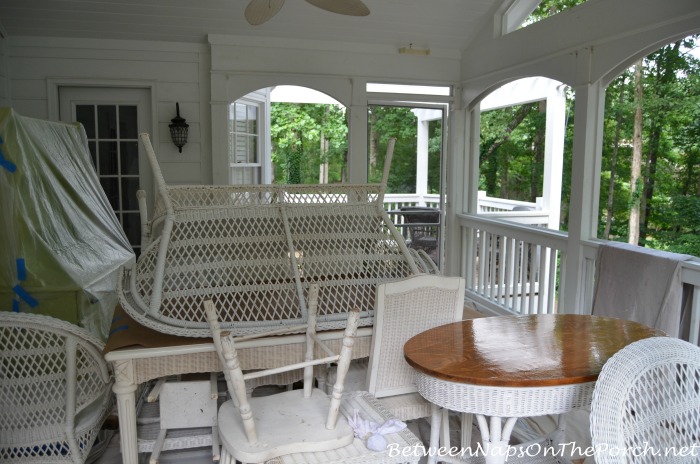 In this older photo we see how the porch normally looks with wispy, soft sheers hanging at the corners of the screened windows.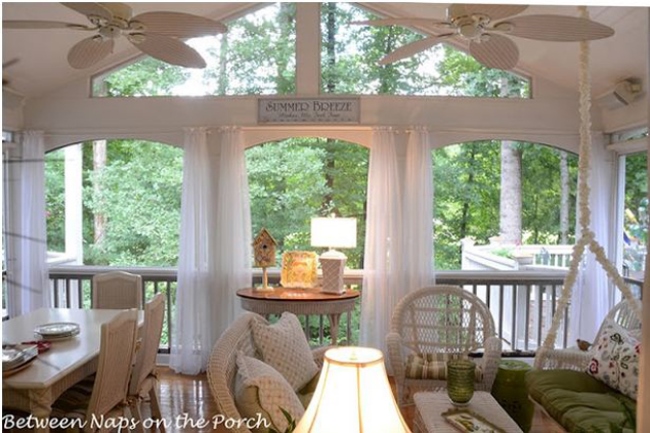 The painting has been completed and the furniture is back in place but the sheers have not been rehung. I gave them a good wash while they were down but they haven't been rehung yet because all new screens are having to be built for the porch. 🙁
Unfortunately, when the crew finished painting and installed the screens back, they over-tightened most of the screws causing very noticeable dents in the metal frames of all the screens. Each screen has multiple screws holding it in place so that's a lot of dents. I tried living with it a few days to see how badly it was going to bother me. The answer: it really bothers me. The light coming into the porch catches all those dented areas making them stand out, even visible from half-way across the porch.
Fortunately the painting company I'm using stands behind their work and immediately offered to have new screens made. That's why I went with this company, they had a high rating on Angie's list and a friend had used them and recommended them to me.
I contacted the company who made the screens (fortunately they're still in business) and they came out on Saturday to verify their measurements. They will send over the estimate this week and I'll give it to my painting company, then the replacement screens can be made. Once those are in, I'll probably rehang the sheers, although it's kind of nice seeing the porch without them for a little change. Every once in a while I take them down and leave them down when I'm craving a more open feeling.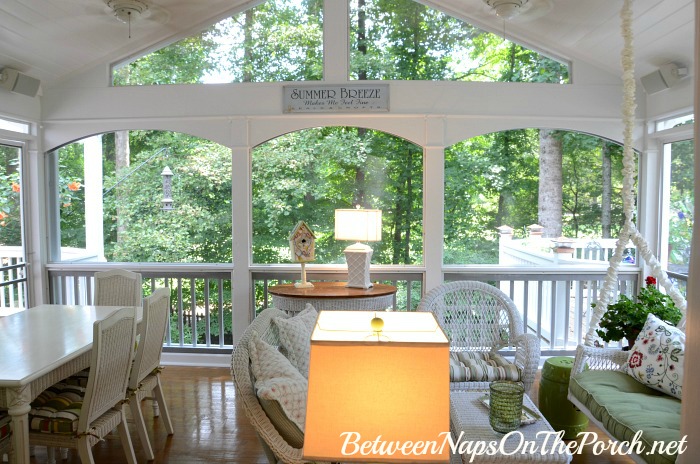 In addition to the painting that took place inside the porch, the exterior of the porch and the deck rails have been painted, too.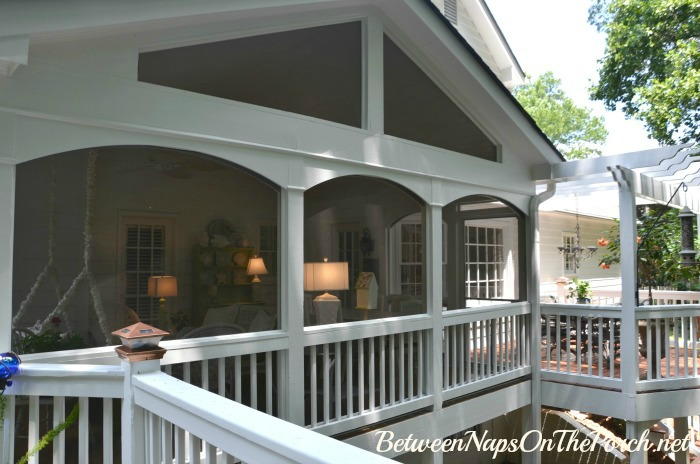 Remember the woodpecker damage on the corners of the chimney?
All the corners have been replaced with Hardieplank, just like the siding that's on the chimney itself. Mr. Woodpecker will be in for a surprise if/when he returns. One of two pecks and I think he'll give up pretty quickly!
It's been six years since the porch was painted so it was due for a little freshening up.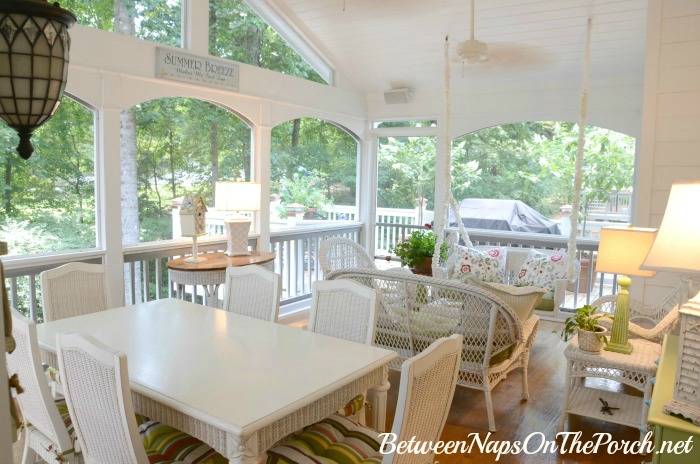 A view from the other end of the porch…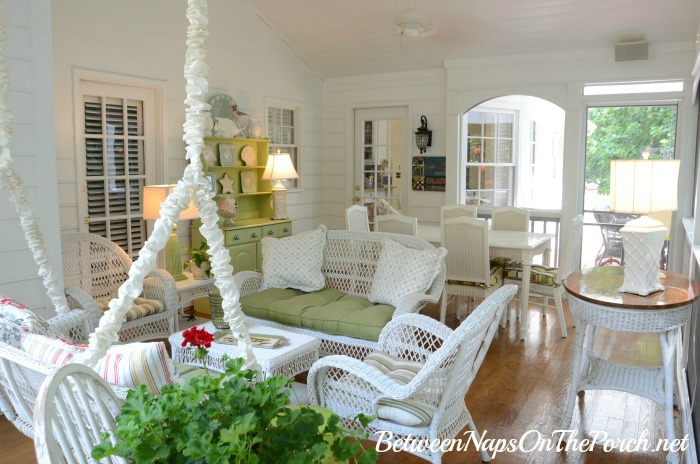 I do have one wee addition to the porch…do you see it over there under the lantern? It may look vaguely familiar.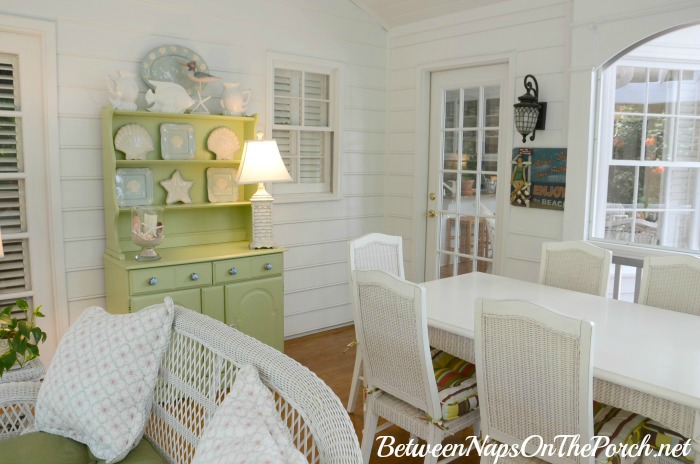 It made a brief appearance in a tablescape-for-two a few weeks ago here on the deck. (Tablecape can be view here: Coastal Summer Tablscape for Two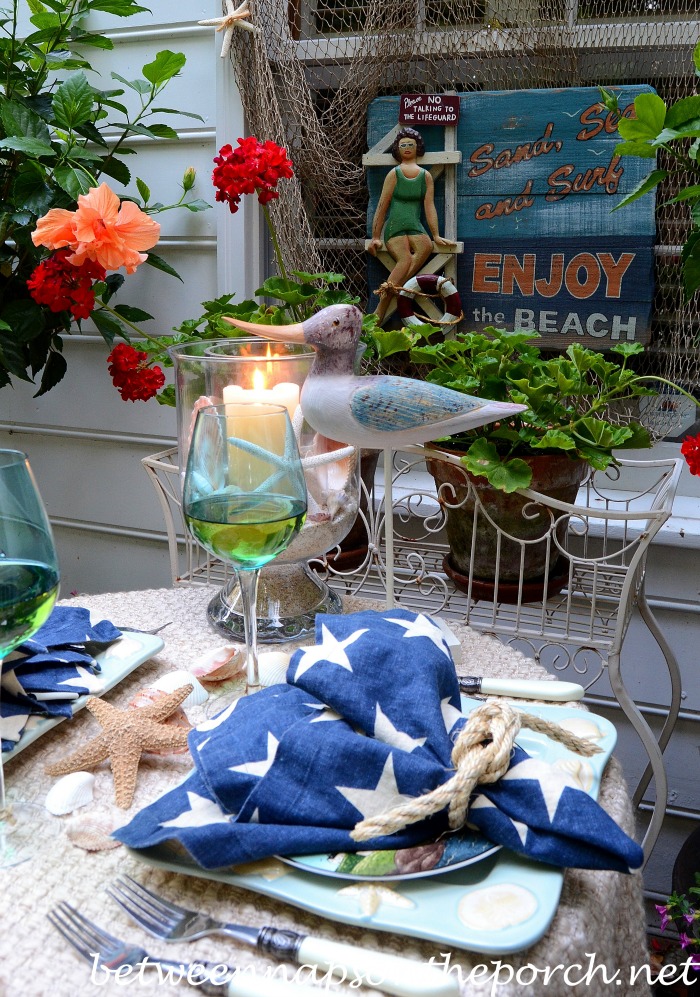 Please, No Talking To The Lifeguard. 🙂
I placed it near the door to the kitchen, a whimsical touch for a summer porch.
The porch hutch is still decorated for summer, as seen in this post: Decorate a Hutch In a Beachy Theme for Summer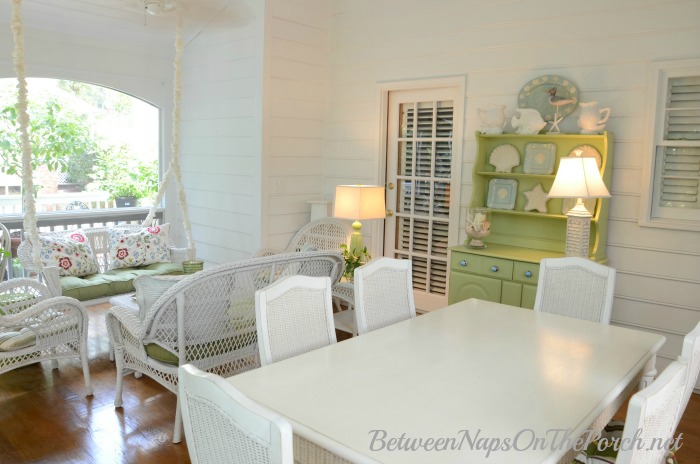 Remember the end pieces that were coming off the side of the pergola? One had already fallen off and the others were fast following suit.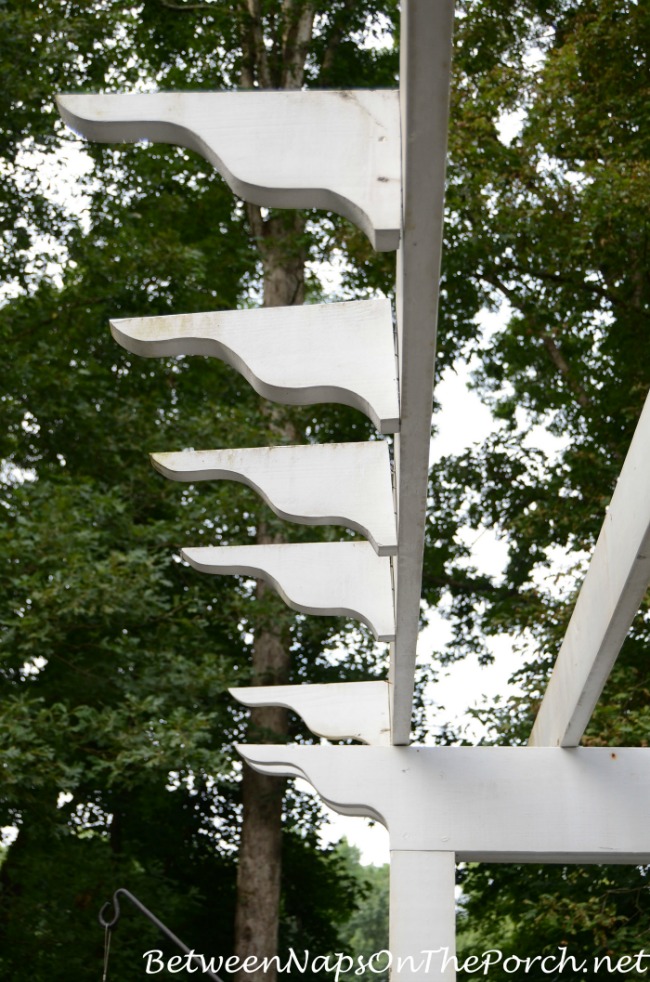 They always looked contrived and out-of-place sticking off the right side of the pergola, pretending to be the ends of cross boards that didn't exist.
They have been removed and the pergola looks much more natural.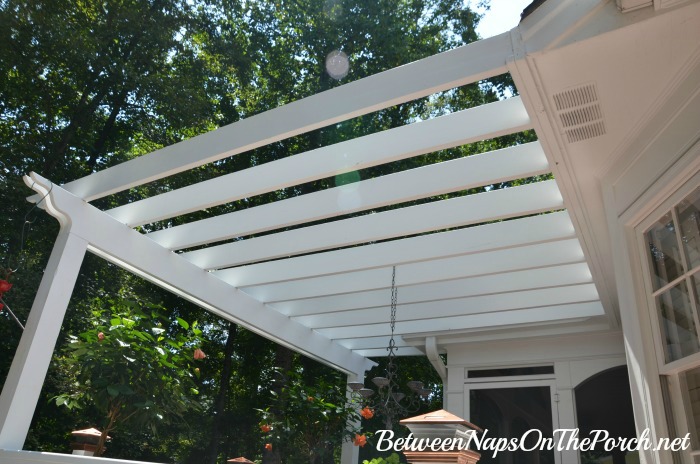 The hibiscus topiaries on this deck have been blooming continuously, treating me to beautiful flowers all summer.
Oh, and remember the tree-form Tardiva Hydrangeas on the other deck? Several of you wanted to see them once they bloomed.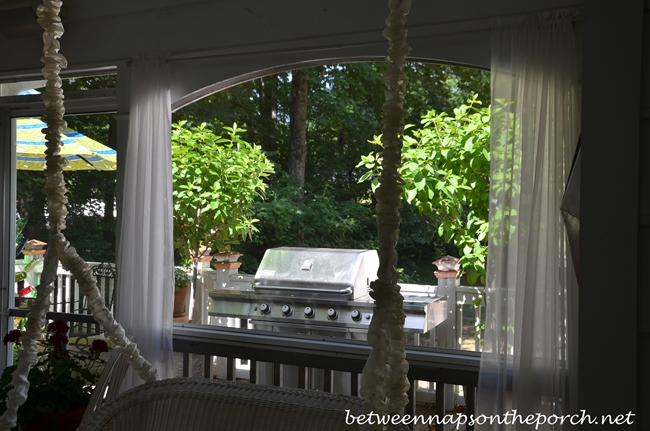 Here they are! They are in full bloom and I'm in love!
I definitely have to find a way to winter them over this year. The pots are too heavy for me to easily move around. I'll probably need to buy a handcart or dolly and try to cart them off to the garage. I absolutely love them so I'm determined to keep them alive to be enjoyed again next summer here on the deck.
Thinking about adding a screened-in porch to your home? Do it! It will fast become your favorite room! You can read more about this porch addition and get all the details on how much it cost to build in this previous post: Screened-In Porches: How Much Do They Cost?
So, that's what I was up to this weekend.
How was your weekend? Working on any home maintenance projects?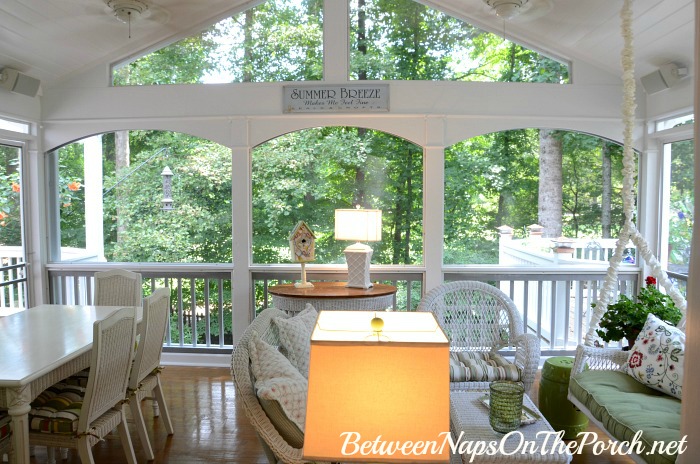 Looking forward to all the great Before and Afters for this Metamorphosis Monday!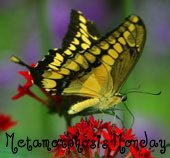 If you are participating in Metamorphosis Monday, you will need to link up the "permalink" to your MM post and not your general blog address. To get your permalink, click on your post name, then just copy and paste the address that shows up in the address bar at the top of your blog, into the "url" box for InLinkz.
In order to link up, you'll need to include a link in your MM post back to the party so the other participants will have an opportunity to receive visits from your wonderful blog readers.
Please observe these few rules:
Only link up Before and After posts that are home, gardening, crafting, painting, sewing, cooking, DIY related.
Do not link up if you're doing so to promote a website or product.
Do not link up a post that was just linked last week since a lot of readers will have already seen that post.


*If a post is sponsored or a product was provided at no charge, it will be stated in post. Some links may be affiliate links and as an Amazon Associate, I may earn from qualifying purchases. *