Welcome to the 339th Metamorphosis Monday!
Recently I received the nicest e-mail from Gloria. She recently added a screened-in porch on to the back of her home and it turned out beautifully!
Gloria said, "I found you and your blog in 2012 when I was doing my research to convert a deck on the west side of my house to a screened porch. My husband and I never used the deck because it was just too hot and buggy.
In early 2012 while considering makeover projects for the house, we decided to convert the deck to a screened porch. Once I found you, I found everything I needed to know! Your post about the cost of a screened porch was so informative and influential on the things that I wanted in my porch. Plus, you and I have nearly identical taste so I used your porch, décor and all, as my inspiration.
Unfortunately, I do not have any photos of the deck to show you the "before" view of the back of the house. We found a truly fabulous builder who built our porch and tied it into our house in such a way that it looks like it was always a part of the house."
"Our house is a Victorian style home. Want to know how good our builder is? Here's a view of the exterior entrance to the porch. My builder selected the door and it is perfect!" Gloria's Victorian style door is perfect and really helps tie her porch in beautifully with her home. Let's go inside and check it out!
As you step inside, this would be your view. Notice the two bamboo and wicker table lamps on the right–aren't they the cutest! They are waterproof and designed especially to use on porches. Gloria found them at Plow & Hearth online. I love the style!
Gloria furnished her porch with lots of great wicker and painted her ceiling haint blue. Love that! Won't be any haints hangin' around this house! 😉
Gloria said, "We wanted a gable roof to give an open, airy feel to the porch. I chose to paint the ceiling blue thanks to you and the porch books you recommended in your post. Our porch is 11 ft. by 22 ft. so we needed two fans to properly cool the porch."
Since Gloria went with wicker for her porch furnishings, she decided to go with the same outdoor fans I chose for my porch due to their wicker-like design.. I had to special order mine when I purchased them. Fortunately, they are now available for purchase here: Hunter Ceiling Fan with Wicker-Design
Gloria said, "I found all of the wicker furniture on Craigslist and paid next to nothing for it. The most expensive piece was the chaise and I paid only $125 for it. I just love that the furniture is all vintage and mismatched." I love that, too!
The floor lamp you see below is another waterproof lamp, also from Plow & Hearth.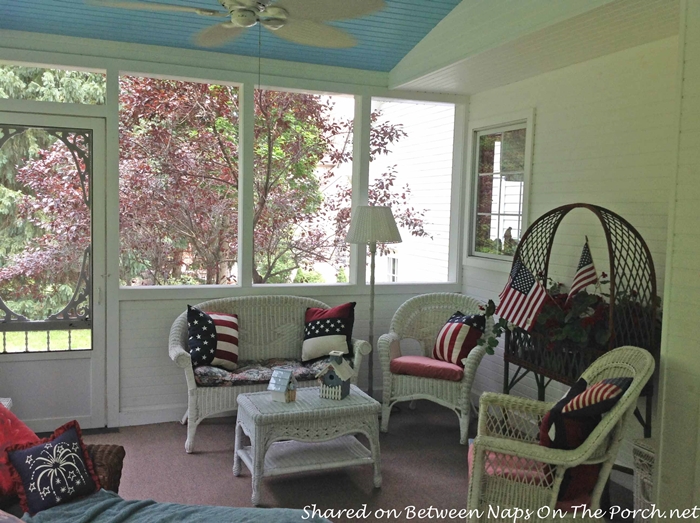 Gloria said, "Based on your suggestion, I have electrical outlets all over the porch. I don't like overhead lighting and wanted the warmer, cozier look of lamp light. The fans are controlled by a wall switch next to the interior door of the house. There is a second switch there which controls the two fountains that we installed in the surrounding flower beds this year.
We chose to use indoor/outdoor carpeting on the floor of the porch so our dogs would have a comfortable place to roll around on the floor." Then Gloria wrote, "Case in point" referring the photo below. 🙂
Sooo cute! Our furbabies love screened-in porches as much as we do!
Gloria said, "We live in Pennsylvania so we can use the porch from April through early November, depending on the weather. My husband and I, together with our four dogs, enjoy this porch so much!! We eat dinner out here nearly every night and enjoy the gentle breeze from the fans and the joyful gurgle of the water from the fountains. We agree that adding the porch was one of the best improvements that we made to our house."
Gloria, thanks so much for sharing your wonderful porch with us and about all the great features you included in its design. I loved hearing how much you, your hubby, and adorable furbabies are enjoying it. Once you've had a screened porch, it's hard to imagine not having one. They spoil you quickly!
Looking forward to all the fabulous Before and Afters for this Met Monday!
Metamorphosis Monday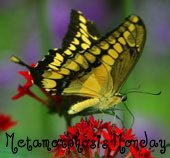 If you are participating in Metamorphosis Monday, please link up using the "permalink" to your MM post and not your general blog address. To get your permalink, click on your post name, then just copy and paste the address that shows up in the address bar at the top of your blog, into the "url" box for InLinkz.
In order to link up, you'll need to include a link in your MM post back to the party so the other participants will have an opportunity to receive visits from your wonderful blog readers.
Please observe these few rules:
Only link up Before and After posts that are home, gardening, crafting, painting, sewing, cooking, DIY related.
Do not link up if you're doing so to promote a website or product.
Do not link up a post that was just linked last week since a lot of readers will have already seen that post.
*If a post is sponsored or a product was provided at no charge, it will be stated in post. Some links may be affiliate links and as an Amazon Associate, I may earn from qualifying purchases. *