I stopped into both Pottery Barn and Williams Sonoma today and picked up some really cute things for spring. Both shops have some great sales going on right now. Pottery Barn has all of their tabletop items on sale, 25% off and their Easter goodies are on sale up to 40% off. I scored some adorable napkins for 40% off. You'll find the sale here: Tabletop Sale.
I had to check out this pretty blue and white table in the window.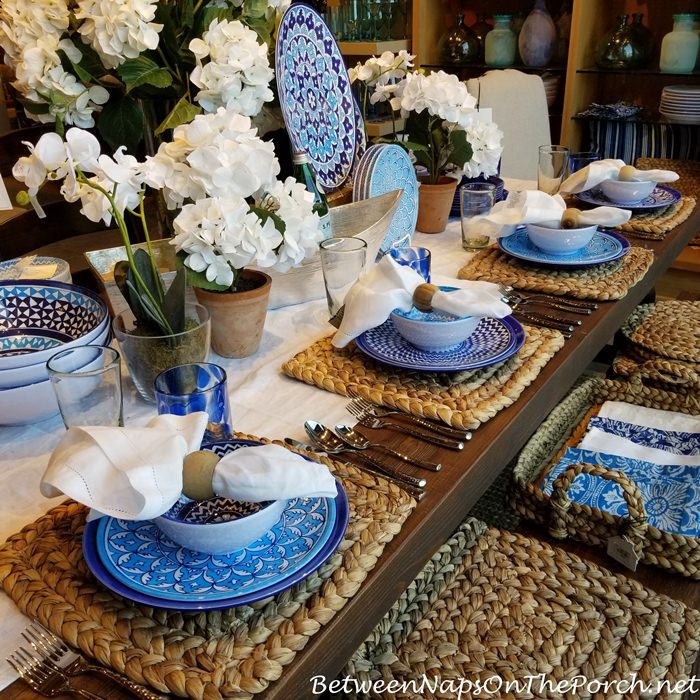 This makes me think of Greece, a country that's on my travel bucket list. I hope to see it in person one day.
There were several table settings on display around the store.
This one had a nautical/beach feel…I love all the soft colors.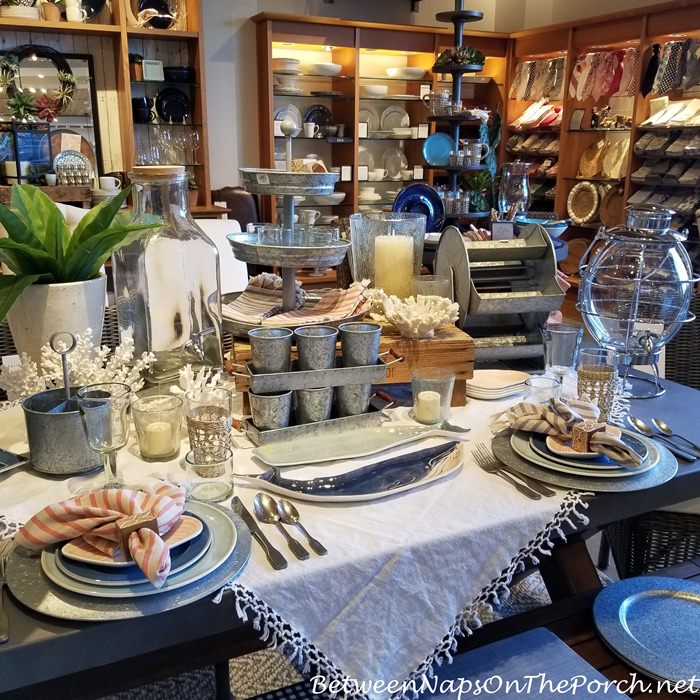 I love a great beach-themed table, the soft ocean blues are so relaxing for dining. This dishware is currently on sale in several colors here: Dinnerware. I love the turquoise/aqua color, too…would love a set in that color!
I was super tempted by these glasses. The natural woven sleeves easily slide off so the glasses can go right in the dishwasher. You'll find them on sale here: Glasses.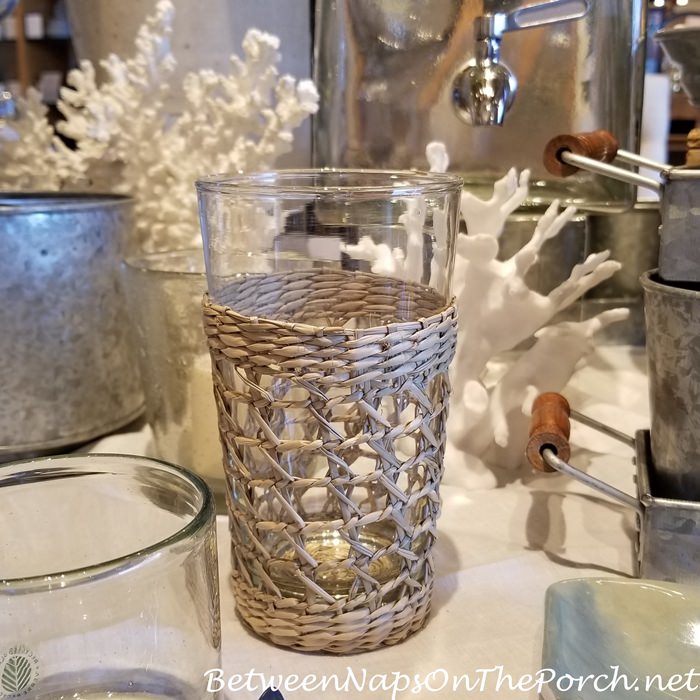 Pottery Barn has brought their shell chargers back. You'll find them on sale here: Shell Chargers.
If you want to make your own chargers, it's super easy to do, just a bit time-consuming. I've made them twice now using shells collected 35 years ago on Captiva Island. This was the first set I made and I loved how they turned out with soft, muted colors.
Here's how they looked in a table setting that summer. (View this table setting here: Beach Themed Table Setting.)
The next time I made them, I incorporated pretty, blue glass found in Marshalls to mimic the gorgeous color of beautiful sea glass.
Here's how they looked in a summer table setting. (You'll find this table here: Sailing with Mermaids.)
If you would like to make your own shell chargers, you'll find my tutorial here: DIY Shell Chargers. Again, they are time intensive and best created while watching a long movie, or three. lol But they are worth it once they're done. They are some of my favorite chargers to use in summer tables…so worth the long hours and sore fingertips.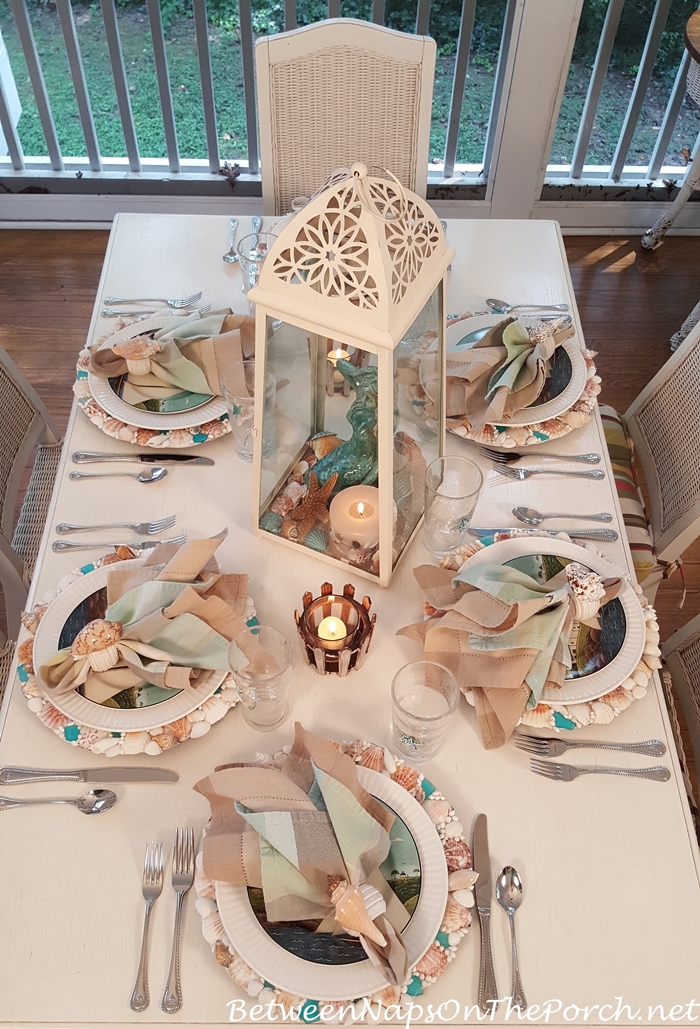 I loved this fun lantern-style beverage server I saw during my visit today! It made me think of the huge light at the top of a lighthouse. Or, is it supposed to look like a ship's lantern? You'll find this unique server on sale here: Beverage Server.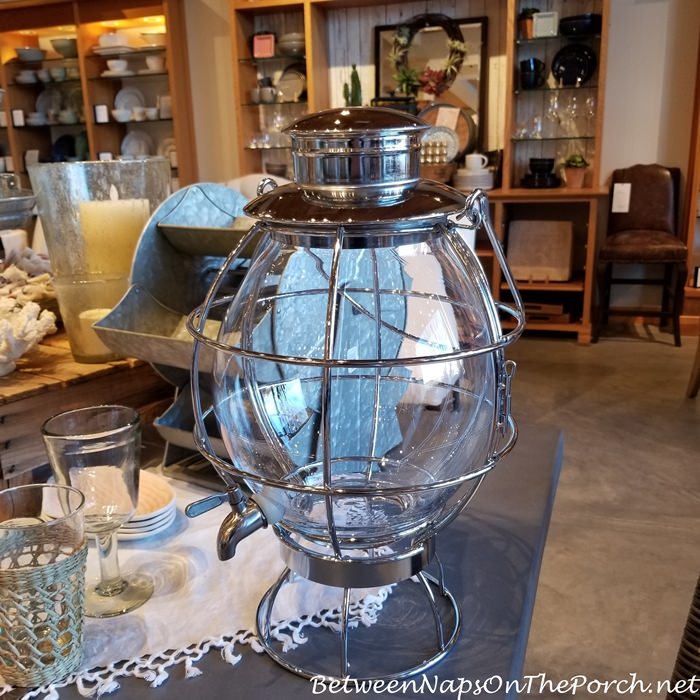 So many cute bunny things!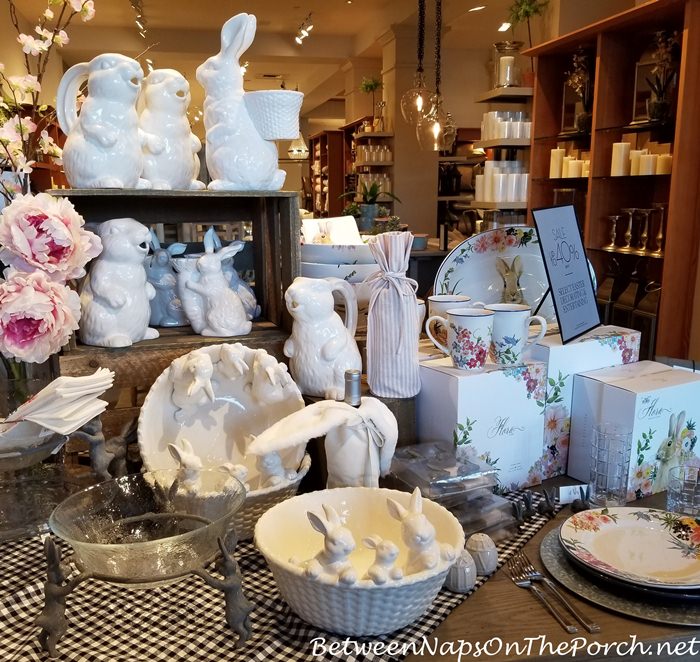 I noticed they brought back my favorite bunny bowl. Did you see it on the table in the photo above? I purchased that bowl the first year it was available and use it on my kitchen counter filled with fruit during the spring months.
You'll find this darling bowl discounted to almost half off here: Bunny Bowl. It would make a beautiful centerpiece for any spring table. The view of the inside of the bowl is just as cute as the outside.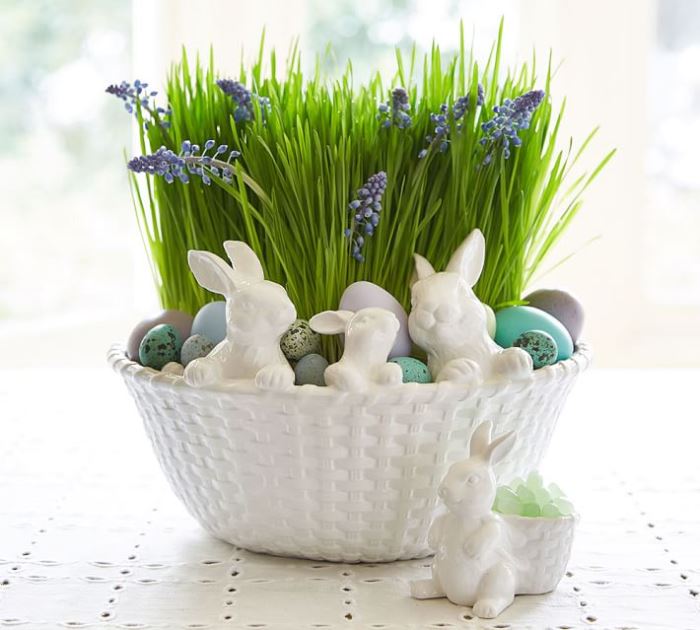 These plates are also part of the big Easter sale right now.
I purchased a set last year during a sale.
You may remember when I used them for this table setting out on the porch.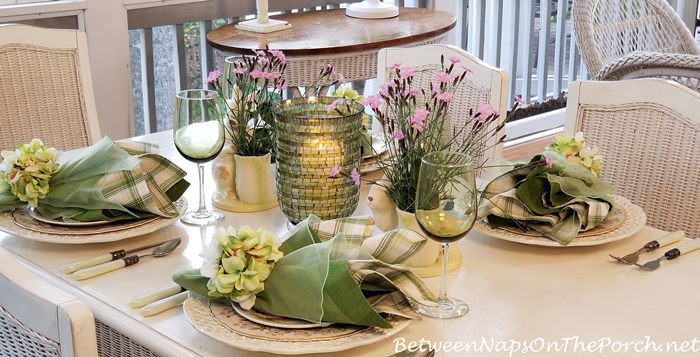 You'll find these sweet bunny plates on sale here: Bunnies for Spring-Easter.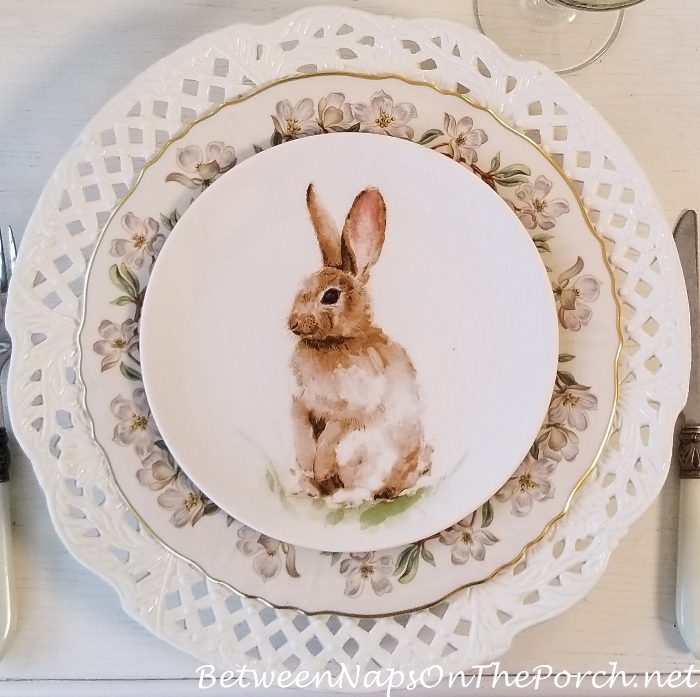 This year I picked up two sets of the napkins since they were marked down 40%.
You'll find the napkins on sale here: Bunny Napkins.
I fell in love with this bunny ears bottle holder. It would work well for wine or any beverage in a similarly shaped bottle. At first, we could only find one, but after searching all over the store, we were able to find one more. It appears they are still available online, though…at least for now: Bunny Ears Bottle Cover.
These were the items that came home with me from Pottery Barn. I also bought one of the Bunny Ears Bottle Covers as a gift for my son/daughter-in-law. I'm flying out tomorrow morning to visit my son, dil and grandsons for a few days so couldn't resist picking up a few gifts. The blue napkins were on sale 25% off, too.
If you need some bunny ears for your spring/summer dining (and who doesn't need bunny ears!) you'll find this bunny ears bottle cover/holder on sale 40% off here: Bunny Ears Bottle Cover.
Next, I stopped into Williams Sonoma. Oh my gosh, I wanted everything I saw in there! It's late and I need to get to bed so I'll share that visit in another post soon, but I can't go to bed without sharing my two absolute favorites from that visit.
They have the cutest Peter Rabbit goodies in stock right now!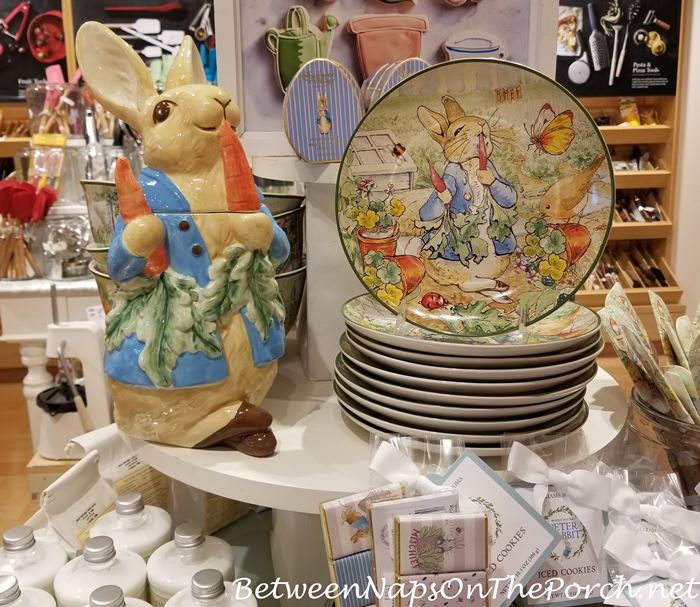 These plates!!! Oh, my gosh…these plates! They are stunning in person! Oddly, they were not on sale in the store. I almost bought them anyway because I figure they are going to sell out quickly. Surprisingly, when I got home and looked, they are on sale online! I just ordered two sets because I know they won't last long, especially now that they are on sale. The colors are so, so pretty in person, much prettier than they look online.
You'll find these whimsical plates on sale here: Peter Rabbit Salad Plates.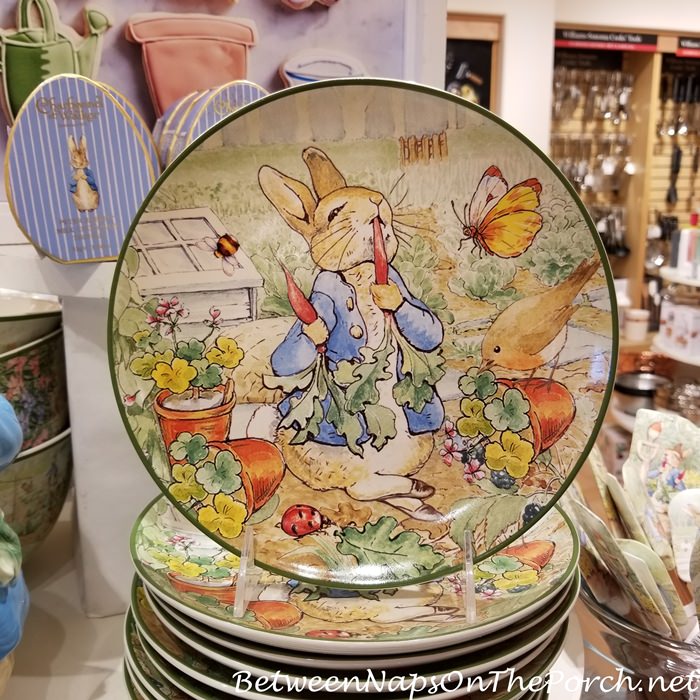 While in the store I purchased a few more items for my daughter-in-law. I couldn't resist getting this apron because she loves cooking and is an excellent cook. I know my grandsons will get a kick out of it, too!
Again, it wasn't on sale in the store but it is on sale online, so I just ordered one for myself. It's just too, too cute to pass up! You'll find this adorable apron on sale here: Peter Rabbit Apron.
I purchased a few more small Peter Rabbit items while in the store. Wish I had known they were all on sale online, I probably would have waited and ordered them when I got home this evening. Oh well, at least I'll have them when I arrive for my visit.
You'll find all the Peter Rabbit goodies here: Peter Rabbit. I can't wait to use the plates in a table setting soon!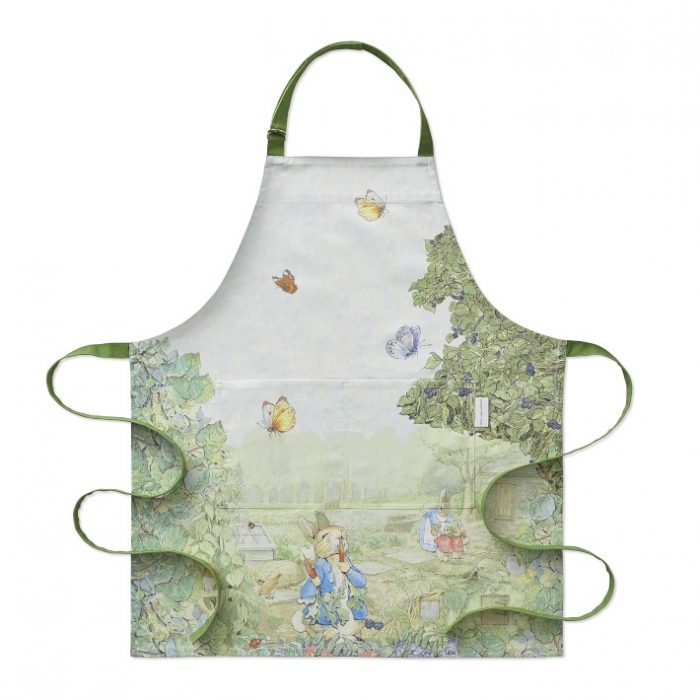 *If a post is sponsored or a product was provided at no charge, it will be stated in post. Some links may be affiliate links and as an Amazon Associate, I may earn from qualifying purchases. *