Welcome to the 213th Metamorphosis Monday!
Spring has come early to the Atlanta area. I'll have to take some pics to share what's popping up around here. The daffodils are up, the red bud trees are blooming and the tulip magnolias are gorgeous! Are things beginning to bloom where you live? Love this time of year!
Update for a Small Entry:
I have an inspiring "Before and After" to share for this week's Metamorphosis Monday. Recently a friend of mine, Joy, decided she needed a place for her family to take off their jackets, scarves, gloves and boots. They were preparing to move into a cute cottage home and were making some upgrades to the home before moving in.
The entrance to Joy's home is there on the left. Notice the small non-carpeted area just inside the door leading to the closet.
BEFORE: Joy lives where it snows a lot. She really wanted to make her entry work better for her family's needs.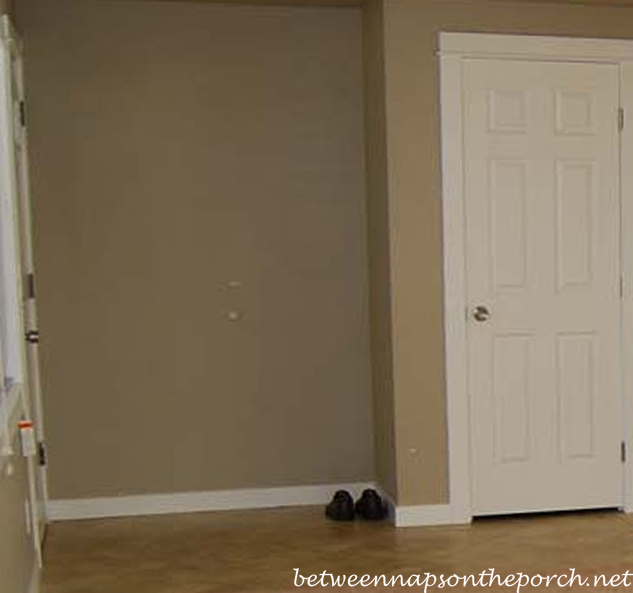 AFTER: Joy had board and batten added to the wall just inside the front door, turning this unused space into a great area for hanging coats, scarves and book bags. She also replaced the modern, metal front door with a cottage style door that is much more fitting with the exterior of the home.
A bench was also added in the entry. It provides a handy for spot to sit while pulling on the snow boots.
Joy is looking for two smaller baskets to place underneath the bench. In the meantime a basket she already had is working well for holding gloves and other cold weather gear.
If you're home has a small entry and could use some extra space, I hope this entry update gives you some ideas. Even if you don't have room for a bench, just adding a little board and batten along one wall with hooks for hanging coats, scarves, book bags and hats can add tremendous storage and function to a small entry.
Joy just added the following comment to this post and I think it sums up her entry makeover well.
We did this because we were throwing coats everywhere. Our small entryway closet just didn't give us enough storage….and the motivation by some in the house to actually open the door and hang up a coat was lacking! Now, there are no coats thrown anywhere. It's wonderful.
Since moving in the house in May, we've repainted the interior completely. The entire house was bachelor pad green and much too dark. We added central heat and air, raised the kitchen cabinets, replaced all the kitchen appliances, and built a new fence. Next to come is remodeling the master bath, hardwoods because I'm not loving the tile at all, new tile in the hall bath, and new countertops. I'm still undecided if I actually like the remodeling process or not. But I do love the end results.
Joy, I'm with you on that. The remodeling process isn't much fun sometimes but the results definitely make it worth it.
Pssst: The seasonal footer at the bottom of BNOTP has been updated to include some links to Easter themed table settings, crafts, decorating ideas. You'll find links to a few St. Patricks Day table settings, too.
Giveaway Winners:
Recent giveaway winners have been announced on the giveaway post for Southern Living Weddings and the giveaway post for French Bleu Vintage. Thanks to everyone who entered both giveaways! I've emailed the winners to let them know. Thanks to all who entered!
This weekend my friend, Ginger, had a wonderful dinner party. I'll be sharing a few pics from that magical night for Tablescape Thursday. This week I'll also be sharing a recipe for a yummy trifle. You'll love how easy it is to make!
Looking forward to all the fabulous Before and Afters for this Met Monday!
Metamorphosis Monday:
If you are participating in Metamorphosis Monday you will need to link up the "permalink" to your MM post and not your general blog address. To get your permalink, click on your post name, then just copy and paste the address that shows up in the address bar at the top of your blog, into the "url" box for InLinkz.
In order to link up, you'll need to include a link in your MM post back to the party so the other participants will have an opportunity to receive visits from your wonderful blog readers.
Please observe these few rules:
Only link up Before and After posts that are home, gardening, crafting, painting, sewing, cooking, DIY related.
Do not link up if you're doing so to promote a website or product.
Do not link up a post that was just linked last week since a lot of readers will have already seen that post.
Do not type in ALL CAPS. It spreads the links waaaay out.
*If a post is sponsored or a product was provided at no charge, it will be stated in post. Some links may be affiliate links and as an Amazon Associate, I may earn from qualifying purchases. *