Welcome to the 407th Tablescape Thursday!
I had planned set a table this week but when my air conditioning went out upstairs on Sunday during the 90°+ weather we've been having, my enthusiasm for being creative went with it.
I have not been sleeping well this week since I've been sleeping downstairs on the sofa and working during the day on my small travel laptop at my teeny kitchen desk, a desk I've discovered isn't the proper height for a desk. I awoke at 4 AM this morning, my body time clock is all out of whack! I guess it doesn't take much to throw your body out of sync.
The company I have been using for heating and air finally reached me on their schedule yesterday. The problem turned out to be the exact same part they replaced just two years ago, something called a capacitor.
Isn't it lovely? It looks and sounds like something Doc would have used in his Back to the Future, DeLorean time machine. Oh wait, that was a "Flux Capacitor." lol
Of course, they only warranted the part the last time it was replaced for 1 year, so now I have a $248 paper weight on my desk. I hope the one they put in yesterday lasts longer than 2 years this time.
Update: If you have Trane systems, which is what I have, this may come in handy to know. I talked with a Trane representative in person inside a Lowe's store today and showed him the offending part. He said the problem is the part they used, that it's a cheaply made part. He said the capacitor they used probably only cost them around $20.
He gave me the business card (after I ask who he would recommend) of someone in my area who services Trane systems and only uses Trane parts. So if you have a Trane furnace or A/C, verify that the company you use for service, actually uses Trane parts and hopefully you won't have to pay $248 for a new capacitor every two years like I've had to do.
So since I wasn't up for being creative over these last few miserably hot days, I thought I'd share some of the latest tablescaping goodies I've come across that are also currently on sale. Some are pretty exciting!
The star napkins I so often use in patriotic table settings are on sale. (Table below can be viewed here: A Patriotic Table for Two)
You'll find them on sale here: American Flag Napkins (Table below can be viewed here: 4th of July Nautical-Themed Table)
This Napoleon Bee flatware that you've seen me use is also currently on sale. (Table below can be viewed here: Springtime Tablescape)
It's available here: Bee Flatware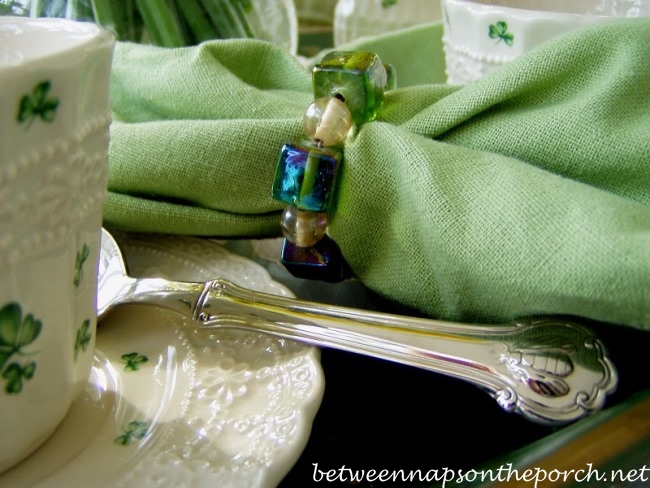 They've come out with a gold tipped version that I'm totally crushing on. I love how it really brings out the bee motif. Do you think I need a set? Sooo tempting! It's on sale here: Bee Flatware with Gold Accents Update: Just noticed they are having a special promotion where shipping would be free and this purchase earns a $50 gift card. That makes it doubly tempting!
This isn't exactly a tablescaping item, but I was so excited they brought it back, I had to share it. I posted about this adorable toaster HERE when I first added it to my kitchen. Unfortunately, they were almost out of stock back then, and the few they had left sold out quickly. I almost bought a second one to keep in reserve because I knew I'd be sad if/when this one ever dies, especially if I couldn't find it again.
Later on I discovered the designer who created it passed away, so I was afraid it had been discontinued for good. It must be a good seller for them because they have brought it back! So happy to see that!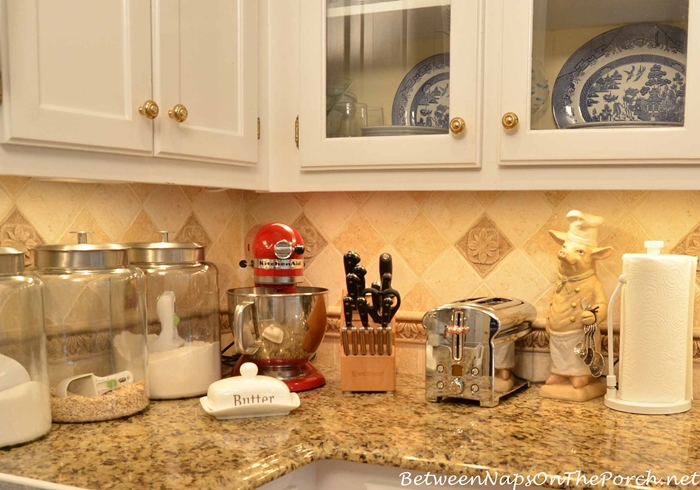 I love how the little toaster window on the front changes as the toasts browns so you can see how much longer you have left before your toast pops up. The little dots gradually go down, down, down until they are all gone and the toast pops up.
But most of all, I just love the design! It's available again (at last) here: Bread-Shaped Toaster with Countdown Timer
Love these adorable melamine salad plates for outdoor parties. They are on sale here: Beachy Plates plus you get an 15% off with the code EXTRA15
These are on sale here: Summer Dining and the extra 15% applies to them, too.
I'm thinking about ordering a couple of sets of these napkins. They are on sale and the EXTRA15 code applies to them. They are available here: Ocean Sea Creatures
I'm amazed the sailboat flatware I shared recently is still available and that it hasn't gone up in price. So often when I link out to something, it seems like the price goes up a day or two later.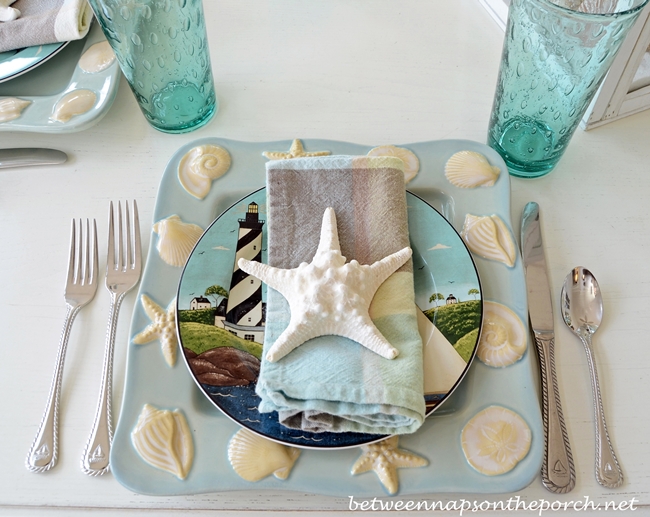 It's still available here for a ridiculously good price. Sailboat Flatware
I've added all these finds to my "Favorites for the Home" under the "Shop" category at the top of the blog in case you want to refer back to them later here: Favorites for Home.
Here's to a cool day with air conditioning. Yes!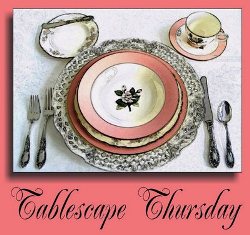 If you are participating in Tablescape Thursday, please be sure to add your permalink below, and not your general blog address.To get your permalink, click on your post name, then copy and paste the address showing in the address bar, into the "url" box when you link up. You'll need to include a link in your post back to the party to link up and participate.
That's so visitors to your blog will be able to find the party and the other Tablescape Thursday participants. Requiring a link back also prevents businesses and scammers from linking up to sell their products. (Yep, that really happens, unfortunately.)
Please, don't add your post name/blog name ALL IN CAPS…it tends to create big spaces between the rows of links.
Please do not link up table settings that were just recently shared in the last few weeks for Tablescape Thursday.
*If a post is sponsored or a product was provided at no charge, it will be stated in post. Some links may be affiliate links and as an Amazon Associate, I may earn from qualifying purchases. *