L.L. Bean is having an End-of-Season sale, just wanted to share this in case you're looking for some last minute goodies to get you through the winter. I just ordered this coat for my son. With the sale, plus an additional 25% off at checkout, it ended up being half off. Awesome sale!
They have gotten a lot of snow this winter so I thought he would enjoy it when playing outdoors in the snow with his two little ones. I love the color and I think he will like how light-weight it is despite being rated for some pretty cold temps.
This jacket is available here: Jacket. The women's version that's also on sale is available here: Jacket.
Shopping for Spring
It's going to reach 67 degrees here today! 67 degrees! I love these surprise warm days, a wonderful reminder that spring will soon be here. I've been noticing that the spring fashions are starting to appear in my favorite shops online. I know this adorable gingham vest with the ruffled collar will go fast. I've really gotten into vest this year, they add such a great accent to an outfit. I definitely need either this one, or…
…this one in my spring wardrobe! I really want both! Arggg! Such a great transition piece for moving from winter to spring. You'll find it here: Gingham Vest for Spring.
Have a winter beach getaway trip planned? I wish I did! If I did, this shirt would be going with me. Blue and green are one of my favorite combinations, so fresh and classic! This shirt is available here: Beachy.
Also love this embroidered shell, looks so cool for our hot and humid Georgia summers. You'll find it here: Embroidered Summer Shell.
Update: Just purchased one of these online and love it! Works so well for either smoothing out hair or adding curl…and it's fast! Also, much less damaging on the hair than a flat iron or curling iron! It's available here: Perfecter. I'm going to order one for my dil, too…I think she will love it!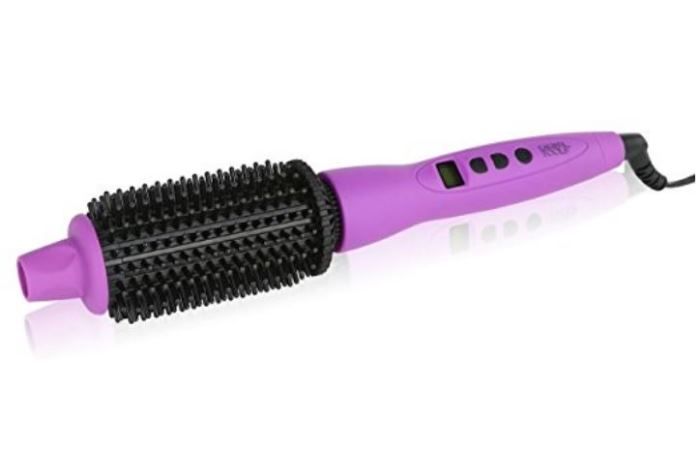 Have fun shopping the spring fashions! See you tomorrow for Metamorphosis Monday!
*If a post is sponsored or a product was provided at no charge, it will be stated in post. Some links may be affiliate links and as an Amazon Associate, I may earn from qualifying purchases. *