I'm currently in the "overwhelmed" stage of holiday decorating–you know, that stage where you have everything out, yet nothing is really finished yet. I know it will get better but at present, it looks like utter chaos in the upstairs family room where I've pulled out all the decorations. The downstairs living room isn't looking any better since the tree is in the process of being decorated.
We're going to forget about all that craziness for right now, though. Instead, I thought I'd share a few little snippets from around the house. I know right now we are living through some very stressful times. I always stay far away from those discussions here on the blog because I want you to find happiness and peace when you stop by, not a rehash of all the stress.
So there's a little bit of Christmas spreading through the house. Each year for the holidays, I try to create little surprises for my son, daughter-in-law, and grandsons to find when they are here for Thanksgiving.
One of my favorite things to decorate with during the holidays is little, preserved, boxwood wreaths. Some years I hang them from the kitchen cabinet doors. Not sure if I'll do that this year.
These preserved wreaths were impossible to find the year I bought mine, I had to look everywhere! Surprisingly, you can still find them this year–they normally sell out well before now. Real preserved boxwood wreaths can be a bit pricey, but for me, they are worth it because they last for many years. I just found a set of six here: Boxwood Wreaths.
Currently, I have two hanging here on the shelves in my office. I usually leave them up all winter to add a little greenery to the room during the long winter months.
Do you think my grandsons will spot the peppermint sticks?
I don't think I've ever shared this before, but many, many years ago, I took a wood carving class from Ron Ransom, a well-known, talented woodcarver in my area. If you ever have any interest in woodcarving, check out Ron's book here: Santa Carving. I carved a couple of pieces during that class, including this sweet angel.
I also carved a Santa during the time I took the class. The one I carved is the one holding the green sack on the far left in the picture below. I purchased the other three back in the day when I was collecting carved Santas. My favorite of my carved Santas has to be the one holding all the kitties…just love him! I need to find a good spot for these guys when I'm decorating today.
The guest room has been given a bit of Charles Dickens humor. I need to do a post sharing all the Christmas pillows I've collected over the years. I have somehow managed to not buy any this year–which is a good thing since I'm fast running out of space to store them!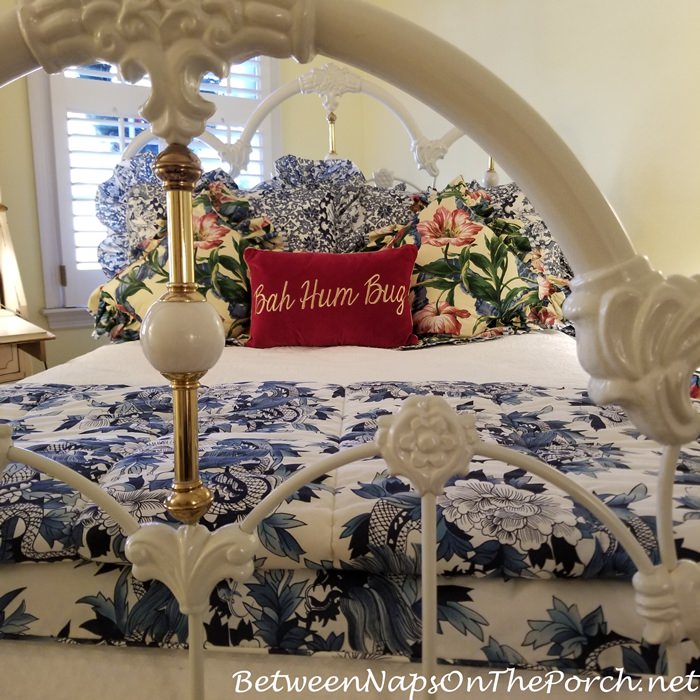 Thanksgiving and Christmas overlap here in my home this time of year since I want the house to be decorated for Christmas when my family is here for Thanksgiving.
The downstairs guest bath is always one of my favorite spots to decorate for Christmas.
Half baths can feel so intimate, so I love tucking little Christmas bits here and there.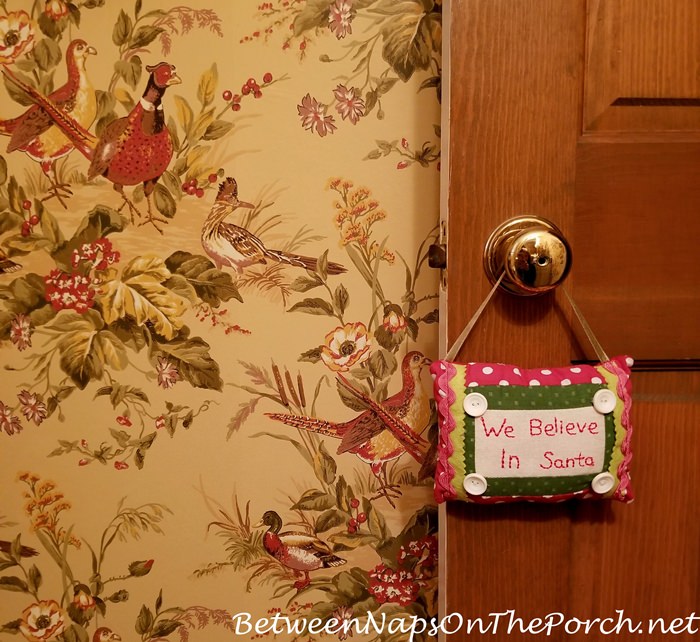 How's your holiday decorating coming? I feel so far behind right now, need to kick it into high gear today!
Update: If you are making a Gumdrop Tree for your children/grandchildren this year, I found the best gumdrops! These are sooo big and taste so much better than the regular ones you normally see online. I found these here: Extra Big Gumdrops.
This is how my gumdrop tree looked last year after Thanksgiving–almost picked clean! lol My grandsons loved it so I have to do it again this year, only this year I'm using these fat, juicy gumdrops above instead!
If you would like to make a Gumdrop Tree this year, you'll find a tree similar to mine here: Gumdrop Tree. Also, found another one here: Gumdrop Tree.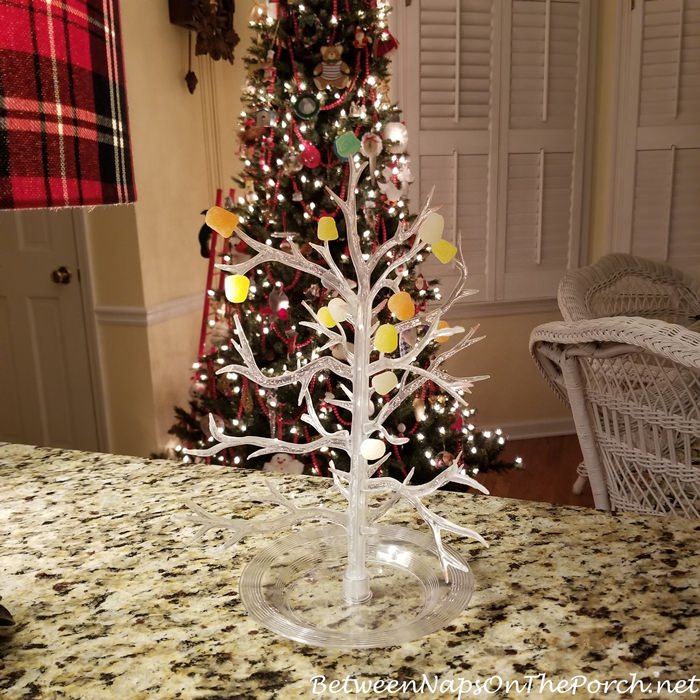 *If a post is sponsored or a product was provided at no charge, it will be stated in post. Some links may be affiliate links and as an Amazon Associate, I may earn from qualifying purchases. *