Welcome to the 201st Tablescape Thursday!
Wow! Has it been crazy weather where you live? We've been having stormy day after stormy day. Monsoon weather and lots of lightning! I awoke yesterday to find several very large branches in the turnaround portion of my driveway. They were so large I could hardly move them. So glad they missed the house! My decks are covered with leaves and debris, leaves are even stuck to the siding on the back of the house. That's summertime in the south…never boring!
I videotaped part of one storm with the idea of sharing it with you. Porches can be wonderful places to hang out on a nice rainy day. Not this time, though. It got so scary and intense I had to head for the basement. I sort of wish I had stayed on the porch now, it would have made for an exciting video! Maybe next time I'll stick it out. HA!
With all this bad weather the last few days, I didn't get a chance to finish a table I had planned out on the porch. So this week I'm sharing three previous spring/summer table settings: A Bee Themed, A Beach Themed and A Garden Themed. Hope you enjoy!
Bzzzzzz
The centerpiece for this Bee themed table setting was created with daffodils from my garden and dried lavender I had hanging from an antique hat rack in the guest room. Bee Skep Soup Tureens from Old Time Pottery made for a whimsical tablescape. I only had four but I managed to locate two more online back when this table setting was created. Come a bit closer to see where all the bees have landed.
In addition to buzzing around the skeps (tureens), they adorn our La Roche tea glasses.
They found their way to the flatware, too, so be careful when you pick up your fork! 😉 You'll find more pictures of this table setting and details about the dishware/flatware/glassware here: A Springtime Tablescape
Beach Time!
Recently, HomeGoods featured this table setting in an article titled, Getting Some Summer Color. I put this table together right after Independence Day last summer. I can tell because the porch was still all decorated for the 4th.
Minus the chargers, this was truly a budget friendly table setting. The glasses were dollar stores finds, the "crab" plates were from HomeGoods and were only around $4 each. Dinner plates were part of a large set that sold at Big Lots for just $29.99 and actually went on sale for $19.99 later. The beautiful lantern was a frugal find from Old Time Pottery.
Shell necklace "napkin rings" from Michaels completed this fun, budget-wise setting. For more pictures and details about this beach inspired table setting, click here: Coastal Summer Table Setting
Garden Party
I had so much fun with this Garden Table Setting! Large terra cotta, flower pot "saucers" made great "chargers" for this garden party themed setting.
The flowers pots with their slimy green worms 😉 are really Oreo Dirt Cheesecake with gummy worms slithering their way out. Ground up Oreos makes some pretty realistic dirt! Even the straw in the center that held the flower was edible. Yum! (You'll find this table setting linked under "Good Eats/Recipes" at the top of the blog, along with several other recipes I've featured over the years.)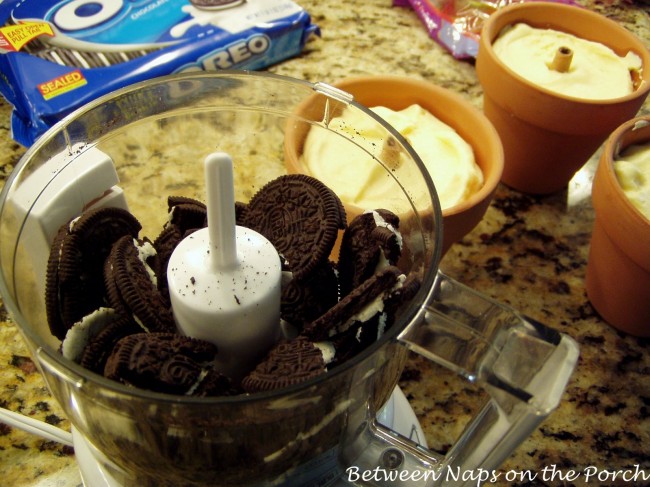 This tablescape was also the first time I accidentally captured the Blue Hour! It's had me in its spell ever since. For more pictures of this setting, (and the recipe to make your own Oreo Dirt Cheesecake) click here: A Garden Party You'll find additional posts about the Blue Hour here: Blue Hour Photography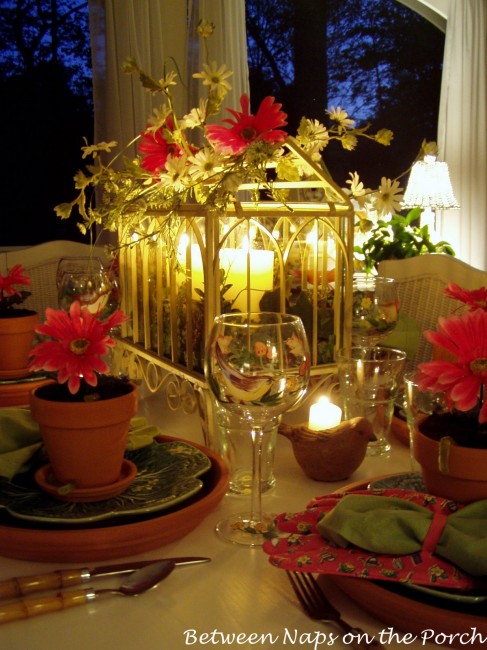 Receive BNOTP updates right in your Inbox:
To receive the latest posts, as well as updates about upcoming blog parties, subscribe To BNOTP posts via an RSS Reader. Or, have BNOTP delivered right to your Inbox. You'll find links to subscribe via RSS and e-mail at the top of the sidebar on the BNOTP home page or click HERE.
Reading this post via e-mail or RSS feed?
*If you are reading this via email or RSS feed, to view all the tablescapes linked for Tablescape Thursday, click HERE.


Please Read:
If you are participating in Tablescape Thursday, please be sure to add your permalink below, and not your general blog address. To get your permalink, click on your post name, then just copy and paste the address that shows up in the address bar, into the "url" box when you link up.
You'll need to include a link in your post back to the party in order to link up and participate. That's so visitors to your blog will be able to find the party and the other Tablescape Thursday participants.
If you would like to use the Tablescape Thursday logo button in your post, just copy and paste it to your computer and upload it to your post as you would any photo.
Please, don't add your post name/blog name ALL IN CAPS…it tends to create big spaces between the rows of links. Thanks!


*If a post is sponsored or a product was provided at no charge, it will be stated in post. Some links may be affiliate links and as an Amazon Associate, I may earn from qualifying purchases. *