Welcome to the 437th Tablescape Thursday!
I'm so sorry Tablescape Thursday is late going up. I thought today was Wednesday, I kid you not! I think my mix up started with having a doctor's appointment yesterday (just a check up, nothing serious) and for some reason I had it in my head all last week that the appointment was on Tuesday of this week. So this morning when I awoke, I was thinking it was Wednesday.
Oh well, I guess I shouldn't be too hard on myself since I think this is the first time in 437 weeks of table settings that I've gotten my days of the week mixed up. I even posted a tablescape once when I was super sick and in the hospital, so you know something's wrong if I miss posting on a Thursday morning. So glad Liz emailed me to check to see if everything was alright. I'm not sure when I would have realized my error!
Yesterday after my doctor's appointment, I stopped by Pottery Barn to see what they had in for spring. So much cute stuff!
These bunny dishes are killin' me! Love!
You'll find this adorable collection here: Bunny Dishware for Spring. The bunny holder that the plates are sitting on is available here: Bunny Server or Plate Holder.
Blue and white is big this year! It has always been big with me, I can never get enough of this beautiful combination!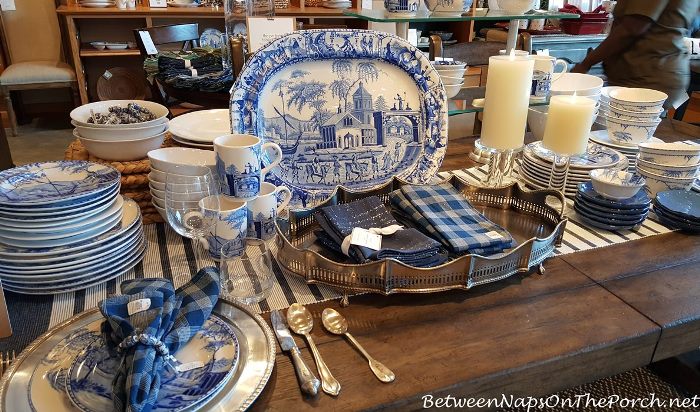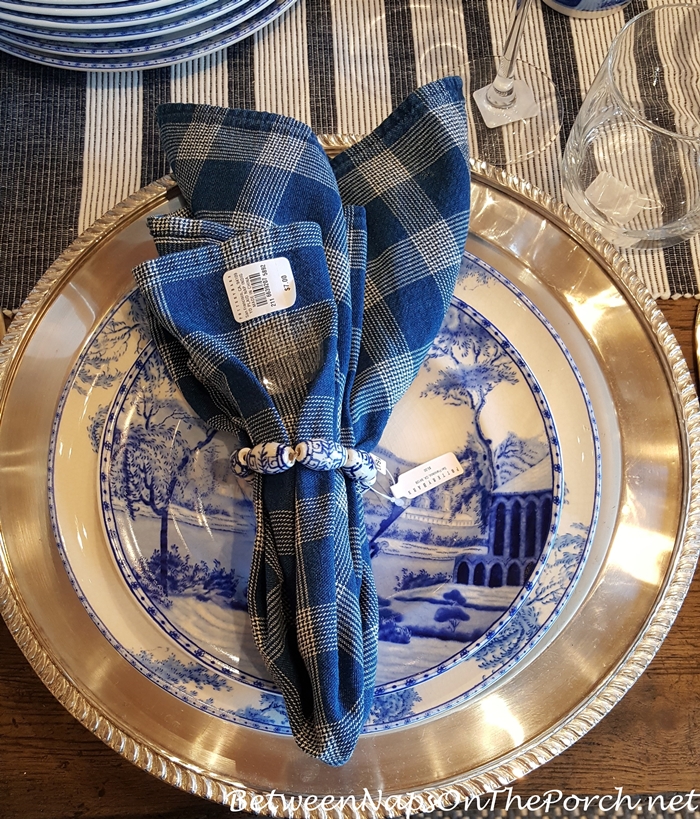 They have a couple of blue and white patterns to choose from this year.
Love the bunny napkin rings! I passed on those last year, I think I'm going to have to get some. You'll find the bunny napkin rings here: Bunny Napkin Rings
I love the contrast of the blue and white with the natural color of the chargers. You'll find this beautiful collection here: Blue and White Dishware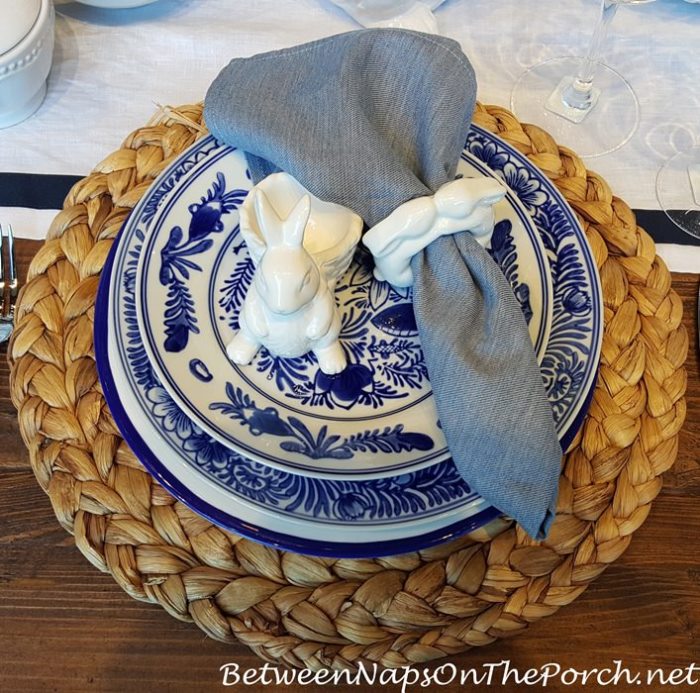 Whenever I use my bunny with a basket in table settings, I get a lot of questions about him. (Table setting can be viewed here: Raiding the Garden)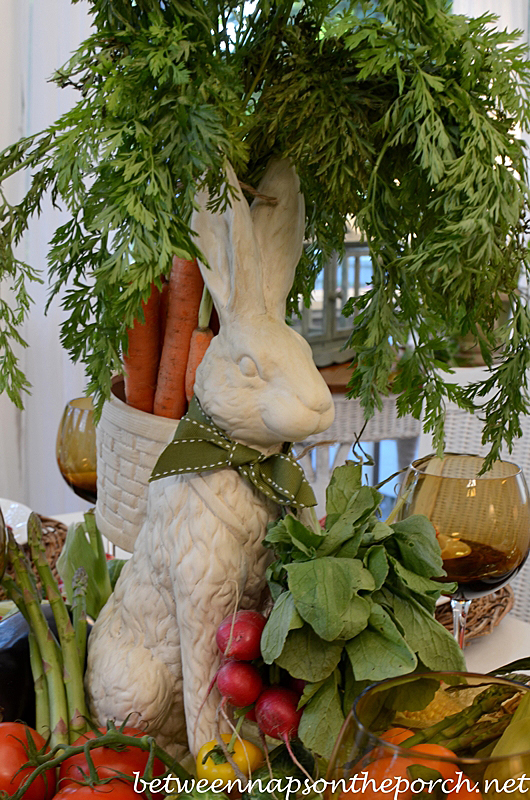 I found him many years ago in a local gift shop. He's no longer available, unfortunately. (Table Setting can be viewed here: A Christmas Table Setting Inspired by Nature)
Here's a cute, cute replacement if you've been searching for a bunny with basket. You'll find him available here: Bunny with Basket
Did I buy anything during my visit? I did! I could not resist this precious bowl with three bunnies climbing up the side.
Sooo adorable! Doesn't it look like a dad, mom and baby bunny? I think that's Dad on the right and Mom on the left. 🙂
This bunny bowl could be used as a vase/planter or fill it with fruit. I plan to use mine all spring and summer to hold fruit on my kitchen counter. I normally use a plain, white bowl for that but this is 10 x cuter and bigger, which I've been needing. I absolutely love it and can't wait to share it in a table setting real soon. You'll find it available here: Bunnies in Bowl.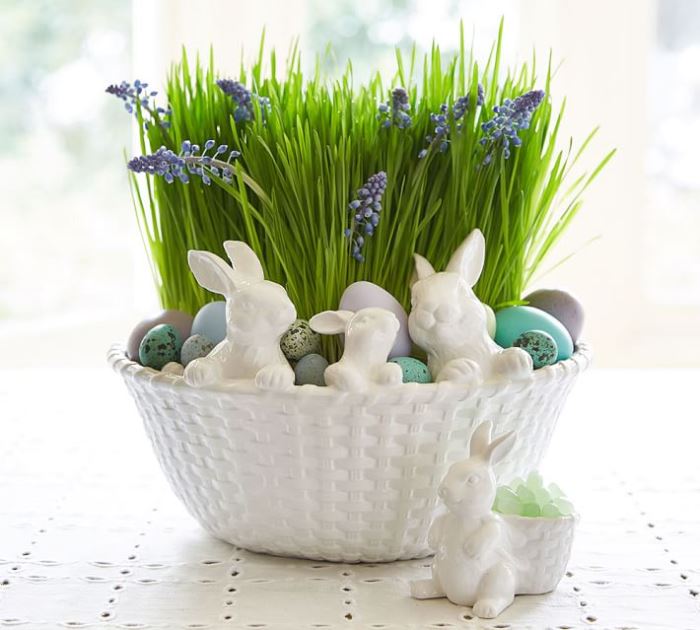 Update: Had to share this photo of the inside of the bowl. When I saw it from this view, I was ruined…had to get it! Cutest thing ever! 🙂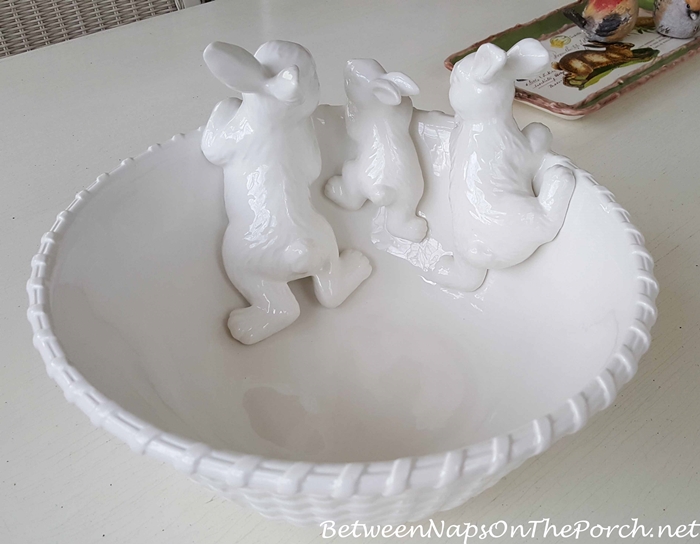 Finally, I love these guys! This sassy bunny would be perfect holding Easter egg candies or even a dip or snack for a spring party or celebration. You'll find this bunny here: Bunny Server.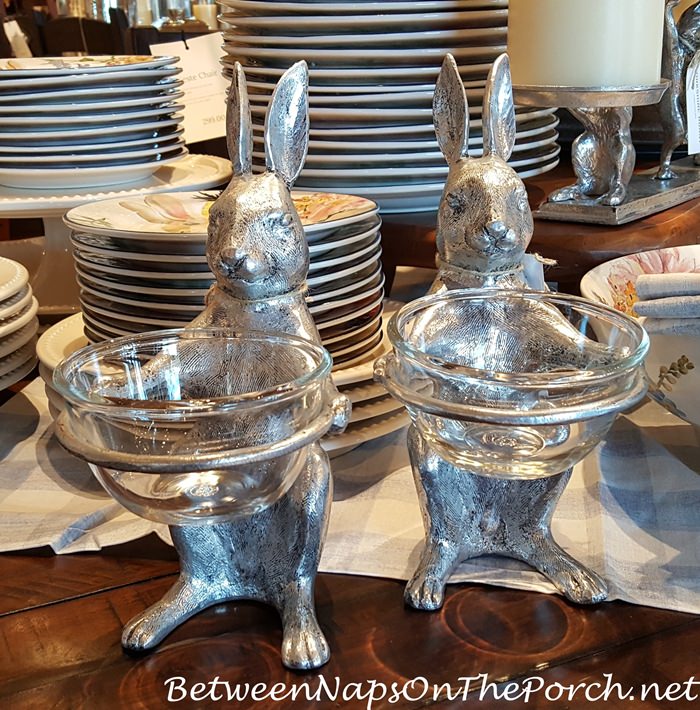 Looking forward to all the beautiful tables posted for this week's Tablescape Thursday!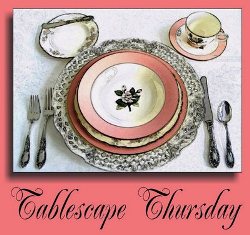 If you are participating in Tablescape Thursday, please be sure to add your permalink below, and not your general blog address.To get your permalink, click on your post name, then copy and paste the address showing in the address bar, into the "url" box when you link up. You'll need to include a link in your post back to the party to link up and participate.
That's so visitors to your blog will be able to find the party and the other Tablescape Thursday participants. Requiring a link back also prevents businesses and scammers from linking up to sell their products. (Yes, that really happens, unfortunately.)

*If a post is sponsored or a product was provided at no charge, it will be stated in post. Some links may be affiliate links and as an Amazon Associate, I may earn from qualifying purchases. *