Welcome to the 387th Tablescape Thursday!
It's that time of year when I feel I'm in season limbo. It's still very much winter outside but my heart and mind are already deep into spring. I can't change the weather outside, but we can go spring inside. 🙂
Can never remember the name of the plant I'm using in the center of the table, but it's a common plant that's great for offices and places where lighting may not always be ideal. I have several of them from where I've rooted pieces that have grown really long. They are super easy to root, just pinch off a piece and stick it in a glass of water. In a couple of weeks, it will have lots of nice long roots, all ready to be planted.
This one is starting to look a bit gangly since it's been trapped inside all winter and I've been a little late in watering it a few times. It's very forgiving, and will fill out nicely once I can return it to the porch in a couple of months.
I had this idea of taking the long tendrils/offshoots, the ones I'd normally pinch off and root, and draping them in between each of the place settings. I had three tendrils/runners that were more than long enough for that, and one that was just about long enough. lol Anyway, I think you probably get the idea. This would be really pretty with a more mature plant that had a lot of long runners, a little like eating in a greenhouse or jungle. 🙂
One of my favorite color combinations is blue and green. It feels so vibrant and so spring-like!
Green and white polkadot/striped flatware was a find on eBay back in 2014. The set didn't come with a salad fork so I borrowed a salad fork from another one of my other green flatware sets. It's fun to mix/match flatware in table settings; it adds a new element of interest to the setting.
I've had these napkins for a few years, but I think this is the very first time I've ever used them in a setting. Have no idea where I found them, now. I should have taken a photo of the napkin open, it has the prettiest scene that makes you think of Blue Willow dishware, so I chose Blue Willow for this blue/green setting.
The beaded butterfly napkin ring is from Pier 1 several years ago.
They may still have these since they carried them for a very long time. Or, maybe they have a new style in now for this spring.
The small plates are a sweet gift several years ago from my friend, Sue, at the blog Rue Mouffetard. They are by Noritake and the pattern is Roseara. I think they are actually bread plates but we'll pretend they are appetizer plates in today's setting since I needed a bit of green for this "blue and green" tablescape. 😉
Did anyone else collect this Churchill Blue Willow dishware when Publix offered it in their stores many years ago? The way it worked was, each time you purchased a certain amount of groceries, you could purchase a dinner plate with a cup and saucer for $2.50. The salad plates and serving pieces had to be purchased separately but they were also super inexpensive.
I wish they would offer this again with another classic pattern, maybe a toile pattern in red or green. I remember making a lot of grocery runs and stocking up because I was worried they would end the promotion before I could collect 12 place settings.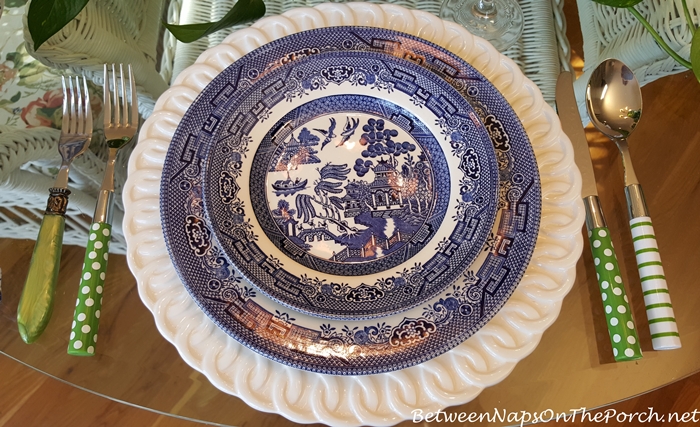 I believe the green stemware came from HomeGoods. I've used it in a table setting once before for Tablescape Thursday, I think for a Christmas tablescape.
Happy Tablescape Thursday, dear friends!
Pssst: If you're looking for additional Spring/Summer tablescape ideas, you'll find many more here: Spring/Summer Tablescapes
Sources:
Chargers: Horchow, 2008
China: Churchill Blue Willow, Publix many years ago,
Appetizer Plates: Noritake Roseara, a gift
Green & White Flatware: eBay, 2014
Green Etched Stemware: HomeGoods
Lace Napkins: Don't remember, probably HomeGoods
Blue and White Napkins: I think Tuesday Morning but may have come from HomeGoods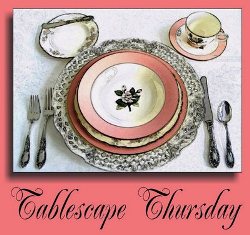 If you are participating in Tablescape Thursday, please be sure to add your permalink below, and not your general blog address.
To get your permalink, click on your post name, then copy and paste the address showing in the address bar, into the "url" box when you link up. You'll need to include a link in your post back to the party to link up and participate.
That's so visitors to your blog will be able to find the party and the other Tablescape Thursday participants. Requiring a link back also prevents businesses and scammers from linking up to sell their products. (Yep, that really happens, unfortunately.)
Please, don't add your post name/blog name ALL IN CAPS…it tends to create big spaces between the rows of links.
Please do not link up table settings that were just recently shared in the last few weeks for Tablescape Thursday.
*If a post is sponsored or a product was provided at no charge, it will be stated in post. Some links may be affiliate links and as an Amazon Associate, I may earn from qualifying purchases. *