Welcome to the 234th Tablescape Thursday!
Wow, the days seem to just fly by, hard to believe it's Thursday already. But Thursday it is and I have a fun table setting inspired by the upcoming St. Patrick's Day holiday.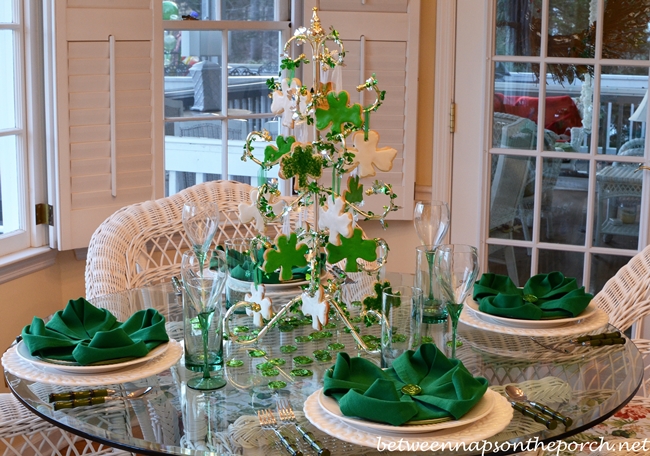 I know it's a bit early but I thought I'd share it with you now to get those ideas flowing for your St. Paddy's Day celebrations.
This table setting includes a 4-leaf clover napkin fold that's not for the faint-of-heart. Okay, I'm sort of joking, but just sort of. This was by far the most challenging napkin fold I've attempted for a Tablescape Thursday.
You know how with most napkin folds, the first one can be a bit tricky and then it gets easier as you get the hang of it? Well, not with this one! HA! The whole time I was folding, I was imagining the tutorial I would create to share how it's done. It's easy to create, right up until the last part.
I think part of what made it such a pain to fold was because my napkins were not very square. Also, when I pressed the napkins as I was making the fold, I think I may have put some creases in places that ended up making it harder to fold. In any case, I'll figure out the best way to make it and I'll share the fold for a future tutorial very soon, maybe for Met Monday. I will not be defeated by the likes of a mere napkin! Hear that napkin?! Update: You'll find the directions for this napkin fold here: 4-Leaf Clover Napkin Fold It turned out to be not nearly so difficult once I broke it down for the tutorial. 🙂
I placed a bit of Leprechaun loot in the center for a finishing touch. You could use almost anything there and it would be cute. A piece of chocolate would be perfect. I saw some type of round candy or chocolate wrapped in green for the holiday in Marshalls just last week. Wishing I had bought some for the center. Oh, well, just keep that idea in mind if you make this fold.
You may remember these plates from previous St. Patrick's Day table settings. I'll link to those previous tablescapes at the end of this post in case you would like to check 'em out.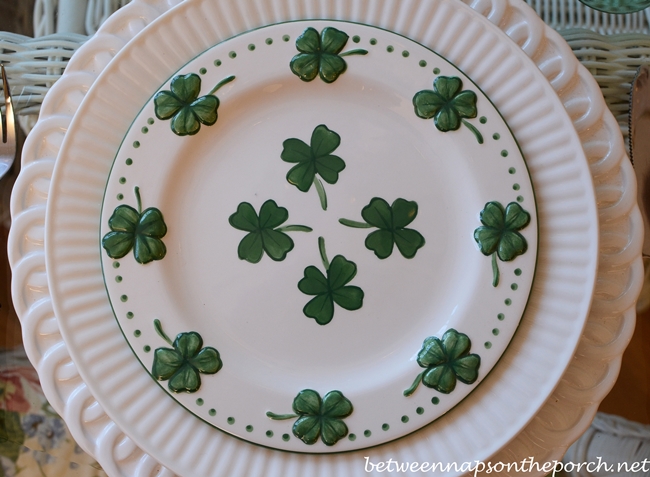 The centerpiece for this table setting is a Shamrock Cookie Tree.
The silver tree is one I use each Christmas to display a collection of Swarovski snowflake and star ornaments. You may remember seeing it in this past winter table setting here: Stopping By Woods on a Snowy Evening
I've been itching to create a cookie tree centerpiece for some time now, so I had a lot of fun putting this one together. Remove the wine glasses and this would be a fun table setting for both children and the grown-ups.
For hanging ribbon, I took apart a hair scrunchy I've use as a napkin ring in a previous St. Patrick's Day table settings. The individual ribbons were the perfect length to use for tying the cookies onto the tree. Each piece of sheer ribbon has a little shamrock on the end.
I'll post the recipe for making the cookies soon. They are super easy to make. I made a double batch of cookies in case I had a few casualties and sure enough, a couple of cookies broke when I was poking the hanging ribbon through the hole with an ice pick. I did make the hole in the cookie prior to baking but icing found its way into the hole during the icing process. I guess I'll just have to tough it out and eat the broken ones. What a terrible shame! 😉
My cookies aren't as pretty as fancy bakery cookies, but you know what? I think they taste better.
It may have something to do with all the butter in the recipe. Yum!
Before decorating the tree with cookies, I wound shamrock garland around the arms of the tree.
The garland was left over from a previous year and was purchased at the dollar store.
Do you have any plans for St. Patrick's Day this year? It's a huge celebration time for the folks in Savannah, Georgia. There's a big parade and I've been told they dye the river green. I've never been but it's supposed to be quite the party!
Pssst: I've posted the recipes for the Shamrock Sugar Cookies and for the icing here: Shamrock Sugar Cookies and Icing Recipes
You'll find the directions for creating the 4-Leaf Clover Napkin Fold here: 4-Leaf Clover Napkin Fold
St. Patrick's Day Tablescapes:
Looking for more inspiration for your St. Patrick's Day table? You'll find additional St. Patrick's Day tablescapes here: St. Patrick's Day Tablescapes.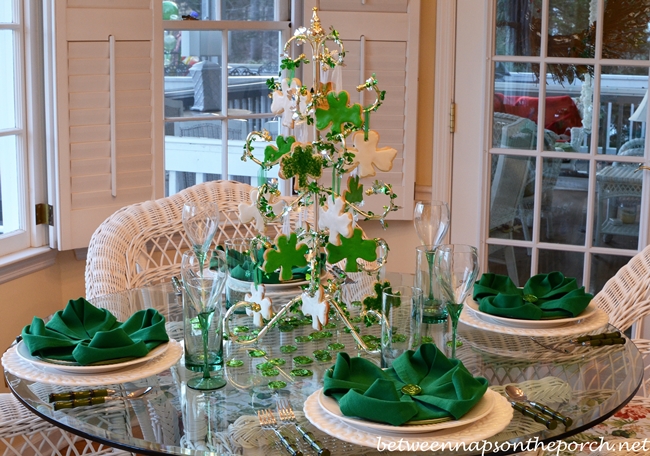 Looking forward to all the tablescapes for this Tablescape Thursday!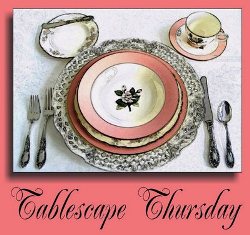 Please Read:
If you are participating in Tablescape Thursday, please be sure to add your permalink below, and not your general blog address. To get your permalink, click on your post name, then copy and paste the address that shows in the address bar, into the "url" box when you link up.
You'll need to include a link in your post back to the party in order to link up and participate. That's so visitors to your blog will be able to find the party and the other Tablescape Thursday participants.
If you would like to use the Tablescape Thursday logo button in your post, just copy and paste it to your computer and upload it to your post as you would any photo.
Please, don't add your post name/blog name ALL IN CAPS…it tends to create big spaces between the rows of links. Thanks for participating…looking forward to your beautiful table settings!


*If a post is sponsored or a product was provided at no charge, it will be stated in post. Some links may be affiliate links and as an Amazon Associate, I may earn from qualifying purchases. *