Imagine for a moment you're a Blogger. You have an idea for a project. You're going to make a wood flag for an upcoming patriotic holiday. You can't wait to create the flag and share it with your readers.
You drive to Home Depot and purchase the wood, nails, and glue you need to make your flag. You drive to Office Depot and purchase the star stickers you'll use as a guide for the stars.
You stop by Michael's and buy the paint you'll need to make your flag.
You come home, eager to get going. Before you get started you spend some time online doing research to make sure you build it correctly. (Image from Wikipedia)

Then you get to work building and painting your flag. You take lots of photos of the flag-building process along the way so you can share the steps with your readers.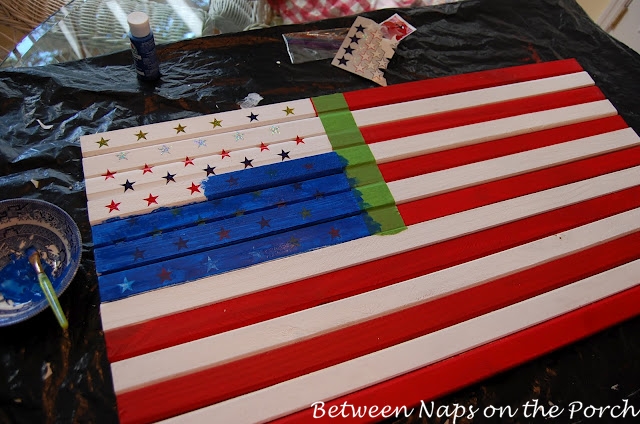 By the end of the day, your flag is finished. (Tutorial post can be found here: Make a Pottery Barn Inspired Wood Flag

That evening after dinner, you spend a few hours going through all the photos you took, looking for the best ones for the post you'll be writing. It's late and you're tired, so you turn in with plans to write your post the next day.
Morning arrives and you spend several hours going through your photos, editing and cropping them as needed. Then you resize your photos so they are the optimum size to load to your blog. You spend some more time putting them in the correct order to make sure the tutorial will make sense to those who will read it.
At last you're ready to write your post. You upload all your photos and spend the next several hours creating a detailed tutorial post explaining every step involved in building the flag. Once the post is finished, you spend another half hour proofreading it, correcting grammar, spelling, typos, adding in more details and making your tutorial as clear as possible.
At last it's ready! After two days of hard work, your post is ready and you can't wait to share it with your readers. You look the post over one last time, hoping you haven't left anything out. Satisfied it's ready, you hit the "publish" button and it goes out live to the World Wide Web.
Only this day, it turns out to be more like the Wild Wild West.
No, scratch that. It's really more like the Land of Oz. Within minutes of hitting publish, an evil website swoops down like a winged monkey escaped from Oz.
It ravages your post, scraping all your beautiful pictures and your carefully written content. In the blink of a newt's eye, it loads all of your content into a post that's immediately published on this most wicked of sites. We're pretty sure we know who runs the evil site because she was caught on one of those web cams celebrating her latest stolen content victory
With a patriotic holiday just a few days away, 500 people sit down at their computers that evening and Google, "how to make a flag." Google routes them straight to the wicked site since it ranks much higher than your blog. It ranks higher because it's filled with lots of great content, thousands of wonderful posts stolen from hardworking bloggers who have no idea they're being robbed every time they click, "publish."
You would hardly recognize your post if you saw it. It's now filled with tons and tons of spammy text links, links that once clicked make the evil site lots of money, money earned from the sweat of your brow. The folks who Google for flag tutorials will never find your tutorial because you don't have the Google rank of the evil site that's been stealing hundreds of your posts (and others) for months, maybe years.
Nice, huh? And it's happening every. single. day. I know because I was a victim of massive content plagiarism very recently. Well, actually it's been going on a long, long while and I just hadn't realized it.
How did I find out? One day I checked my analytics and in the process, I clicked on the referrals section to see where some of the BNOTP visits originated that day. One link caught my eye so I clicked on it. What I found did not make me happy.
A wicked site had stolen/scraped pretty much every single post I had ever written for the first 2-3 years I've been blogging. The abuse appeared to stop when I began watermarking my photos. Take note of that, watermarking apparently does matter.
I counted 75 of my posts published on their site in just one month of their archives. Seventy-five in just one month! And they weren't just stealing from me; they were posting hundreds of posts each month and none of it was original content. That is a lot of stealing.
Software Makes It Easy for Content Scrapers to Steal
It's pretty easy for the bad guys to steal your hard work. They could manually scrape it from your blog but often they just use software that's been created to do it automatically. That's why within minutes of clicking "publish," your content can show up on their blog, scraped straight from your RSS feed. Nauseating, isn't it?
I didn't even try to count how many of my posts they had stolen in total. After finding 75 posts in just one month of their archives, I stopped counting, but I could see tons and tons of my posts in every month of their archives.
I think the visitor who clicked over to BNOTP from the evil site found BNOTP via another link I had put in the post linking back to a previous post. Apparently, they clicked on the link and it brought them to BNOTP. Wonder what they thought when they found themselves on an entirely different site?
The REALLY Disturbing Part
As bad as all that sounds, here's the really disturbing part. Whatever the reader had originally searched for, ended up leading them to one of my posts on the bad site and NOT to that same post on BNOTP. They only found BNOTP by accident. So the evil site was getting all the visits (Google juice) for that particular content. Gotta wonder how many times that's happened over the years.
So what do you do to stop the winged monkeys and the Wicked Witch of the West? How do you stop Content Scrapers from stealing your blog posts?
If you Google you'll find LOTS of information on ways to try to prevent this from happening to your blog. A few basic things you can start doing right now are:
1. If you aren't already, watermark ALL your pics, starting today. It appeared the evil site stopped stealing my content when I started watermarking my pics. There were a few watermarked pics on there from another site. I'm guessing their "automated" system scraped those not realizing the site had started watermarking.
The program I use for watermarking is Visual Watermark. You pay $20 one time and it's yours. You can watermark a gazillion pictures in seconds because it can batch watermark. You can even upload a custom watermark. Any watermark you create or use can be saved so it's there and ready to go each time you need to watermark pics. I've been really happy with it and I don't get paid for saying that. Just sharing the program I use and love.
2. If you blog on WordPress, there are several plugins you can use that will allow you to add a message to the bottom of your feed. Your email subscribers will also see it. The plugin I'm currently using on my WordPress blog is Tentblogger's RSS Add Footer. You can make your message say anything you like. If you read BNOTP via RSS feed or via email, you may have seen the message I recently added to the end of my feed. It says:
"This post is from the blog, Between Naps on the Porch. If you are not currently reading this via e-mail or an RSS feed from BNOTP, then sadly this post has been stolen or scraped from the Between Naps on the Porch blog. Stolen content can be reported HERE ."
At least if your content is being scraped via the feed, that message will appear at the end of every single stolen post. That ought to put a little damper on their content stealing party.
3. Include a few back-links to other content you've written in your posts. That's a good way to let someone who finds your post on a bad site know something isn't adding up. That's what ultimately helped me find this awful, evil, horrible, mean, ugly, nasty, vile, despicable, site. I'm not bitter or anything, though.
Update: A lot of the scraper sites are using a program to steal posts that removes or voids any links it finds in the post. So sometimes having back links in a post won't help you. Hopefully a savvy reader will recognize that those useless back links indicate they reading a bad, scraper site.
4. You can use absolute links instead of relative links. Huh? That's what I said, but John at Tentblogger explains it in THIS post. It's definitely adds more work to creating a link, but perhaps the scraper will be less interested in stealing your content if they see some of these in a post.
5. You can opt to truncate your blog posts, which means you'll just be showing an excerpt of your post in your RSS Feed. The feed will alert your readers that you have a new post up and they will be able to click on the title of the post to visit your site for the full post. Since scraping from feeds is a common way the bad guys steal posts, this may be the best way to thwart future problems with stolen content. The bad guys can't steal from a truncated feed. Update: I now truncate my feed, the bad guys left me no choice.
Have you noticed it's usually the house on the street that doesn't have the security system that gets broken in? Nothing is fool proof, but I'm guessing the content thieves would rather steal from the easy pickings than bother with a blog that has a "security system."
Have You Been a Victim of Winged Monkeys Plagiarism?
There are a number of ways to find out if you're content is being pilfered. Here are a few some folks have used:
Copyscape
CopyGator
Dupli Checker
Google Alerts
Update: You can do a search under Google Blogs for your blog name. I found more of my content stolen and posts on other blogs via a Google Blog search.
What To Do If Your Content Has Been Scrapped or Stolen
1. You can start by attempting to contact the thief and ask them to remove it. Most bad sites do not have a "contact" method listed because they aren't interested in building relationships or rapport with their readers. No, they are in the business of stealing your content to make money. If you do see a contact method, I doubt seriously you'll get any response.
2. You can report them to their web hosting company. Most hosting companies have a Digital Millennium Copyright Act (DMCA) form available or some form of contact. If you can show them proof it's your content, which is normally pretty easy to do, they will remove the site.
Lucky for me, the evil site that had stolen hundreds of my posts was a Blogger blog. I filled out the DMCA form HERE with Google (who owns Blogger) and within just 3-4 days, the site was G.O.N.E! Yay, Google!
Here's a short video from Matt Cutts, head of Google's Webspam team. I thought it was a good listen.
Finally, I found this article from WPBeginner to be very helpful….definitely worth a read. (Hover over image to Pin.)
Update: Stolen Content
Want to see how stolen content looks? I found yet another site stealing hundreds of my posts. This time I took some screen shots to share with you, so you can see how the bad guys "use" our work to make money and how they hide their illegal activity by striping out links we have included to our previous content. You'll find that post here: Stolen Content: This is How It Looks
Please feel free to pin this post to refer back to later if helpful. You're always welcome to pin pics from BNOTP.
You'll find additional Blogging Tips here: Blogging Tips and Tutorials
Stay safe this weekend and watch out for the Winged Monkeys!
*If a post is sponsored or a product was provided at no charge, it will be stated in post. Some links may be affiliate links and as an Amazon Associate, I may earn from qualifying purchases. *