Welcome to the 461st Tablescape Thursday!
If you've been reading BNOTP the last few weeks, you know I had some big plans for one wall in my garage. I purchased four of the cabinet below on the left and two of the cabinet on the right in hopes of creating some awesome storage for organizing a lot of my entertaining/tablescaping wares. I thought it would be great to have everything together in one place instead of having it all scattered about in different pantries and closets.
Unfortunately, out of six cabinets ordered, only two arrived undamaged. The other four had to be returned. I assembled the two that I kept and filled them to the brim.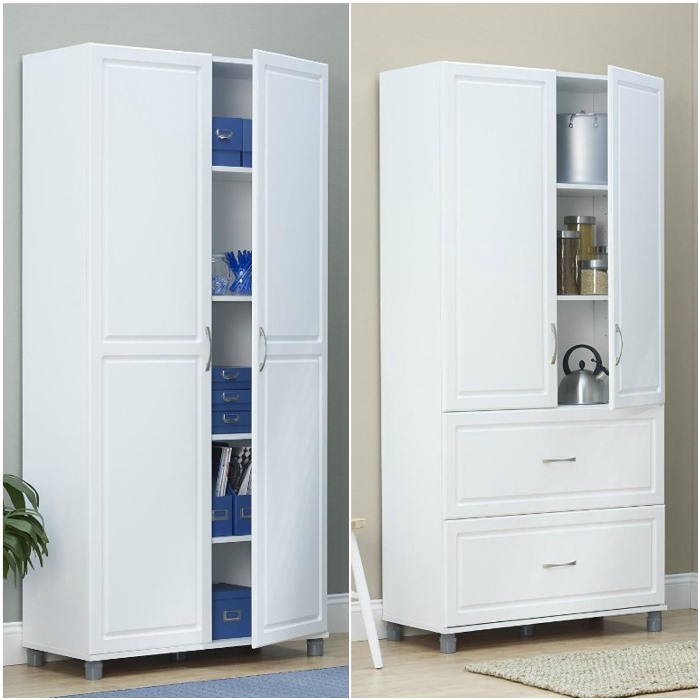 In anticipation of having six cabinets to use for storing a lot of my holiday dishware and some of my more unique patterns, I had brought those sets down to the garage. Since so many of the cabinets arrived damaged and had to be returned, I ended up boxing those dishes up for now. That's what is in the boxes you see below–Halloween, St. Patrick's Day dishes, Easter and my Alice in Wonderland dishware.
I also boxed up the cups and saucers that I rarely use. If I have friends for dinner, I still have plenty of cups/saucers available to use inside for serving coffee, etc… I've labeled all the boxes so I can easily find what I need when I do need those items.
Okay, let's get to the fun part…how I'm using these two cabinets.
Cabinet on the left:
You may remember I had flatware stored in one cabinet and was awaiting another shelf that I had ordered from the company that makes these cabinets. It was really bugging me that I could only place one row of bins on the bottom shelf. The holes in the side of the cabinet for the shelf supports just weren't where I needed them to be to fully utilized the cabinet as I wished.
Here's how it looks with the additional shelf. I also ended up drilling 8 new holes in order to rearrange the shelves where I could get two rows of bins on each shelf. Unfortunately, I couldn't space the shelves out exactly as I would have liked because of the location of the middle hinges, but at least I was able to space them out enough to use the cabinet the way I had hoped. I found the bins in Home Depot for .98 cents each.
The top three rows of bins contain all my napkin rings, some of which I've made over the years. Each bin contains 2-3 sets of napkin rings. I've been storing them in zip lock baggies, all crammed into two small drawers in my dining room china cabinet. I was always worried about them getting damaged because zip lock bags didn't offer a lot of protection. This is much better! There's a little room inside some of the bins for future napkin ring purchases.
All the other bins are filled with the flatware you've so often seen me use in table settings. It had previously been stored in bins in the top of a kitchen pantry where they were very hard to see and reach.
So that's what's in the top part of this cabinet. Let's take a peek in the drawers now.
In the top drawer I'm storing all my white/neutral/pastel colored napkins. Several BNOTP readers suggested in the comments on a previous post that I store my napkins on their side. I love that idea! These drawers are quite deep so I do end up with some wasted space, but that's okay. I like how well I can see the various patterns with the napkins turned on their side. Most of my napkin have been purchased on sale over the years in HomeGoods, Marshalls, Tuesday Morning and Pier 1
In the bottom drawer of this cabinet, you'll find mostly red and burgundy napkins.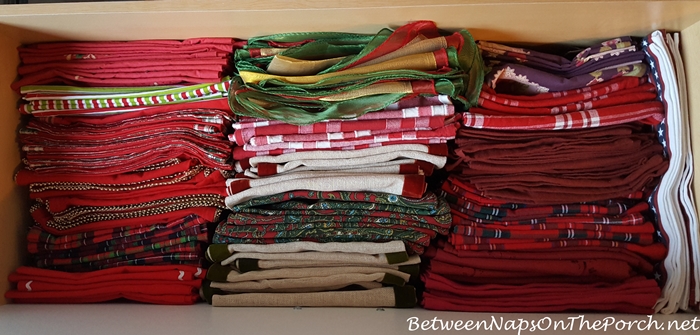 Cabinet on the Right
Remember the post where I shared my entire charger plate collection? If you missed that post, you'll find it here: Charger Plate Collection.
They are all stored in the other cabinet. I added another shelf to this cabinet, as well. I didn't have to drill any extra holes in this cabinet since the spacing worked out fine.
The grapevine chargers were slightly too big to fit inside. They just barely kept the doors from closing completely. So I placed them on the top of the cabinet since they are so lightweight.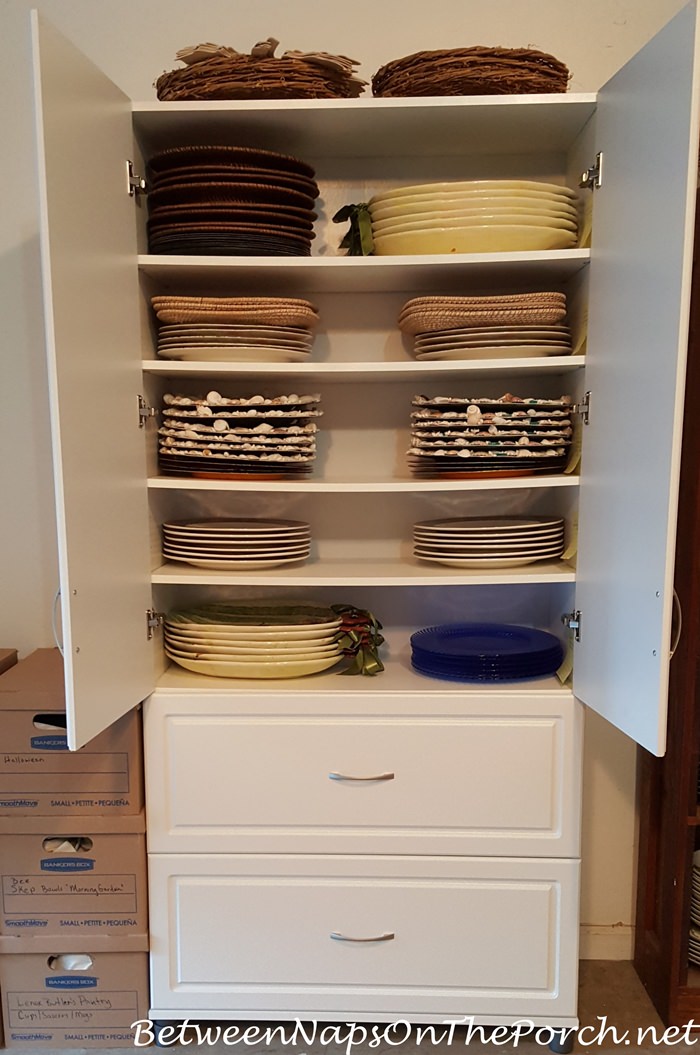 The only chargers that aren't stored in this cabinet are these open filigree/pierced chargers…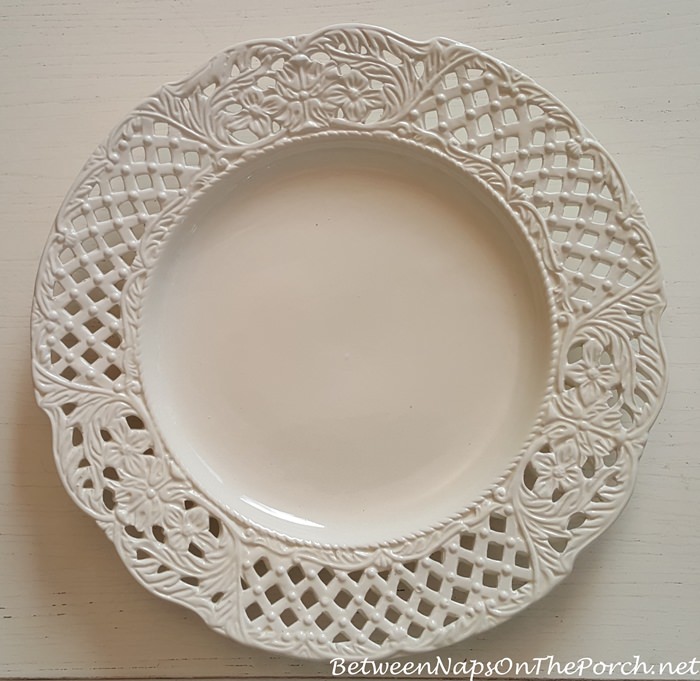 …and these white, lattice chargers.
They have always been stored in the large drawer in my dining room sideboard. That has worked so well, I decided to just leave those there.
I have all the chargers arranged in the cabinet so that no one shelf has more weight than it's supposed to support, which is 35 lbs. You'll see little sticky notes on the right side of each shelf. I jotted down the chargers stored on each shelf and their weight, just in case I ever remove several sets of chargers at one time. I want to make sure they are always placed back in the correct spot so I don't add too much weight to a shelf. Eventually I'll probably know where they all go by heart.
I often get questions about how I store/stack the shell chargers I made a while back. Shells are really hard and they are hot-glued into place, so they stack great as you can see in this picture below. So I stack and store them as I would any other chargers. (Read more about making shell chargers here: DIY Shell Chargers.)
So, here's what I have stored inside this cabinet, starting at the top and going down, you'll see the grapevine chargers on the top of the cabinet.
Inside the cabinet:
Top Shelf: Rattan chargers & giraffe chargers on the left, corn "platter" chargers on the right.
2nd Shelf: Square woven chargers and floral Kim Parker chargers on both the left and right.
3rd Shelf: Shell chargers and gold, glass chargers on the left, shell chargers with sea glass and gold, glass chargers on the right.
4th Shelf: Plaid Chargers on the right and left (those 12 chargers weigh 29 lbs!)
5th Shelf: Watermelon platter chargers on the left and blue glass chargers on the right
If you would like to see close up pictures of any of these chargers, check out this previous post: Charger Plates.
In the top drawer of this cabinet you'll find rust, orange, green, yellow, purple and blue napkins.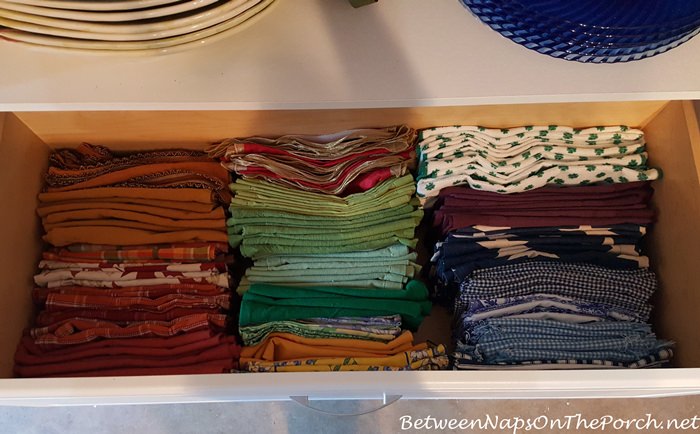 The bottom drawer is where I decided to store all my tablecloths. They completely filled up this drawer. It was nice to get those out of my hall linen closet upstairs where they were taking up space I needed for blankets, sheets and towels.
Update: I know it's a good idea to hang tablecloths to save having to iron them, but I really don't have a good place to hang them. Plus, I rarely use tablecloths, so I think they'll be fine tucked away in a drawer for now.
So though my storage plans didn't work out, at least it will be easy to see and access all my flatware, napkins, napkin rings and chargers whenever I need them for setting a table. And it has freed up a lot of space in my cabinets inside, which makes it easier to access my dishware. (These cabinets are available here: Cabinet with drawer.)
Update: Amazon had raised the price on these cabinets from $245.99 to $328.21. Probably better to buy them at Walmart HERE until the prices on Amazon come back down.
I just ordered one more cabinet like this from Walmart and it will be delivered to a Walmart Market that's about 3 blocks from my home in about a week. I'll have them load it into my SUV. Then once home, I can open the box and take each piece out while it's in my SUV, thus avoiding having to unload it by myself. The boxes are very, very heavy! I may have them open it at the store while it's in my car so I can make sure the pieces aren't damaged. No point in bringing it home if it's damaged.
Maybe eventually the other shelves will come back in stock and I can convince Amazon to ship them via the same company they used for delivering these. In the meantime, this is where I am for now.
Update: Walmart now has these cabinets available for purchase here: Cabinet without drawers AND Cabinet with drawers. The pricing is better than what I'm finding at Amazon. I plan to have them shipped to the Walmart Market that's a few blocks from my house and will open the box there and inspect it before bringing it home to make sure everything is okay.
Pssst: I post almost daily to Instagram. Follow Between Naps on the Porch on Instagram here: Between Naps On The Porch.
Looking forward to all the tables linked for this week's Tablescape Thursday!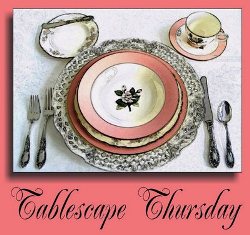 If you are participating in Tablescape Thursday, please be sure to add your permalink below, and not your general blog address.To get your permalink, click on your post name, then copy and paste the address showing in the address bar, into the "url" box when you link up.
You'll need to include a link in your post back to the party to link up and participate. That's so visitors to your blog will be able to find the party and the other Tablescape Thursday participants. Requiring a link back also prevents businesses and scammers from linking up to sell their products. (Yup, that really happens, unfortunately.)
Please Note: After 1 week, party links are still available to view by clicking on the blue button below.
*If a post is sponsored or a product was provided at no charge, it will be stated in post. Some links may be affiliate links and as an Amazon Associate, I may earn from qualifying purchases. *