When you picture a "storybook cottage" what comes to mind? Do you envision a darling cottage with a high-pitched roof and gingerbread-house gables? Is there a white picket out front, covered in beautiful roses? As you open the gate on that white picket fence, do you pass underneath an adorable arbor and down a meandering path past a fragrant cottage garden?
Welcome to Fig Tree Cottage, a real-life fairytale cottage located in the Tamborine Mountains of Australia.
Fig Tree Cottage (even the name is adorable!) is a darling Cotswold Cottage hand-crafted to recreate the charming features we love in the cottages of yesterday.
This sweet cottage reminded me so much of Rosehill Cottage, the fairytale cottage we all fell madly in-love with in the movie, The Holiday. Do you remember that adorable cottage? Even the front door on the cottage in The Holiday reminds me of the front door of Fig Tree Cottage. (Tour Rosehill Cottage from the movie, The Holiday in this post: Tour the Cottage In The Movie, The Holiday)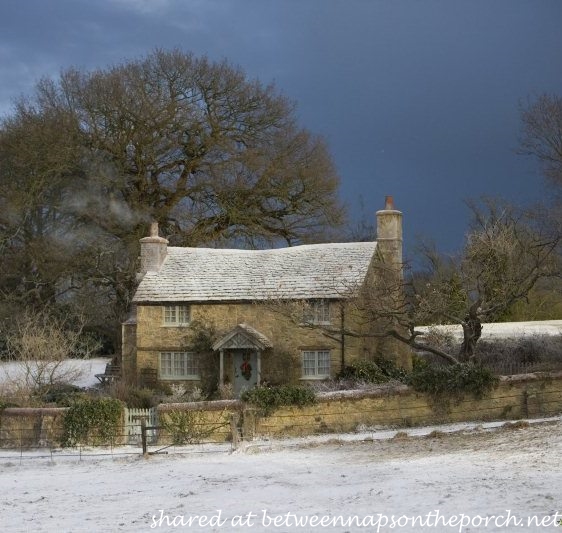 Let's go inside and take a tour!
The beams across the ceiling again make me think of Rosehill Cottage.
Fig Tree cottage has that old-world cottage charm with some of the more modern conveniences of today.
Love this sweet little kitchen and those beautiful windows! Imagine working in here while listening to the birds singing in the garden.
A cozy breakfast room with a bay window and window seat, a perfect spot to curl up with a good book.
Let's go upstairs and check out the two bedrooms. Before we do, take a look at the staircase.
Doesn't it remind you a little of the one pictured below from Rosehill Cottage in, The Holiday?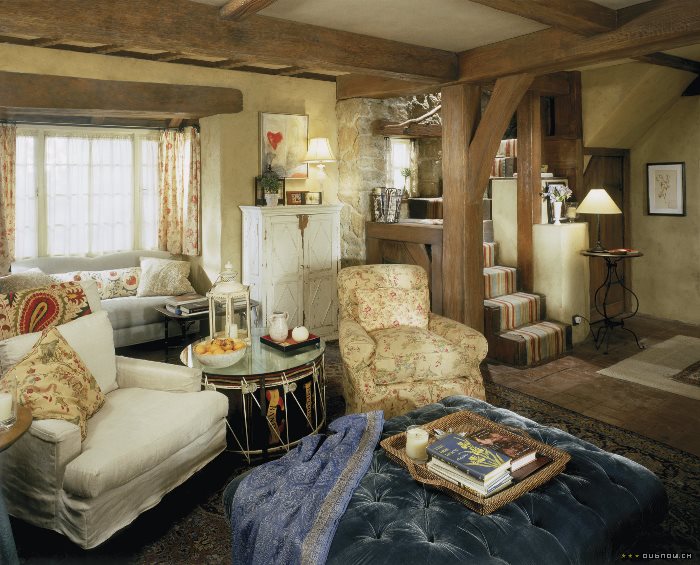 Upstairs we find two sweet bedrooms. Even though the bedrooms aren't huge, I love that they chose a four-poster, canopy style bed for this room! Dream big!
Another bedroom with lots of cottage charm.
This cute cottage surprisingly has two baths, one with a tub and….
…one with a shower.
The back door of this cute cottage…
…leads to another wonderful cottage garden.
I love that someone had the desire and imagination to build this cute cottage for real. There are still romantics out there; Fig Tree Cottage is proof!
Tour another adorable storybook cottage here: Bliss Cottage
Tour Rosehill Cottage from the movie. The Holiday here: Rosehill Cottage From The Movie, The Holiday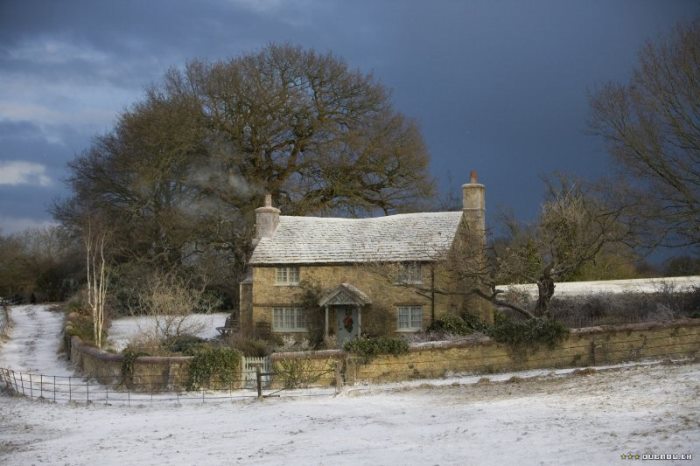 See more of Fig Tree Cottage here: Fig Tree Cottage, A Fairytale Cottage For Sale
*If a post is sponsored or a product was provided at no charge, it will be stated in post. Some links may be affiliate links. *